NY Super Bowl:

New York Giants
January, 20, 2014
Jan 20
1:20
AM ET
Start spreading the news, New York: The Super Bowl finally is on its way to our fair city. For the next two weeks, the Meadowlands -- home of MetLife Stadium -- will replace the Florida Everglades as the most famous swamp in the country.
We waited a long time for Super Bowl XLVIII -- more than three years -- but it was worth it, because we landed a matchup worthy of the greatest city in the world and New Jersey, too:
Denver Broncos
vs.
Seattle Seahawks
.
The game, to be played Feb. 2, will feature big names and big personalities, set against the backdrop of the first outdoor, cold-weather Super Bowl in history. The weather forecast is calling for c-c-c-old and possible snow, yet there could be a blast of hot air. Global warming? No, we're talking about
Richard Sherman
, the Seahawks' big-mouth cornerback.
For the first time since Super Bowl XXV --
New York Giants
-
Buffalo Bills
in January 1991 -- the game will have the No. 1-rated offense (Broncos) against the No. 1-rated defense (Seahawks). We have the two No. 1 seeds and the biggest name in the sport --
Peyton Manning
-- so what else do you want?
[+] Enlarge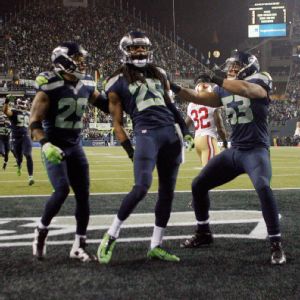 Joe Nicholson/USA TODAY SportsTrash-talker Richard Sherman, middle, will continue his campaign to prove he's the best ... vs. the best.
It wouldn't be a Super Bowl without a Manning presence. Two years after
Eli Manning
won a Super Bowl in Peyton's place, Lucas Oil Stadium, Peyton comes to Eli's house in search of his second ring. This will be the fifth Manning Super Bowl in the past eight years. Instead of Papa John's, Peyton should endorse Papa Archie.
The Mannings will have a foothold on the western side of the Hudson River during Super Bowl week. Eli lives in Hoboken, N.J., only two miles north of Jersey City, where the team hotels are located. Peyton will have a personal tour guide in his little brother, but we'd be more than happy to offer some local knowledge.
If he can squeeze a little time in his minute-by-minute schedule, Peyton should head into Manhattan for a nice dinner, maybe take a spin past Super Bowl Boulevard in Times Square. It's an interactive fan fest that will include a 180-foot Toboggan ride on Broadway. How cool is that? We'd suggest taking the Holland Tunnel into Manhattan, although you may want to check the traffic report. If New Jersey Gov. Chris Christie is in a foul mood, you never know how it might impact a river crossing.
From Wednesday to Saturday, Peyton & Co. will practice at the New York Jets' facility in Florham Park, N.J. While there, he should take a moment to reflect on what might have been. If he hadn't decided to return to school for his senior year, he would've been drafted No. 1 overall by the Jets in 1997. Instead of the Atlantic Health Jets Training Center, it would've been the Peyton Manning Performance Center.
No doubt, Manning will receive a warm reception from the Jets, who feared the nightmare scenario -- hosting Bill Belichick and the
New England Patriots
for a few days. They'd take Manning over
Tom Brady
any day.
Seeing how Manning is obsessed with "Omaha," he should know there's an Omaha Steaks store located in nearby Livingston. They'd probably cut him a deal. Who can forget his famous "Cut that meat" commercial?
If he's looking for lighter fare, he can stop by the Boston Market in East Hanover. The restaurant apparently is hard to find, but a word of advice: Don't ask
Kellen Winslow
for directions.
[+] Enlarge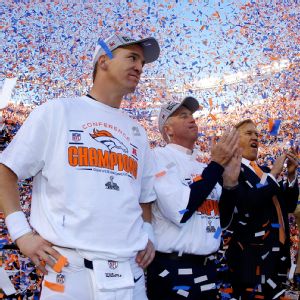 AP Photo/Charlie RiedelWill confetti rain on Broncos QB Peyton Manning, left, and Co. in two weeks at MetLife Stadium?
Aside from Manning, who can stake his claim as the greatest quarterback in history with a victory, Super Bowl XVLIII offers plenty of other storylines. There will be the "Legion of Boom" versus the Manning men. You'll have a Pot Roast (
Terrance Knighton
) trying to swallow the Beast (
Marshawn Lynch
). Shouldn't it be the other way around?
And let's not forget about the coaches. Surely, you remember them, New York. The Seahawks' Pete Carroll spent five seasons with the Jets, the final year (1994) as the head coach. Maybe, for old time's sake, CBS should send over
Dan Marino
to re-enact the fake spike play. If it weren't for that infamous moment, Carroll would've lasted more than a year.
Broncos coach John Fox left town under better circumstances. He was the Giants' defensive coordinator from 1997 to 2001, winning an NFC title in 2000 before moving on to become the Carolina Panthers' coach. Fox and Carroll are two of the nice guys in the NFL, so there won't be any harsh words between them.
Sherman will do enough trash-talking for both teams, count on that. No doubt, he will be a star attraction at Media Day, slated for next Tuesday at the Prudential Center in Newark. The back-page editors at the New York tabloids already are drooling.
Naturally, the weather will be a huge story, especially if Mother Nature decides she wants to dump snow on Roger Goodell's big party. Manning will be grilled about the cold weather because he's always grilled about the cold weather.
Here's a suggestion: Call Brady. He probably could lend you some UGGS to get through the week.
Gotham is ready for Super Bowl XVLIII. We've been primping the stadium for weeks (didn't have to worry about the locals in the postseason), and we've been gussying up the town. There will be concerts in every borough, a fireworks show on the Hudson, a virtual Super Bowl theater outside Macy's every night and a bunch of other neat stuff.
Everything is in place for a killer Super Bowl -- the teams, the entertainment, etc. -- and now it's up to you, New York.
And Mother Nature, too.
January, 14, 2014
Jan 14
3:38
PM ET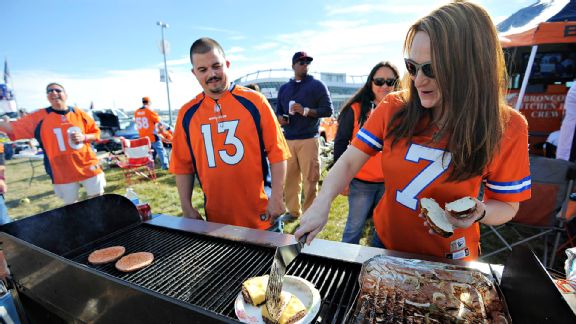 AP Photo/Julie JacobsonThese Broncos fans may feel right at home on Super Sunday in Secaucus.
Each day from now until Feb. 2, ESPNNewYork.com will take you inside the challenge of staging the most unpredictable NFL title game ever. There are 19 days until the Super Bowl.
George Tarmy has helped find parking spots for Super Bowl ticketholders in the past, but he knew that New York and New Jersey would offer a unique challenge to anyone who wanted to drive to the game.
With only 12,000 parking spots available at MetLife Stadium -- no tailgating -- and roughly 80,000 tickets, there's an opportunity for anyone looking to provide a more convenient ride than the NFL's Fan Express buses, or more of a game-day experience by allowing people to grill.
Tarmy's company,
ParkWhiz
, has made arrangements with strategically-placed lots in Manhattan and New Jersey -- one is near the PATH train and NJ Transit hubs -- so that fans can park for less money than they'd have to pay at MetLife.
Two of the ParkWhiz lots, all of which can be pre-booked through a website or app, even offer tailgating -- which Tarmy defined as being able to pull out a grill and not
having to eat in your car or in the confines of your parking spot
.
ParkWhiz isn't the only entity trying to provide a better game-day experience for Super Bowl-goers. Yesterday East Rutherford and Secaucus announced plans for parties on the day leading up to the game, featuring food and conviviality.
As
The New York Times notes
, these towns haven't been granted the NFL's benediction, so they aren't permitted to use the term Super Bowl. Hence, Secaucus will host the "Secaucus Winter Blast" and East Rutherford's is called the "Meadowlands Tailgate Party 2014."
Getting revelers to the game is crucial for any pre-game party. Out-of-towners from, say, Denver may not be familiar with mass transit. Some private establishments have bus passes to deliver patrons to the stadium, but for others cars, buses and trains are going to be the only way to go.
As we get closer to game day, no doubt more enterprising local communities will be looking for a way they can reap the benefits of the ... er ... Big Game.
Money for nothing:
We had a recent post on
the NFL's inflated economic-benefits numbers
after talking to sports economist Andrew Zimbalist. Here, Neil deMause
goes deeper into how the NFL calculates $600 million in economic impact for the region
, and how that methodology may be flawed.
Security rundown:
The Super Bowl Host Committee and law-enforcement officials will be having a press conference on Super Bowl security issues on Wednesday.
We addressed some of those issues
after a conversation with NFL VP of events Frank Supovitz.
Queens for a day?:
EA Sports and the Museum of the Moving Image in Astoria, Queens, is hosting an exhibit celebrating the 25th anniversary of Madden NFL. For information on the exhibit, which opened on Jan. 9 and will run through Feb. 23, and how to get there,
click here
.
Football meets fashion:
On Wednesday at 5 p.m.,
Bloomingdales will unveil a set of football helmets
designed by the fashion industry's heavyweights like Nicole Miller, Diane Von Furstenberg and Kenneth Cole. Get an early look at the objets d'art
here
. It may seem like an odd combination, but the designers have a lot of fun with the rigidity of the helmet. Some add flowers, beading, a Mohawk. It's more of a challenge than it seems and plays with the inherent masculinity of the sport.
Got a Super tip? Contact me at jane.mcmanus@espn.com or on Twitter @janesports.
Come back daily for more on the issues, logistics and personalities surrounding Super Bowl XLVIII.
January, 4, 2014
Jan 4
12:00
PM ET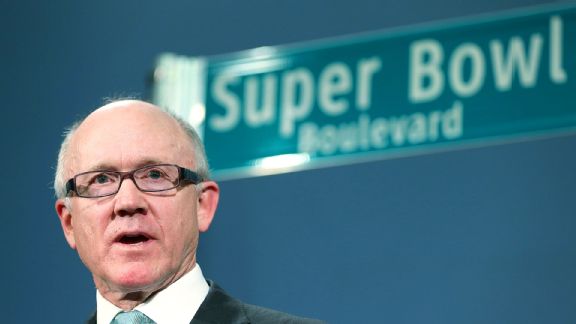 Mario Tama/Getty ImagesIt it wasn't for the weather, Woody Johnson believes every Super Bowl would be at MetLife Stadium.
Each day from now until Feb. 2, ESPNNewYork.com will take you inside the challenge of staging the most unpredictable NFL title game ever. There are 29 days until the Super Bowl.
ESPN New York is conducting Q&As with each member of the host committee. Next up: committee co-chair and Jets owner Woody Johnson.
Q: You have worked on a lot of big-scale projects; what's the personal appeal of these big-scale projects?
A: The big-scale project that I was most interested in was building a stadium for the team. Realizing the stadium we had, our existing stadium in New Jersey, was at the end of its life span and we would have to replace it in a reasonable time period to be a modern stadium, and do the things technology-wise and infrastructure-wise that one has to provide in a place like New York, I thought. So now we have a stadium with the Giants.
Q: Is the Super Bowl another large-scale project?
A: The Super Bowl is just a logical extension of the stadium. It's a perfect stadium for a Super Bowl in that it's large, great press, great clubs, great seating, great parking lot, and the media and the financial capital of the world. So other than the weather it would be here probably every time. New York-New Jersey has a population and interest and sponsors that dwarf any other part of the country. But it's the weather, and that was something that I think the owners, on their own, decided was not that relevant to this trial of Super Bowl 48.
What will be the biggest benefit to New York?
A: I think having a Super Bowl in any area is a tremendous accomplishment and a sign that the town, in a way, is worthy of hosting a Super Bowl. You [need to] have enough development and enough hotels and access and transportation and all that to do it, so I think that's a compliment to the area.
You can argue about what the financial ramifications are but I suspect that having a Super Bowl, which will be the largest event ever held in New York I would take a guess at, is going to be beneficial to the hotels and cab drivers and Broadway and everyone else when you have that many people coming in prepared to have fun.
Q: With some of the logistical differences this year, how will fans react?
A: I think they're going to love it. It's no different than any other Super Bowl. The Super Bowl is not run by the teams, it's run by the NFL. There are tremendous operating practices that have worked well in all other cities. And really the way we're operating this thing is no different than the way it was operated before. We're going to have tailgating, it's just not going to be as [spread out] ... and the fans will expect that, they're not going to expect to bring out lawn chairs and all that in the parking lot at the Super Bowl with such limited parking. But they can open their trunk and still have fun with their friends right around there but they can only do it in the confines of their space, unlike regular games where they can spread out a little more.
Come back daily for more on the issues, logistics and personalities surrounding Super Bowl XLVIII.
December, 24, 2013
12/24/13
2:09
PM ET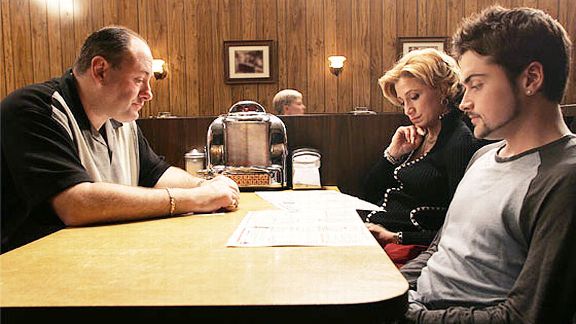 Courtesy of HBOHappy holidays from your friends at ESPNNewYork.com -- and may all your open-face turkey sandwiches be as delicious as they appeared in the photo on the menu.
Each day from now until Feb. 2, ESPNNewYork.com will take you inside the challenge of staging the most unpredictable NFL title game ever. There are 40 days until the Super Bowl.
With Christmas upon us, we have a bag full of gifts for local football types and members of the New York/New Jersey Super Bowl Host Committee.
To CEO Al Kelly:
A personal weatherman, and a hundred stories showcasing the Greatest City on Earth (and the sliver of New Jersey across the river).
To ticketholders for Super Bowl 48:
Mufflers, wool socks, a flask of bourbon (plastic, because it's likely to be confiscated by heavy security), pocket-warmers, battery-powered electric blankets and warm and friendly neighbors.
To Tom Coughlin:
Two Lombardi trophies on loan from the Giants trophy case, so that he can watch the Super Bowl in good company.
To Gov. Chris Christie:
Flunkies who will not randomly close access roads to the George Washington Bridge. Again.
To the New York Giants and New York Jets:
Motivation. Don't get mad that two other teams will play for the championship on your field -- get even.
To business owners near MetLife Stadium:
Since fans won't be able to walk to the Super Bowl, your gift is a free shuttle bus that will take fans from your establishment to a train station a few miles away, so that they can then ride the train to MetLife. (If they are really lucky, this loop will only take ticketholders an additional three hours to complete!)
To New Jersey residents:
A lack of confusion from out-of-towners about whether or not The Sopranos was a documentary.
To Rex Ryan:
Job security. He's earned it.
To Super Bowl visitors:
That local hotels and restaurants realize that, to reference Seinfeld, it's easy to
take
the reservation, but the important part is to
keep
the reservation.
Come back daily for more on the issues, logistics and personalities surrounding Super Bowl XLVIII.
December, 23, 2013
12/23/13
1:26
PM ET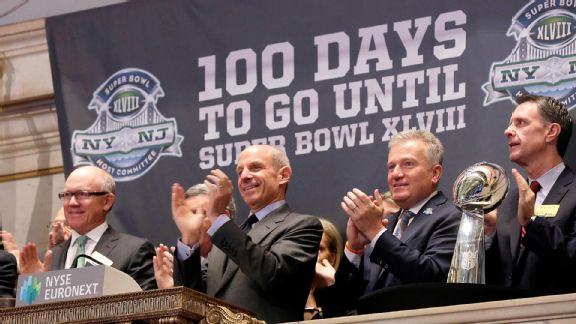 AP Photo/Richard DrewWill Woody Johnson and Jonathan Tisch still be all smiles on Feb. 2?
Each day from now until Feb. 2, ESPNNewYork.com will take you inside the challenge of staging the most unpredictable NFL title game ever. There are 41 days until the Super Bowl.
ESPN New York is conducting Q&A's with each member of the host committee. New York Giants co-owner Jonathan Tisch is the latest victim.
Q: How did you, John Mara and Steve Tisch decide who would represent the Giants on the Super Bowl host committee?
A: From the outset, the Giants and Jets organizations worked together to bring Super Bowl to the region and we wanted very senior leadership represented on the host committee. With my background in hospitality and tourism, including serving for six years as Chairman of NYC & Company (the city's tourism agency) and chair of host committees for Grammys and NBA All-Star Games, it seemed a natural for me to assume this responsibility.
Q: What's the biggest challenge you face at this point in preparations?
A: We are at a solid place with preparations. We're hitting a stride, and everything is moving along nicely. We're focused on so much -- weather preparedness, transportation plans, etc., and all are of equal importance.
Q: What will be the biggest benefit to New York?
A: Certainly the economic impact to the entire region -- estimated at $550 million dollars. We expect a positive impact on the area's hospitality industry, especially during a time of the year that is typically slower. And the region will showcase why it is the best in the world -- not just to those who actually visit but with more than 4,000 people from the media in town, images will be sent around the world. In addition, there will be many philanthropic legacies completed through the work of the Snowflake Youth Foundation, which will benefit the community for many years beyond game time and have a positive effect on youth in both states.
Q: What would it have meant to see the Giants play in this Super Bowl?
A: The Giants have been very fortunate to play in five Super Bowls, winning four of them, and each game has had its own special meaning. Being a host of this Super Bowl has an honor of its own. Certainly, it would have taken on an even more special meaning if we were to participate.
Q: Pick one and why: Great Super Bowl, or Greatest Super Bowl?
A: Greatest Super Bowl. It is taking place on the world's greatest stage -- New York!
Q: How do you prefer to handle cold weather? Choose one: 1. Wool tie 2. Hot-water bottle or 3. Warm thoughts?
A: None of the above -- I would pull out my Giants hat and scarf!
Come back daily for more on the issues, logistics and personalities surrounding Super Bowl XLVIII.
December, 21, 2013
12/21/13
12:00
PM ET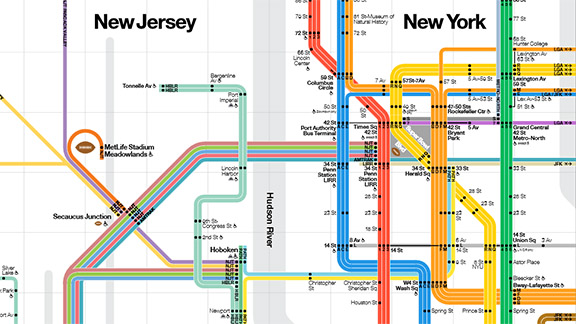 NJTransit.comOn their web site, NJ Transit says, "Getting to any destination in the region will be a snap."
Each day from now until Feb. 2, ESPNNewYork.com will take you inside the challenge of staging the most unpredictable NFL title game ever. There are 43 days until the Super Bowl.
Although the Super Bowl host committee wasn't able to create a Super Pass to all of New York and New Jersey's transit systems, it was able to make a
Super Map
.
The MTA and NJ Transit created this one just in time for the Super Bowl 48 tourists, and there's even a little football over MetLife Stadium, which will host the game on Feb. 2.
The organizers of the Super Bowl have called this the public transportation Super Bowl all along -- estimating that between 70 and 80 percent of the 80,000 fans will get to the game via train or bus -- and now they have the map to prove it.
Come back daily for more on the issues, logistics and personalities surrounding Super Bowl XLVIII.
December, 20, 2013
12/20/13
12:00
PM ET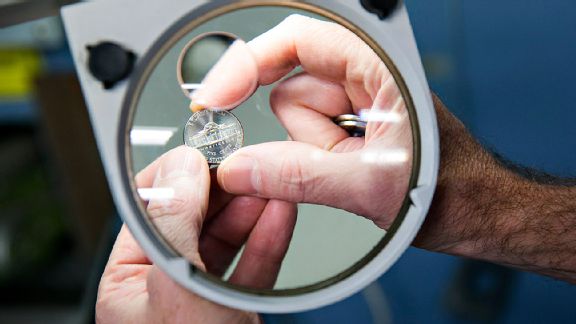 AP Photo/Kristoffer TripplaarAs the Big Apple gets set for the Super Bowl ... every nickel counts!
Each day from now until Feb. 2, ESPNNewYork.com will take you inside the challenge of staging the most unpredictable NFL title game ever. There are 44 days until the Super Bowl.
The organizers say Super Bowl 48 should bring between $500 and $600 million to the New York and New Jersey region. That number is based on the amount of economic activity they expect to be generated as a result of people coming to the area to attend the game and the festivities preceding it.
But is that number real?
Economist Andrew Zimbalist of Smith College said the NFL generally posits $500 million when promoting the game to an area, but he and his fellow economists have never found hard evidence that it's close to accurate.
"The conclusions usually move the decimal point to the left," Zimbalist said. "Somewhere between $0 and $50 million."
That's quite a discrepancy.
[+] Enlarge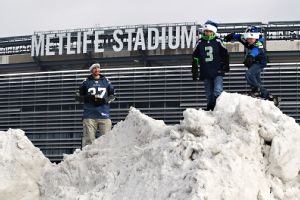 AP Photo/Peter MorganWhat could be more fun than hanging out in East Rutherford in February?
Zimbalist said some of the economic activity generated by the game doesn't create new tourism, but it replaces the visitors who would come to the city otherwise. When that's a warm-weather city, Super Bowl visitors might replace the beach-goers, sailors and foodies that head to places like Miami or Arizona during the winter months.
Even though the Super Bowl has generated some activity in the past, it may not in New York.
"There's always the hope that surrounding businesses are going to benefit, but East Rutherford is a desert," Zimbalist said.
On the day of the game, the only event that will be held at MetLife Stadium, ticket holders will not be able to walk to the game, cutting down the opportunity for fans to patronize an East Rutherford spot on the way in. Instead, fans must take a special $51 "Fan Express" bus, New Jersey Transit train to MetLife or have one of 12,000 parking passes ($150) for the game.
The Super Bowl may bring additional costs to the region as well. The New Jersey Department of Transportation plans to go to emergency staffing levels on Super Bowl Sunday, and additional train schedules are being implemented for Super Bowl weekend. Additional police or security needed for the game will have to be paid for by someone, and Zimbalist said the public generally absorbs those costs.
As for the game itself, there are financial reasons the game could be held outdoors in a cold-weather city for the first time ever. It could be a reward for the Giants and Jets for building a stadium with private funds in a metropolitan area.
Plenty of cities offer cash and tax incentives to teams in order for them to build stadiums, but not in New York and New Jersey. There are simply too many teams and corporate headquarters in the area for the city to give away money.
Although teams have been able to bring train stations or other improvements in public infrastructure in conjunction with a new stadium, the actual building is generally paid for with private funds. The Jets and Giants paid $1.5 billion to build MetLife Stadium.
A month after the doors opened, they were rewarded with a Super Bowl.
Come back daily for more on the issues, logistics and personalities surrounding Super Bowl XLVIII.
December, 18, 2013
12/18/13
2:00
PM ET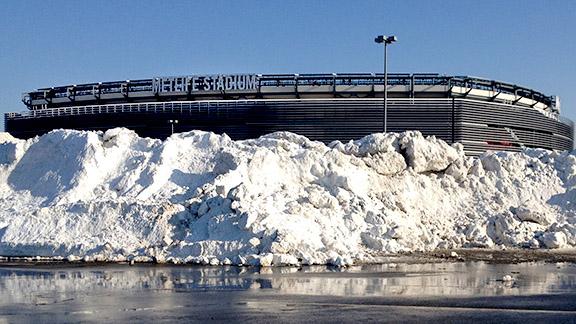 Jane McManus/ESPNNewYork.com Meadowlands Matterhorn: An impressive pile of snow nearly blotted out the view of MetLife Stadium on Wednesday.
EAST RUTHERFORD, N.J. -- The officials organizing Super Bowl XLVIII are starting to
sound like they are actively rooting for snow on game day
.
"I think watching NFL football in the snow is really romantic," NFL senior vice president of events Frank Supovitz said on Wednesday, standing near a mountain of New Jersey snow in the MetLife Stadium parking lot. "It's great, it's exciting and if you've ever done it you know that. It's also a rite of passage for you as a fan to have done it at least once. And this is a Super Bowl right? So I think it's going to be amazing. I think it would be better if it snowed a little bit during the game. I think it'll just make it more memorable."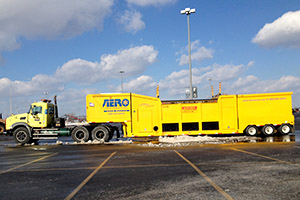 Jane McManus/ESPNNewYork.comA snow-melting machine: Tougher than the storm?
Is this a little reverse psychology? Actually, snow might make for better television viewing. Recent cold-weather games were watched and enjoyed by plenty of NFL fans over the last few weeks.
But the Super Bowl is a different animal. Empty stands at the championship game are not a good look, so moving 80,000 people to and from the game is a necessity no matter what the weather. At Wednesday's press conference, the New York/New Jersey host committee demonstrated some impressive plows and snow-melting machines with what was left of the weekend snow.
Maybe this was a warning from the Great and Powerful to any snow clouds in the area: Mess with the Super Bowl, and we will obliterate you.
December, 17, 2013
12/17/13
12:52
PM ET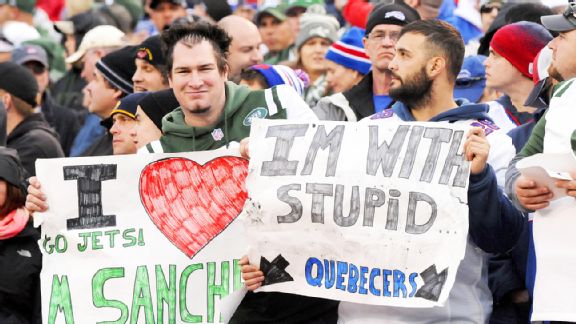 Nick Cammett/Diamond Images/Getty ImagesThis season has not been the best of times for Jets and Giants fans.
Each day from now until Feb. 2, ESPNNewYork.com will take you inside the challenge of staging the most unpredictable NFL title game ever. There are 47 days until the Super Bowl.
As the first light of day filtered through snow clouds parked over the New York-New Jersey area Tuesday morning, it marked the first day that both the
New York Jets
and the
New York Giants
were officially eliminated from contention to play in the first local Super Bowl at MetLife Stadium.
The Giants have been out for weeks, but the Jets were technically alive until the Ravens defeated the Lions on Monday night.
So it's now official: the NFL will import the two teams who will play on Feb. 2, continuing the streak of never having a home team advance to host the game in a Super Bowl city.
Here's what you need to know about the Super Bowl today:
WEATHER REPORT:
The NY/NJ Super Bowl Host Committee is holding a press conference on Wednesday to discuss plans for the game in the event of bad weather. It may be worth noting that they will do this a day after schools around the region closed for a snow day.
So far, host committee CEO Al Kelly and co-chairs Woody Johnson and Steve Tisch have taken the cold weather as a given, and noted that football has been played in the cold for as long as oblong, inflated animal skin-covered objects have been tossed through the air.
It's the 80,000 spectators that are more of an issue. Keep in mind that the Super Bowl is a much more expensive ticket, one often bestowed upon a class of folks who aren't season-ticket holders, and these folks may not be used to sitting outside in sub-freezing weather for five hours.
DEFINING TAILGATING:
After
we wrote about the constraints that will be placed on tailgating
, a few NFL spokespeople disagreed with our assessment that the pre-game tradition would be effectively nixed. I spoke to some fans who attend games at MetLife Stadium on a regular basis to see how they read it. The prevailing sentiment was expressed by Erik Manassy, a huge Jets fan, who said that if you can't grill and gather, it's not tailgating.
The rules this year will stipulate that all food must be eaten in your car or within the parking space your car is assigned, and you can't block the roadway. No grills or other open-flame cooking equipment will be allowed.
These parking passes will be pretty valuable. The parking spaces for fans will be cut from 28,000 for regular-season NFL games to just over 12,000 for the Super Bowl.
TICKET PRICES:
As of Tuesday morning, StubHub.com lists 1,272 tickets for the game, with prices starting at $3,172. All tickets aren't yet in the marketplace, however, since a certain number of tickets are reserved for season-ticket holders of the two teams that will ultimately make it to the game. Some people speculate that there could be a huge amount of fluctuation in price for available tickets in the week leading up to the game, and that cold weather could mean prices drop and patient local football fans could find a few bargains.
Not yet, however, unless you operate in a tax bracket where $3,000 is chump change.
Come back daily for more on the issues, logistics and personalities surrounding Super Bowl XLVIII.
November, 5, 2013
11/05/13
1:53
PM ET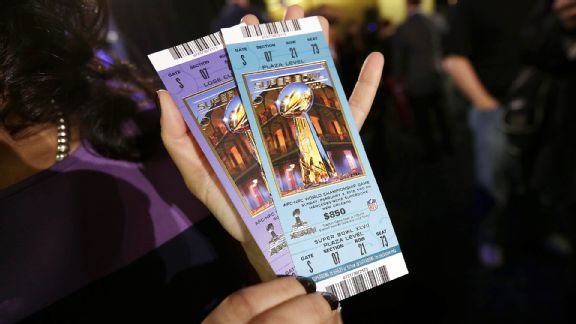 AP Photo/Gerald HerbertThe street value of Super Bowl tickets may ultimately depend on the weather.
Each day from now until Feb. 2, ESPNNewYork.com will take you inside the challenge of staging the most unpredictable NFL title game ever. There are 89 days to the Super Bowl.
If you have to ask how much a Super Bowl ticket is, you probably can't afford it.
The NFL has raised prices for the championship game at MetLife Stadium in New Jersey and tickets will start --
start
-- at $800. Earlier this year, NFL spokesperson Brian McCarthy told reporters the price increase was in response to all the money that's gone to resellers in recent years.
"We are looking to close the gap between the face value of the ticket and its true value as reflected on the secondary market," McCarthy said.
There are already 960 tickets for sale on StubHub, one of the biggest secondary marketplaces for sporting events. Those tickets are starting at $3,250.
"Last year's average price for the Super Bowl was $2,500, the NFL changing their pricing structure/raising prices won't make a difference for this game," wrote StubHub spokesperson Shannon Barbara via email.
The NFL has set general admission ticket prices at $800, $1,000, $1,200, and $1,500 this year for a Super Bowl that will be held outdoors on Feb. 2. That luxurious price-tag may yield a seat that is anything but, depending on the weather. MetLife Stadium also has club-level seating that offers indoor space from which to watch the game.
"The upcoming Super Bowl will definitely be unique, a different beast than others before," Barbara said. "Obviously the outdoor aspect is a factor, and the massive size of the market."
There is some speculation that the marketplace could fluctuate in the week leading up to the game, if buyers rethink sitting through a Nor'easter in February and try to recoup value online. In that scenario, ticket prices could drop and hit a level that middle-class NFL fans might be able to afford.
"The weather will make a difference as the game gets closer, snow/freezing temps could cause prices to fall," Barbara wrote, "but in short -- we're likely to see one of the biggest Super Bowls in history, solely based on location."
Don't have the money for a Super Bowl ticket at face value? Well, there is a fan lottery to get a ticket that will cost a comparatively discounted $500. The number of lottery tickets was doubled to 1,000 this year, the NFL said, but the deadline for entries was June 1. Oops.
It's not like you can buy tickets at the box office, anyway. The league, along with the
New York Jets
,
New York Giants
and the two teams who ultimately reach the Super Bowl, will be able to offer a limited number of seats, which are likely to be funneled to sponsors and season-ticketholders.
MetLife holds 83,000 fans for regular-season NFL games, a number that could decrease given the space required for security, media and entertainment. Even so, Barbara said that the New York area has traditionally been the No. 3 market for Super Bowl tickets, even during years when the Giants weren't playing.
"This year, fans will be able to drive from multiple states, not have to pay for hotels, flights, etc.," Barbara wrote.
Sounds like a bargain.
Come back daily for more on the issues, logistics and personalities surrounding Super Bowl XLVIII.
October, 31, 2013
10/31/13
3:22
PM ET
By
Shemar Woods
| ESPNNewYork.com
Each day from now until Feb. 2, ESPNNewYork.com will take you inside the challenge of staging the most unpredictable NFL title game ever. There are 94 days to the Super Bowl.
NEW YORK -- Last Sunday afternoon, as the
New York Giants
fought to continue pursuing their dreams, Carlos Santos lived out his own.
Looking into the future, the 9-year-old aspiring receiver envisioned playing before a sold-out Super Bowl crowd, hearing fans chant, "Car-los, Car-los," as he reeled in a touchdown pass en route to earning a chance to grip the Lombardi Trophy.
"Oh yeah, I want that," Santos said of the sterling silver prize, which he'd seen just moments before at the Queens County Farm Museum, one of 48 stops the "Join The Huddle Tour" will make in both New Jersey and New York in advance of Super Bowl XLVIII.
The first-ever mobile tour associated with a Super Bowl features a 14,000-pound, 64-by-8-foot "Huddle Shuttle," which also showcased
New York Jets
and New York Giants lockers outfitted with replica uniforms, shoes and helmets, a Vince Lombardi trophy room and a simulated broadcast booth.
After enjoying the shuttle experience, Santos and his fellow dreamers, dressed for Halloween, tackled NFL combine-centric competitions scattered across a field. Stations were set up for agility training, virtual-reality challenges in which participants role-played as referees and running backs, and a five-yard field-goal kick -- his favorite.
"This is for the Super Bowl!" the field-goal kick's referee reminded the kickers.
The ref may have iced some of the rookies.
But despite any misses, the opportunity to practice like pros was a hit.
"I was in dreamland," Santos said with a smile.
The tour makes its next stop at Wagner College on Saturday from 10:30 p.m.-1:30 p.m., before the Seahawks host the Central Connecticut Blue Devils.
Come back daily for more on the issues, logistics and personalities surrounding Super Bowl XLVIII.
October, 29, 2013
10/29/13
3:27
PM ET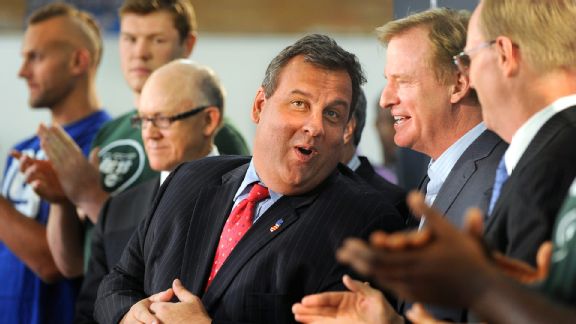 AP Photo/Joe EpsteinChristie is keeping a close eye on Super Bowl preparations.
Each day from now until Feb. 2, ESPNNewYork.com will take you inside the challenge of staging the most unpredictable NFL title game ever. There are 96 days to the Super Bowl.
MOONACHIE, N.J. -- Don't mess with Chris Christie's Super Bowl.
There is an edge to the New Jersey governor's sense of humor, but it's hard to imagine there also wasn't an undercurrent of seriousness in a story Christie told Tuesday about the grim fate awaiting those who allow for any electrical disruption on Feb. 2, when the region is hosting the first outdoor cold-weather Super Bowl.
To prepare, Christie attended the most recent Super Bowl in New Orleans with NFL commissioner Roger Goodell.
"At the last Super Bowl you'll remember that there was a small glitch in the game?" Christie said. "When the lights went out? And the lights were out for a while as you'll recall, and so I was with the commissioner, and it's an awkward time. We were there in the dark and he's on his BlackBerry trying to figure out what's going on. Finally he turns to me and he said to me, 'You know, Gov, when we come to New Jersey next year, the lights aren't going to go out, are they?'
"And I said, 'Listen, Roger, I can't guarantee the lights aren't going to go out,' I said, 'But if they do, there will be bodies strewn in the parking lot for the people who are responsible for the lights going out, because that's the way we handle matters in New Jersey.'"
Christie told the story to an audience gathered at a church in Moonachie for an event to commemorate the anniversary of Superstorm Sandy, attended by Goodell,
New York Jets
owner Woody Johnson and Super Bowl Host Committee CEO Al Kelly.
The NFL Foundation and the committee have jointly donated $1 million to a series of projects to help New Jersey recover from the storm.
"That story is absolutely true," Goodell said. "He was standing right here when the lights went out, right next to me. And I think he stepped out and he made a phone call to the head of the public utilities here and made sure that's not going to happen this year."
Christie and Goodell got big laughs from the crowd, but Kelly confirmed afterward that Gov. Christie was dead serious about preventing another blackout.
"The reality is that ever since we came back from New Orleans, power has moved up the list of things we're paying attention to," Kelly said. "And we've got a lot of experts in helping us, we're doing reviews of equipment, we're building in redundancy, we're doing lots of testing, we're trying to beef up security."
In 2010, the lights went out in MetLife Stadium, then known as the New Meadowlands, during a game between the
New York Giants
and
Dallas Cowboys
, and the lights stayed out as the power system rebooted. There will be a briefing on the specific upgrades to the system as the Super Bowl approaches, but Kelly said the reason for that blackout has been addressed.
"When things go wrong it's important not only that you fix it but you learn from it," Kelly said.
In the New York region, which experienced the terrorist attacks of Sept. 11, 2001, and has seen several more plots foiled in the years since, disruptions like that can evoke larger fears.
"I think that's why certainly a big part of the security plan now is to make sure that our sources related to power are secure as well," Kelly said. "And try to make sure anyone who wants to cause trouble on any aspect of the game, including power, isn't able to do it."
Kelly and Christie can't do much to assure ticket-holders of sunshine on Feb. 2, but ensuring the reliability and security of the power grid is something that they can address.
And if not, now we know how they handle matters in New Jersey.
Come back daily for more on the issues, logistics and personalities surrounding Super Bowl XLVIII.