New York Report:

Carmelo Anthony
April, 14, 2013
4/14/13
12:09
AM ET
By
Mike Mazzeo
| ESPNNewYork.com
Andrew Wiggins
has several fans -- including
Carmelo Anthony
.
"I like him," Anthony said after watching the 6-foot-7 Wiggins, the No. 1 college basketball prospect in the nation, score 19 points and grab five rebounds in the Jordan Brand Classic on Saturday night at Barclays Center.
"I saw him last summer in Vegas. He looked really good."
Many NBA talent-evaluators believe Wiggins would be the top overall pick in the 2013 NBA draft if he was allowed to skip college.
"I wish him the best," Anthony said. "Next year, if he does what he's gotta do, he'll be ready to take that next step."
Wiggins, known for his athleticism and scoring prowess, remains undecided on where he'll go to school next season.
"No one I care about is telling to go anywhere, or even bringing it up," Wiggins said.
Wiggins wowed the Barclays Center crowd with four dunks, but perhaps his best play of the night was when he fed Kentucky-bound big man
Julius Randle
for an alley-oop dunk on a 2-on-1 fastbreak in the first half.
John Calipari's Wildcats have already put together one of the best recruiting classes ever, landing Randle along with twin guards Aaron and
Andrew Harrison
,
Dakari Johnson
,
James Young
and
Marcus Lee
. Randle (PF), Aaron (SG), Andrew (PG) and Johnson (C) are all the top-rated players at their respective positions.
Wiggins (SF) would give them a starting five full of No. 1s.
"I'm trying my best [to convince him to come to Kentucky], but it's on him, and I wish nothing but the best for him," said Randle, who also scored 19 points and was named co-MVP of the game along with Duke's
Jabari Parker
(16 points, seven rebounds), the No. 2 prospect in the country behind Wiggins.
"He threw a great pass. He's a great player. He makes the game easier on me. It was fun playing wit him."
The star-studded crowd at Barclays Center included
Michael Jordan
, Anthony, Amar'e Stoudemire,
J.R. Smith
,
CC Sabathia
and rapper Drake, who performed briefly after the game.
"It's an honor. I'm just thrilled at the fact all these celebrities saw us play," Wiggins said. "I appreciate that. I'm blessed to be here and play among the best high school players in the world."
Anthony also said he was impressed with Randle, Parker and Syracuse-bound point guard
Tyler Ennis
, who played his high school ball at St. Benedict's Prep (N.J.).
"I know when I was in high school we weren't as big as these guys these days," said Anthony, who scored 27 points in the 2002 Jordan Brand Classic. "They look like they're in the gym all day, in the weight room. They're already one step ahead."
Said Randle, who has known Stoudemire for 2-to-3 years: "These are just two players that you grow up idolizing. To have them courtside was a huge honor and I was glad they came."
May, 2, 2012
5/02/12
1:36
PM ET
By
Greg Newman
| ESPNNewYork.com
April 29, 2001: The last time the New York Knicks won a playoff game, "Crocodile Dundee in Los Angeles" just came out in theaters, Mac OS X was released and George W. Bush had only recently moved into the White House. So, how do Knicks fans feel about
Amare Stoudemire
's misfortune, which seems to guarantee this postseason futility streak will continue for another year?
From
Amare's mistake simply unforgivable
:
"How is Amare the "selfish" one when his ballhogging teammate (MElo) has taken 41 shots to his 16 in the first 2 games?"
- Junior72624
Ed.'s note -- At least Carmelo Anthony is doing things to help win the basketball game (like dropping 30 on the Heat).
"Amare will be 30 next November, so he's still young. But he lacks the explosiveness he had just a few years ago. He is playing older than his age, worn down by the variety of injuries he's endured over the years. Plus he's been a liability on the defensive end, and hasn't fit in with Carmelo (though Carmelo should think about fitting in with everyone else). I like Amare. He is good man & clearly a team leader, but this was not cool from a veteran player. Hope he gets it together for next season."
- nihc69
Ed.'s note -- This was not the move of a leader or a veteran.
"All of us knick fans craved for our team to make the playoffs and they did but in the end when its a first round sweep this whole year becomes a blank. Im tired of losing and idk how the Knicks are going to be able to win a championship. I love my knicks but im fed up"
- Ticomd22
From
Amare Stoudemire injures hand
:
"What a stupid Glass hole!"
- birdy219
"Knicks fans turning on Amar'e now?
"Lol he was the only "Superstar" from the 2010 free agency who wanted to come to the Knicks. Or maybe he wanted to get paid?"
- BigEazy_BigDance
Ed.'s note -- Everyone wants to get paid.
From
Amare-Melo show not working
:
"Has anyone here every eaten a pickle with their popcorn? Whats that you say? The pairing sounds undesirable and doenst make any sense? Well let me tell you something, it works!"
- The_Dude-Abides
Ed.'s note -- Are pickles and popcorn a thing? Sounds like a worse combo than Melo and STAT.
From
Amare Stoudemire: 'Bad timing on my part'
:
"For his career STAT (standing tall & talentless) is a meager 17 points per game scorer without Steve Nash. With Steve Nash, and that one fluke half a season with Felton, he's a 25ppg scorer. He's never rebounded at least 10 rebounds per game in his career. He has always been a horrendous defender. He's a horrible passer with a very low basketball IQ (how to spread the floor or commit to help side defense, etc.) on both offense and defense.
"He is an overrated player that isn't worth half the money he is given. No he does not deserve respect for coming to New York, the Knicks payed him more then anyone else was willing to, that is the only reason he is here. No he does not deserve respect for putting up good (offensive) numbers last year before the Melo trade. The team was at .500 and at risk of missing the playoffs, so it's not like he was Patrick Ewing leading the Knicks to the finals."
- 2010-NYK
Ed.'s note -- It depends on what kind of deal the Knicks can get. Amare keeps making it harder and harder to trade him.
From
Facebook
"Amar'e is most effective around a legitimate point guard who can feed him the ball. Right now the knicks have no point guard. This is why Amar'e can't fit into this Chandler, Melo unit. Melo and Chandler don't need that type of point guard. Stat played and excelled with Nash in Phoenix and that's what he is use to. So either look to trade Stat which I doubt will happened or bring in a real legitimate point guard (no disrespect to Jeremy Lin and Baron.Davis) I think the knicks should look real hard at bringing in CP3 or Nash at the point preferably CP3. That will help Lin as well as he plays with the 2nd unit. We are probably going to lose J.R Smith because of the money issues so we really need to revamp this bench if we want any shot next year. As of now I think the knicks still win this series in 7 I still believe we can do it. GO KNICKS!!!"
- Anthony Itsbettaindabronx Samaroo
Ed.'s note -- You're still picking the Knicks at this point? Bold. How about the rest of you? Comment and let us know.
March, 13, 2012
3/13/12
12:30
PM ET
By
Greg Newman
| ESPNNewYork.com
A quick riff on the hottest topic on ESPNNewYork.com: New York Knicks head coach
Mike D'Antoni
.
From
D'Antoni in danger of firing himself
:
"I haven't heard D'Antoni say one thing in defense of Melo in the media even though he's been getting hammered all season. That's awful coaching. You're supposed to defend your players and figure out how to use them.
"Melo is being lumped into the bad defense talk by reputation. He hasn't played poor defense this season. I can name players that have dominated Lin or Amare all season. I can't really name anyone that has torched Melo."
- euwa516
Ed.'s note -- Good point. But did you use the words "defense" and "Melo" in the same sentence?
From
Melo: 'Losing basketball games sucks'
:
"'It's time for us to really get serious and try to win these games,'
Amare Stoudemire
said.
"So you admittedly weren't serious at all? Great, Stat, just great."
- jburulcich
Ed.'s note -- The whole getting-serious-and-trying-to-win-games thing should have started when the season did, no? It would have been a nice Christmas present for Knicks fans.
From
D'Antoni says Knicks are 'still together'
:
"Figuring out what's wrong with the Knicks is like solving a murder mystery. Every game we get another clue. Melo didn't do it."
- Plucky Purcell
Ed.'s note -- This idea should not be overlooked -- a "CSI" night at the Garden would be awesome (without the actual blood, gore and arrests).
From
Facebook
:
"Need A New Phil-osophy (JACKSON)!!!! New Coach"
- Brian Woodall
"Fire him then get
Phil Jackson
!!"
- Stephen James
"Phil Jackson is not coming here.. Yeah its a nice thought and if gives you sweet dreams then good for you.. But he has no interest in taking over this mess.. Its a moot point.. If you people really want Mike Woodson to be your coach then yeah fire DAntoni now.. Other wise shut up.. Jackson is not coming.. Enjoy your delusional fairy tail world.. I will keep it real."
- Jer Troiano
Ed.'s note -- Right now, Phil only needs to worry about which of his 11 rings to wear today. He does not need this craziness in his life. Does he?
From
Twitter
:
"@ESPNNewYork I sure hope so. I said it earlier, His system plus the wrong personnel doesn't equal success. #Knicks"
- GoMetsGo
Ed.'s note -- Fans seem fairly unified in saying D'Antoni's gotta go. Next question: do you fire him now or do you wait until the end of the season?
We'll run FanSpeak in this space on a regular basis, so keep commenting and make your voices heard! (Hey, at least now you know we're paying attention.)
March, 6, 2012
3/06/12
6:39
PM ET
By
Greg Newman
| ESPNNewYork.com
A quick riff on the hottest topic on ESPNNewYork.com: the New York Knicks.
From
Anthony comes up short when it counts
"The last shot should go to the best shooter. The best shooter on the Knicks is not Melo."
- The_Woo_Woo_Kid
Ed.'s note -- Really? Who is it? I definitely want Carmelo Anthony taking the last shot if I'm a Knicks fan.
"How quick people are to forget Melo's heroics last year in the playoffs and how we nearly won both games, even when that squad had so much less talent than this one? Or how he made game winners against Philly and Memphis? No one makes all their shots, not even Kobe, dubbed the best closer in this generation, and as shots go, this wasn't exactly an open elbow jumper, this was a guarded fadeaway, off-balance, baseline jumper that was his best option in 2.5 seconds of regulation time left."
- coldwinter95
Ed.'s note -- True, I just think Knicks fans wish that this was settled by now.
From the
Opening Tip: Fields or Shumpert?
"Of course D'Antoni will use the less effective defensive shooting guard in his starting line-up.
"People need to realize that
Mike D'Antoni
is a GLORIFIED OFFENSIVE COORDINATOR.
"Shumpert and Baron need to start over Lin and Fields for the sake of DEFENSE."
- Duane_Wade
Ed.'s note -- I agree with Iman Shumpert starting, but I think Jeremy Lin has earned his spot at the point. Lin is 10-4 in games where he has played more than 10 minutes and Baron Davis is still coming back after his herniated disk. Shumpert gives the Knicks a defensive presence that they don't have in the starting lineup.
From
Could Baron close games over Lin?
"Baron Davis, career .409 shooter ... his *career high* .439 was six years ago.
"There not only isn't any reason to close games with this bricklayer, there's no reason to pay him."
- Baron Harkonnen
Ed.'s note -- Can we all agree that Davis shouldn't take the last shot?
"Wow. You guys turned on Lin faster than a New York minute. There's no way that Baron Davis takes this starting job from Lin; at least not yet. Baron Davis has come back and played under five games. A lot of this heat on Lin has come from bad personnel decisions from D'Antoni. Had he put in Novak for a larger share of STAT's minutes, I doubt the Knicks would have lost in Boston. Novak spreads the floor and doesn't eat up driving lanes like Amare does. Baron has an arrogance on the ball to the likes which I've never seen. Several of his first passes were simply thrown away into the crowd with no teammate in sight. Besides, if you look at the statistics, Lin leads Davis in every essential stat there is. So calm down Knicks fans. The sky is not falling, but the honeymoon phase of Linsanity is over."
- pittpanther91
Ed.'s note -- Agreed, although I would say that most Knicks fans are still behind Lin.
We'll run FanSpeak in this space on a regular basis, so keep commenting and make your voices heard! (Hey, at least now you know we're paying attention.)
February, 22, 2012
2/22/12
1:49
PM ET
By
Greg Newman
| ESPNNewYork.com
What was the sound you heard in the comments section on the site around 10 p.m. on Monday? That was people jumping off the
Jeremy Lin
bandwagon and onto the
Deron Williams
bandwagon (which is still waiting for a nickname: suggestions are welcome in the comments).
From the Rapid Reaction
:
"Shumpert was really missed tonight"
- BarcelonaCatalunya
Ed.'s note -- I completely agree. Iman Shumpert was out with a knee injury and he could have helped on D, especially with outside shooting. Ian Begley even wrote about this post-game.
"Bottom line is, any NBA team shoots 31 threes and makes 49%, you have to play perfect offense to beat them. This is a one-off loss, with new people on the floor and the Nets shooting like Bird in an All-Star contest. Move on and get ready for Atlanta. Right now, the Knicks have what I'd call 'positive problems,' like your wallet being too small to hold all your Benjamins...."
- wolf.in.pinstripes
Ed.'s note -- True, it's not the end of the world and Lin isn't perfect but that doesn't mean it's time for Knicks fans to hit the panic button.
"Melo had freaking 6 Turnovers 4/11 on the field. lol We will see later on if Melo can get his game going."
- Neo21221
Ed.'s note -- Carmelo Anthony wasn't himself. If chemistry is still a major problem after playing Atlanta, Miami and Cleveland then Knicks fans can start screaming from the rooftops.
"Why blame Melo tonight? Its obviously Lebrons fault"
- Myanks26
Ed.'s note -- I can't find a reason it's not LeBron's fault.
"Face it Lin'wagon fans. DWILL took him to school. He is NOT a good defender. Imagine what's going to happen when he plays against CP3, Westbrook, & Rose."
- Drunyce86
Ed.'s note -- I don't think Lin could have expected a career 35% three-point shooter to explode and go 8-for-14 behind the arc.
From
Carmelo Anthony returns Monday
:
"Shouldn't Lin adjust TOO? While all the comments about Melo ALONE having to adjust? They have many new players on this team and are playing together for the first time. They ALL need to adapt and adjust, starting with the person who touches the ball 80% of the time. Melo is a world-class player, Lin is unproven, we don't know where in the NBA food chain he will settle. When
Baron Davis
is in basketball shape let's see what happens to Lin's minutes."
- 1111Frodo
Ed.'s note -- Lin needs to adjust as well. He is currently adjusting to tons of stuff: being a star NBA player, being expected to be amazing and playing so many minutes. As Jared Zwerling pointed out, the elite PGs only play about 35 minutes a game and Lin has gone from barely playing to 45 minutes every game. I think Baron Davis letting Lin get some rest will be crucial for the rest of the Knicks' season.
"Melo straight up for World Peace"
- tenthousandlakes1966
Ed.'s note -- Are we talking about peace in the world or that guy who wears number 15 for the Lakers who is averaging 4.7 points per game and used to be Ron Artest? If it's the former: I say go for it! If it's the latter, then Knicks fans will be able to really question the team's chemistry.
We'll run FanSpeak in this space on a regular basis, so keep commenting and make your voices heard! (Hey, at least now you know we're paying attention.)
February, 14, 2012
2/14/12
10:53
AM ET
By
Greg Newman
| ESPNNewYork.com
A quick riff on the hottest topic on ESPNNewYork.com: Linsanity! (What a Linderella story that is, truly Linspirational.) You can't help but love
Jeremy Lin
. Or can you?
From
Amare Stoudemire returns to NY
:
"That's Lin'Mare"
- drewhorn
Ed.'s note -- From Lin's name we have gotten spinoffs of song titles from Dean Martin to DJ Khaled, awesome. I never would have imagined I would be putting the King of Cool in the same sentence as the guy who did "All I do is win." It's Linsane.
"Sickening absolutely sickening ... let me tell you guys a story about a player named
Rafer Alston
, about 4 years ago this guy was on top of the world and the talk of the NBA. He helped the Rockets to a 22 consecutive win streak, the second longest in NBA history. They also managed to get the 5th best record in the Western Conference a record that could have been easily placed them higher in the standings, had it not been for one of the tightest seeding in the Western Conference in years. Oh yeah and he too had a career game dropping 40 points on who but none other than the Lakers. So what happened to him? he got his 15 minutes of fame, hell Orlando even gave up a potential all-star for this guy. From there he went to china and now? he's in the D-League a forgotten nobody trying to work his way back into the NBA, this is Lin's future."
- johne_86
Ed.'s note -- Every career can have pitfalls and nobody is a sure thing. Alston had problems and warning signs from his days as "Skip 2 My Lou" playing street ball. He had problems missing practices and games and has been arrested. While Lin could still fall under the same cautionary tale as Alston I have no evidence of this happening and really don't want to think about it. Enjoy the Linsanity while you can.
"I honestly think that Amare and Carmelo are the PERFECT two to add to J-Lin.
Here's why:
Amare is obviously a pick and roll beast. BUT, that is an early-in-the-shot-clock play on ONE side of the floor. While that is going on, Melo (and Shumpert as a 6th man) can be slashing to the basket from the OTHER side so Lin has TWO elite scoring options at his disposal every play.
"I literally could not be happier about what Lin has been doing, but this streak has been built on 50% emotion. People are excited. Lin is excited. His team mates are excited. I have no doubt that Lin is THE guy who can take us to the next level, but people who think Carmelo is going to "mess things up" are flat out WRONG."
- TBone107219
Ed.'s note -- The Lin-STAT-Melo lineup has amazing potential. It's up to the coaching staff to figure out how to keep egos in check.
From
Carmelo Anthony could return
:
"Lin will get a Nike Contract b4
Monta Ellis
,
Steph Curry
, or
Russell Westbrook
. I dont think he can even beat these guys in a game of 21."
- Mario Miles
Ed.'s note -- For the record, Curry has a deal with Nike and has his own line of shoes, the "Steph Curry Away Player Edition Hyperdunk 2010." If you buy these shoes you MUST write a quote (does not have to be Biblical) on them.
From
Facebook
, in response to
Floyd Mayweather
's
comments
"i actually 100% agree with mayweather . if any other player did what lin was doing, there would not be national attention on him. in general, america is more fond of the fact that hes an asian basketball player rather than a basketball player."
- ML Cruz
Ed.'s note -- Lin is the first American-born player of Taiwanese descent to play in the NBA. He attended Harvard. He was undrafted and then cut by both the Warriors and the Rockets and found himself in the D-League. Once Lin got quality minutes, he lit up the court and led his team to wins. Doesn't this sound like a sports movie? Isn't this the American dream? This is something we love about sports: the story of the underdog overcoming the odds. Nothing Floyd Mayweather says or does can change that.

We'll run FanSpeak in this space on a regular basis, so keep commenting and make your voices heard! (Hey, at least now you know we're paying attention.)
July, 11, 2010
7/11/10
1:33
AM ET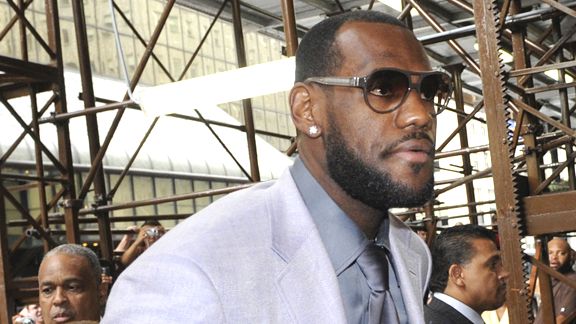 AP Photo/Louis Lanzano
Two nights after spurning the Knicks and Nets -- and the Cavaliers and Bulls -- to sign with the Miami Heat as a free agent, two-time NBA MVP
LeBron James
was back in New York on Saturday to attend
Carmelo Anthony's
wedding to Brooklyn native
La La Vazquez
.
James arrived at the wedding, held at Cipriani 42nd Street, around 6 p.m., the New York Times reported. Guests included Hornets guard
Chris Paul
;
Kenyon Martin
, Anthony's Nuggets teammate; Suns forward
Hakim Warrick
, Anthony's former Syracuse teammate; and Syracuse coach
Jim Boeheim
.
Director
Spike Lee
, wearing an orange necktie and holding a wedding gift wrapped with blue and orange ribbon, promised to recruit Anthony to the Knicks next summer, the Times said.
Serena Williams, Kelly Rowland, Ciara
and
Ludacris
were also in attendance.
James and Anthony were both members of the NBA's draft class of 2003; Cleveland took James No. 1 overall and Anthony went third to Denver. They were U.S. Olympic teammates in 2004 and 2008.