New York Report:

New York Jets
December, 12, 2012
12/12/12
9:00
AM ET
By
Mark Simon | ESPN Stats & Information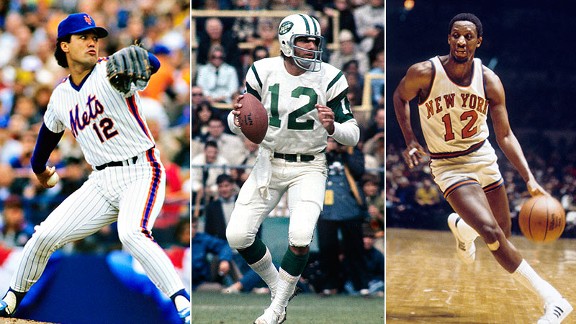 AP Photo/US PresswireIt won't happen again this century, so in honor of today's numerically significant date -- 12/12/12 -- we break down the Big Apple's best-ever No. 12s.
With it being 12/12/12 on our calendar, our thoughts turned to the question: Who were the best players to wear No. 12 in New York professional sports history?
We came up with the best choice, one for each team, below. A tip of the cap to the following sources:
Mets by the Numbers
, by Jon Springer and Matthew Silverman, and the websites YankeesNumbers.com and Sports-Reference.com.
Mets' Best No. 12: Ron Darling
Darling wore No. 12 for most of his Mets career, with Springer and Silverman pinpointing his stats during that time at a 68-38 record and 3.38 ERA (Darling was 31-32 with his other numbers).
Darling had his best Mets moments wearing that number -- his pitcher's duel with John Tudor in St. Louis in October 1985, and his postseason appearances in 1986. He edges out hard-nosed catcher John Stearns and 1969 second baseman Ken Boswell as best of the 12s.
---
Yankees' Best No. 12: Gil McDougald
McDougald was a key member of the Yankees' dynasty of the 1950s, as an everyday player at second base, shortstop and third base at various points in his 10-season career.
McDougald won five World Series rings with those Yankees, won American League Rookie of the Year honors in 1951, hit a grand slam in that year's Fall Classic, hit a game-winning home run against Hall of Famer Warren Sphan in Game 6 of the 1958 World Series, and made the All-Star team five times.
If you're looking for a more recent Yankees infielder, both Wade Boggs and Alfonso Soriano wore No. 12 for the Bombers.
---
Jets' Best No. 12: Joe Namath
The best of the No. 12s in New York sports history led the Jets to the upset win over the Colts in Super Bowl III that made "Broadway Joe" an all-time New York sports legend.
Coincidentally, Namath played 12 seasons with the Jets (he passed on the NFL's St. Louis Cardinals, who drafted him with the 12th pick in the 1965 NFL draft), finishing with 27,057 yards, 170 touchdown throws and 60 victories. Those team records all still stand today.
Namath was inducted into the Pro Football Hall of Fame in 1985.
---
Giants' Best No. 12: Steve Smith
Smith, formerly a star receiver at USC, had 220 receptions in four seasons with the Giants and was a rookie on the team that beat the New England Patriots in Super Bowl XLII. He had five catches, including four that turned third downs into first downs, in that contest.
Smith's best season came in 2009 when he had 107 receptions, by far the most in a single season in Giants history. He edges out former Giants quarterback Scott Brunner for top honors with this jersey number.
---
Knicks' Best No. 12: Dick Barnett
Barnett was the starting backcourt mate of Walt Frazier on the 1969-1970 champion Knicks and a reserve on the 1972-1973 championship squad behind Earl Monroe.
Barnett was best known for his odd-looking jump shot, one in which he'd kick his legs back behind him.
Like others on those Knicks' championship teams, Barnett had a successful post-basketball career, earning a doctorate in education at Fordham. He finished his basketball career ranked eighth in team history in points scored, just ahead of Bill Bradley.
---
Nets' Best No. 12: Lucious Harris
The pickings are a little slim for the Nets, so we'll go with Harris, who wore No. 12 in seven seasons with the Nets, from 1997-98 to 2003-04. He averaged 7.8 points per game as a backup guard.
Harris was a member of the Nets' teams that went to the NBA Finals in 2002 and 2003. His NBA career spanned 12 seasons, also with the Dallas Mavericks, Philadelphia 76ers and Cleveland Cavaliers.
---
Islanders' Best No. 12: Duane Sutter
One of the six Sutter brothers, Duane won four Stanley Cups in his eight seasons on Long Island, from 1979-80 to 1986-87. Sutter's best postseason came in 1982-1983, when he scored nine goals and had 12 assists in 20 games, which culminated with the Islanders sweeping the Edmonton Oilers for the Stanley Cup.
Sutter was a modest scorer throughout his career, topping out at 20 goals in 1985-86. He finished his Islanders career with 121 goals.
---
Rangers' Best No. 12: Don Maloney
Hall of Famer Andy Bathgate wore No. 12 for his first three seasons, but he's much better remembered for No. 9, which hangs from the Madison Square Garden rafters. In his stead, we'll go with Maloney, who represented the number well for 11 seasons.
Maloney was a good player, but never a superstar. He is best remembered for his outburst in his rookie season, when he had seven goals and 13 assists in 18 games in helping the Rangers make the 1979 Stanley Cup Finals (they would lose to the Montreal Canadiens).
Maloney also had the game-tying goal in the final seconds of the decisive game of the 1983-1984 Patrick Division semifinals against the Islanders, a game the Islanders would win on Ken Morrow's goal in overtime.
He finished his Rangers career and played with the Hartford Whalers and New York Islanders before retiring and becoming an NHL executive (after stints with the Rangers and Islanders, he is currently the Phoenix Coyotes' general manager). He currently ranks 11th all-time in career points for the Rangers with 502.
---
Devils' Best No. 12: Bill Guerin
Guerin enjoyed a prominent run in the NHL from 1991 to 2010 -- and it's one that started with him wearing No. 12 for the Devils. In seven seasons with the team, Guerin scored 108 goals and 214 points and was a member of the 1995 Stanley Cup champions.
Guerin would go on to win another Cup with the Penguins, serve as captain during a two-season stint with the Islanders and represent the United States three times in the Olympics. He retired at the end of the 2009-2010 season, finishing with 429 career goals.
June, 14, 2012
6/14/12
8:04
PM ET
By
Greg Newman
| ESPNNewYork.com
The Jets want
Tim Tebow
to gain some weight. Is this a sign of something larger?
From
Tim Tebow aiming to gain weight
:
"Tim Tebow is a beacon of hope for 3rd string QB's all across the nation...."
- p1anther
Ed.'s note -- Come on, he can't be behind Greg McElroy!
"Football games are won and lost as a team, and im sure Tebow would be the first person to say that. He needs to put a muzzle on his nutjob fans. It would be nice if he would quietly go into his role as a running back and on special teams. That is the best thing he cold do for this team."
- NYsportsfan223
Ed.'s note -- Nothing Tebow does has done has been quiet since he was in college.
"Move along. He has already proven that he can, that he can lead and that he can WIN. And that was on a Good not Great Broncos team. He will prove yet again and he will get this shot, this year, as the JETS Starting QB and he will turn them around just like he did with the Broncos. SO SHUT UP AND WAIT FOR IT...You too will be TEBOWED! TEBOWING!!!"
- jstone616
Ed.'s note -- Can you Tebow somebody? My dictionary does not have a definition of Tebow as a verb … at least not yet.
"Human cloning is generally a bad idea. Except if we can clone Tebow, the world would be a better place. We'll need about 100,000 copies, give or take, to start. (you guessed it, I'm a Tebow fan)"
- bsco32
Ed.'s note -- 100,000 copies and 32 teams would mean 3,125 per team and would mean that every team would have to cut Tebow thousands of times.
"Normally we get 'news' stories about Kardashians weight gain. Now we have a 'news' story about Tebow gaining weight.
"Conclusion: Tebow is a Kardashian."
Ed.'s note -- Which Kardashian is Tebow?
From
Tebow responds to Bruschi criticism
:
"He will shut up as soon as Mark starts performing on the field."
- Scorp981
Ed.'s note -- And what happens if Mark Sanchez
doesn't
perform well this season?
From
Day 3: Minicamp observations
:
"The Sanchise only completed 1 of 10 passes. Te-bow completes 3 of 4. Sounds like Te-bow time. Of course, Rex thought The Sanchise played awesome."
- jgpeters11
Ed.'s note -- "The Sanchise" is an interesting nickname, but could Sanchez use a new one? We're open to suggestions. Hey, at least you know we're paying attention.
April, 17, 2012
4/17/12
12:46
PM ET
By
Greg Newman
| ESPNNewYork.com
Tim Tebow
ventured into Yankee Stadium and was met with boos from Yankee fans. Was this deserved?
From
Booing Tebow: Was it you?
:
"yankee fans are giants fans. he has not done anything for new york yet. eli manning is just as generous as tim tebow, yet you dont hear bout it because he does it not for the publicity but bc hes a descent human being. im not saying tebow isnt, but when you have the chance to play in your hometown, go home and not to ny. we dont need to be driving through the city seeing posters of some guy who is in for a rude awakening at the hands of rex ryan. rex is saying all the right things now, but what happens when his profanity is too vulgar for him. tebow... go home and save some franchise that needs saving, not some place where they have a qb."
- Jimboslice1104
Ed.'s note -- The Yankees/Giants and Mets/Jets bond is real but it seemed as if the fans were booing Tebow as a public figure more than as a football player.
"And, yes, the morons in Yankee Stadium were clearly booing Wade because he helped beat the Knicks. If New York Yankee fans are ANYTHING, it's bad losers. Keep crying you bums."
- georohrs270
Ed.'s note -- Would cheering for Dwyane Wade make them good losers?
"I was sitting directly behind them and we didn't hear much in the way of boos. I shouted "Start him! Start him now!"
- TPman101
Ed.'s note -- He'll be hearing a lot more of that.
From
Yankees fans boo Tim Tebow
:
"welcome to NY tim. you have to prove yourself before you get cheered. eli manning used to be booed, then he won two super bowls, and he is now one of the most recognizable and respected figures in the city. you go to the stadium of the most successful franchise in sports history without having proved a damn thing, and you will get booed"
- mikesportsfan8
Ed.'s note -- Booing is the default setting for New York fans. Work your way up to standing ovations by winning a championship.
"i dont think tebow was ever booed in college or denver. let's see if it has any major effect. I'm guessing it doesn't"
- vamanos amigos
Ed.'s note -- If he's any good it won't.
The Jets and Giants are just getting started, the Rangers and Devils are in the playoffs, the Knicks are looking to the playoffs and the Mets and Yanks are in full swing. Keep those comments coming (hey, at least you know we're paying attention).
March, 27, 2012
3/27/12
1:45
PM ET
By
Greg Newman
| ESPNNewYork.com
Did you hear the news?
Tim Tebow
is excited to be a New York Jet! But are the fans happy to have him?
From
NYC is perfect for Mr. (Good) Deeds
:
"'Forget South Beach, I'm taking my lack of talent to the Jersey Shore. - Tim Tebow"
- otasan
Ed.'s note -- It worked for the cast of the reality show.
"Let's see ... the Bills destroyed the Tebow-led Broncos last year, as did the Patriots twice. Jets really should not wish for Tebow to win the starting QB job, as his recent performance against the AFC East does not bode well for future success. The Broncos did defeat the Jets and Dolphins last year (barely), however both of those teams missed the playoffs - not exactly a ringing endorsement for entry into Tom Terrific's division. I like the kid personally, but enough about being a "winner" ... let's see him produce when it counts (see the AFC Divisional loss against the patriots). He will be relevant when he produces. I've yet to see it."
- scotts glory
Ed.'s note -- The Broncos last year were first in the NFL in rushing yards and 31st in passing yards. Tebow did not carry that team, the defense and running game did.
"The Jets got what they wanted, to dominate the back page of the NY tabloids. If they want it that bad, they can have them while the Giants win Super Bowls."
- tchaser58
Ed.'s note -- Even though Woody Johnson insists it was not a PR move, it's what really makes sense. Why do you extend your QB's contract, say he's your guy and then pick up Tim Tebow? Good question!
From
Giant media turnout greets Tebow
:
"Mark My Words: Sanchize gets traded on or before draft day. Miami or Tampa will make them an offer they can't refuse.. Then if you love Tebow so much.. he will be your starting QB."
- klabkebash
Ed.'s note -- What does Miami or Tampa have to offer? Will the Jets have to eat some of that nice contract they gave Mark Sanchez? Hard to see this happening.
From
Tebow ready to win over teammates
:
"If you honestly think Tebow is here as a backup QB you're an idiot. The Jets have lost faith in Sanchez and so have the fans. The second he screws up and they start losing games this team becomes Tebows; so stop saying its a joke to have a PC for a backup QB because he isn't one. Did you also think Shotty was "expected" to stay in NY too? If so, you don't understand anything about this organization so just don't speak. They lie and dance around questions, everyone with a brain knows exactly whats going to happen, its almost too predictable..."
- derKonig24
Ed.'s note -- He has to outplay Sanchez to get the starting job. Until then, he's the backup.
From
Tim Tebow meets New York media
:
"They say 3 ringed circus, try no rings."
- Tiger Would1
Ed.'s note -- The Giants have four rings … they just happen to be Super Bowl rings.
"If the Jets get one more "QB" they'll be featured on Hoarders"
- Pain_of_Noles
Ed.'s note -- They got rid of Drew Stanton ... was there an intervention?
"Combined, the Jets now have .75 QB on their roster."
- MarketMaker58
Ed.'s note -- Sadly that 75 percent doesn't include a good throwing arm.
From
Facebook
:
"Talk all you want, that's pretty much what the Jets do all season. The Giants are still better than the Jets, one player cannot change your whole team into a super bowl contender. BIGBLUE!!!!"
- Andrew Temoltzi
Ed.'s note -- How much can Tebow change the makeup of this team? Use the comments below and let us know what you think. Because, as you can see, we read you loud and clear.
December, 31, 2011
12/31/11
12:33
PM ET
November, 6, 2011
11/06/11
5:40
PM ET
By
Christopher Hunt
| ESPNNewYork.com
Mark Messier
conquered New York. Again.
The hockey legend known as The Captain, who brought a Stanley Cup to the Big Apple in 1994 with the Rangers, finished the New York City Marathon in 4 hours, 14 minutes, 27 seconds. Messier, 50, ran representing the New York Police and Fire Widows' and Children's Benefit Fund, and Tomorrow's Children's Fun.
"I just got filled up with inspiration," he said. "I feel great now."
Messier started at a solid 8:50-mile pace through the first 5 kilometers but, like most runners Sunday, was just trying to hold on by the time he reached the park. He was about seven minutes slower in the second half of the marathon. Still, not bad for guy who ditched ice skates for running sneakers.
Matt Higgins
, New York Jets executive vice president of business operations, decided to run NYC to raise awareness for children with hypocholesterolemia, a condition that presents abnormally low cholesterol in the blood.
Higgins' daughter,
Collette
, suffers from autism and hypocholesterolemia. There is not yet enough complete research to determine the connection between cholesterol and brain function in autistic children.
Higgins, who lives in New Jersey, competed his 26.2-mile trek in 5 hours, 8 minutes, 55 seconds. He also ran two years ago after undergoing successful treatment for testicular cancer. ESPNNewYork.com's Jane McManus wrote a
story about Higgins and his daughter on Friday
.