New York Report:

New York Rangers
December, 12, 2012
12/12/12
9:00
AM ET
By
Mark Simon | ESPN Stats & Information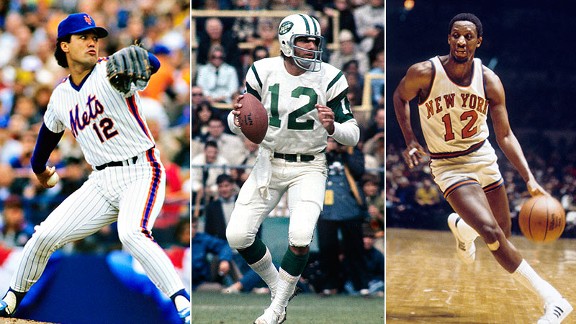 AP Photo/US PresswireIt won't happen again this century, so in honor of today's numerically significant date -- 12/12/12 -- we break down the Big Apple's best-ever No. 12s.
With it being 12/12/12 on our calendar, our thoughts turned to the question: Who were the best players to wear No. 12 in New York professional sports history?
We came up with the best choice, one for each team, below. A tip of the cap to the following sources:
Mets by the Numbers
, by Jon Springer and Matthew Silverman, and the websites YankeesNumbers.com and Sports-Reference.com.
Mets' Best No. 12: Ron Darling
Darling wore No. 12 for most of his Mets career, with Springer and Silverman pinpointing his stats during that time at a 68-38 record and 3.38 ERA (Darling was 31-32 with his other numbers).
Darling had his best Mets moments wearing that number -- his pitcher's duel with John Tudor in St. Louis in October 1985, and his postseason appearances in 1986. He edges out hard-nosed catcher John Stearns and 1969 second baseman Ken Boswell as best of the 12s.
---
Yankees' Best No. 12: Gil McDougald
McDougald was a key member of the Yankees' dynasty of the 1950s, as an everyday player at second base, shortstop and third base at various points in his 10-season career.
McDougald won five World Series rings with those Yankees, won American League Rookie of the Year honors in 1951, hit a grand slam in that year's Fall Classic, hit a game-winning home run against Hall of Famer Warren Sphan in Game 6 of the 1958 World Series, and made the All-Star team five times.
If you're looking for a more recent Yankees infielder, both Wade Boggs and Alfonso Soriano wore No. 12 for the Bombers.
---
Jets' Best No. 12: Joe Namath
The best of the No. 12s in New York sports history led the Jets to the upset win over the Colts in Super Bowl III that made "Broadway Joe" an all-time New York sports legend.
Coincidentally, Namath played 12 seasons with the Jets (he passed on the NFL's St. Louis Cardinals, who drafted him with the 12th pick in the 1965 NFL draft), finishing with 27,057 yards, 170 touchdown throws and 60 victories. Those team records all still stand today.
Namath was inducted into the Pro Football Hall of Fame in 1985.
---
Giants' Best No. 12: Steve Smith
Smith, formerly a star receiver at USC, had 220 receptions in four seasons with the Giants and was a rookie on the team that beat the New England Patriots in Super Bowl XLII. He had five catches, including four that turned third downs into first downs, in that contest.
Smith's best season came in 2009 when he had 107 receptions, by far the most in a single season in Giants history. He edges out former Giants quarterback Scott Brunner for top honors with this jersey number.
---
Knicks' Best No. 12: Dick Barnett
Barnett was the starting backcourt mate of Walt Frazier on the 1969-1970 champion Knicks and a reserve on the 1972-1973 championship squad behind Earl Monroe.
Barnett was best known for his odd-looking jump shot, one in which he'd kick his legs back behind him.
Like others on those Knicks' championship teams, Barnett had a successful post-basketball career, earning a doctorate in education at Fordham. He finished his basketball career ranked eighth in team history in points scored, just ahead of Bill Bradley.
---
Nets' Best No. 12: Lucious Harris
The pickings are a little slim for the Nets, so we'll go with Harris, who wore No. 12 in seven seasons with the Nets, from 1997-98 to 2003-04. He averaged 7.8 points per game as a backup guard.
Harris was a member of the Nets' teams that went to the NBA Finals in 2002 and 2003. His NBA career spanned 12 seasons, also with the Dallas Mavericks, Philadelphia 76ers and Cleveland Cavaliers.
---
Islanders' Best No. 12: Duane Sutter
One of the six Sutter brothers, Duane won four Stanley Cups in his eight seasons on Long Island, from 1979-80 to 1986-87. Sutter's best postseason came in 1982-1983, when he scored nine goals and had 12 assists in 20 games, which culminated with the Islanders sweeping the Edmonton Oilers for the Stanley Cup.
Sutter was a modest scorer throughout his career, topping out at 20 goals in 1985-86. He finished his Islanders career with 121 goals.
---
Rangers' Best No. 12: Don Maloney
Hall of Famer Andy Bathgate wore No. 12 for his first three seasons, but he's much better remembered for No. 9, which hangs from the Madison Square Garden rafters. In his stead, we'll go with Maloney, who represented the number well for 11 seasons.
Maloney was a good player, but never a superstar. He is best remembered for his outburst in his rookie season, when he had seven goals and 13 assists in 18 games in helping the Rangers make the 1979 Stanley Cup Finals (they would lose to the Montreal Canadiens).
Maloney also had the game-tying goal in the final seconds of the decisive game of the 1983-1984 Patrick Division semifinals against the Islanders, a game the Islanders would win on Ken Morrow's goal in overtime.
He finished his Rangers career and played with the Hartford Whalers and New York Islanders before retiring and becoming an NHL executive (after stints with the Rangers and Islanders, he is currently the Phoenix Coyotes' general manager). He currently ranks 11th all-time in career points for the Rangers with 502.
---
Devils' Best No. 12: Bill Guerin
Guerin enjoyed a prominent run in the NHL from 1991 to 2010 -- and it's one that started with him wearing No. 12 for the Devils. In seven seasons with the team, Guerin scored 108 goals and 214 points and was a member of the 1995 Stanley Cup champions.
Guerin would go on to win another Cup with the Penguins, serve as captain during a two-season stint with the Islanders and represent the United States three times in the Olympics. He retired at the end of the 2009-2010 season, finishing with 429 career goals.
May, 15, 2012
5/15/12
10:40
AM ET
By
Greg Newman
| ESPNNewYork.com
Eastern Conference Finals, New York Rangers vs New Jersey Devils: King Henrik vs. Brodeur, hard hits and Rangers coach
John Tortorella
's upfront commentary: We're excited, how about you guys?
From
Brodeur was good; Lundqvist was better
:
"Big win for the Rangers but the series is far from over. I was just very impressed with the level of stamina they displayed in that 3rd period on such short rest. Let's keep this going Rangers and shut that fat mouth Milbury up once again."
- Tisaacs311
Ed.'s note -- After a tough seven-game series against the Capitals, the Rangers sent a message in Game 1.
From
Good is not enough versus Lundqvist
:
"Lundqvist could easily do what Thomas did for Boston last year. However, if the Devils continue to forecheck and generate chances, they'll have a shot."
- drexel2014
Ed.'s note -- You always have a chance in the NHL when you've got a great goalie and Martin Brodeur and Henrik Lundqvist are two of the greatest.
"Lundquist kept them in the game in the 2nd period. But, he didn't have to do much in the third. It was all Rangers, totally dominated the Devs"
- ediddy777
Ed.'s note -- The Rangers seemed to find their stride in the third, with Chris Kreider, Dan Girardi and Artem Anisimov all scoring. Until then, the Devils had the edge.
"Check the stats…the Rangers have owned the Devils in their last 7 games. Most disrespected #1 seed ever."
- Amazins1230
Ed.'s note -- Lundqvist has certainly dominated Brodeur head-to-head in his career with a 23-7-5 record against him, but how can you say the Rangers have been disrespected? Who is disrespecting them? They weren't head-and-shoulders above the rest of the league -- only one point separated them from Pittsburgh and only seven separated them from New Jersey.
From the
Game Recap
:
"great win for the Rangers. But you have to give the Devils a lot of credit. They pretty much owned the Rangers in 1st and 2nd period. Marty had a couple hell of a saves especially the one on Staal."
- nyr469420
"What a dominating 3rd period. This series is not going 7. In fact, break out the brooms, cause this Devils team is overmatched!!!"
- NY Rangers Destiny 2012
Ed.'s note -- Predicting the sweep! Bold, but expect the Devils to make this a series.
From the
Rapid Reaction: Rangers 3, Devils 0
:
"The Rangers are possibly the most likeable team ever. The best goalie in the world who isnt cocky but is as confident as anyone, A couple experienced Vets, a pure raw talent scoring guy in Gaborik, young talent that play with the most heart I've ever seen(basically everyone except Richards and Rupp), and the VERY young talent (Kreider) who will be around for years and years guaranteeing a secure future for the team."
- KNVB692
Ed.'s note -- If you're right, we might see New York become Hockeytown yet!
"Its rediculous to think NYR can build a "dynasty" in the sport with the most parity in professional sports - no team has more than 1 championship since the lockout, and that trend will continue this year."
- PrinceJimmyKudo3000
Ed.'s note -- Or not.
From
Facebook
:
"Brodeur had his share of cups, he's 40 now, at this point in his career he's close to retirement, whether u wanna admit it or not this is now Henriks time to get there and hopefully win 3 cups like Brodeur!"
- Brian Bucman Murph
Ed.'s note -- So are we going to see a passing of the torch? Keep watching and keep commenting (hey, at least you know we're paying attention).
December, 31, 2011
12/31/11
12:33
PM ET
November, 6, 2011
11/06/11
5:40
PM ET
By
Christopher Hunt
| ESPNNewYork.com
Mark Messier
conquered New York. Again.
The hockey legend known as The Captain, who brought a Stanley Cup to the Big Apple in 1994 with the Rangers, finished the New York City Marathon in 4 hours, 14 minutes, 27 seconds. Messier, 50, ran representing the New York Police and Fire Widows' and Children's Benefit Fund, and Tomorrow's Children's Fun.
"I just got filled up with inspiration," he said. "I feel great now."
Messier started at a solid 8:50-mile pace through the first 5 kilometers but, like most runners Sunday, was just trying to hold on by the time he reached the park. He was about seven minutes slower in the second half of the marathon. Still, not bad for guy who ditched ice skates for running sneakers.
Matt Higgins
, New York Jets executive vice president of business operations, decided to run NYC to raise awareness for children with hypocholesterolemia, a condition that presents abnormally low cholesterol in the blood.
Higgins' daughter,
Collette
, suffers from autism and hypocholesterolemia. There is not yet enough complete research to determine the connection between cholesterol and brain function in autistic children.
Higgins, who lives in New Jersey, competed his 26.2-mile trek in 5 hours, 8 minutes, 55 seconds. He also ran two years ago after undergoing successful treatment for testicular cancer. ESPNNewYork.com's Jane McManus wrote a
story about Higgins and his daughter on Friday
.