New York Report:

Robinson Cano
July, 16, 2013
7/16/13
10:48
PM ET
NEW YORK --
Matt Harvey
described his first All-Star Game this way: "This whole experience has just been breathtaking."
Despite allowing a double to
Mike Trout
on the game's first pitch, then drilling
Robinson Cano
in the right quadriceps, Harvey tossed two scoreless innings. He apologized to Cano, who was forced to leave the game.
"The last thing I wanted to do was go out there and possibly injure somebody," Harvey said. "As he was walking by I was trying to kind of get his attention, as he was going to first. When he then came off, obviously I apologized and made sure he was OK. I think he understands that it wasn't intentional, obviously. I apologized. ...
"We had called a fastball in there. I knew I had to get it inside, but obviously I didn't want to get it in that much. Once I let it go, I could kind of feel it that I cut it a little bit. I was hoping he was going to be able to get out of the way, but unfortunately he didn't. It was definitely not intentional."
Harvey began to climb out of the two-on, no-out jam in the first inning by striking out feared
Miguel Cabrera
on a slider.
[+] Enlarge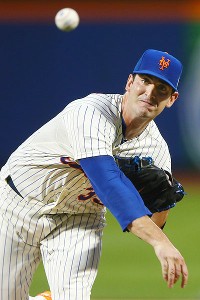 AP Photo/ElsaMatt Harvey made his All-Star debut in fine fashion.
"That was one that I knew I was going to have to buckle down," Harvey said about the matchup. "Obviously the last thing I want to do is go 3-0 [down on the scoreboard] with no outs in an All-Star Game. I knew I had to make good pitches. Obviously throwing to the best catcher in the game [
Yadier Molina
], it makes it a lot easier just to trust him and go with what he calls."
That Harvey was able to throw sliders signaled the blister issue underneath his right index finger appears resolved. It had bothered Harvey in his final two first-half starts, and led to him getting skipped Saturday in Pittsburgh.
"It healed up pretty great," Harvey said. "It feels fine. I was able to finally throw my slider again, so that was definitely a big help. I'm glad everything is healthy going into the second half."
Harvey, 24, said he was calm on the mound throughout his outing, despite being the youngest starting pitcher in an All-Star Game since Dwight Gooden in 1988 (23 years old).
"I was texting with
LaTroy Hawkins
after I came out," Harvey said. "He said: 'It looked like you were walking in the park.' Obviously there were some jitters going in the bullpen, but for some reason once I got out there, I felt great. I felt like I was at home."
After a 1-2-3 second, Harvey received a loud ovation from the Citi Field crowd. He regretted not acknowledging it, but said he was still locked in game mode because he is unaccustomed to departing games after two innings.
"I'm used to walking off the field in the second inning and going back out there, so I didn't really pay attention to it," Harvey said. "I wish I kind of stayed in the moment a little bit and gave them a head nod or whatnot. The thanks is there. They've been great all year -- all the fans."
Did he make Gooden and Tom Seaver -- the other Mets to start an All-Star Game -- proud?
"I did all right," Harvey said. "To see the first pitch down the line was a tough way to start the game. But I think I settled in there pretty well, and I did everything I could."
Harvey said sharing the experience with
David Wright
particularly was rewarding.
"It was so much fun," Harvey said. "Being in the locker room with all the guys, the whole experience, the red carpet, it being in New York and then starting, as a kid I don't think you could have dreamed of doing something like that. It was a tremendous honor. ... This whole experience has been absolutely incredible for me. It's something I'll never forget. I couldn't be more thankful for the support."
July, 16, 2013
7/16/13
10:22
PM ET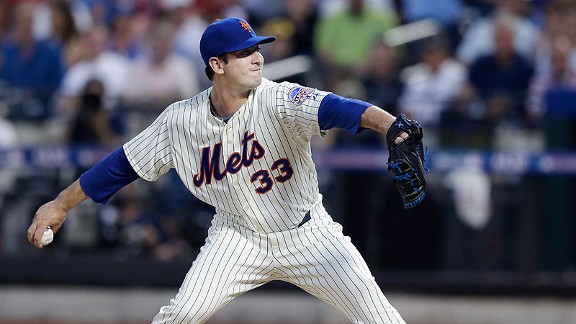 Kathy Willens/Associated PressMatt Harvey posted two scoreless innings in his first All-Star Game.
NEW YORK --
Matt Harvey
topped out at 99 mph. He pitched two scoreless innings. Oh, and Harvey also knocked out Yankees second baseman
Robinson Cano
with the third pitch in the ace's first-ever All-Star Game.
Harvey allowed a first-pitch double to
Mike Trout
down the first-base line, then drilled Cano in the right knee. But with two runners on base and none out, Harvey proceeded to strike out
Miguel Cabrera
on a slider, coax a flyout to center from home-run leader
Chris Davis
, then strike out
Jose Bautista
.
Cano, who initially took first base, limped off the field after the Cabrera strikeout. X-rays were negative.
"I obviously feel terrible about hitting him," Harvey told ESPN Radio. "That's the last thing you want to do in a game like this."
In the second inning,
David Ortiz
flied out to center field,
Adam Jones
struck out on a 98 mph fastball and
Joe Mauer
lined out to left field.
Harvey, who had not pitched since last Monday at San Francisco, threw 32 pitches (22 strikes).
He became the first pitcher to strike out three in an All-Star Game since
Jose Valverde
in 2010, according to ESPN Stats & Information. The only other Mets pitchers to toss two scoreless innings in an All-Star Game with three or more strikeouts: Dwight Gooden (1984) and Tug McGraw (1972).
He next will face the
Philadelphia Phillies
on Sunday at Citi Field.
July, 16, 2013
7/16/13
8:43
PM ET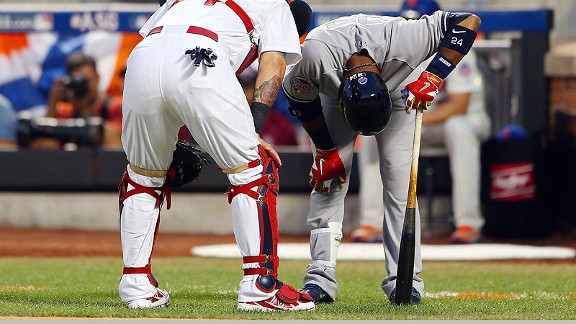 Mike Ehrmann/Getty ImagesRobinson Cano leaves in the first inning after taking a fastball to the knee.
NEW YORK -- Robinson Cano's All-Star Game ended rather quickly.
The Yankees second baseman was drilled in the right knee by a 97-mph fastball from Mets ace
Matt Harvey
in the top of the first inning. Cano limped to first base, but was eventually taken out.
X-rays were negative. Boston's
Dustin Pedroia
replaced Cano at second.
WHAT IT MEANS:
The Yankees, their fans and agent Jay-Z can't be happy. You never want to see your superstar player get hurt in an All-Star Game -- even if it's meaningful. The smart move was clearly to come out and avoid further injury.
CANO'S IMPACT:
Cano is the only real threat in the Yankees' lineup. The 30-year-old veteran, who is set to become a free agent at the end of the season, is hitting .302 with 21 home runs and 65 RBIs.
DAD WEIGHS IN:
Cano's father, Jose, who pitched to Robinson in Saturday night's Home Run Derby, thinks his son will stay with the Yankees. Cano would not comment. ESPN NewYork.com's Andrew Marchand has the
news story
.
July, 16, 2013
7/16/13
12:08
PM ET
By
Mark Simon
| ESPNNewYork.com
A look at the All-Star storylines involving the Yankees' representatives in tonight's game.
The end for Mariano
Mariano Rivera
was named to his 13th All-Star Game, the second-most of any pitcher in major league history, trailing only Warren Spahn's 17.
Rivera has eight All-Star game appearances. The only pitcher with more total appearances is
Roger Clemens
with 10.
Rivera has four All-Star Game saves, the most all time (one more than Dennis Eckersley). His most recent was in 2009. Rivera's All-Star Game ERA is 0.00, with one unearned run allowed in eight innings. The only pitcher with more career All-Star innings pitched and no earned runs allowed is Mel Harder, a former Indians pitcher from the 1930s and 1940s, with 13.
Rivera is tied with
Derek Jeter
and Joe DiMaggio for the third-most selections in Yankees history. Only Mickey Mantle (20) and Yogi Berra (18) have more.
Making sure Mo gets in the game
Jim Leyland has promised that Rivera will pitch tonight, but he could be faced with an interesting situation.
Let's say the AL has a one-run lead with someone other than Rivera pitching in the eighth inning with two outs and a runner on base. Should the NL batter hit a homer, the AL would be trailing and Rivera might not get the chance to pitch unless he's already warmed up at that point.
The solution to that would be to have Rivera ready to potentially earn a save by getting at least one out in the eighth inning. It's been a while since someone got a four-out save in an All-Star Game. The last to do so was Doug Jones of the Indians in 1989. The last to get a two-inning save was another pitcher who wore No. 42, future Hall of Famer Bruce Sutter of the Cubs in 1980.
Cano, don'tcha know
This will be
Robinson Cano
's fourth consecutive All-Star Game start, matching the Yankees' record for starts by a second baseman, previously held by Willie Randolph.
Cano is 1-for-5 in All-Star Games.
Cano went 1-for-4 against NL starter
Matt Harvey
earlier this season, getting a hit on a curve that Harvey hung, popping up and striking out against sliders, and pulling an outside changeup on the ground to first base.
It should be noted that Cano is mashing off-speed pitches from righties this season. He's one of three hitters with 10 or more home runs against curves, sliders and changeups from righties, along with the next two hitters Harvey would face --
Miguel Cabrera
and
Chris Davis
.
July, 15, 2013
7/15/13
11:12
PM ET
NEW YORK -- The New York captains did not get out of the first round in the Home Run Derby.
David Wright
and
Robinson Cano
were eliminated in the opening round of Monday's event.
Wright finished with five homers, tied with
Prince Fielder
for sixth. Cano was last in the eight-man event with four homers.
The top four hitters advanced:
Yoenis Cespedes
(17 homers in opening round),
Chris Davis
(eight),
Bryce Harper
(eight) and
Michael Cuddyer
(seven).
Pedro Alvarez
, whose initial omission caused Wright to be jeered in Pittsburgh during the weekend, produced only six homers in the opening round and was eliminated.
July, 15, 2013
7/15/13
11:10
PM ET
NEW YORK -- Well, that was quick.
New York Yankees
second baseman
Robinson Cano
was eliminated from the 2013 Home Run Derby after hitting just four homers in the first round.
New York Mets
fans cheered when Cano recorded his 10th and final out at Citi Field.
Cano, who served as the American League captain, won the Home Run Derby in 2011.
July, 15, 2013
7/15/13
7:23
AM ET
NEW YORK -- The Yankee who takes the most extra batting practice is
Robinson Cano
. On most days, four hours or more before first pitch, Cano is out on the field, taking pitches from hitting coach Kevin Long. They do one drill in which they place a batting screen to block half the plate to force Cano to tighten his swing.
Cano's swing is one of the sweetest ever in the Bronx, which is why today is his day.
Cano embraces the Home Run Derby. He doesn't worry about the long-term impact on his swing, but instead rejoices in his dad throwing him batting practice, like they have done so many times before.
In 2011 in Phoenix, Cano put on a spectacular show. In the final round, he beat then Red Sox
Adrian Gonzalez
by hitting 13 homers, including one that nearly traveled 500 feet. The joy on Cano's face personified how much he loves to hit.
In 2012, it wasn't as thrilling for Cano because the Royals fans were relentless in booing him after he declined to pick
Billy Butler
as a competitor. Cano wilted and put up a bagel, failing to homer even once.
On Monday night, Cano -- with his desire to have a little more spotlight and with free agency on the horizon -- has a chance to make it his show again. To be a star, you have to perform like one -- Cano relishes the chance to take BP under such a spotlight.
UP NOW:
My column on the Yankees' first half. They played as well as they could, but still are closer to last than first. Matt Ehalt on
CC Sabathia
's
ugly end to the first half
.
ON DECK:
All your All-Star and A-Rod news. Kieran Darcy, Mike Mazzeo, Adam Rubin, me and scores of other ESPN folks will have you covered in Flushing. Meanwhile, in Reading, Pa. we will be tracking the steps of
Alex Rodriguez
.
IN THE HOLE:
The Home Run Derby is on ESPN, Watch ESPN, ESPN Radio and ESPN New York. First pitch is 8 p.m.
QUESTION OF THE DAY:
Where would you rank Cano's swing in Yankee history?
June, 3, 2010
6/03/10
7:59
AM ET
Ian O'Connor highlights the site today with
an original take on the Armando Galarraga blown call
: Ian asks Bud Selig to use his "best interests of baseball" powers to overturn umpire Jim Joyce's decision, and explains why, based on Ian's knowledge of Bud, this could actually happen.
We've also got Rob Parker on
why Jorge Posada should be the Yankees' DH
, Wally Matthews on
Robby Cano's star turn
against the Orioles and Adam Rubin on
another frustrating night for the Mets and Johan Santana
. Kieran Darcy is in the Bronx for a Yanks-O's matinee.
Compelling package coming today, with video, on the 1976 Ali-Norton fight -- the last one held at Yankee Stadium. Mike Woods has a lookback at that wild night, in which the NYPD turned its back on security outside the park and petty crime was rampant in the streets. Wally Matthews will add his own reminiscence -- he was there, as a 19-year-old fan, and the lack of security meant he was able to walk right up and claim a ringside seat.
Sherry Ross, our person at Belmont, has a feature on Uptowncharlybrown, the horse whose trainer died suddenly in April. It'll be accompanied by a video piece by ESPN's Tom Rinaldi.
Sherry will chat from Belmont at noon.
Jane McManus is doing double duty today with her flipcam today -- she'll be at Jets OTA this afternoon, and tonight she and Ohm Youngmisuk will be at Justin Tuck's charity billiards event.