October, 28, 2013
Oct 28
2:16
PM ET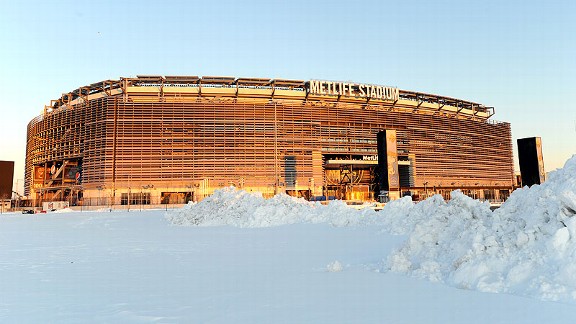 AP Photo/Bill KostrounMetLife Stadium will become the first venue to host an outdoor cold-weather Super Bowl next year.
Each day from now until Feb. 2, ESPNNewYork.com will take you inside the challenge of staging the most unpredictable NFL title game ever. There are 97 days to the Super Bowl.
The meteorologists at The Weather Channel like talking sports when they aren't talking weather, and Jonathan Erdman said when they heard New York and New Jersey would host a Super Bowl at MetLife Stadium on Feb. 2, they weren't sure if they believed it.
"And then we saw the logo with the snowflake," said the senior meteorologist.
It's really happening. The NFL has decided to hold the Super Bowl in a spot that could potentially have two feet of snow on the ground, not to mention punishing winds over the Meadowlands. But will it?
The problem is that most long-range forecasts are vague. The Weather Channel just released one that predicts a milder winter. But even that prediction has no real insight for a specific day.
"That's not possible," Erdman said. "If you read about it anywhere, don't believe it."
Erdman said that three of the last five Feb. 2's have seen snow at Newark Liberty Airport. Even without a blizzard, the average temperature is the low- to mid- 30s.
Advice from WABC-7 meteorologist Lee Goldberg? "Get travel insurance."
Speculation on game-time temperature will start early, but the Super Bowl is a week-long event with fans flying in for parties and fan-centered activities like Super Bowl Boulevard in Times Square. Flying in day-of-game might work for Miami in February, but not here.
"Don't make it last-minute," Goldberg said. "Allow yourself some wiggle room for delays."
And those delays could be extensive. Erdman said that late January and early February are prime time for nor'easters as well.
So what should fans prepare for on Feb. 2, sitting in a seat that likely cost around $1,000 and is exposed to the elements? "Snow, sleet, freezing rain and temperatures in the 30s," Erdman said.
Did I detect a hint of glee in his voice? Fact is, a cold-weather Super Bowl will make rock stars of meteorologists this season. Reporters will call them for interviews (case in point), viewers will hang on their every word, airplane, train and game tickets will be purchased based on their predictions.
But don't expect an early forecast.
"There will be pressure to make a preliminary and early call," Goldberg said. "But realistically a week out is when we are going to have a good feel."
It will be a long wait. You'll probably need a jacket.
Come back daily for more on the issues, logistics and personalities surrounding Super Bowl XLVIII.
October, 27, 2013
Oct 27
1:21
PM ET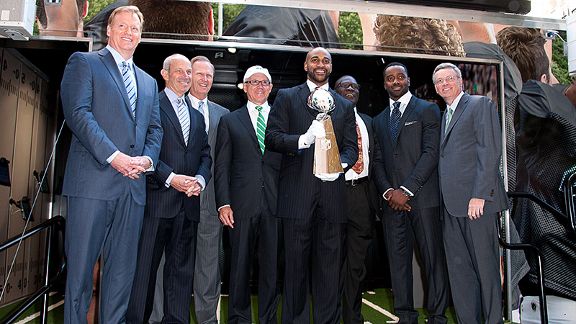 Dave Kotinsky/Getty ImagesFrom left: Roger Goodell, Giants execs Steve Tisch and John Mara, Jets owner Woody Johnson, ex-Giant David Tyree, ex-Jets Emerson Boozer and Curtis Martin and Super Bowl committee CEO Al Kelly at an event last month in Manhattan.
Each day from now until Feb. 2, ESPNNewYork.com will take you inside the challenge of staging the most unpredictable NFL title game ever. There are 98 days to the Super Bowl.
This New York/New Jersey Super Bowl is all about cooperation. Between the two states, but also between the two teams that share MetLife Stadium.
New York Jets
owner Woody Johnson and
New York Giants
co-owner Jonathan Tisch are the co-chairs behind host committee CEO Al Kelly, who said the two really do get along.
"I have to tell you the level of cooperation between the Jets and Giants and the three families [including Tisch's cohorts the Maras] has been spectacular," Kelly said. "They nothing but help make my job easier and I haven't had a single situation where there's been any issue or disagreement and they've been supportive and very, very easy to work with."
Not a single situation with a disagreement? Perhaps that strains credulity just a tad, but the two appear friendly enough. Despite several public appearances this week, I didn't once see Johnson lord the Jets' record over Tisch and his struggling Giants.
"Woody and John were both born in New Jersey and they live in New York," Kelly said. "They're extremely proud of this area. They're both big, big cheerleaders for the area, for tourism in the area, for business in the area. I think they realize what a great platform the Super Bowl is for so many things: for economic benefit, for good, for tourism, and for legacy efforts."
Sounds good -- from 98 days out, anyway.
October, 26, 2013
Oct 26
12:00
PM ET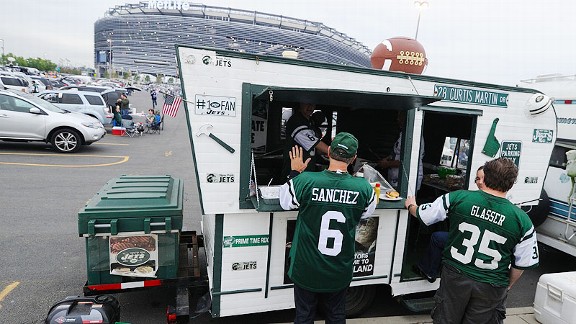 AP Photo/David DrapkinForget weather: The parking lots at Super Bowl XLVIII may put a damper on pregame partying.
Each day from now until Feb. 2, ESPNNewYork.com will take you inside the challenge of staging the most unpredictable NFL title game ever. There are 99 days to the Super Bowl.
Each week, Jets or Giants fans load their grills into cars, cover marinating meat with foil and fill the cooler with beer for a pregame tailgate. At the Super Bowl on Feb. 2, there just won't be a lot of room for that.
Super Bowl host committee president and CEO Al Kelly said the 28,000 parking sports normally reserved for MetLife Stadium ticket holders will be slashed to 12,000.
The reason? The NFL and security officials mandate a buffer zone outside any stadium hosting a Super Bowl. So the committee is already working on a Plan B.
"We are calling this the public transportation Super Bowl," host committee co-chairman Jonathan Tisch said. "It's important to note that we are losing half of our parking spaces due to the security perimeter around the stadium. People should really start to think about the bus they're going to take, the train they're going to take."
The security perimeter will also host the check points for fans to come through. Those checks can be extensive, and the same one-bag policy will be in effect for the Super Bowl as has been implemented in the rest of the league. So no purses and backpacks, just a small clear bag for each ticket holder.
There will be extra buses for fans on game day, although the trains that run from Manhattan to East Rutherford are also an easy choice. That is, barring any kind of snow or freezing rain. During the week before the game, the committee recommends visitors get to know the New York subway system.
So get ready, New York. Not only will the traffic snarls, competition for empty cabs and fully-booked restaurants confront you all week, but the subways will be filled with out-of-towners trying to find Super Bowl Boulevard on a map. It might be a small price to pay for hosting the NFL's championship game.
October, 25, 2013
Oct 25
1:24
PM ET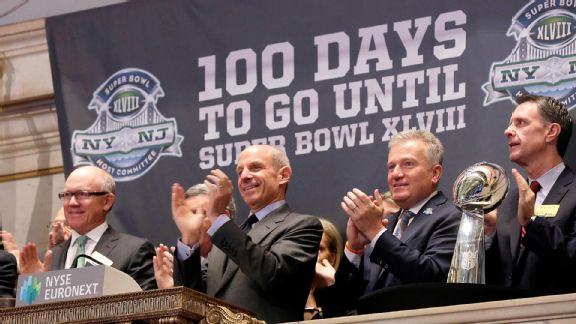 AP Photo/Richard DrewWill Woody Johnson and Jonathan Tisch still be all smiles on Feb. 2?
Each day from now until Feb. 2, ESPNNewYork.com will take you inside the challenge of staging the most unpredictable NFL title game ever. There are 100 days to the Super Bowl.
NEW YORK -- The team heading up Super Bowl XLVIII made it official Friday morning at 9:30 a.m. by ringing the opening bell at the New York Stock Exchange; the countdown to kickoff for the NFL's first-ever cold-weather extravaganza has begun.
As
ESPN New York reported on Thursday
, the New York/New Jersey Super Bowl Host Committee and CEO Al Kelly hope that this Super Bowl serves as the blueprint for other major events and leads to a regular return of the NFL's biggest stage to the area. For that to happen, it will have to go off without a hitch -- unlike, say, last year's game in New Orleans.
The three men at the top of the org chart are all smiles right now, but they have a lot to do in a few short days. Here is an overview of who's in charge and what's in store.
Al Kelly:
The president and CEO of the host committee, in charge of day-to-day operations and fundraising. A former CEO of American Express, he spent 23 years at the company.
Woody Johnson:
New York Jets
owner whose family started the Johnson & Johnson medical-supplies dynasty. Johnson grew up in New York and New Jersey, and was a member of the group that tried to bring the Olympics to New York City. Before agreeing to collaborate with the Giants on building MetLife Stadium, Johnson wanted to build a stadium with a roof on Manhattan's West Side.
Jonathan Tisch:
The co-owner of the
New York Giants
and the chairman of Loews Hotels. For six years, Tisch was in charge of NYC & Company, which was the marketing arm for the city. Like co-owner John Mara, Tisch inherited his stake in the Giants.
These three and a legion of executives and assistants will be working out the logistics of a complicated week in a city where the weather could be in the 50s -- or bitterly cold with an incoming blizzard promising two feet of snow.

The committee is slotting its biggest concerns as follows:
Security:
A huge concern for any big event, and in New York these concerns are multiplied. The host committee and the NFL are cooperating with federal authorities who take the lead on game day, and with city and state law enforcement officials in the weeks leading up to the event.
Weather:
Like the Post Office, the committee needs to get this Super Bowl delivered no matter what nature has in store. The truly scary part? Forecasts with any real specifics won't be available until about a week out.
Transportation:
On game day, MetLife Stadium will have just 12,000 parking spaces for fans out of the usual 28,000 available for Jets and Giants games. (That's right, more than half of the stadium's parking spaces will be engulfed by logistical trucks, hospitality tents or engulfed by the security perimeter.) That's why Kelly is calling this the "Public Transportation Super Bowl." Fans who shell out $2,000 for a ticket might be best served leaving the Rolls with the chauffeur and taking the bus from Port Authority.
Power:
Last year's Super Bowl blackout was a black eye for the NFL. In order to avoid a repeat, the committee has spent a great deal of time and money troubleshooting MetLife's grid, among many other challenges.
And they have exactly 100 days to get it all figured out.
Come back daily for more on the issues, logistics and personalities surrounding Super Bowl XLVIII.