New York Report:

Tomas Berdych
September, 4, 2011
9/04/11
12:38
AM ET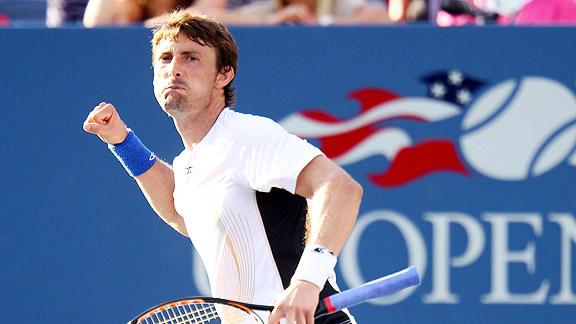 Julian Finney/Getty ImagesJuan Carlos Ferrero showed plenty of fight in his second-round win.
NEW YORK -- Through the first week of the U.S. Open, some moments can prove to be as thrilling as a
Novak Djokovic
between-the-legs winner. We have pared our highly subjective list of top moments in the men's draw to five.
1. From 0 to 60:
He may have been ranked No. 105 coming into the tournament, but
Juan Carlos Ferrero
was no stranger to the U.S. Open stage when he upset No. 7
Gael Monfils
in a marathon second-round match, 7-6 (5), 5-7, 6-7 (5), 6-4, 6-4. Ferrero, 31, lost in the 2003 U.S. Open final to
Andy Roddick
. Monfils, a favorite of tennis crowds, reached the quarterfinals last year. After the match, he said he's never acting when he dives for the ball, and made a comic book analogy: "I know all the people think I'm like elastic. You know, I'm diving. If I stay a little bit longer on the floor, they're like, He's acting. I'm not like X-Man, you know."
2. Raggedy Andy:
British fans can safely tune in to the U.S. Open for a little longer after
Andy Murray
's comeback win over
Robin Haase
. The No. 4 seed won 6-7 (5), 2-6, 6-2, 6-0, 6-4 but not before causing his countrymen more consternation. Guardian writer
Kevin Mitchell
said it was a match that could have served as a snapshot of Murray's entire career, which wasn't exactly high praise. Tennis watchers are looking to see if Murray can raise his game.
3. Forever Young: Donald Young
gave the fans something to cheer with his five-set comeback win over No. 14 seed
Stanislas Wawrinka
in the second round, 7-6 (7), 3-6, 2-6, 6-3, 7-6 (1). The wild card was one of several young Americans to surprise, and he was engaging afterward. "[The fans] were everything," Young said. "I was kind of tired like midway through the third, fourth set. They were chanting my name, which is great, kind of like baseball chants. Yeah, you know, just reminded me and made me feel great that all these people really wanted me to win here."
4. Berdych retires:
Although this wasn't necessarily a highlight, when No. 9
Tomas Berdych
retired Saturday he was the 10th man to do so and the 14th singles player, a Grand Slam record. In the 2008 Wimbledon tournament, 12 singles players retired from their matches. Berdych was one of three men who retired with a right shoulder injury.
5. Luke, I am your father:
There is a moment in every sport when an older athlete must tutor his possible replacement, and that moment may have played out at this U.S. Open when Roddick dispatched young
Jack Sock
in straight sets. Two big-servers from Nebraska, Roddick invited the 18-year-old to train with him in the offseason. It was the same thing
Andre Agassi
once did for a young Roddick. Sock isn't ready to take over yet, but a little mentoring from Roddick could set him on that path. "You know, it was just cool," Roddick said. "I could draw so many parallels to what he was going through."
September, 3, 2011
9/03/11
11:52
PM ET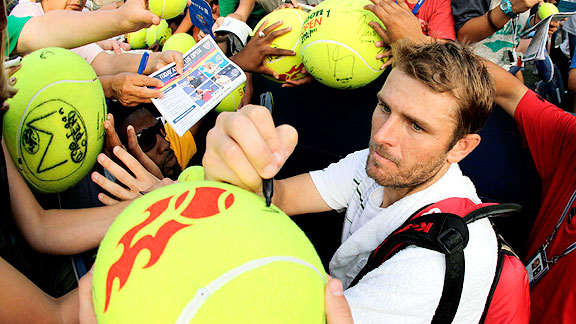 AP Photo/Charlie RiedelHas Mardy Fish become a fan favorite in Flushing? Judge for yourself.
NEW YORK -- It might have been over for
Mardy Fish
, or at least that's what he thought after knee surgery. It was something he had to face as a professional tennis player in his late 20s with a daunting rehabilitation ahead of him.
"I remember looking at myself in the mirror and saying, This is not how I want to go out," Fish said. "I definitely remember that."
Fish fought back from that September 2009 surgery, dropped 30 pounds and became the top-ranked American man in this year's U.S. Open draw. He continued his campaign with a 6-4, 7-6 (4), 7-6 (3) win over South Africa's
Kevin Anderson
in a third-round match Saturday.
Fish said he could feel the crowd support on Louis Armstrong Stadium.
"[It] feels like a sort of mini-Davis Cup court," Fish said. "I absolutely love that court. The atmosphere's outstanding out there. People are right on top of you. You can feel it. You can feel that they want you to win."
Fish, who turns 30 in December, has never been as recognizable here as his contemporaries
Andy Roddick
or
James Blake
. But he has had the most successful summer, with a title at Cincinnati and his first win over Rafael Nadal. Now, he said he can feel fans are starting to seek out his matches.
"I get the feeling, at least in the beginning of that match, that there were quite a few people there that maybe wouldn't have been there in years past," Fish said.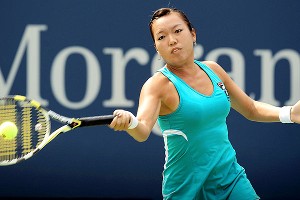 Matthias Hauer/US PresswireAmerican Vania King was eliminated in the third round for the second time in three years.
No. 1 spot:
Top-seeded
Caroline Wozniacki
started the day session with a win at Arthur Ashe Stadium, defeating American
Vania King
6-2, 6-4 in a third-round match.
Wozniacki said the wind was pretty tough, and she had to give the ball plenty of margin for error over the net and within the lines.
"I found it very difficult to place the ball the places I wanted to, so quite a few times I was going for the safe serve," Wozniacki said.
King, 22, also reached the third round of the U.S. Open last year and said she has been recognized this year around the tennis center. She is still alive in the mixed doubles tournament.
"I felt like I had two really solid matches before this," King said. "But yesterday I had doubles and mixed. To be honest, if I had known I would do so well in singles I would have rethought the mixed."
Over and out:
American wild card
Sloane Stephens
was the last of the young wave of up-and-comers who made a splash at the U.S. Open this year. With Stephens' 6-3, 6-4 loss to No. 16
Ana Ivanovic
,
Serena Williams
is the last American woman in the singles draw.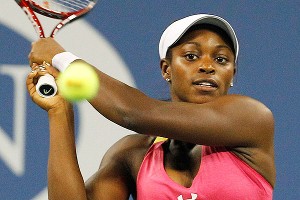 AP Photo/Elise AmendolaAmerican Sloane Stephens will be in the top 100 when the next rankings are released.
With her performance at the Open, where she won two matches, Stephens will break into the top 100, which is another big step for the 18-year-old.
"My mom said beginning of the year if I broke top 100, she'd get me a car," Stephens said. "So obviously I'm going to get a car."
Ready for AARP:
When No. 9
Tomas Berdych
retired from his third-round match with a right shoulder injury, it highlighted an unusual trend at this year's U.S. Open -- a record number of retirements. With 14 players retiring from the men's (10) and women's (4) singles draw, a Grand Slam record has been set. The previous high was 12 at Wimbledon in 2008.
Berdych said that he had the same problems when he withdrew from Cincinnati, and pulled out against No. 20
Janko Tipsarevic
, who was up 6-4, 5-0.
"I felt that already in the [second-round] match with
[Fabio] Fognini
, but I was able to finish it up," Berdych said. "I didn't even go to hit yesterday. Want to just have a treatment on that, relax and don't do anything and hoping that it's gonna be better, but it's not."
Stormy weather:
The forecast calls for rain from Tuesday through Friday of next week, and on Saturday workers were spotted moving the court blowers into position through the corridors under Arthur Ashe Stadium. The USTA has a weather person on site to determine when windows appear to play matches on rainy days.
Personal trainer:
No. 7
Francesca Schiavone
may have won her third-round match, but she needed injury timeouts in order to make it through. The Italian indicated that she had an issue with a stomach muscle, which caused her a tremendous amount of discomfort during the 6-7, 7-6, 6-3 win over
Chanelle Scheepers
.
"It's great to come back after fight like this," Schiavone said. "In the meantime, it's bad to arrive there."