September, 19, 2014
Sep 19
12:13
AM ET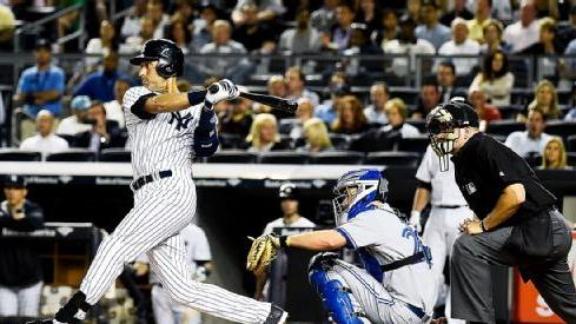 NEW YORK -- There will be at least one more curtain call for
Derek Jeter
, and that will come when the curtains close on the Yankee Stadium portion of Jeter's career in the Yankees' final home game next Thursday night.
But there was an occasion for another on this Thursday night, not a ceremonial one but a real one, an old-fashioned bound out of the dugout and wave your hat at a stadium full of cheering people type of curtain call because you've just done something really good.
Jeter did something really good, and really rare, in the sixth inning of Thursday night's 3-2 Yankees win over the
Toronto Blue Jays
, which became a walk-off win because Jays slugger
Jose Bautista
saw Jeter's solo blast and raised it with a two-run shot to tie the game off reliever
Shawn Kelley
in the eighth.
[+] Enlarge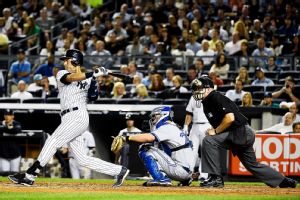 Alex Goodlett/Getty ImagesDerek Jeter hit his first HR of the season at Yankee Stadium in the sixth inning of the Yanks' 3-2 walk-off win.
But that did not diminish what Jeter did, or what the Yankee Stadium crowd saw, two innings earlier.
What he did, and what they saw, was hit very likely the last home run he will ever hit, at Yankee Stadium or anywhere. Considering how rarely he hits the ball out of any ballpark -- that was just his fourth home run of the season and first in 158 at-bats -- and how long it has been since he hit one out of Yankee Stadium (he last hit one in his home park on July 28, 2013, a stretch of 298 at-bats), the sight of Jeter lining a rare
R.A. Dickey
fastball deep into the lower left-field seats was a mental snapshot to be preserved by everyone who happened to be there to see it.
And if any accomplishment on a baseball field called for a curtain call, that was it.
But Jeter, in a most Jeter-like gesture, passed up the opportunity to bask in the glory of the moment, preferring instead to try to build on it.
"I heard 'em cheering," Jeter said. "But [
Brian McCann
] was in the middle of his at-bat, so I don't want to distract anyone that's hitting at the time."
So while Jeter was clearly happy with his home run -- he bumped every fist in the dugout with the smile and gusto of a rookie, and in a nice gesture,
Brett Gardner
slipped behind him and removed the batting helmet from his head and tucked it into its cubbyhole -- he had no interest in detracting from the business at hand.
McCann hit the first pitch he saw on the ground for the second out of the inning, deflating the crowd and defusing the moment. Still, at that point in the game, Jeter thought McCann's at-bat every bit as important, if not more so, than his. The home run gave the Yankees a 2-0 lead, but there were still three-plus innings left to play, and runs to be tacked on.
"Hey, it's another game," he said. "I'm trying not to think about it being the last homestand. We still have a week left. We're trying to win games and I'm going to go out there and play hard like I've always done my entire career until we're out of games."
Even as the days wind down on his fabulous career, Jeter is still playing in the moment, looking neither ahead nor backward, still treating every game as if it were his first in the big leagues, or the last of a World Series.
Despite the Yankees lagging badly in the race for the second AL wild-card spot, otherwise known as winning the privilege of traveling across the country to get beaten by a better team in a one-game playoff, Jeter still comes to the park outwardly brimming with optimism.
On the afternoon of the first game of his final homestand in the Bronx, Jeter played his daily game in the infield during batting practice, in which he calls out situations to the other Yankees infielders, and then plays official scorer, deciding if the ensuing play was a hit, out or error.
And when he stepped into the cage, he challenged the other players in his batting practice group to their daily game of "total bases," in which the player who runs up the most bases in five swings is the winner. It is a game Jeter rarely wins because it requires hitting the ball into the seats.

Still, he approaches it as if it is the most fun he will have all day.
That is, until the real game starts.
"It's a privilege for everybody in this clubhouse to be around that," said
Chase Headley
, who eventually won the game for the Yankees when his hot grounder got past
Adam Lind
in the bottom of the ninth, scoring pinch runner
Antoan Richardson
from third. "Personally, for me, to be able to spend the last two months of his career with him, it's been neat. To get to know him, to watch him do his thing, you're not surprised when he does things like that."
In fact, it had been an odd night for Jeter up until the home run. He had reached on an infield hit in the first inning, when
Jose Reyes
had trouble getting the handle on his routine grounder to the hole, and he had been slightly embarrassed in the same inning when he half-heartedly took off on a 3-2 pitch to McCann with two out, thinking he had just seen ball four. But plate umpire
Jeff Nelson
punched McCann out, and Jeter was left hanging, easily thrown out without a slide to complete an inning-ending double play.
But that had been long forgotten by the time Dickey, who lives by his knuckleball, tried to sneak a 3-1 "fastball," clocked at 82 mph, past Jeter, only to see the ball rocket into the seats to give the Yankees a 2-0 lead. The shot was an eye-opener coming from a player who has had so much trouble hitting the ball with authority this season that he ranks 149th out of 150 major league players in slugging percentage (.303).
But it was hardly surprising to those who have watched Jeter on a daily basis for most of his 20 big league seasons that in the final days of his career, with the eyes of the baseball world on him, he would come up with one more big moment. At least.
"He just has the ability to do that," manager Joe Girardi said. "I've always said, he's the guy you want up with the game on the line, in big situations. He's always had that ability."
To Jeter, of course, it wasn't a particularly big moment, just another moment in a career that has been filled with them, and, he hopes, still has a few more left to be played out.
There's still time for the ceremonial, lifetime achievement award curtain call that is sure to come six days from now. But in the meantime, Jeter is not interested in taking real-life curtain calls, even for moments that would have lesser players bounding up the dugout steps without prompting.
"I'm happy because we won the game," he said. "I can't worry about what I've done up to this point. I'm just trying to have one last homestand here and I'm going to try to play as hard as I can, like I always do, and hopefully there'll be a few good games left in us."
And maybe even more than one more curtain call for Jeter.