August, 27, 2014
Aug 27
12:54
AM ET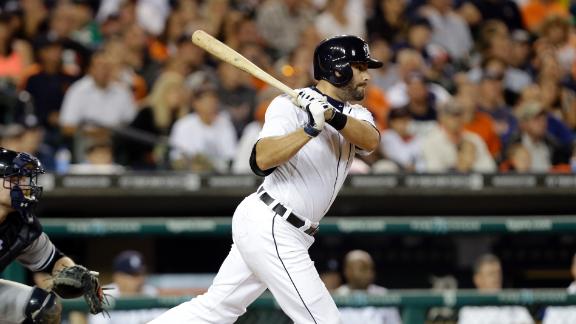 DETROIT -- They have followed a predictable, and disturbing, pattern all season long: Win one, lose one. Win two, lose three. Win three, lose two. Win four, lose four.
Win five?
Well, the New York Yankees have done it twice now this season. They did it in April, and immediately followed by losing three of their next five.
And they did it again last week, capped by Monday's 8-1 blowout of the AL Central-leading
Kansas City Royals
.
Who knows what they will follow this one with?
Already, they have begun to work on another losing streak, with Tuesday night's 5-2 loss to the Tigers in a game that reminded you a lot of why the Yankees are in the position they are in. It also cautioned you not to get too worked up over a five-game winning streak amassed mostly at the expense of the
Houston Astros
and
Chicago White Sox
, a couple of fourth-place teams that have absolutely nothing to play for other than the end of the season.
Those games count, of course, but they really only mattered to one of the teams in them.
Now, the games matter again, to both teams. The Yankees are chasing the Tigers for that second AL wild-card spot. From here, they go to Toronto to play a team that is chasing them. Next week, it's the Royals again, and there's still eight left with the AL East-leading Orioles. Not a lot of soft spots to land on and not a lot of games to give away.
[+] Enlarge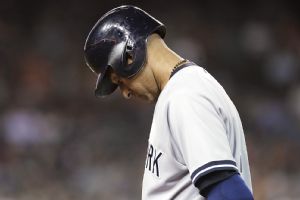 AP Photo/Paul SancyaThe Yankees don't have time to hang their heads with 32 games remaining on the schedule.
That's why losing the opener of this three-game series to the Tigers seemed almost as big as the five wins that preceded it. Beating the Tigers and
Rick Porcello
, and slicing a game off the two-game margin in the wild-card race Detroit began the night with would have told you that this time, maybe the Yankees are for real, that maybe they finally had shaken off a season-long slump and were about to go on that run that Yankees manager Joe Girardi and
Derek Jeter
and so many others keep predicting is just around the corner.
And it may still happen, but the road doesn't get any easier; they get to face
David Price
on Wednesday and TBA, which probably stands for
Justin Verlander
, on Thursday.
The point is, no matter who they are playing, the Yankees can't afford to nullify yet another winning streak with an equivalent losing streak. Or even anything close to equivalent.
"I think it's really important," Girardi said. "We've got to find a way to win a game tomorrow and stop it right now. Obviously we're facing a good team and a good pitcher tomorrow, but we've got to get it done."
Yes, we've heard all that before, many times this season.
But this time, the Yankees better mean it. Because with just 32 games left in the season, another four-game losing streak -- they've already had three of those, as well as two five-game losing streaks and a bunch of threes -- may just be too much for them to overcome.
"It sucks because as we get closer to the end, all of them become important," said
Brandon McCarthy
, who followed up a complete-game shutout over the Astros by pitching quite well enough to lose [6 2/3 IP, 9H, 5ER]. "You know days like this you're going to give up some runs, especially against a good team like that. You'd like to be able to limit it a little bit more."
The Tigers chipped away at McCarthy with runs in the second (a bases-loaded walk) and third (RBI single by
J.D. Martinez
, the hitting star Tuesday), and broke it open with two more in the sixth (three straight hits) and one more in the seventh. Meanwhile, although the Yanks managed nine hits off Porcello, seven were singles, two were infield hits, and the other scoring came off a pair of solo home runs by
Jacoby Ellsbury
. The Yankees had a little something going in the third, runners at first and second with two outs, only to have Derek Jeter take a third strike, and again in the fourth, with two runners on that neither
Martin Prado
nor
Stephen Drew
could get home.
"I actually thought we swung the bats pretty decent; we had nine hits off him," Girardi said. "But it's hard to elevate the ball on him, so you're going to see singles. You have to put a lot of singles together in the course of an inning to score runs. That's what he's so good at, being a sinkerballer."
That's the kind of thing we heard all season long about a lot of pitchers, many of whom were not nearly as good as Porcello. For awhile there, it looked as if the Yankees had left those days behind, especially after they took three of four from the Tigers three weeks ago in New York, beating Porcello, Verlander and reigning AL Cy Young Award winner
Max Scherzer
in the process.
That stretch was supposed to be the start of something big, but even with the five-game winning streak, the Yankees are just 8-7 since.
They can't afford to do that again over the next 15 games.
"I guess you can't think about it," said Ellsbury, who is 6-for-9 with three HRs and five RBIs over the last two games. "You got to play to win, and not to lose. We just got to go out there tomorrow, compete and play like we have been. Hopefully we can go on another run, but all we can do is go out there and play the way we have the last six or seven games."
Yes, we've heard that many times before during this frustrating Yankees season.
But this time, the Yankees have to back up those words with some action.
Gardner back tomorrow?:
He thinks so, after running a little bit in the indoor cage since all outdoor pregame activity was washed out by the pregame rainstorm that caused the start of the game to be delayed by an hour and eight minutes. Gardner said he will know better after running on the field before Wednesday's game, but "I expect to be able to play."
The horse has left the barn:
To the glue factory with
Shawn Kelley
's horse mask, which he wore to shag flies before the last five games, all of which the Yankees won. But he vowed that as soon as the winning streak was over, so was the mask. Can't wait to see what he comes up with next, if anything.
August, 26, 2014
Aug 26
11:01
PM ET
DETROIT -- It's games like this that make you reluctant to believe that the Yankees' latest surge is anything more than just another tease.
Tuesday, they got two home runs off
Rick Porcello
-- and little else, since both of them were solo shots from the same player.


And they got an OK -- not good, not bad and certainly not enough -- pitching performance out of
Brandon McCarthy
. And suddenly, this team looked and felt a lot like the one that has taken you on a roller-coaster ride all season and, like all roller coasters, let you down at the finish.
Tuesday's 5-2 loss dropped them one more crucial game behind the Tigers -- now three games -- for the second AL wild-card spot, and back to seven games behind the AL East-leading
Baltimore Orioles
, winners over the
Tampa Bay Rays
tonight. Of course, things can turn around quickly in this game, but now, the Yankees are down to just 32 more games to go.
Branded:
Perhaps he couldn't be expected to match his last outing, when he shut out the Astros on four hits, but Brandon McCarthy turned in his worst outing as a Yankee, allowing five runs and nine hits in 6 1/3 innings. He also walked two and hit a batter, leading to the Tigers' first run of the game. After McCarthy allowed a seventh-inning run, the Tigers' fifth of the game, on a double by
Rajai Davis
and a single by
Torii Hunter
, Joe Girardi replaced him with
Esmil Rogers
, who struck out
Miguel Cabrera
and retired
Victor Martinez
to end the inning.
J.D. Power and associates:
The Tigers tacked on a pair of sixth-inning runs that essentially put the game away, stringing together three hits to start the inning -- a single by Victor Martinez, a double by
J.D. Martinez
and an RBI single by
Nick Castellanos
-- followed by a double-play grounder that scored J.D. from third, giving the Tigers a 4-1 lead. In his first three at-bats, J.D. Martinez had a double, two singles, an RBI and scored twice. No shock, maybe, that Rogers' first pitch to Martinez on his fourth at-bat was a fastball that sailed over his head.
Walkover:
The Tigers got their first run of the game when McCarthy walked Davis with the bases loaded in the second. McCarthy, who pitched a strong first inning, getting Cabrera to bounce out and striking out Victor Martinez to end the inning with a runner on second, lost his command in the second, allowing a leadoff single to J.D. Martinez, walking Castellanos and hitting
Eugenio Suarez
on the shoulder before walking Davis. He then settled down to get
Ian Kinsler
to hit into a double play.
One more time:
The Tigers added to their lead in the third when Miguel Cabrera doubled into the left-center gap and J.D. Martinez singled him home to make it a 2-0 game.
Ells bombs:
Jacoby Ellsbury
's 12th home run of the season, and second in two games, cut the lead in half, to 2-1, when he jumped on a first-pitch changeup from Porcello and clubbed it into the right-field seats with two out in the fifth. Three innings later, he led off the eighth with another solo shot into the runway beyond the right-field fence to make it a 5-2 ballgame. Ellsbury's 60 RBIs lead the team, five ahead of
Brian McCann
.
Kalamazoo Kid:
Derek Jeter
, who grew up about 2 1/2 hours from here in Kalamazoo, Michigan, was treated like a hometown boy by the Comerica crowd, getting a huge ovation before his first at-bat. He rewarded the fans with a single to right. In his second at-bat, plate ump James Hoye punched him out on a fastball at the knees, a call that ended the third inning with two runners on and drew a glare from the normally impassive Jeter. Jeter added an infield hit in the eighth.
Tomorrow:
Game 2 of this three-game series matches
Shane Greene
(3-1, 3.17) and LHP
David Price
(12-9, 3.00), first pitch at 7:08 p.m.
August, 26, 2014
Aug 26
10:53
PM ET
Associated Press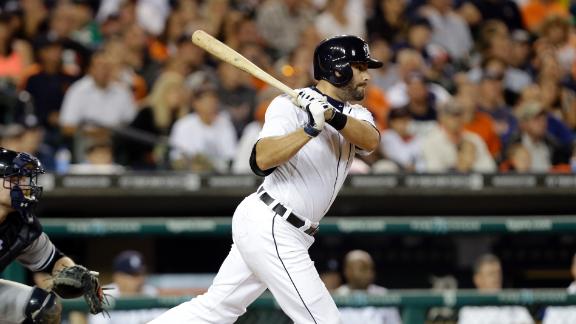 DETROIT -- Rick Porcello pitched eight impressive innings, and the Detroit Tigers snapped New York's five-game winning streak Tuesday night, beating the Yankees 5-2.
Porcello (15-8) joined teammate Max Scherzer as the American League's only 15-game winners, allowing two runs and nine hits. The 25-year-old right-hander threw a shutout in his previous start against Tampa Bay, and he blanked the Yankees until Jacoby Ellsbury's homer in the fifth.
Ellsbury added another solo shot in the eighth.
Brandon McCarthy (5-3) dealt with some uncharacteristic control problems in the second, and he ended up allowing five runs and nine hits in 6 1/3 innings.
Joe Nathan pitched a perfect ninth for Detroit for his 28th save in 34 chances. First baseman Miguel Cabrera made two nice plays to close out the win.
J.D. Martinez had three hits for the Tigers.
August, 26, 2014
Aug 26
7:38
PM ET
DETROIT --
Brett Gardner
reported improvement in his right ankle Tuesday night, but by the time he got to the ballpark Joe Girardi had already made the decision not to start him in the opener of the pivotal three-game series against the Tigers at Comerica Park.
Girardi said he was concerned that Gardner had still not run on the injury -- he fouled a ball off the ankle on Saturday -- and decided to give him one more day regardless of how his pregame workout went. When a rainstorm washed out batting practice and any on-field activities, it just cemented in Girardi's mind the belief that his left fielder, who had appeared in 124 of the team's first 128 games, was not quite ready to return.
"Gardy's pretty tough, and Gardy's played through a lot, which made me believe that it's probably not 100 percent, which it might not be for a while," Girardi said. "This extra day will probably do us some good. My concern is that he favors it, or that he gets out there and he can't run, and then I've got to make a change. It can just really mess things up."
Girardi said it was possible Gardner could be available to pinch-hit sometime tonight.
Tex back, but will be watched:
Mark Teixeira
sat out Monday's game with a sore hamstring, but he's back in the lineup tonight, although Girardi said he will be keeping an eye on the oft-injured first baseman the rest of the way.
"I think you're always going to watch it a little bit," said Girardi of Teixeira, who has missed 33 games this season with various ailments. "I think the day off probably helped, and we just tell him to play smart. I mean, he did play smart the couple of days that he had it, so he''s just going to have to continue to do that."
Tanaka back on the hill:
Masahiro Tanaka
was scheduled to throw a bullpen today, although with the rain that throwing session was likely moved indoors. In any event, assuming he comes out of it OK, Tanaka is scheduled to throw a simulated game on the field at Comerica before Thursday afternoon's series finale. The Yankees are still hopeful that Tanaka, who suffered a partially-torn ulnar collateral ligament in July, will be able to make a few starts in late September.
McCarthy on a roll:
Aside from his strong showing in seven of the eight starts he has made as a Yankee,
Brandon McCarthy
, tonight's starter, has been quite effective against the Tigers lately, having won his last three starts against them after going 0-3 in his first seven. Most recently, McCarthy beat defending AL Cy Young winner
Max Scherzer
on august 4 at Yankee Stadium, turning in 5 2/3 innings of five-hit, one-run (no earned runs) ball in a 2-1 Yankees victory. Overall, he is 4-3 with a 3.14 ERA in 17 career appearances against Detroit.
Rick rolled:
Rick Porcello
, tonight's Tigers starter, pitched a whale of a ballgame on August 7 at Yankee Stadium, allowing just one run on nine hits over seven innings. But Porcello ran into a gem by
Shane Greene
, who threw a complete game shutout in the Yankees 1-0 victory. Porcello is 3-3 with a 4.18 ERA in eight career starts against the Yankees.
August, 26, 2014
Aug 26
7:31
PM ET
DETROIT -- The sun is out now, but some rain is still falling and the tarp is still on the infield. The Tigers have announced an approximate start time of 8:15 p.m. for tonight's game.
August, 26, 2014
Aug 26
7:17
PM ET
DETROIT -- Through the first 120 games of the season,
Derek Jeter
served as the New York Yankees' DH four times.
And over the past eight games, he has been the DH three more times. If the Yankees wind up playing tonight -- they are in a rain delay that will delay the start of the first of three games between them and the
Detroit Tigers
, and the forecast is not promising -- it will be four times over the past nine games.
Starting to sense a pattern here?
Although Yankees manager Joe Girardi will not say so, it appears as if Jeter will be used increasingly as a DH over the final 32 games of this season, and his career.

The trend began with a game against the
Tampa Bay Rays
on the punishing turf of Tropicana Field on Aug. 16, and continued the next day, a 4-2 Yankees win in which the Yankees' much-maligned infield made a handful of spectacular, and possibly game-saving, plays behind
Hiroki Kuroda
.
Asked after the game if he thought the Yankees were a better defensive team without Jeter on the field -- he had the game-winning RBI single in the first game and a hit in the second game -- Girardi was quite revealing when he said, "That's not a discussion that I really want to have right now. With Carlos [Beltran] being able to play the outfield, I can obviously do some different things. But Jeet's my shortstop."
But two games later, he was the DH again, and four games after that, he is the DH again, while
Stephen Drew
plays shortstop.
Asked before tonight's game if he was likely to use Jeter as a DH even more often as the Yankees head down the stretch fighting for a playoff spot, Girardi was non-committal.
"I don't know," Girardi said. "I'm in the mode that I'm just taking it day by day, but with Carlos being able to go into the outfield once in a while, it gives me more flexibility to do this."
Girardi cited the Yankees having to fly overnight from Kansas City as one reason for Jeter's name being penciled into the lineup, but not the field, tonight, as well as the long stretch of games facing the Yankees -- they have an off-day on Sept. 1, and another on Sept. 8 -- and a proliferation of lefty starters coming up that will necessitate him playing in some capacity nearly every day the rest of the way.
"I try to give him a little blow when I can," Girardi said. "And I thought today was probably a good day."
Jeter has been open, although not belligerently so, about his dislike for DHing. "I'm not sure how people do it," he has said. "I run out of things to do." But when asked about it tonight he seemed almost resigned to doing it.
"My job is to come here and, when I'm in the lineup, play," he said. "I like to play every day. I like to play shortstop every day. Everyone is aware of that, but I get it. I understand it. We've had a long stretch here. I think we only have a couple of more days off, and then we have another long stretch at the end of the year. So, I don't know what his plans are. My job is to play."
And Girardi's job is to determine where.
Question:
Do you think Jeter should play more DH than shortstop the rest of the way?
August, 26, 2014
Aug 26
6:38
PM ET
DETROIT -- The previously scheduled first pitch is still 35 minutes away and the skies above Comerica Park have brightened somewhat, but tonight's Yankees-Tigers game will not start at its original 7:08 time, and there is no estimated start time yet, either.

The forecast calls for a 90 percent chance of rain through 10 p.m., but since this is the last -- and only -- trip to Detroit all season for the Yankees, buckle in for a long wait. Otherwise, tomorrow would probably be a day/night doubleheader.

Stay tuned for more updates.
August, 26, 2014
Aug 26
6:17
PM ET
DETROIT -- One of the most important stretches of the season begins tonight -- provided the weather holds out -- as the Yankees open a three-game series against the Tigers, who they trail by two games in the race for the second AL wild card, at Comerica Park.
Derek Jeter
is the DH and
Brett Gardner
(sore ankle) is on the bench, although he might be available to pinch hit. The forecast calls for rain for much of the evening; the field is covered right now (5:45 p.m.) and there was no on-field BP.


Here's the lineup that will face RHP
Rick Porcello
:
Jacoby Ellsbury
CF
Jeter DH
Brian McCann
C
Mark Teixeira
1B
Carlos Beltran
RF
Martin Prado
2B
Stephen Drew
SS
Chase Headley
3B
Ichiro Suzuki
LF
Brandon McCarthy
RHP
August, 26, 2014
Aug 26
6:06
PM ET
Associated Press
[+] Enlarge
Duane Burleson/Getty ImagesAnibal Sanchez is 8-5 with a 3.46 ERA, but he hasn't pitched since Aug. 8 because of a right pectoral strain.
DETROIT -- The Detroit Tigers will have their pitching depth tested for at least a little bit longer now that Anibal Sanchez is dealing with a setback in his recovery from a right pectoral strain.
Sanchez said he was feeling better Tuesday, but he experienced pain while throwing Monday. Manager Brad Ausmus said Sanchez will not be able to return for Saturday's doubleheader against the Chicago White Sox.
"With the situation we are (in) right now, of course I'm concerned," Sanchez said. "I don't like being on the bench, just seeing everything happen. I know the team is going to do very well, we're going to start playing better. Personally, I'm a very competitive person, and I like being on the mound all of the time."
August, 26, 2014
Aug 26
10:00
AM ET
By
Katie Sharp & Mark Simon
| ESPNNewYork.com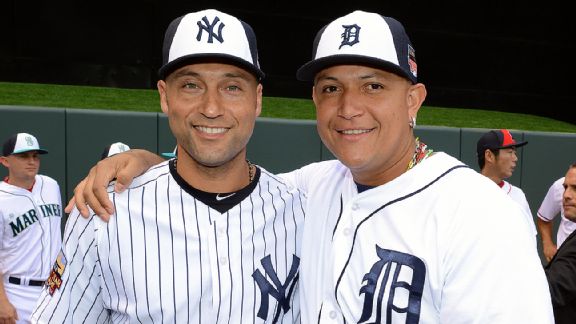 Mark Cunningham/MLB Photos/Getty ImagesAmong those Derek Jeter posed for photos with at his final All-Star Game was slugger Miguel Cabrera.
All season we'll be tracking Derek Jeter as he prepares to play in his final series against each team. Here's a look at his career against the Detroit Tigers, whom the Yankees open a series against on Tuesday.
Career
Regular Season
.325 BA
.399 OBP
.444 Slug pct
188 Hits
12 HR
113 Runs scored
74 RBIs
142 Games
Postseason
.333 BA
15 Hits
3 HR
10 Runs scored
3 RBIs
10 Games
By the numbers
• From 1996 to 2001, Jeter was 112-for-267 (a .419 batting average) in 65 games against the Tigers. That is a 279-hit pace over a 162-game season!
• Jeter hit .548 in 44 plate appearances against the Tigers in 2000. That is his highest batting average in a single season against any opponent (minimum four games).
• That .548 average against the Tigers in 2000 is also the highest by any player against the Tigers in a single season over the last 100 years (minimum 40 plate appearances).
• Jeter's .399 on-base percentage vs. the Tigers is the fifth-highest by any Yankee against the Tigers (minimum 250 plate appearances), behind only Babe Ruth (.485), Lou Gehrig (.468), Mickey Mantle (.406) and World War II-era first baseman Nick Etten (.402).
• Jeter posted a .360/.429/.547 line in 22 games at the old Tiger Stadium. That is his highest batting average, on-base percentage and slugging percentage at any of the 18 ballparks where he played at least 15 games.
• However, he has just a .260/.315/.355 line in 46 games at Comerica Park. That on-base percentage and slugging percentage are both his
worst
at any of the 22 ballparks where he has played at least 10 games.
• Jeter had a 25-game hit streak against the Tigers spanning the 1999-2001 seasons (during which he hit .476!), the fifth-longest hit streak against the Tigers by any player in the last 100 seasons. It is also his longest hit streak against any team in his career.
• Jeter has nine triples against the Tigers, matching the Orioles for his most vs. any team.
• Jeter's only career multi-triple game came on September 10, 1996 in a 9-8 win over the Tigers in Detroit.
• Jeter went 5-for-5 with two doubles and homer in Game 1 of the 2006 ALDS against the Tigers. He is one of three players in postseason history to go 5-for-5 or better in a game, joining Marquis Grissom in Game 4 of 1995 NLDS and Carl Crawford in Game 4 of the 2008 ALCS. Jeter is the only one of those three players to also hit a homer in the game.
• The Yankees are 3-7 in postseason games against the Tigers with Jeter in the lineup. That is his worst personal win percentage against any team in the postseason. The Tigers are the only AL team that he has never won a playoff series against (among those he has faced).
• One of Jeter's biggest nemeses' is a Tigers pitcher. He's 2-for-18 in his career against Rick Porcello (combining regular season and postseason), tied for his third-worst batting average against any pitcher versus whom he has at least 15 at-bats
They said it
"No one is worth $1 million. But if one kid is worth that, it's this kid."
Former Detroit Tigers Hall-of-Fame pitcher and Astros scout Hal Newhouser to his supervisor after watching Jeter play. The Astros would not follow Newhouser's recommendation and Jeter would be available to be drafted by the Yankees
.
Jeter's best moment
September 25, 2000 -- Jeter beat out an infield single in the fifth inning against Tigers starter Steve Sparks, recording the 1,000th hit of his career. The hit was the lone highlight for the Yankees in a 15-4 loss to the Tigers.