September, 2, 2014
Sep 2
7:26
PM ET
By
Danny Knobler | Special to ESPNNewYork.com
NEW YORK -- It didn't work out for
Chris Young
with the Mets.
They know that. You know that. Chris Young knows that.
"There's no real way to sugarcoat it," Young said Tuesday. "For the 250 or so at-bats I got, I should have done more. I hold myself fully accountable."
[+] Enlarge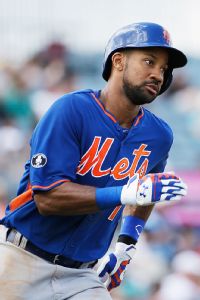 AP Photo/David GoldmanChris Young hopes to catch on with the Yankees after an unsuccessful stint with the Mets.
It didn't work out with the Mets, but don't say it didn't work out for Chris Young in New York -- not yet. He's back in town, back in uniform, added to the Yankees' roster Tuesday as an extra outfielder and bat off the bench.
It's almost like he never left. In a way, he never did.
Young was ready to clean out his apartment after the Mets designated him for assignment on Aug. 9. He'd already arranged to have his furniture moved out, but changed his mind before the truck arrived.
"Something told me to hold off until the end of the season," he said.
The Yankees signed him to a minor league contract last week. He played four games for Triple-A Scranton/Wilkes-Barre, and now he's here, the 118th player to play for both the Mets and Yankees, and the 16th to play for both teams in the same season.
It's not a real exciting list, running from Bob Friend in 1966 to
Angel Berroa
in 2009 and now to Young. Unless you're a huge Yankees or Mets fan, you won't recognize most of the names.
Even if you are, you still might not.
Mets fans remember Young, but not fondly. He'd love to think Yankees fans will remember him, too.
"It's exciting to be able to say I had a chance to play for the Mets and the Yankees in the same year," he said. "How many guys have done that?"
September, 2, 2014
Sep 2
5:21
PM ET
NEW YORK -- Facing rapid-fire questions about moving the struggling
Derek Jeter
down in the order, Joe Girardi admitted that there aren't a lot of hot hitters to choose from in his 2014 lineup and essentially asked people to stop picking on Jeter.
"He is going to be the focal point because of who he is, but I think people are talking about moving him. But in saying that, you say, 'OK, well, look up and down our numbers and there are a lot of .230s and .240s,'" Girardi said before the Yankees played the Red Sox on Tuesday night. "I'm not so sure why he is the one that is necessarily picked on here. He has been a money player his whole career, and we need him to be that the last month."
Jeter had a .487 OPS in August, which included an on-base percentage of just .226. He batted .207 during the month with a homer and nine RBIs. Overall, Jeter is batting .261 with three homers and 36 RBIs in 121 games.
Girardi swatted away the notion that he is managing a "farewell tour," declaring he would move Jeter down in the order if there were someone else in the lineup who deserved to take his spot.
"I've said it a number of times: If I had eight other guys hitting .300, it probably wouldn't be difficult," Girardi said. "If you look up and down at our numbers, we've had a number of guys have tough years, years we wouldn't have projected. So I move him? Who am I going to put there? That's my question. Who are you going to move there that's been more consistent during the season? We haven't hit collectively as a team. To single him out is unfair.
"We are 14 out of 15 in runs scored. That's not all Derek's fault. That's collectively we haven't hit."
In the American League, the Yankees have scored more runs than only the Red Sox entering Tuesday night.
Girardi is relying on Jeter's clutch gene, if there is such a thing.
"I consider us to kind of be in playoff mode right now," Girardi said. "We obviously need to win games. Throughout his career he has been clutch in the playoffs. So we are leaving him. He is a hot topic always, just because of who he is. There are other issues that we have in our lineup that we have to be better at as well."
Ellsbury back, Gardner third:
With
Jacoby Ellsbury
returning and thriving in the leadoff spot, Girardi has
Brett Gardner
batting third for the first time in his career. Why now?
"I left Jake in the 1-hole," Girardi said. "My concern when they both were going well. They are both going well, why move them? I put Jake in the 1-hole when Gardy got hurt. He did extremely well so I'll leave him there and put Gardy third."
Roster moves:
The Yankees called up
John Ryan Murphy
,
Preston Claiborne
, righty
Bryan Mitchell
,
Chase Whitley
,
Rich Hill
, ex-Met
Chris Young
, righty
Chaz Roe
and the speedy
Antoan Richardson
.
Matt Daley
was released while
Zoilo Almonte
was designated for assignment.
Slade Heathcott
(knee surgery) and
Masahiro Tanaka
were moved to the 60-day DL, but those were just procedural moves to free up space on the 40-man for all the call-ups.
September, 2, 2014
Sep 2
5:10
PM ET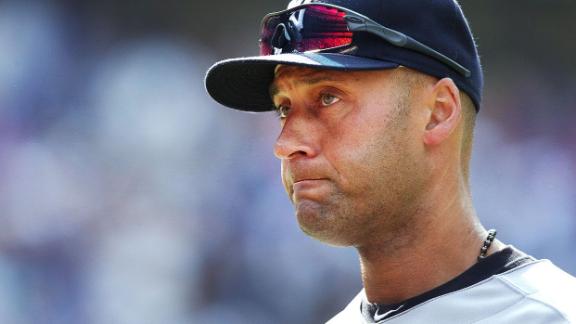 The New York Yankees announced Tuesday that the team will wear a patch of Derek Jeter's final-season logo on all player hats and uniforms from Sept. 7, the day that the shortstop will be honored at Yankee Stadium, through the end of the season.
The baseballs with Jeter logos that will be put in play on Sept. 7, and the uniforms used in the game and throughout the rest of the season will be sold by Steiner Sports, company president Brandon Steiner said.
Steiner also has an exclusive autograph deal with Jeter and has been selling more than 200 Jeter-signed products, including game-used jerseys that retail for $25,000.
Leading up to Jeter's final games, an even greater flow of merchandise has hit the shelves. New Era is selling a three-cap box of Jeter hats for $150. The hats, which are available only at Yankee Stadium and official Yankees stores, are limited to 2,014 sets.
New Era Cap president Pete Augustine told ESPN.com that the company, which has been making hats since 1920, has never celebrated a player like this.
"As soon as he announced this was going to be his final season, we could see the market was hungry for it," Augustine said. "We've never seen this much interest from a player perspective, and I'm not sure we ever will."
New Era has made more than 50 Jeter products for sale, including a white leather fitted hat for $99.99.
"We literally can't keep product in stock," Augustine said. "We make it, it sells out."
New Era sells more Yankees caps than any other team, as 23 percent of the company's Major League Baseball business this year has been generated off the Yankees logo. Augustine said Jeter's final season has helped push the numbers by a few percentage points.
The Yankees will also be selling a commemorative Jeter issue of Yankees Magazine for $20.
September, 2, 2014
Sep 2
4:33
PM ET
[+] Enlarge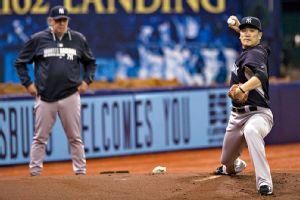 AP Photo/Steve NesiusMasahiro Tanaka reported no problems after playing catch Tuesday and is expected to throw a bullpen session later this week.
NEW YORK -- Masahiro Tanaka once again has been cleared by the New York Yankees' team doctor to rev up his throwing program in an effort to return this season from the slightly torn ligament in his pitching elbow.
Tanaka, out for nearly two months, played catch Tuesday and reported no problems, according to manager Joe Girardi.
He will throw a bullpen session later in the week, though Girardi declined to reveal which day it would occur. With less than four weeks left in the regular season, the Yankees are trying to see if Tanaka can pitch again for them this season.
Tanaka announced last Friday that he had "general soreness" in his right arm, halting his throwing program. He said at the time he wanted to be cautious.
Yankees team doctor Chris Ahmad saw Tanaka on Monday and diagnosed the rookie ace with arm fatigue.
"Every manual test that they did came out really well," Girardi said. "They just said he had some arm fatigue and he is scheduled to throw a bullpen sometime this week. Hopefully, he is ready to do it."
Girardi had no timetable for when Tanaka possibly could be on a major league mound again. In 18 starts, Tanaka was 12-4 with a 2.51 ERA this season.
September, 2, 2014
Sep 2
3:36
PM ET
NEW YORK -- After not starting for two games,
Jacoby Ellsbury
is in the lineup leading off, while
Brett Gardner
is the Yankees' No. 3 hitter.
Here is the full lineup behind
Shane Greene
and against righty
Joe Kelly
.
Ellsbury, CF
Derek Jeter
, SS
Gardner, LF
Mark Teixeira
, 1B
Carlos Beltran
, RF
Brian McCann
, DH
Martin Prado
, 2B
Chase Headley
, 3B
Francisco Cervelli
, C
September, 1, 2014
Sep 1
2:24
PM ET
The long goodbye is now in probably its final month. That means there are aspects of
Derek Jeter
's career that now really are final.
It is one thing when Jeter plays his final games in Chicago or Los Angeles or even Toronto. It is another when it is against the Red Sox.
[+] Enlarge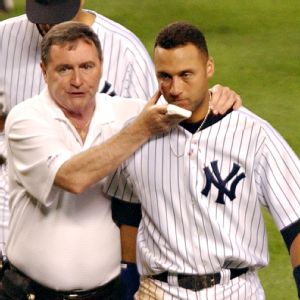 AP Photo/Frank Franklin IIThe image of a bloodied Derek Jeter emerging from the Yankee Stadium stands will not soon be forgotten.
So this week, Jeter will play his final three games at home against the Red Sox. He will finish his regular season in Boston on Sept. 26-28. But who knows? By that time, the Yankees may be eliminated from the playoffs and Jeter may decide that his final game should be at Yankee Stadium on Sept. 25.
That is a question to be answered later. For now, we know that these next three days will be the final ones against the Red Sox in the Bronx.
In honor of that, here is the play that
perhaps most defines Jeter's career
.
Now, let's hit some notes as we enter the final month of the season:
1. It doesn't look good for the Yankees. They need to go 20-7 from here on to reach the 90 wins that might allow them to earn the second wild card. Is that impossible? No. Improbable? Yes.
Beside their inability to score runs, the Yankees' biggest issue right now is how many teams are in front of them. They have to beat out three other clubs for the second wild card, as of now. If the Tigers, Royals, Mariners or Indians get hot, forget about it. (Note: Of those three Central teams in the mix, one of them is going to win the division, obviously, and won't be a factor in the wild-card chase.)
Here are the
latest wild-card standings
.
2. You want some positive spin? OK, I'll give it to you anyway. As we mentioned before, the next three games are against the Red Sox. They are the world champions in name only these days.
While they are building for next year, the Red Sox are winning at a .438 clip. They are pitching
Joe Kelly
,
Brandon Workman
and
Anthony Ranaudo
the next three days. These guys may have some potential, but none are established.
Joe Girardi likes to talk about taking two of three, but if the Yankees want to make it interesting, they need to sweep the Red Sox, while the Tigers and Indians face each other and the Mariners are playing the A's. The Yankees could tighten things up a bit with a simple three-game sweep. (I know, nothing is simple with this team.)
The Royals have a good chance to get fat as well, as they will host the Rangers. Of course, you never know in baseball.
3. Who had this in the preseason pool? In the first games of September, the Yankees have
Shane Greene
,
Hiroki Kuroda
and
Chris Capuano
going for them -- and they can actually feel pretty good about it.
4. The biggest story of the week will be
Masahiro Tanaka
's health. The second-biggest could be
Jacoby Ellsbury
's health.
5. What is one reason to believe the Yankees have a miracle run in them? What hasn't worked out in Jeter's career?
6. What is one reason to believe the Yankees will come up short? You have watched the offense for the past five months, right?
August, 31, 2014
Aug 31
6:23
PM ET
TORONTO --
Jacoby Ellsbury
got into Sunday's game in the top of the ninth inning and almost made something happen for the Yankees by dropping a bloop into short right field and legging it to second before he was removed for pinch runner
Ichiro Suzuki
to protect his sprained left ankle.
But while he seemed to come out of it OK, Ellsbury's next move will be to an MRI tube. The Yankees' center fielder somewhat inadvertently revealed after the game that he would undergo the test Sunday night after the team's flight arrives from Toronto.
"It's still sore, but over the last couple days, they're real happy with the progress that I've made," Ellsbury said. "We've got the off-day, but I'll get the MRI tonight [and] have our doctors look at it. Hopefully it's a good MRI."
That raised some eyebrows in the clubhouse, since manager Joe Girardi never mentioned anything about an MRI either before or after the game, though it was understood Ellsbury would be examined by Yankees team doctor Chris Ahmad sometime between now and Tuesday night's game against the Red Sox.
"Did I say something wrong?" a somewhat sheepish Ellsbury asked.
It's up to the Yankees to determine whether Ellsbury is in violation of team protocol -- remember GM Brian Cashman's violent reaction when
Alex Rodriguez
claimed he had been "cleared to play" -- but the reality is, he looked much better this morning than he had Saturday night, he swung well during batting practice, and he seemed to be running full-speed in the ninth inning.
"My adrenaline was pumping," Ellsbury admitted. "I typically don't pinch hit. I stepped out of the box a few times [and] took a couple deep breaths to get my heart rate down. Once I saw that ball go in the air, I knew it was going to take a high hop. There was only one thing I could do. I was going as hard as I could run."
"We're still concerned about some things -- the starting, the stopping, maybe sliding and jamming it again," Girardi said. "We'll see how he is on Tuesday."
After the, um, MRI.
Rogers, over and out:
Sunday's loss made it five straight series the Yankees have lost here at the Rogers Centre, including all three this season. They still lead the season series against the Blue Jays 8-7, with three games left to play at Yankee Stadium on Sept. 18, 19 and 20.
Coming back to earth:
Brandon McCarthy
, who took the loss Sunday, has now lost four of his past five decisions after starting 4-0 as a Yankee. More disturbing are the three home runs he allowed, a number he had not allowed since April 5 in his second start of the season for the Diamondbacks. In fact, the long ball had been McCarthy's undoing in Arizona -- he had allowed 15 homers in 18 starts -- but he seemed to have kicked the habit as a Yankee with a more effective cutter, a pitch the Diamondbacks had discouraged him from throwing.
Edwin Encarnacion
's game-tying home run in the seventh came on a cutter McCarthy called "a terrible pitch." The two others he allowed, to
Melky Cabrera
and
Jose Bautista
, came on sixth-inning fastballs, the second a sinker that strayed up in the strike zone. In his past six starts, McCarthy's Yankees ERA has risen from 1.45 to 2.80.
August, 31, 2014
Aug 31
5:56
PM ET
TORONTO -- When
Derek Jeter
looked at the New York Yankees lineup card on the wall of the visitor's clubhouse Sunday morning, his eyes went not to his spot in the batting order, the customary second, or his position, which on this date was the occasional DH.
It went right to the date. "Tomorrow's September already?" he said incredulously. "It's flying by."
[+] Enlarge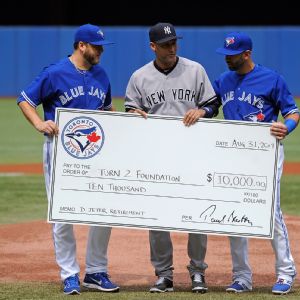 Peter Llewellyn/USA TODAY SportsDerek Jeter collected another check for his foundation Sunday, but the Yanks couldn't collect another win.
Whether he meant this season, the remainder of his career or the Yankees' playoff chances, only he knows.
But by the end of the day, which ended with yet another crushing defeat to a team with almost nothing to play for, the answer was clear: All of the above.
In a way, it was fitting the game ended with the tying run at third base and Jeter at the plate, taking his final at-bat at the Rogers Centre, the site of one of the worst moments of his career, facing Blue Jays closer
Casey Janssen
, one of the pitchers he has had the least success against.
"Those are the fun situations in this game," Jeter said afterward. "You want to be in those situations. I don't think I've had much success off Janssen, but I'm up there trying to get a hit like always. You always like those situations. He was better than me this time, but we had an opportunity right up until the end."
Right up until Jeter reached across the plate at a low 0-1 curveball and poked it harmlessly toward second base, where
Munenori Kawasaki
plucked the soft line drive out of the air to finish off a 4-3, come-from-behind Blue Jays win.
"It's a tough loss for us," Jeter said. "We only have so many series left. We only have so many games left. We need to win every day that we go out there. That's the approach that we need to have."
It is the approach the Yankees have needed for quite some time now, but this might have been the first time so many of them finally acknowledged it. There is now virtually no margin for error, and "winning series," the pet phrase manager Joe Girardi uses to excuse individual defeats, is no longer good enough.
Now they need to win games -- and a lot of them -- if they are going keep their flicker of a playoff dream alive.
"I don't think it's a hard thing to figure out," starting pitcher
Brandon McCarthy
said. "Forget about series. We just need to win games. The more wins, the better."
Jeter's final at-bat against Janssen, a pitcher he has just one of his 3,444 career hits against in 18 career at-bats (.055) is not the reason the Yankees lost this game, nor was the seventh-inning 2-2 pitch to
Edwin Encarnacion
that home plate umpire Chad Fairchild called ball three, as Girardi tried to contend afterward. Nor was it even McCarthy allowing three solo home runs -- to Encarnacion on the next pitch and to
Melky Cabrera
and
Jose Bautista
back-to-back an inning earlier.
The reason the Yankees lost Sunday is the same reason as for most of their 65 losses this season: This year, despite an infusion of cash and fresh faces on offense, the Bronx Bombers have been a dud at the plate.
Once again, the Yankees were helpless with runners on second or third, a situation in which they found themselves in the second, fourth, sixth, seventh, eighth and of course, the ninth inning, after
Jacoby Ellsbury
's pinch-hit bloop double put the tying run in scoring position with
Brett Gardner
and then Jeter coming to the plate.
[+] Enlarge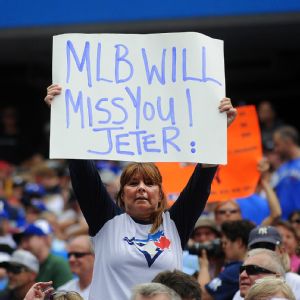 Peter LlewellynUSA TODAY SportsA Derer Jeter fan says goodbye in Toronto on Sunday.
Gardner, who had homered to start the game, and circled the bases again in the fifth by tripling into the gap and then scoring when
Jose Reyes
threw the ball into his own dugout while trying to nail Gardner at third, hit the ball hard but right at Encarnacion at first base for the second out. Jeter did not hit the ball hard, and the game ended. And in the end, the Yankees were 1-for-8 in situations that could have tied the game.
"It makes it much harder if you don't hit the ball out of the ballpark," Girardi said. "Obviously, it makes it a lot harder to score runs if you don't hit with runners in scoring position."
To his credit,
Francisco Cervelli
, who had a triple and an RBI single, refused to use the strike that wasn't called -- a non-call that got bench coach Tony Pena ejected and McCarthy called "a game-changer" -- as a reason for this defeat.
"I thought it was a strike, but you got to keep playing baseball, you know?" he said. "He hit a home run after that. It was a little disappointing for the call, but we are humans. That's going to happen during the games. But we got to keep playing baseball. We got to keep scoring runs. I don't think that is an excuse."
In fact, the time for making excuses is over. The time for hiding behind euphemisms such as "plenty of baseball yet to play" and "we've just got to win series" has long passed. There is only one thing left for the Yankees to do, and that is win, every day if possible, until there are no more games left to play.
And if it means truly salvaging something from this puzzling, disappointing and rapidly vanishing season -- because what's the point of making the playoffs if it's only going to be a one-game appearance? -- then it means looking reality in the face and changing some of the attitudes that got the Yankees into this position in the first place.
"I try not to think about any 'lasts' when I come to cities for the last time," Jeter said in response to a question about never playing another game in Toronto. "We're trying to win games, and that's what I try to keep my focus on this entire year. It could be difficult at times, but our focus has got to be to try to win games. If we win every one of our games, we'll be fine."
Jeter might not have noticed it before Sunday morning, but he knows it now. It is all flying by. This season, the remainder of his career and yes, the chance to play in one more October.
August, 31, 2014
Aug 31
4:01
PM ET
Associated Press
TORONTO -- Jose Bautista, Edwin Encarnacion and Melky Cabrera each hit a solo homer, and the Toronto Blue Jays erased a three-run deficit to beat the New York Yankees 4-3 Sunday.
Derek Jeter had a chance to tie it for the Yankees in the ninth inning. With the sellout crowd of 45,678 on its feet, Jeter popped up with a runner on third for the final out in his last regular-season at-bat in Toronto.
Brett Gardner finished a single shy of the cycle, but New York lost its second straight. Gardner also had a big opportunity in the ninth, grounding out with a runner on second to bring up Jeter.
Toronto left-hander J.A. Happ won for the first time in seven starts.
August, 31, 2014
Aug 31
3:51
PM ET
TORONTO -- No matter how hard they try to gain traction in the American League wild-card race, the
New York Yankees
keep spinning their wheels.
With yet another chance to gain ground on the
Detroit Tigers
and
Seattle Mariners
-- and with an early three-run lead -- the bats suddenly went quiet.
Brandon McCarthy
, who had been humming along, suddenly came unglued. And just like that, a pivotal road trip ends with a 3-4 record, and the Yankees remain on the outside looking in with another day scratched off the calendar.
Considering all the circumstances involved, this 4-3 defeat to the hopeless
Toronto Blue Jays
has to be a leading candidate for worst loss of the season.
Winner by a hand:
The Blue Jays scored the go-ahead run when
Steve Tolleson
, running for catcher
Dioner Navarro
(walk), snuck his hand onto home plate just before
Francisco Cervelli
could slap a tag on him on
Munenori Kawasaki
's single to right field off
Dellin Betances
in the seventh inning. The run completed a Jays comeback after the Yankees had taken a 3-0 lead, which was given back by McCarthy on three swings of the bat in the sixth and seventh innings (see below).
Happ-y start:
Brett Gardner
greeted Toronto starter
J.A. Happ
by lining his second pitch of the game into the mesh above the right field wall. It was Gardner's 16th home run of the season, by far a career high, and his fifth leadoff homer of the season.
Cerv one up:
Cervelli, who tripled in the second inning only to be stranded by a
Stephen Drew
strikeout, singled in the Yankees' second run of the game in the fourth after singles by
Martin Prado
and
Chase Headley
.
Round-tripper:
Gardner made his second tour of the bases in the fifth inning, tripling into the gap in left-center and scoring when
Jose Reyes
foolishly tried to throw him out at third base, only to airmail the ball into the Blue Jays' dugout, giving the Yankees a 3-0 lead. Gardner later had a double, too. Needing only a single to both hit for the cycle and tie the game in the ninth inning, he grounded out hard to first base for the second out.
Canadian rakin':
McCarthy followed his best inning of the game -- a three-strikeout fifth -- by allowing two monstrous solo homers back-to-back to
Melky Cabrera
(his third in 12 career at-bats against McCarthy) and
Jose Bautista
(who has now homered in five straight games, including all three in this series) with two out in the sixth. The power surge cut the Yankees' lead to 3-2.
Tying one on:
McCarthy allowed a third home run to
Edwin Encarnacion
in the seventh inning, completing the Blue Jays' comeback from a 3-0 deficit. After McCarthy walked the next hitter, Navarro, Girardi replaced him with Betances. McCarthy had been pitching brilliantly through five but came apart in a hurry.
Joey goes bats:
Girardi responded angrily to a pregame question about
Masahiro Tanaka
returning to New York by criticizing the Rogers Centre weight room, which he described as "smaller than this area here," indicating the dugout. The story was picked up by at least one Canadian website.
What's next:
No labor on Labor Day for the Yankees, who have their second-to-last day off of the season before launching into a nine-game homestand, starting with three against the
Boston Red Sox
beginning Tuesday night. The Yankees' probables:
Shane Greene
(4-1, 3.09) on Tuesday,
Hiroki Kuroda
(9-8, 3.88) on Wednesday, and
Chris Capuano
(2-3, 4.24). Right now, the Red Sox are going with the same pitcher all three games: Mr. TBA. All three games are scheduled for 7:05 p.m.
August, 31, 2014
Aug 31
3:30
PM ET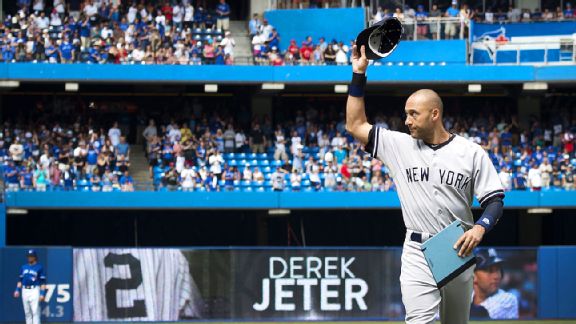 AP Photo/The Canadian Press/Darren Calabrese
TORONTO -- It was Christmas in Canada for
Derek Jeter
on Sunday as the Blue Jays made their contribution to the Jeter Retirement Haul, in the form of a $10,000 check for his Turn 2 Foundation and -- get this -- a three-night, all-expenses-paid trip to the Canadian Castle of the Rockies, which sounds like something you would get in a "Price is Right" showcase.
Actually it sounds pretty cool: Three nights in the 1,500-square-foot "royal suite," a helicopter tour of the Canadian Rockies, a private cooking lesson with the castle's executive chef, a private mixology lesson from the castle's executive bartender, private golf and skiing lessons, and of course, "The Price is Right" home game.
OK, that last gift may have been a fabrication, but the rest is real. Sounds like the perfect gift for the captain who has everything.
August, 31, 2014
Aug 31
1:19
PM ET
TORONTO --
Jacoby Ellsbury
took batting practice,
Derek Jeter
got a vacation and a check from the Blue Jays, and both seemed pretty happy with their days thus far. But manager Joe Girardi did not accomodate Ellsbury by changing his lineup for Sunday's series and road trip finale, although it appeared Ellsbury feels good enough to pinch-hit if needed.
Here's the lineup Girardi sent out against the Jays and lefty
J.A. Happ
:
Brett Gardner
, CF
Derek Jeter
, DH
Martin Prado
, 2B
Mark Teixeira
, 1B
Carlos Beltran
, RF
Chase Headley
, 3B
Francisco Cervelli
, C
Stephen Drew
, SS
Zelous Wheeler
, LF
Brandon McCarthy
, RHP
August, 30, 2014
Aug 30
6:47
PM ET
TORONTO -- For the 64th time this season, the Yankees ask you to suspend your disbelief, throw your logic out with the garbage and believe in something when common sense tells you you're out of your mind.
OK, so go with it for awhile. After all, isn't that a lot of what being a fan is all about?
Imagine for the moment that this time the Yankees mean it, that Saturday's 2-0 loss to the hopeless
Toronto Blue Jays
-- a game in which they were separated from the ignominy of being no-hit by
Drew Hutchison
only by a fourth-inning
Mark Teixeira
double -- is not the end of their playoff chase but only the beginning, and that they are still capable over these final 28 games of salvaging something from this disappointing season.
And realize, because you have no choice, that the two teams they are chasing -- the
Seattle Mariners
and the
Detroit Tigers
for the second AL wild card, because really, the AL East is probably beyond reach -- are on pace to win between 88-89 games this season.
That means that to be reasonably assured of playing at least one ballgame in October, the Yankees' goal should be winning 90 games.
[+] Enlarge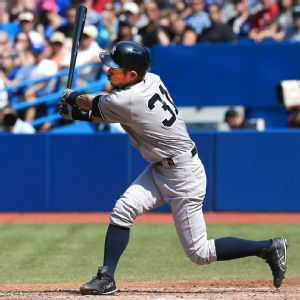 Tom Szczerbowski/Getty ImagesThe Yankees mustered just one hit in Saturday's 2-0 loss to the Blue Jays.
Now here's where it gets sticky: That means they can only afford to lose eight more between now and the end of the season.
Think about that. Only eight more times do they have the luxury of tipping their cap to the other pitcher or promising that, any day now, this lineup will start to hit the way it was expected to, or just shrugging their shoulders, as all of them from the manager on down have too many times this season, and saying: "That's baseball."
That estimate could vary by a game or so on either side of the ledger. The Yankees could sneak in with 89 wins, or they might have to scuffle for 91 or even 92. But the safe estimate is 90 wins will get them to where they want to be.
That means that this team that has been hovering in the .526-.540 win percentage range needs to play .714 ball the rest of the way. Also, they likely have to do it without
Jacoby Ellsbury
for at least a couple of those games -- and quite likely more -- and the hope that
Masahiro Tanaka
will ride to the rescue with a couple of late-season wins is now probably reduced to a pipe dream.
By the numbers alone it is highly unlikely. And after watching certain performances, such as Saturday's anemic effort against Hutchison -- a pitcher the Yankees had already faced four times this season and beaten badly in three of them -- or Thursday night in Detroit against a raw kid such as
Kyle Lobstein
, it seems downright impossible.
But mathematically, it is doable. And given that you are going to be watching anyway, you might as well hope for the best.
Surprisingly, the most realistic voice in the Yankees clubhouse following Saturday's game -- which was over as soon as
Jose Bautista
rocketed
Michael Pineda
's 0-2 changeup off the left-field facade in the first inning -- belonged to that normally most optimistic of men, Joe Girardi.
Asked if he felt as if the Yankees' one-hit, two-walk, 12-whiff performance represented a new low for his sputtering offense, Girardi replied: "Yeah, it does. Especially the way we responded [Friday night] when we weren't doing anything for the first six innings. It's tough to figure out. You've got to go win a game tomorrow and win the series."
Contrast that with the optimism of Teixeira, who disagreed with his manager on the same question. "I don't," he said. "Every loss is a loss. You turn the page. We have to turn the page really quick in baseball. It's another loss, [and] we didn't swing the bats well today, but we have a chance to win a game tomorrow."

One thing both men agreed upon, however, is the need to win every series the Yankees have left.
"It's crazy to think we're going to win every single game and run the table," Teixeira said. "But we need to win every series."
That means winning Sunday's finale behind
Brandon McCarthy
.
McCarthy is one of a handful of Yankees who might still actually be hungry because they still have a lot to prove. That handful includes
Chase Headley
,
Stephen Drew
,
Chris Capuano
,
Zelous Wheeler
,
Martin Prado
,
Shane Greene
, and whoever else gets the call from Triple-A Scranton when rosters expand Monday.
Those guys might be the key to a final-month push, if only because every one of them is either playing for a contract, a job in the regular lineup or just a spot on a major league roster next year.
You hate to say it, but guys such as Teixeira and Ellsbury and
Brett Gardner
and
Carlos Beltran
and yes, even
Derek Jeter
, have been there and done that. They have been around long enough to know that sometimes, a guy such as Hutchison can have a great day, and sometimes "That's baseball" is the only answer.
The rest of them don't know that yet and probably aren't jaded enough to believe there are some things in this game that are simply out of their control. And though Drew, a member of the 2013 Red Sox world championship, might also fit the been-there-and-done-that category, he has no job for next season, and he certainly doesn't want to face the same situation this winter that he did in the past: sitting at home on the advice of Scott Boras and waiting for the phone to ring with an offer that might never come.
Even so, it's unlikely those guys have the ability to pick this moribund team up and carry it into October. It is just as unlikely that the Yankees will be able to win 20 of these final 28 games and slip into the final seat on the playoff express.
But in order to believe this Yankee team still has any chance, you have to believe in the unlikely, the illogical and the downright foolish.
The Yankees have been promising you all season they will make those things happen. Now they have 28 chances to make good on that promise -- and only eight more chances to make excuses.