March, 6, 2015
Mar 6
5:09
PM ET
Associated Press
CLEARWATER, Fla. -- Left-hander Cole Hamels pitched two scoreless innings in his Grapefruit League debut Friday in a 4-1 loss to a New York Yankees split squad.
Hamels allowed one hit, struck out two batters and did not surrender a walk on 31 pitches at Bright House Field. Rain forced a 50-minute delay in the bottom of the third in the scoreless game.
Yankees starter Bryan Mitchell was just as effective in his two innings. The right hander gave up a single but ended the first inning with a double play and then struck out two in the second, his final inning.
The Yankees scored three runs off Philadelphia reliever Mike Nesseth in the fourth, sending nine batters to the plate. Greg Bird, Ramon Flores and Didi Gregorius all drove in a run during the inning.
New York added a run in the eighth against Phillies reliever Ken Giles, who struggled to locate his pitches, on Nick Noonan's RBI double.
Xavier Paul hit a solo homer in the seventh for the Phillies.
March, 6, 2015
Mar 6
11:01
AM ET
TAMPA, Fla. --
New York Yankees
GM Brian Cashman created a minor firestorm Thursday when he appeared to say on a radio show that the title of Captain of the Yankees -- a nominal honor that has been bestowed on a haphazard basis 16 times through the team's history --
should be retired
with the retirement of
Derek Jeter
.
The implication was that no one could ever follow Jeter in terms of leadership and respect in the Yankees' clubhouse, therefore no one should bother trying.
The reality, however, is somewhat different. I spoke with Cashman after the radio interview, and it was clear that what the GM really meant was that there really was no need to designate one player "The Captain" when in fact, like any other workplace, there are a number of factions within a major league clubhouse, each with its own leader, rendering the bestowing of the title on any one player virtually meaningless.
I explored the topic further this morning with Joe Girardi, and he agreed with Cashman.
"Over the years, when I was here, there was no captain, and it wasn't like the room lacked leadership," said Girardi, a Yankee from 1996 through 1999. "
David Cone
was a guy who took on a leadership role and took a lot of pressure off the players when things happened. To be a leader, you don't have to be anointed the leader. There are leaders of all different types. You can be the leader of the bullpen, the leader of the starting staff, and that's the way it should be. You want more than one guy to be responsible. Because if it's one guy, in a sense, you get worn out. You can't watch everything."
And that is what those who never get to peek into the clubhouse fail to understand: that a baseball team is less a unified group than a collection of units that work together in a common cause. In every clubhouse, the starting pitchers tend to hang with the starting pitchers, the relievers with the relievers, the outfielders with the outfielders and the infielders with the infielders. They're even assigned lockers in the same area together. That does not indicate division; it is just the natural result of units that practice together on a daily basis, hit in the same groups, and tend to converse with one another over their particular roles on the team.

This is also not to imply that they don't intermingle. Of course they do. But like tends to go with like. That's the way of the world. And as Cashman pointed out, during the 11 years of Jeter's captaincy,
Mariano Rivera
was the real leader of the bullpen and
Andy Pettitte
the real leader of the starting staff. In the current clubhouse,
CC Sabathia
leads the pitchers,
Carlos Beltran
and
Brett Gardner
lead the outfielders, and whether you want to believe it or not, there is no infielder more respected by his peers than
Alex Rodriguez
, although
Chase Headley
has some leadership potential as well. The overhauled bullpen has yet to find its leader, but history tells us someone eventually will emerge.
And let's not forget that during the Yankees' period of greatest success, the four World Series championship teams between 1996 and 2000, there was no captain; during Jeter's reign, the Yankees won the World Series just once. That proves nothing except that it is not necessary for a team to have a designated captain to be successful.
So what Cashman and Girardi were saying, I believe, is not that Captain Jeter is incapable of being replaced --only that is hardly necessary to do so.
March, 6, 2015
Mar 6
10:37
AM ET
TAMPA, Fla. -- The Yankees have that rarest of the rare today, a pair of day-night split-squad games, the first against the Phillies in Clearwater at 1:05 p.m. and the second at The Boss tonight at 7:05.


The first game is really just a warmup act -- only the starting infielders are going, and
Bryan Mitchell
is making the start -- and the night game is the undisputed main event, since it will feature the spring debut of
Carlos Beltran
and the second start for
Alex Rodriguez
.
Chris Capuano
gets his first start of the spring.
Here's the lineup for the first game:
Didi Gregorius
SS
Chase Headley
3B
Stephen Drew
2B
Mark Teixeira
1B
Greg Bird DH
Gary Sanchez
C
Ramon Flores
LF
Aaron Judge RF
Slade Heathcott CF
Mitchell RHP
Also scheduled to pitch is Jaron Long, the 23-year-old son of deposed hitting coach Kevin Long. Jaron is a right-hander who finished last season with the Double-A Trenton Thunder.
No lineup yet for the second game but Joe Girardi said Beltran will play right field and although he considered starting A-Rod at third base, he will once again be the DH.
March, 5, 2015
Mar 5
4:59
PM ET
Associated Press
BRADENTON, Fla. -- Esmil Rogers, trying to cement a spot on the New York Yankees' pitching staff, tossed two scoreless innings Thursday in a 2-1 victory against the Pittsburgh Pirates.
Rogers gave up just a double by Korean rookie Jung Ho Kang and also struck out one. If he makes the team, Rogers could be used as a long reliever and spot starter.
First baseman Garrett Jones had two hits, including an RBI double in the fifth inning. Tyler Austin put the Yankees ahead with a towering solo home run in the eighth inning.
Left-hander Francisco Liriano and right-hander Charlie Morton each tossed two scoreless innings for the Pirates.
Liriano, the Pirates' likely opening-day starter, gave up two hits, walked one and struck out two. Morton, who is recovering from offseason hip surgery, allowed two hits, walked two and struck out one.
Alex Rodriguez did not make the trip with the Yankees.
March, 5, 2015
Mar 5
4:40
PM ET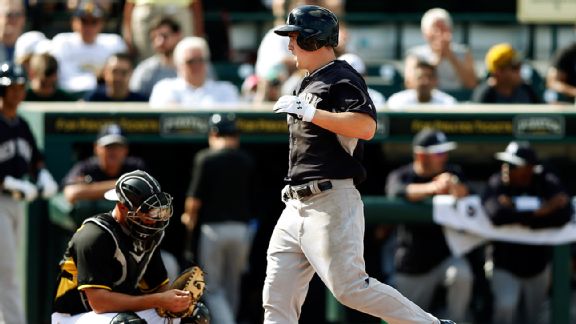 Joe Robbins/Getty ImagesTyler Austin's eighth-inning homer lifted the Yankees to a 2-1 win.
TAMPA, Fla. -- On Tuesday it was Aaron Judge belting a three-run homer in the ninth inning to salvage a 5-5 tie for the Yankees against the
Philadelphia Phillies
, and today, it was
Tyler Austin
homering in the eighth inning to give the Yankees a 2-1 win, their first of the spring, over the
Pittsburgh Pirates
in Bradenton.
Maybe there is life down on the Yankee farm after all.
Austin, a 23-year-old outfielder who batted .275 with nine homers for the Double-A Trenton Thunder last season, belted a 1-1 pitch from right-hander Deolis Guerra over the left-field bleachers for the game winner. Austin had replaced starter
Chris Young
in right field.
Austin's home run was one of nine Yankee hits;
Garrett Jones
, who started at first, and Rob Refsnyder, who started at second base, had a single and a double each.
Starter
Esmil Rogers
worked two scoreless, one-hit innings, followed by
Chase Whitley
, who allowed no runs and two hits in two innings. The Yankees got on the board first on Jones' RBI double in the fifth, and the Pirates tied the game an inning later on an RBI single by
Jaff Decker
off Cesar Vargas.
The Yankees are now 1-1-1 in three games this spring.
March, 5, 2015
Mar 5
4:18
PM ET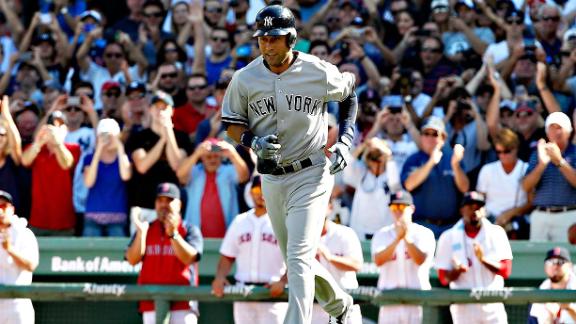 TAMPA, Fla. -- New York Yankees general manager Brian Cashman said Thursday that no Yankee will succeed Derek Jeter as captain anytime soon, and maybe never again.
"I think Derek did it as well as anyone can,'' Cashman told ESPNNewYork.com. "He wore it well, and I'm not a big advocate of giving out the captaincy anyway. I'm not going to recommend anyone being named captain of the New York Yankees right away.''
Earlier in the day, Cashman had said on ESPN New York Radio 98.7 FM that he did not see a viable candidate in the Yankees' clubhouse to succeed Jeter as the 16th captain in team history, a list that includes Babe Ruth, Lou Gehrig, Thurman Munson and Don Mattingly.
"And that's not disrespectful of any of the guys I have here that have a lot of leadership,'' Cashman said. "As far as I'm concerned, and I'm not the decision-maker on this, that captaincy should be retired with No. 2. I wouldn't give up another captain title to anybody else.''
Manager Joe Girardi emphasized that the lack of a captain doesn't mean a lack of leadership in the Yankees' clubhouse.
"We give the freedom to our guys in the clubhouse, whoever wants to speak up, I don't care how many days [in the big leagues] you have, you can speak up," he said.
Cashman has made similar statements before, notably at Fenway Park after Jeter's final game last Sept. 28. And he pointed out Thursday that there are often many different leaders within a big league clubhouse, even during Jeter's 11-year tenure as captain, the longest in Yankees history.
"Everyone knows that Mariano Rivera took care of the relievers and Andy Pettitte took care of the starters,'' Cashman said. "And of course the managers, Joe Torre and Joe Girardi, were leaders as well. So I'm not an advocate of one guy being 'the guy.'"
March, 5, 2015
Mar 5
3:00
PM ET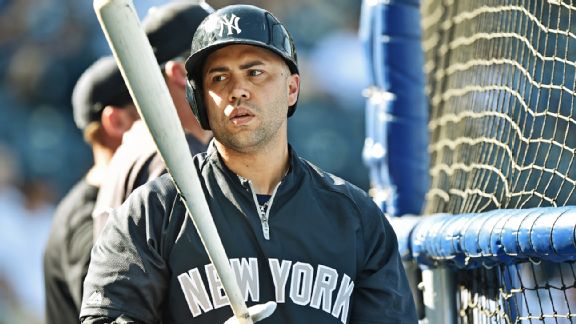 Peter G. Aiken/USA TODAY SportsThe Yankees badly need Carlos Beltran's bat in their lineup, though the soon-to-be 38-year-old admits he'll never have a pain-free season again.
TAMPA, Fla. -- If it's possible for a team to miss a player it has never really had, that's how the Yankees feel about
Carlos Beltran
.
For the first 16 years of what has been a borderline Hall of Fame career, Beltran averaged 22 home runs, 83 RBIs, a .283 batting average and an OPS over .850.
But in his first season as a Yankee, the numbers were 15-49-.233 and .703, the last two career lows.
This was not the player the Yankees signed to a three-year, $45 million contract. This was the ghost of Beltran, a player who has always done his best work in October, a month the Yankees have not visited since 2012.
And with Beltran hitting the way he did in 2014, there was no way they were getting there last year, either.

The same probably holds true for this year. The Yankees are counting on Beltran to hit in the middle of their lineup -- possibly third -- to play right field essentially on a daily basis, and to put up the kind of numbers that prompted them to sign him in the first place, even if he will turn 38 before the season is 20 games old. They will get their first look at Beltran this spring in Friday night's game against the Pirates.
Their hope for a bounce-back year is based on the belief that Beltran's problems last season were solely the result of the bone chips that turned his right elbow into a searing cauldron, and that offseason surgery to remove them and shave down a bone spur will restore Beltran to the player he was with the
St. Louis Cardinals
in 2013 when he put up 24-84-.296-.830, or even 2012, when the numbers were 32 and 97 with an .842 OPS.
Although the Yankees have taken things slowly with Beltran this spring -- he will be the last regular position player to get into a game when he starts Friday night -- Beltran said his elbow showed immediate improvement right after the surgery and he began swinging again in December.
"When I took my first swing I could tell it was different," Beltran said. "Which was a little weird because normally when you have surgery, you worry a little bit about how the elbow is going to respond. And the next day I woke up feeling fine. So I said, 'OK, now it's in the past. Let's continue to strengthen the elbow and get better.' "
Said manager Joe Girardi: "He could be a huge boost to our lineup. You could do a lot of different things with him offensively. We could do some different things in the lineup because he's a switch hitter. We really missed him. We missed his production last year. It's important to get it back."
But in reality, after April, the Yankees never really had it. In his first month as a Yankee, the Beltran gamble -- is there really any other way to look at a deal that guarantees a player $15 million for the season in which he turns 39, as Beltran will next year? -- looked as if it might pay off.

Beltran hit five home runs that month, knocked in 13 runs and batted .263. Carried over the course of a season, those project to more-than-respectable numbers.
But then began the steady decline: Beltran batted just .183 with three home runs and 11 RBIs for all of May and June, resurged a bit in July but spiraled downward again in August and September. He did not hit a home run after Aug. 23.
Girardi tends to think Beltran's problems were the result of the scary tumble he took over a wall chasing a foul ball against Tampa Bay on April 17, but Beltran disagrees. Although he suffered a jammed left shoulder and a sprained right wrist in the awkward landing, he missed only one game before returning to the lineup.
Beltran says he thinks his season began to go south on a swing in the fifth inning against the Mets'
Bartolo Colon
on May 12, after which he left the game.
With the exception of a brief stretch of games after receiving a cortisone shot in the elbow, Beltran said he never had another pain-free swing, or throw, for the remainder of the season.
"Once the cortisone shot wore off, it was worse," he said. "It bothered me to the point where every day I'd show up to the ballpark, and it was like, how I can't play, how I can't swing the bat, because of the pain. Every time I'd swing the bat, swing and miss, it'd be a big-time pain in my elbow."
And a big-time pain in other areas to the Yankees, who had already lost a good portion of the power in their lineup with
Alex Rodriguez
on a year-long suspension and
Mark Teixeira
in and out of the lineup with nagging wrist and leg injuries.
"It was tough on us as a team," Beltran said. "A lot of key guys got hurt. So the key is that if we find a way to stay healthy as a team, I don't see a reason why we cannot compete in our division."
[+] Enlarge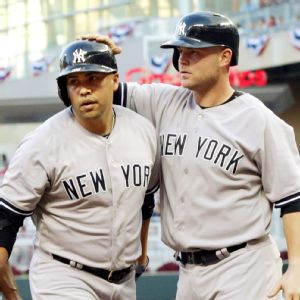 Jim Mone/AP PhotoBeltran and Brian McCann are expected to fill two-thirds of the Yankees' 3-4-5 holes.
They certainly can't compete without a more threatening lineup than the one they fielded most days last season.
Jacoby Ellsbury
is a fine player, but he can't be hitting third. The Yankees can't afford to get a .689 OPS out of the cleanup spot in their lineup, or a .684 out of the No. 5 hole.
To be the Yankees again, they need better years from Beltran, Teixeira and
Brian McCann
, who in some combination or other will comprise the 3-4-5 spots in their batting order.
"The good thing about this year is that everybody looks healthy," Beltran said. "Especially myself, I look at Mark's wrist, he looks good to me now. [Ivan] Nova is making improvements. CC [Sabathia] looks pretty good.
Masahiro Tanaka
, also, is kinda like, healthy."
There's a lot of "ifs" there, as there always is at the start of the six-month soap opera that is a baseball season. And there are probably more ifs on the Yankees' aging roster than in most camps this spring.
"I think keeping them fresh is my biggest challenge," Girardi said. "Usually when you have an older roster like we have, it's guys that have played every day that still want to play every day. It's my job to make sure that we have them available every day, but they don't necessarily play every day, every game."
Girardi said he still sees Beltran as an everyday outfielder, and with A-Rod probably limited mostly to DH duty, that doesn't leave many opportunities for Beltran in the lineup other than in right field, which Beltran says is the way he wants it.
"The way I feel right now, outfield is my position," he said. "I just want to be productive. When I play baseball I just want to put myself in a position where I can impact the team in a positive way, defensively or offensively. I know that 162 games is a long shot, but at the end of the day I feel l can impact this game in different ways."
But Beltran also says he never expects to play a completely pain-free season again. "I'm a gamer, what can I say? I love to play," he said. "But I'm never pain-free, let's put it that way. It's been seven or eight years that I'm not pain-free. Some people tolerate pain better than others. I would say I can tolerate a bit of pain."
For the Yankees, the real pain comes not when Beltran is in the lineup, but when he is not.
They know they haven't seen the real Carlos Beltran yet. Even so, they know they miss him.
March, 5, 2015
Mar 5
10:41
AM ET
TAMPA, Fla. -- The Yankees will be in Bradenton this afternoon for a game against the
Pittsburgh Pirates
. None of the starting infield is on the trip, just
Jacoby Ellsbury
,
Brett Gardner
and
Chris Young
, and the starting pitcher will be
Esmil Rogers
, who Joe Girardi would like to use the way he used
David Phelps
last year, as a long reliever and occasional spot starter.

"We think he's got good stuff," Joe Girardi said of Rogers, who went 2-0 with a 4.68 ERA in 18 appearances (one start) for the Yankees last year. "It's learning how to use it and become more consistent. He's got velocity, he's got a good breaking ball, he's got a changeup. He has the ability to pitch. We feel he can do a lot of different things. He gives us a lot of flexibility, which is good. We like having that on our pitching staff, because you never know when something's going to pop up."
Rogers will be followed by
Chase Whitley
, Jacob Lindgren and an assortment of others.
Here's the lineup:
Ellsbury CF
Gardner LF
Young RF
Garrett Jones
1B
John Ryan Murphy
C
Jose Pirela
3B
Kyle Roller DH
Rob Refnsyder 2B
Cito Culver SS
Rogers RHP
Dellin Betances
,
Michael Pineda
and
CC Sabathia
are staying behind to throw simulated games on the main field today, and the possibility is Sabathia and Pineda could make their first spring starts next week, perhaps in the back-to-back home games on March 11 and 12 against the Red Sox and Braves ... Tomorrow is a split-squad day, with one crew, including the starting infielders, traveling to Clearwater for a day game against the Phillies and a second crew, including
Alex Rodriguez
and
Carlos Beltran
, making his first start of the spring, staying back for a night game at home against the Pirates. ...
Didi Gregorius
has been wearing a T-shirt that reads 6+4+3=2. Get it?
March, 4, 2015
Mar 4
9:53
PM ET
Associated Press
DETROIT -- Alex Johnson, who played 13 years in the majors and won the AL batting title with the then-California Angels in 1970, has died. He was 72.
Alex Johnson Jr. said Wednesday that his father died Saturday of complications from prostate cancer.
The elder Johnson played for eight teams in a career that began in 1964 with Philadelphia, batting .288 with 78 homers and 525 RBIs. The left fielder was an All-Star for the Angels in 1970, and his final season was in 1976 with his hometown Detroit Tigers.
Johnson spent just two seasons with the Angels, but became the only batting champion in the 55-year-old franchise's history when he hit .329 in 1970. Johnson beat out Carl Yastrzemski for the crown on the final day of the season, going 2 for 3 and inching .0003 percentage points ahead of the Boston star.
Johnson was suspended several times by the Angels during his second season with the club in 1971, feuding with teammates before leaving Orange County.
He also played for the Cleveland Indians, St. Louis Cardinals, Cincinnati Reds, Texas Rangers and New York Yankees.
Johnson's brother, Ron, was a running back for the New York Giants.
Alex Johnson Jr. recalled watching games with his father.
"He would critique from a technical standpoint," the younger Johnson said. "A lot of the managers and coaches today he would know and say, `I played with this guy."
Funeral services are scheduled Friday at Sacred Heart Church in Detroit.
March, 4, 2015
Mar 4
5:31
PM ET
After an uncharacteristically rough outing from Masahiro Tanaka in Cleveland on July 8 -- 11 baserunners, five runs allowed, two homers -- New York Yankees fans received the worst news imaginable: Tanaka, who had made the All-Star team and appeared to be worth every penny of the $175 million the Yankees had laid out to import him from Japan prior to the season, had to be placed on the disabled list after an MRI revealed a partially torn ulnar collateral ligament in his right elbow, also known as the injury that generally leads to Tommy John surgery.
Rather than undergo surgery, which would have cost him most of the 2015 season, as well, Tanaka chose the path of rest and rehab, including platelet-rich plasma (PRP) injections. After missing more than two months, he made two appearances in September -- one positive (5 1/3 innings of one-run ball against Toronto on Sept. 21) and one much less so (seven runs in 1 2/3 innings in Boston on Sept. 27). He reportedly has had no problems with the elbow since, successfully completing several bullpen sessions at Yankees camp while hoping that the work he has done to strengthen the arm muscles around the ligament, along with changes in his delivery, will keep him whole.
For the Yankees, part of what appears to be a tightly packed AL East, there may be no player more vital to their success than a healthy Tanaka. That's not only because he's one of baseball's best pitchers when healthy; it's because with CC Sabathia's knee still acting up, Ivan Nova still recovering from elbow surgery, Shane Greene and Brandon McCarthy off to Detroit and Los Angeles, respectively, and Michael Pineda having thrown only 76 innings in the past three seasons combined, this rotation is more than a little risky. It's not a stretch to say that the Yankees are contenders with Tanaka and hopeless without him -- and unfortunately for both player and team, the odds aren't in his favor.
March, 4, 2015
Mar 4
5:30
PM ET
TAMPA, Fla. -- It may be hard to believe but there were 24 Yankees in today's game not named Alex -- although there was one other Rodriguez, rookie catcher Eddy -- and together they played a 2-hour, 23-minute baseball game against the
Philadelphia Phillies
. But this game, unlike Tuesday's Grapefruit League opener in which rookie Aaron Judge socked a three-run homer in the ninth inning to rescue them from a 5-2 loss, had no late-inning heroics today.
Despite sending the tying run to the plate after Francisco Arcia's two-out double,
Nick Noonan
struck out looking and the Yankees
lost 3-1
.
[+] Enlarge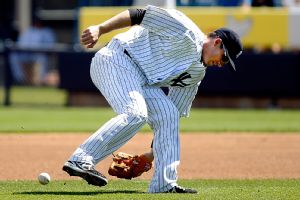 Brian Blanco/Getty ImagesStephen Drew caught Twitter heat for his first-inning error in Wednesday's 3-1 loss to the Phillies.
This in spite of Rodriguez's -- Alex, not Eddy -- first hit in a big league game in nearly two years, although unfortunately for the Yankees, it remained their only hit until
Mason Williams
' double leading off the sixth. Williams eventually scored on
Gary Sanchez
's sacrifice fly, but that's all the offense could muster on five hits off five Phillies pitchers. Cito Culver and
Cole Figueroa
had the other two Yankee hits, both singles.
Nathan Eovaldi
started and took the loss, allowing a run on two second-inning hits, one of them a double by
Darin Ruf
. But Joe Girardi was impressed by Eovaldi's control (no walks) and fastball command, and finished his two innings at 31 pitches, four below his limit.
Andrew Miller
followed and made his Yankees debut, giving up an infield hit to Odubel Herrera, who eventually reached third on a stolen base and a wild pitch. But Miller, who has closer-caliber stuff, struck out two hitters and got the third to ground out to strand the runner.
"He can't be a comfortable at-bat for a lot of guys," Girardi said of Miller.
Drawing some hate:
At one point during the game, the name
Stephen Drew
was trending on Twitter, a sure sign that person has done something noteworthy, although not necessarily something good. What drew the Internet attention was Drew's error on the first ball in play of the game, a routine grounder by Herrera that went off Drew's glove. Drew, who signed a one-year, $5 million contract to play out of position for the Yankees -- he's a shortstop by trade -- was good-natured about his sudden infamy.
[+] Enlarge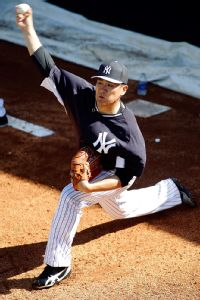 Brian Blanco/Getty ImagesMasahiro Tanaka's elbow came out all right after 30 pitches in the bullpen Tuesday morning.
"I don't have a Twitter account," he said, "so it doesn't bother me."
He went on to explain the challenges he's facing trying to learn a new position and acknowledged he had misplayed what should have been an easy ball. "The ball comes off the bat at a different angle," he said. "That's definitely something I'm going to be working on all spring, I'm sure."
Tanaka throws:
Masahiro Tanaka
threw 30 pitches in the bullpen this morning and reported all was well in his right elbow, which has a partially torn ulnar collateral ligament. Girardi said Tanaka will throw a simulated game sometime next week in preparation for his first start of the spring, which probably will not come before mid-March.
Outfielders up next:
In accordance with Girardi's usual spring training policy, the Yankees' regular infielders, having played today, will not make Thursday's trip to Bradenton, but two of their starting outfielders,
Jacoby Ellsbury
and
Brett Gardner
, will be in the starting lineup, along with
Chris Young
, who is expected to start the season as the fourth outfielder, with
Carlos Beltran
expected to be the everyday right fielder. But Beltran, who is being brought along slowly by the Yankees after offseason elbow surgery, will not get into a game until Friday night's home game against the Pirates.
Pitching roundup:
Esmil Rogers
starts Thursday's game in Bradenton;
Bryan Mitchell
goes Friday afternoon against the Phillies in Clearwater;
Chris Capuano
gets the start Friday night at home; and
Scott Baker
will go Saturday afternoon against the Astros in Kissimmee. Nothing beyond that yet, and no scheduled starts yet for Tanaka,
CC Sabathia
or
Michael Pineda
.
March, 4, 2015
Mar 4
4:49
PM ET
Associated Press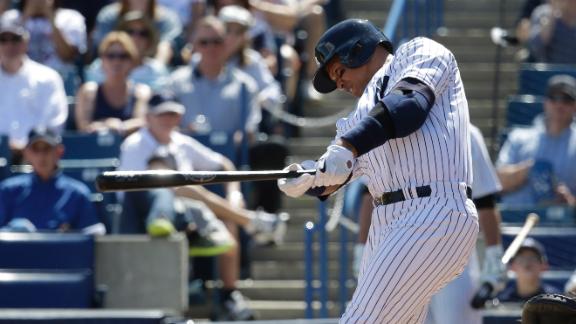 TAMPA, Fla. -- Alex Rodriguez returned to the New York Yankees after an absence of more than 17 months, lining a single into short left field in his first at-bat and going 1 for 2 with a walk in a 3-1 spring-training loss to the Philadelphia Phillies on Wednesday.
Greeted by a 10-second mix of boos and cheers from the crowd of 9,673 as he stepped into the batter's box for his first game following a one-year drug suspension, Rodriguez was wearing the Yankees' white uniform with pinstripes for the team's exhibition season home opener rather than the usual dark blue jersey used in exhibition games.
Rodriguez swung at the first four of 10 pitches he saw in three plate appearances. Batting second as New York's designated hitter, he swung past a pair of 91 mph pitches from Philadelphia's Kevin Slowey in the first inning.
He lined a soft single to left on an 89 mph 0-2 offering that was over the plate.