March, 16, 2014
Mar 16
10:49
PM ET
By
Marly Rivera | ESPNDeportes.com
PANAMA CITY -- After the Panamanian people waited 67 years to see the
New York Yankees
live, the team paid them back amply Sunday afternoon in the second game of the "Legends Series" at Rod Carew Stadium with 15 hits in their 7-0 victory over the
Miami Marlins
.
Just the night before, the Yankees were the victims of a no-hit game which was the first Major League Baseball game in Panama since 1947, but
Francisco Cervelli
and
Yangervis Solarte
took charge in putting an end to an unusual offensive drought with back-to-back hits in the second inning. The Venezuelans, who combined for six of 15 Yankees hits, have been two of the best bats for the team this spring.
"I'm in the books!," a smiling Cervelli said after remembering that he connected that historic first hit. "It was a nice thing. Today we came to play good baseball and to respect this game like always. This series was incredible and coming here to see all of these people super excited in a beautiful country and all for the support of Mariano."
[+] Enlarge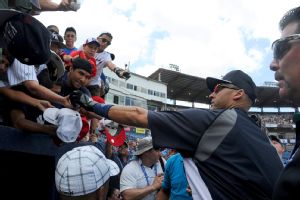 Rodrigo Arangua/AFP/Getty ImagesPanama played the perfect host for the Yankees' weekend series at Rod Carew Stadium.
CC Sabathia
had his best outing of the preseason, throwing five innings and striking out five and didn't allow a run nor a hit, retiring 15 of the 16 Marlins batters he faced. Cervelli said he felt satisfied with what he has seen from the Yankees ace.
"[Sabathia] was really good. Today we were trying to control the fastball and the first pitches for strikes and every day he's advancing and has more strength. We worked the changeup a lot and it was fantastic in the zone, did a great job and it will keep improving in the two starts that remain this spring."
Sabathia himself demonstrated satisfaction with his start and all of the experience in Panama, in particular with being able to throw in such solid fashion in front of thousands of fans that chanted his name and welcomed him to the rhythm of drums at Rod Carew Stadium.
"I know these are only [Spring training games] but you never want to be a part of a no-hit game, and it felt good to go out and get the victory today," Sabathia said.
"I always feel the responsibility to throw well, doesn't matter the situation. It feels good to have been able to do it today. It was a very fun [event], the people were phenomenal and I know Mariano was very excited."
Outfielder
Carlos Beltran
, who just connected his third hit of the spring, stressed that the historic series of the games served not only to continue his preparation work during the preseason but also as an inspiration to the growth of professional baseball in Latin America.
"We came with the mentality of continuing to prepare ourselves for training camp, but I also understand the support of the fans was special and hopefully it will open the doors for more events like these, not only in Panama but all of Latin America so that Latin Americans can have the opportunity to watch baseball from the majors, even if it's in Spring Training," the Puerto Rican pointed out.
Derek Jeter
, who struck out three times and didn't connect a hit in the series while having an unproductive spring hitting just .133, thanked the entire Panamanian fans for the support shown throughout the series, in particular the hand he received when he finally got on base after walking and eventually scoring one of the seven runs.
"The fans have been fantastic. It was an electric thing in the stands," said the 39-year-old shortstop, who joked that he does have a hit in Panama after getting one during a charity softball game sponsored by his former teammate
Andruw Jones
in 2001.
"It's clear that the fans here love baseball and I'm very happy of having this experience. I'll remember this forever."
Manager Joe Girardi deemed the event was quite a success and without a doubt would love to one day return to Panama.
"It was a wonderful place to play. The people in Panama were tremendous with us. They treated us really, really well. In general, it seemed that it was a great trip and I would like it a lot to return."
NBA
NHL
COLLEGE BASKETBALL
MLB
MLS