April, 25, 2014
Apr 25
12:57
AM ET
BOSTON -- In the course of the past eight days, the
New York Yankees
turned a triple play, lost one pitcher to injury, another to pine tar, had to use an infielder as a pitcher one night, and hit against an outfielder another night.
They had 16 runs scored against them in one game, and scored 14 runs themselves in another. They beat up a former Cy Young winner (
David Price
) and got shut down by a pitcher they nearly always manhandle (
John Lackey
).
[+] Enlarge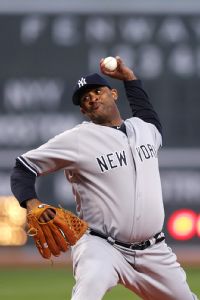 AP Photo/Charles KrupaCC Sabathia pitched well at Fenway Park for a change, winning the series finale.
But all history will remember of this seven-game road trip, against two of their AL East rivals, is that they won four of those games and have now beaten the
Boston Red Sox
in five of their first seven meetings of the season.
"We got started off on the right foot and then it got a little ugly," manager Joe Girardi said of the second and third games at Tampa Bay -- which seem like they happened a month ago -- when the Yankees were outscored 27-6 and stood 1-2 for the trip.
The worst thing that happened to the Yankees, of course, was losing
Ivan Nova
for the year to a torn elbow ligament that will require Tommy John surgery.
The most bizarre thing, of course, was
Michael Pineda
getting himself ejected, and suspended, for taking the mound with enough pine tar slathered on his neck to lubricate a whole rack of bats.
But the best thing was undoubtedly Thursday night's bounce-back win over the Red Sox, a laugher of a game that forced Boston manager John Farrell to use outfielder
Mike Carp
to mop up in the ninth inning with the Yankees holding a 13-5 lead. They wound up winning 14-5 after Carp walked five of the seven batters he faced.
"We've been playing pretty good for the most part," said
Derek Jeter
, who had two hits and knocked in two runs with a seventh-inning single. "There's a couple of bumps, especially Nova. That's too bad. We expected him to have a really good season and be a vital part of our team. You feel terrible for him, more so than you do for the team, because I know how hurt he was by it. But yeah, we've been playing well."
No Carp with Girardi's call:
Jeter said he wasn't disappointed in the least by Girardi's decision to have
Kelly Johnson
hit for him in the ninth with Carp on the mound and the bases loaded.
"You know what, I hit against one position player in my career (
Jonathan Van Every
, here at Fenway Park on May 8, 2010), and it was probably the most uncomfortable at-bat I've ever had," Jeter said. "I got a double, I think. I swung early in the count. You can't win hitting against a position player. Go ask Gardy. Gardy would know."
Jeter was referring to
Brett Gardner
, who struck out against Van Every in that game.
"So no, I'm not disappointed at all," Jeter said. "[Carp] was throwing knuckleballs."
So long, Solarte? Not so fast:
Yangervis Solarte
came into the game riding an 0-for-14 slide, but broke out of it with a vengeance, going 2-for-5 with a double and four RBIs.
"When you're a young kid, sometimes you can overanalyze things," Girardi said. "That's not what we want him to do. I was pleased with his at-bats (during the slump). He just hit some balls hard and wasn't getting any hits. For him to bounce back tonight, I thought it was important."
CC looks good:
CC Sabathia
generally has a hard time pitching at Fenway, but not Thursday. The big man had some control issues early, walking three batters and hitting two in the first four innings, but settled down to throw six two-run, three-hit innings with eight strikeouts, the last five looking.
Tex goes deep:
Mark Teixeira
hit his first home run of the season -- and first since last June 6 -- in the third inning, a high fly that traveled just far enough to clear the home run stripe at the top of the Green Monster.
"When he hit it, I thought it was gone easy," Girardi said. "And then you started seeing it go the opposite way because the wind was so strong. It was big for him. He had a good night for us."
Teixeira also walked three times. Other offensive standouts:
Brian Roberts
(2-for-5, one RBI, four runs scored),
Alfonso Soriano
(two doubles, one RBI),
Jacoby Ellsbury
(3-for-6, two doubles, three RBIs), who was 5-for-15 with five RBIs in his Fenway homecoming, and Gardner, who managed to score four times without getting a hit (three walks, error, two stolen bases).
April, 24, 2014
Apr 24
11:22
PM ET
Associated Press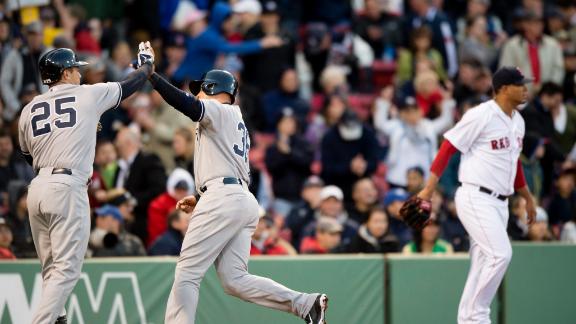 BOSTON -- Yangervis Solarte drove in four runs, Mark Teixeira hit his first homer of the season and the New York Yankees capitalized on five Boston errors to beat the Red Sox 14-5 on Thursday night.
CC Sabathia (3-2) struck out eight while allowing two runs on three hits in six innings as the Yankees rebounded from a 5-1 loss Wednesday night in which starter Michael Pineda was ejected in the second inning for having pine tar on his neck.
Pineda was suspended for 10 games on Thursday and said he wouldn't appeal. He will miss two starts.
Neither team played a clean game Thursday. The Red Sox walked 12 batters -- five by knuckleball throwing infielder Mike Carp -- hit one and had three wild pitches and a passed ball. They also allowed three stolen bases, all in the third inning.
April, 24, 2014
Apr 24
11:17
PM ET
BOSTON -- In the aftermath of the
Michael Pineda
fiasco, the
New York Yankees
and
Boston Red Sox
played a game as sloppy as a bucket of pine tar rags, and about as pleasant.
But it goes down as a win, the fifth win for the Yankees in seven games played against their AL East archrivals.
Aside from the final score, this really was one to forget. Errors, walks, wild pitches, passed balls -- if it was bad, this game had it in abundance. For instance, the Red Sox had more errors (five) than hits (four). Unwatchable, unless you're a masochist.


There were good things, too -- the Yankees hit well, and
CC Sabathia
pitched effectively after a rocky start. The Yanks head back to the Bronx for a nine-game homestand with a 13-9 record and a 1.5-game lead in the division.
Boston beatdown:
The Yankees scored a season-high 14 runs, on 14 hits and a full handful of Red Sox errors.
Yangervis Solarte
, who had been in an 0-for-14 slide, knocked in four of them with a double and a single,
Derek Jeter
had a two-run single, and
Brian Roberts
and
Brett Gardner
each scored three times.
CC throws BBs:
Well, 90 mph BBs, but effective just the same. Sabathia had some control issues early -- three walks and a couple of hit batters in the first four innings -- but settled down nicely, allowing just two runs on three hits in six innings. He struck out eight, six in his last three innings of work.
Slop show:
The Yankees took a 4-0 lead after two innings thanks to the dumbest rule in sports, some incredibly ragged Red Sox play and a timely hit by Solarte.
The Yanks got a run in the first when
Carlos Beltran
reached on a scorcher off
Xander Bogaerts
' bare hand, ruled an error, followed by
Alfonso Soriano
's RBI double into the right-center gap.
In the second, they tacked on three more when, after Gardner drew a leadoff walk, both he and Roberts were safe when
Dustin Pedroia
-- after clearly having caught a throw from Bogaerts -- lost the handle on the transfer. Solarte followed with a two-run double past
Brock Holt
at third base, and wound up scoring on a disputed wild pitch (see below) by
Felix Doubront
.
Overturned!
What appeared to the naked eye to be a wild pitch by Doubront that allowed Solarte to score was at first ruled to have hit Beltran on the foot by plate umpire Phil Cuzzi, who order Solarte back to third and Jeter, who had singled, back to second. But Yankees manager Joe Girardi challenged the call, and after what felt like a lengthy review -- it was announced as 2:46 -- Cuzzi's call was overturned, the runners were allowed to advance and Beltran returned to the plate, where he wound up grounding out.
Unearned:
The word describes eight of the 18 runs scored Thursday at Fenway.
Sloppy seventh:
The Yankees blew it open with five runs in the seventh inning, on four hits, three walks and an error. The big blows were two-run singles by Solarte and Jeter.
Strike that!
Mark Teixeira
, who struck out four times Wednesday, hit a home run off Doubront leading off the third -- a high fly ball that glanced off the railing above the home run line atop the 37-foot left-field wall. It was Teixeira's first homer of the season.
Fish out of water:
Red Sox outfielder
Mike Carp
was pressed into emergency duty to pitch the ninth inning. And while Carp hit a respectable 80 mph on the radar gun, threw some fluttery knuckleballs and got
Brian McCann
to hit into a double play, he found throwing strikes a bit difficult. Carp walked five of the first six batters he faced, forcing in a run. But he didn't allow a hit and his career ERA, 9.00, is half that of the Yankees' position player-as-pitcher,
Dean Anna
.
What's next:
A short flight home, followed by the opener of a three-game series against the
Los Angeles Angels
on Friday. It'll be
Hiroki Kuroda
(2-1, 4.07) versus lefty
C.J. Wilson
(2-2, 4.21), first pitch at 7:05 p.m.
April, 24, 2014
Apr 24
6:02
PM ET
BOSTON -- As Joe Girardi rightly pointed out in his pregame interview, the
Michael Pineda
pine tar story is yesterday's news; there is a game to play against the Red Sox tonight and it's Girardi's job to try to win it and leave Boston with a series victory. Here are the players he is sending out against LHP
Felix Doubront
to try to win it for him:


Jacoby Ellsbury
CF
Derek Jeter
SS
Carlos Beltran
RF
Alfonso Soriano
DH
Mark Teixeira
1B
Brian McCann
C
Brett Gardner
LF
Brian Roberts
2B
Yangervis Solarte
3B
CC Sabathia
LHP
NOTES:
With the bullpen depleted after Pineda's second-inning ejection last night, the Yankees needed arms, so they called up RHPs
Shane Greene
and
Bruce Billings
from Triple-A Scranton and optioned RHP
Preston Claiborne
and INF
Dean Anna
-- yes, the Raccoon -- to Scranton to clear space for them. ... Girardi said
David Phelps
is likely to start the one game over the next 10 in which the Yankees will need a pitcher to replace Pineda. Because of an off-day in the schedule on April 28, the Yankees can skip Pineda's spot in the rotation and start Sabathia on regular rest. Girardi said Phelps, who has pitched out of the bullpen since losing the No. 5 starter's competition to Pineda in the spring, can probably give the Yankees 75 pitches. ... Solarte, hitless in his last 15 at-bats, is back in the lineup tonight, and will also serve as Jeter's backup at shortstop while Anna is at Triple-A. ... Today is Beltran's 37th birthday.
April, 24, 2014
Apr 24
5:51
PM ET
BOSTON -- New York Yankees right-hander Ivan Nova has opted to have Tommy John surgery to repair the partially-torn ulnar collateral ligament in his elbow. The team announced the surgery will be performed by Dr. James Andrews, a specialist in the procedure, on Tuesday in Birmingham.
"I think it's the right decision," Yankees manager Joe Girardi said. "I haven't really seen anyone rehab a partially torn ligament and have success. It seems what it does is just delay the inevitable of what's going to happen. Then instead of maybe missing a year and a little bit of time, you miss a couple of years."
Tommy John surgery generally involves a 12-to-18 month recovery period. Nova suffered the injury in the fifth inning of Saturday's loss against the Tampa Bay Rays in St. Petersburg. He underwent an MRI that night that revealed the tear, and had another MRI and an examination by Yankees team physician Christopher Ahmad that confirmed the diagnosis.
On Wednesday, the Yankees announced Nova would have his MRI results sent to Andrews for further evaluation and a second opinion, but according to Girardi, his decision had essentially already been made.
"I spoke to him (Wednesday), and I think it's the way he was leaning," Girardi said. "Obviously it's difficult to go through, but a lot of times they come back stronger."
Nova was 2-2 with an 8.27 ERA in four starts this season. Now in his fifth major league season, all with the Yankees, he is 40-22 with a 4.20 ERA. He was transferred Thursday from the 15-day disabled list to the 60-day DL.
April, 24, 2014
Apr 24
4:45
PM ET
Right after
his 10-game suspension
was announced,
Michael Pineda
met the media and answered questions. Here is a partial transcript.
What do you think of the suspension?
"I feel so bad. This is baseball's rule. I feel bad."
Will you appeal or accept?
"I'll accept it because I know I made a mistake. That's it."
How do you communicate with Joe Girardi and Larry Rothschild? English or through a translator in Spanish?
"I never use a translator. I know I don't have great English, but I try. I want to practice my English all the time. Sometimes I don't understand the question. Sometimes I make a mistake and says sorry."
Did you know you could get thrown out of the game if you used the pine tar?
"The first time they talked to me what was going to happen. I said, 'OK.' Last night I make a mistake because I don't really feel the ball in the first inning. I was trying to be careful not to hit somebody on the other team. I used it because I want to make a good pitch in the game. The pine tar is pine tar. Pine tar does not make me throw more hard. It helps me to feel a better grip on the mound."
Did you think of putting it in a place where it couldn't be seen?
"I try to put it on my neck, just a little bit. I put in too much and everybody sees it. It was my mistake. I feel so sad and bad for that."
Did you decide to put it on your neck or did someone suggest it?
"Nobody tell me. I did it by myself."
Did you know you could get suspended for this?
"I wasn't really sure. I know something could happen."
April, 24, 2014
Apr 24
4:45
PM ET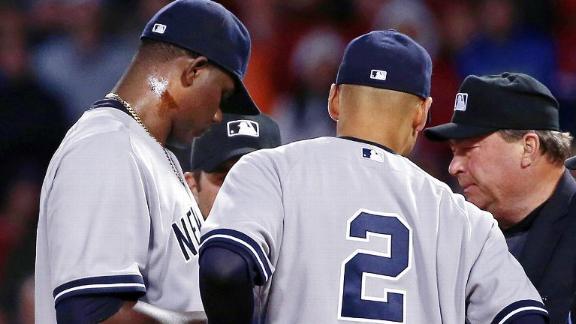 As expected, Major League Baseball suspended
Michael Pineda
for
10 games
for using pine tar in violation of rule 8.02 that prohibits using a "foreign substance" on the ball. Pineda will not appeal the suspension and will begin serving it immediately, meaning he'll be eligible to pitch again Monday, May 5.
The bigger issue here remains: Is this something teams, managers and MLB will be willing to crack down on moving forward with other pitchers? Or even want to? As offense continues to decline and strikeouts continue to rise to ridiculous levels, has the game swung too far in favor of the pitchers? Is it just a coincidence that pitchers are dominating at the same time the use of pine tar or spray-on sunscreen is apparently so widespread that the reaction from within the game was basically, "Pineda just should have done a better job of hiding it"? MLB officials didn't blink an eye -- at least publicly -- when Red Sox pitcher
Jon Lester
was spotted during last year's World Series with a mysterious green substance on his glove. How far is, "It's part of the game" allowed to go?
Is there a correlation between using something to improve your grip and the dominant level of pitching we're seeing these days? Maybe not. Pitchers say a little tar or sunscreen doesn't make their curveball any better or slider any sharper, but a better grip is still a better grip. On the other hand, pitchers have always done stuff to the baseball more dramatic than pine tar. As Hall of Fame manager Dick Williams once said about pitchers trying to get an edge, "Anything short of murder is OK."
[+] Enlarge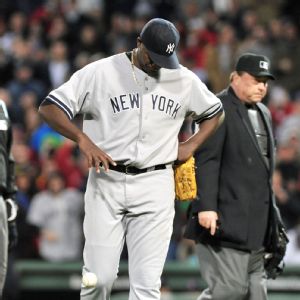 Bob DeChiara/USA TODAY SportsMichael Pineda will be eligible to return from his 10-game suspension on May 5.
Still, I think there are some potential ramifications brewing from the Pineda incidents (he was seen with pine tar on his palm a couple of weeks ago), along with the accusations last year toward Lester and teammate
Clay Buchholz
:
1. Managers will be watching a little more closely, at least for obvious offenders. Of course, the trade-off there is your own pitchers will be watched more closely. But I think managers will feel obligated to have umpires check when the offender is as obvious as Pineda was Wednesday or Lester was last October.
2. Pitchers, certainly, will be more careful about what they're doing (not that many have been caught or accused). I don't think we'll be seeing any pitchers with green goop on their glove this postseason.
3. MLB officials will convene some sort of study on the effects of pine tar and/or sunscreen and/or whatever else pitchers are using. Or at least a blue ribbon panel.
After all, by the rules, it
is
cheating. As Joe Torre, MLB's executive vice president for baseball operations, said on MLB Network on Thursday, "You have to enforce the rules."
Of course, in a 1990 article in the Los Angeles Times, Torre, then a broadcaster for the Angels, said, "I have no problem with cheating. Whatever you can get away with."
So it's a complicated issue, at least if you're not a pitcher. I guess it comes down to this: If the people in the game don't deem pine tar as cheating, then it's time to change the rules.
April, 24, 2014
Apr 24
3:41
PM ET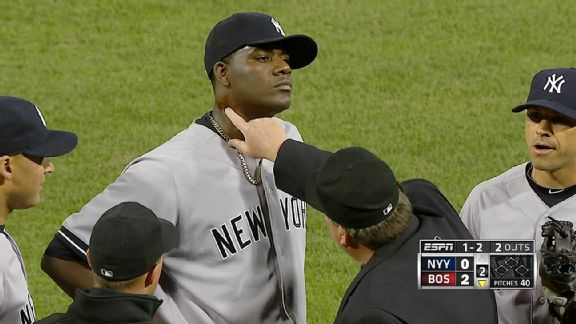 AP Photo/ESPNA national audience saw Michael Pineda get tossed Wednesday night on ESPN.
BOSTON --
Michael Pineda
has been
suspended 10 games
for his use of pine tar in Wednesday's Yankees-Red Sox game.
Punishment fits the crime:
In 2005, the Angels'
Brendan Donnelly
was hit with 10 games for having pine tar in his glove. In 2012, the Rays'
Joel Peralta
received an eight-game suspension for having pine tar on his glove. So 10 games for Pineda seems about right.
What it means:
It is a permanent blemish on Pineda's career, but it doesn't hurt the Yankees that much in the short term. The Yankees have two off days the next 10 games, so essentially Pineda will miss only one start.
Innings limit:
Pineda has to live with being universally panned for doing something that was, to put it kindly, not very smart. However, he is coming off shoulder surgery and the Yankees have planned to be careful with his innings, so this might not be the worst thing for him as he attempts to last the whole season.

Psyche:
Pineda's psyche could be impacted by the events. When he arrived in 2012 after the huge trade for
Jesus Montero
, he seemed overwhelmed by the amount of media attention the Yankees command.
After shoulder surgery and two years off, he seemed to have a better understanding of all that it entails to be a Yankee. Now, though, the media glare on him will be a little bit stronger because of his infamous stunt Wednesday night. He will have to keep maturing.
Wake-up call:
Yankees GM Brian Cashman said it best when he stated the organization let Pineda down. Somehow manager Joe Girardi and pitching coach Larry Rothschild have to figure out a better way to get their messages across.
Pineda has made a fine attempt to learn English, but it is still his second language and it is obvious during interviews he still struggles with understanding certain words. It is on Girardi and Rothschild to figure out a way to communicate better with Pineda. They bear a lot of the responsibility for Wednesday night's events.
April, 24, 2014
Apr 24
3:15
PM ET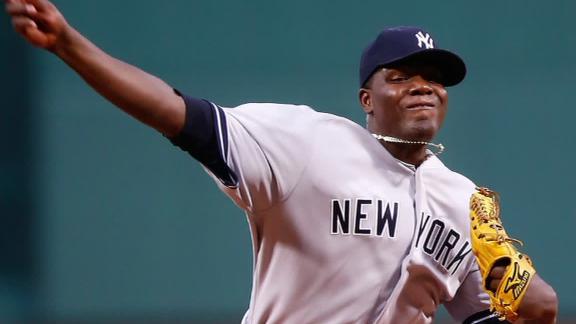 BOSTON -- New York Yankees pitcher Michael Pineda has been suspended 10 games by Major League Baseball "for possessing a foreign substance on his person" in Wednesday night's game against the Boston Red Sox.
Pineda said he would not appeal the suspension, which is set to begin Thursday night. He is eligible to return May 5 at the Los Angeles Angels.
"I'll accept it because I know I made a mistake," Pineda said. "That's it."
Pineda was ejected by plate umpire Gerry Davis in the second inning of Wednesday's 5-1 loss to the Red Sox after Boston manager John Farrell complained about a smear of something on the right side of Pineda's neck. Pineda later admitted the substance was pine tar, banned for use by pitchers under section 8.02 of the MLB rulebook, but said he was using it merely to improve his grip on the ball in the blustery, 50-degree weather.
"The truth is that I feel [stupid]," he told ESPNDeportes.com. "It was a last-minute decision when I went out in the second inning, and since I was unable to see myself, I did not know how much I had put on until I saw it on video.
"I put it on my neck because it is a part of my body I always touch when I pitch. I knew there would be cameras there, but because it was a last-minute decision, I did not realize the amount I had put on."
Previously, Pineda had been suspected of using pine tar in a game against the Red Sox at Yankee Stadium on April 10 when television cameras caught a shiny substance on the palm of his pitching hand. That night, Farrell did not protest and no action was taken against Pineda.
"I think there are some things, this being one of them, inside the game that pitchers, particularly in climates like last night, you're looking for some sort of grip," Farrell said. "I think there are probably ways you can be a little more discreet."
Yankees manager Joe Girardi said Pineda had acted on his own during Wednesday night's game, and GM Brian Cashman expressed "embarrassment" on behalf of the organization while saying the responsibility for the transgression was primarily Pineda's.
"Nobody tell me," Pineda said Thursday. "I did it by myself."
Girardi said he thought Pineda understood the seriousness of his action, "but I think he got caught up in the moment of competing and it got the best of him."
Pineda said the Yankees talked to him about the usage of pine tar and the ramifications after his previous start against the Red Sox.
"The first time they talked to me what was going to happen," Pineda said. "I said, 'OK.' Last night I make a mistake because I don't really feel the ball in the first inning. I was trying to be careful not to hit somebody on the other team. I used it because I want to make a good pitch in the game. The pine tar is pine tar. Pine tar does not make me throw more hard. It helps me to feel a better grip on the mound."
Pineda said he had never used pine tar before this season. He spent his first season in the majors with the Seattle Mariners
April, 24, 2014
Apr 24
12:30
PM ET
By
Mark Simon
| ESPNNewYork.com
Perhaps you caught regular Insider contributor
Mike Petriello's article
on the Indians defensive struggles on FanGraphs.
It's worth a read (and a watching of the videos within the piece) and it also served as inspiration for a look at some of the season's early defensive notes.
Many people say it's dangerous to make observations from a small sample of defensive data, but I think there are some things that can be gleaned already. Here are a few thoughts.
Tulo and Arenado look like best in the business
A healthy
Troy Tulowitzki
could have a big impact on the left side of the infield for the Rockies in tandem with one of the the most impressive rookie defenders from 2013,
Nolan Arenado
.
The Rockies are converting groundballs hit to the left of the second base bag into outs at the highest rate in baseball (78 percent). Tulowitzki has six Defensive Runs Saved already. He's had as many as 31 in a season and his presence could make a big difference for Rockies pitchers. (Eric Garcia McKinley has a piece on the
Rockies' infield shifting
-- or rather, the lack of it.)
Yankees/Twins have it right
In terms of right sides of infields, the ones doing best at converting groundballs hit to the right of second base into outs are the Yankees and Twins, both doing so at about an 83 percent rate.
The story here is that the Yankees haven't missed a beat with the departure of
Robinson Cano
and temporary absence of
Mark Teixeira
(and perhaps the increase in shifting has something to do with it), and Joe Mauer's move to first base hasn't yet set off any alarms for the Twins.
Heyward not taking his offensive struggles into the field
Jason Heyward
isn't hitting yet (we've
written about that
already), but he's making up for it with defense.
Heyward already has 10 Defensive Runs Saved, the most among right fielders.
The Braves have the third-most outs recorded on balls hit to right and right center by our computing (76, using a pre-designed field grid), and have allowed the fewest fly ball/line drive doubles and triples (eight).
The Braves outfield defense is off to a great start this season, with a combined 19 Defensive Runs Saved.
Torii Hunter may be getting old
If you thought that Torii Hunter's Defensive Runs Saved total from last season (he cost his team 10 runs) was a fluke, given that he'd ranked second and third in that stat the previous two years, you might reconsider.
Hunter is already a worst-in-baseball -7 Defensive Runs Saved in right field for the Tigers.
The Tigers have the fewest outs recorded on fly balls and line drives hit to right field and right-center (38), but are tied for eighth in most doubles and fly ball/line-drive triples allowed to that same area (18).
White Sox shift their stance
What team has most shifted positions with regards to the shift? How about the
Chicago White Sox
, who have already shifted more times this season (84 shifts on balls in play) than they did all of 2013 (73).
Perhaps it's no coincidence that the White Sox lead the majors in "Out of Zone plays," a stat charted at FanGraphs.com that measures how often players are converting outs on balls outside of the areas in which they typically turn batted balls into outs.
Of course, given that the team's ERA is hovering around 5, we'll see how patient Robin Ventura and his pitching staff are with this new philosophy.
Is anyone worthy of a reverse shift?
Lastly, one thing I've been wondering about with the emphasis on shifting is whether any players would be worthy of a "reverse shift" -- in other words, a right-handed hitter for whom the defense tilts its infield to the right, rather than the left.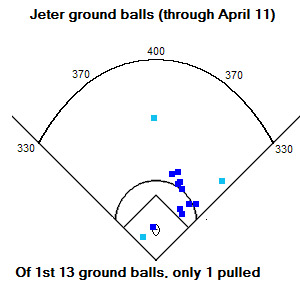 Derek Jeter took his opposite-field hitting to extremes earlier this season.
There was a hitter who was worthy of this for a bit, but he's since balanced things out a little.
Derek Jeter
leads the majors in percentage of groundballs hit to the opposite field.
It's not quite as extreme now as it was in the image on the right (he's pulled five of 29 ground balls), which comes from the first two weeks of the season, but it's still notable.
Maybe Joe Maddon will have the guts to try something like a reverse shift on Jeter. Stay tuned.
April, 24, 2014
Apr 24
11:12
AM ET

Happy birthday to Chipper Jones, Omar Vizquel and the still-active Carlos Beltran.
Today's question: How many of those three should make the Hall of Fame?
OK, Chipper is an obvious Hall of Famer, Vizquel and Beltran less so.
Some quick numbers for Vizquel: Most games ever at shortstop; 2,877 career hits; 1,445 runs; .272 average; 11 Gold Gloves; three-time All-Star; career WAR of 45.3.
Beltran: 363 home runs; 1,340 RBIs; 1,356 runs; three Gold Gloves; eight-time All-Star; 308 stolen bases; .333, 16 HR in 51 postseason games; 68.3 career WAR.