New York Yankees:

2013 All-Star Game
July, 16, 2013
7/16/13
8:44
PM ET
By
Mike Mazzeo
| ESPNNewYork.com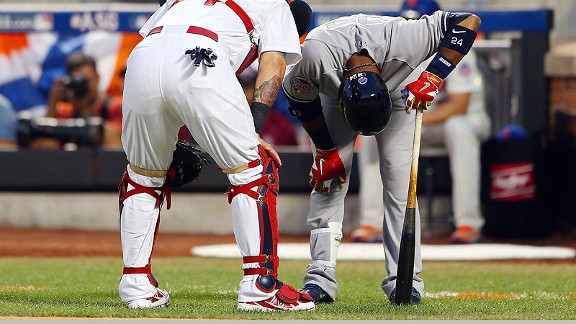 Mike Ehrmann/Getty ImagesRobinson Cano leaves in the first inning after taking a fastball to the knee.
NEW YORK -- Robinson Cano's All-Star Game ended rather quickly.
The Yankees second baseman was drilled in the right knee by a 97-mph fastball from Mets ace
Matt Harvey
in the top of the first inning. Cano limped to first base, but was eventually taken out.
X-rays were negative. Boston's
Dustin Pedroia
replaced Cano at second.
WHAT IT MEANS:
The Yankees, their fans and agent Jay-Z can't be happy. You never want to see your superstar player get hurt in an All-Star Game -- even if it's meaningful. The smart move was clearly to come out and avoid further injury.
CANO'S IMPACT:
Cano is the only real threat in the Yankees' lineup. The 30-year-old veteran, who is set to become a free agent at the end of the season, is hitting .302 with 21 home runs and 65 RBIs.
DAD WEIGHS IN:
Cano's father, Jose, who pitched to Robinson in Saturday night's Home Run Derby, thinks his son will stay with the Yankees. Cano would not comment. ESPN NewYork.com's Andrew Marchand has the
news story
.
July, 16, 2013
7/16/13
3:36
PM ET
By
Mike Mazzeo
| ESPNNewYork.com
July, 16, 2013
7/16/13
12:07
PM ET
By
Mark Simon
| ESPNNewYork.com
A look at the All-Star storylines involving the Yankees' representatives in tonight's game.
The end for Mariano
Mariano Rivera
was named to his 13th All-Star Game, the second-most of any pitcher in major league history, trailing only Warren Spahn's 17.
Rivera has eight All-Star game appearances. The only pitcher with more total appearances is
Roger Clemens
with 10.
Rivera has four All-Star Game saves, the most all time (one more than Dennis Eckersley). His most recent was in 2009. Rivera's All-Star Game ERA is 0.00, with one unearned run allowed in eight innings. The only pitcher with more career All-Star innings pitched and no earned runs allowed is Mel Harder, a former Indians pitcher from the 1930s and 1940s, with 13.
Rivera is tied with
Derek Jeter
and Joe DiMaggio for the third-most selections in Yankees history. Only Mickey Mantle (20) and Yogi Berra (18) have more.
Making sure Mo gets in the game
Jim Leyland has promised that Rivera will pitch tonight, but he could be faced with an interesting situation.
Let's say the AL has a one-run lead with someone other than Rivera pitching in the eighth inning with two outs and a runner on base. Should the NL batter hit a homer, the AL would be trailing and Rivera might not get the chance to pitch unless he's already warmed up at that point.
The solution to that would be to have Rivera ready to potentially earn a save by getting at least one out in the eighth inning. It's been a while since someone got a four-out save in an All-Star Game. The last to do so was Doug Jones of the Indians in 1989. The last to get a two-inning save was another pitcher who wore No. 42, future Hall of Famer Bruce Sutter of the Cubs in 1980.
Cano, don'tcha know
This will be
Robinson Cano
's fourth consecutive All-Star Game start, matching the Yankees' record for starts by a second baseman, previously held by Willie Randolph.
Cano is 1-for-5 in All-Star Games.
Cano went 1-for-4 against NL starter
Matt Harvey
earlier this season, getting a hit on a curve that Harvey hung, popping up and striking out against sliders, and pulling an outside changeup on the ground to first base.
It should be noted that Cano is mashing off-speed pitches from righties this season. He's one of three hitters with 10 or more home runs against curves, sliders and changeups from righties, along with the next two hitters Harvey would face --
Miguel Cabrera
and
Chris Davis
.
July, 16, 2013
7/16/13
11:00
AM ET
By
Mike Mazzeo
| ESPNNewYork.com
NEW YORK -- The
New York Yankees
have just two All-Stars (
Mariano Rivera
and
Robinson Cano
) in Tuesday night's game at Citi Field -- the lowest number for the franchise in a single season since 1993 (
Wade Boggs
and
Jimmy Key
).
Let's take a look at why:
1.
Hiroki Kuroda
(8-6, 2.65 ERA) had the credentials, but American League manager Jim Leyland opted for Baltimore's
Chris Tillman
.
2.
David Robertson
(2.11 ERA) had a chance to be voted in by the fans for the final roster spot, but Toronto's
Steve Delabar
won instead.
3.
Six-time All-Star
CC Sabathia
(9-8, 4.07 ERA) didn't have an All-Star-worthy first half. Neither did 10-time All-Star
Ichiro Suzuki
(.283, six home runs, 13 stolen bases).
4.
Injuries, injuries, injuries.
Alex Rodriguez
(14-time All-Star),
Derek Jeter
(13),
Curtis Granderson
(three) and
Mark Teixeira
(two) are all hurt.
Click here
for a complete history of Yankees All-Stars by season.
July, 15, 2013
7/15/13
11:26
PM ET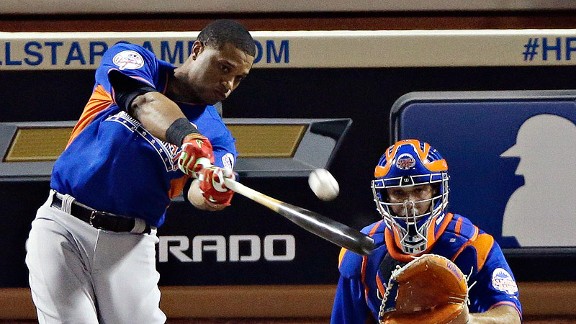 AP Photo/Frank Franklin IIRobinson Cano, captain of the AL team, exited in the first round of Monday's Home Run Derby.
NEW YORK --
Robinson Cano
may have been eliminated in the first round. He may have only hit four home runs. But his Cit Field Home Run Derby experience was better than last year in Kansas City.
"Way better," Cano said.
Captain Cano didn't hit any homers last season in Kansas City after being booed because he chose not to pick
Billy Butler
for the AL team. This year, he was proud of his selection of winner
Yoenis Cespedes
because he was not an All-Star.
"He was hitting the ball really far," Cano said. "That guy is really strong. Unbelievable. That was a great show."
Cano, who had his dad, Jose, throwing to him again, looked on the positive side.
"At least I hit four this time," Cano said.
In 2011, Cano was the champion.
July, 15, 2013
7/15/13
8:52
PM ET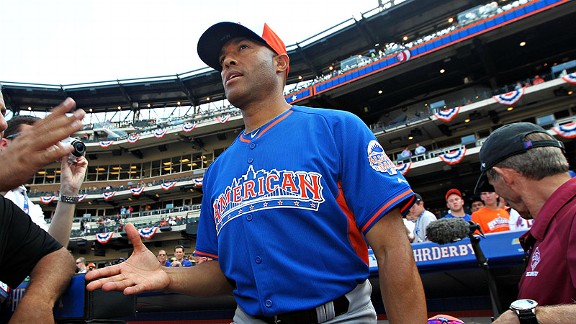 John Munson/USA TODAY SportsMariano Rivera's fellow All-Stars gave their testi-Mo-nials to baseball's all-time saves leader.
NEW YORK -- He is "a giver." He looks to share. So the more he pushes the spotlight away, the more it glows on
Mariano Rivera
.
Tuesday will be
Matt Harvey
's All-Star Game at the start, but it very well could be Rivera's by the finish. He is the biggest star among the All-Stars. His American League teammates -- and those on the National League squad -- speak with awe and honest admiration for the
New York Yankees
' 43-year-old closer.
"Just knowing what type of guy he is away from baseball, I think that is a guy that everyone is drawn to, attracted to,"
Texas Rangers
closer
Joe Nathan
said.
It is the little stories that each player has of meeting Rivera or having their bat broken by Rivera or -- and this is when the smiles really become huge -- beating Rivera. From
Justin Verlander
to
Felix Hernandez
to
Mike Trout
to
Adam Jones
, ESPNNewYork.com collected testimonials about Rivera.
"It is just kind of an honor to be in the same clubhouse,"
Tampa Bay Rays
second baseman
Ben Zobrist
said, expressing what appeared to be the overriding sentiment in the All-Star locker room.
Zobrist will always be thankful to Rivera because, when he caught the final out of the 2009 All-Star Game, Rivera let him keep the ball. Other stars were just as effusive, while others had some fun when asked their favorite memory of Rivera.
Detroit Tigers outfielder Torii Hunter:
"No. That's terrible. That's a terrible question [being asked my favorite memory of Rivera]. I got a hit off him once, I remember; that was my favorite memory. But otherwise, my only other memory is my bats were always blowing up when he was pitching. He always blows my bats smooth up and I have to get new bats."
Boston Red Sox second baseman Dustin Pedroia:
"Probably finally getting a hit off him in my last at-bat. It was like a 97-hopper up the middle, and I'm like, 'Yeah, man. I just got a hit off a guy that has 900 saves.' So it's pretty cool. You admire what he does and respect the heck outta him, even though it's a big rivalry, whatever, but you pull for guys that do it like that."
Detroit Tigers pitcher Justin Verlander:
"He's the best closer the game's ever seen. What a great talent, and he really changed the game. As a pitcher, you have the utmost respect for him. He's a class act and he's somebody I looked up to.
"I talked to him a couple times. I shook his hand over there and he's got long fingers, so I can see why his cutter is so darn good."
Seattle Mariners pitcher Felix Hernandez:
"He is a great human being. He's a winner. He's a great team player. The character he has on the mound and the way handles himself is unbelievable."
Baltimore Orioles outfielder Adam Jones:
"Mo is the greatest to ever do it. I got to watch first-hand
Trevor Hoffman
, being in San Diego, watch him close tons of games. But Mariano is doing it on the biggest stage in New York City. You don't get much better than Mariano Rivera.
"My last at-bat, I took him deep [for a go-ahead two-run homer in the ninth]. That is probably my most memorable moment in my entire career unless I win a ring. That is the biggest home run so far."
Los Angeles Angels outfielder Mike Trout:
"It means a lot to be here to be in the same clubhouse with him. It is special. The presence he brings. [As a kid watching,] I knew whenever he came in the game he was going to close the deal. Growing up watching the Yankees, it was almost guaranteed."
St. Louis Cardinals outfielder Carlos Beltran:
"I don't think I have any favorite memories. I have so many broken bats, though [laughs]."
All the ballplayers ESPNNewYork.com spoke to had a personal moment to share. Or, in Zobrist's case, a memento from 2009.
"He was gracious enough to let me keep the last out of that save that he had in '09," Zobrist said. "I caught the last out. He let me keep it. I know he had had three or four before that. I thought it was nice of him to do that."
"He is a generous person from what I've heard. I haven't talked to him a lot. Everything I've heard from other people is that he is very generous. He is a very genuine person, as well. He is a giver, as well. I have nothing but respect for him."
Mike Mazzeo contributed to this story
July, 15, 2013
7/15/13
2:34
PM ET
By
Mike Mazzeo
| ESPNNewYork.com
NEW YORK --
New York Yankees
closer
Mariano Rivera
will get into his last All-Star Game.
American League manager Jim Leyland says you can count on that.
"Rest assured No. 42 will be on the mound at some point," Leyland said Monday at Citi Field.
Rivera has said he's going to retire at the end of the season.
There was some concern that Rivera may not get in because the American League is the away team, and he wouldn't be guaranteed to pitch the ninth inning if the National League is leading entering the frame.
Rivera, 43, is 30-of-32 in save opportunities and owns a 1.83 ERA this season.
Leyland said he would be picked to close if there is a save situation.
"I can assure you that will happen," Leyland said.
July, 15, 2013
7/15/13
2:30
PM ET
By
Mark Simon
| ESPNNewYork.com
American League manager Jim Leyland likely made Yankees fans and those who enjoy studying baseball stats chuckle when he said the reason he took
Chris Tillman
over
Hiroki Kuroda
for the All-Star team was because of Tillman's 11-3 mark.
We've put Kuroda's and Tillman's ranks side by side for you to take a look at. Tillman is closer to the bottom of most lists than the top. Kuroda has the misfortune of being a little short in the one stat that mattered most in Leyland's eye, but whose value has been on the decline among those who study the game closely.
Tillman wasn't even the best option among starting pitchers on his own team (see:
Miguel Gonzalez
), let alone those on the 14 other rotations not represented at this year's All-Star Game. Kuroda and others are justified, at least numerically speaking, in any disappointment they may feel.
July, 15, 2013
7/15/13
6:00
AM ET
NEW YORK -- The Yankee who takes the most extra batting practice is
Robinson Cano
. On most days, four hours or more before first pitch, Cano is out on the field, taking pitches from hitting coach Kevin Long. They do one drill in which they place a batting screen to block half the plate to force Cano to tighten his swing.
Cano's swing is one of the sweetest ever in the Bronx, which is why today is his day.
Cano embraces the Home Run Derby. He doesn't worry about the long-term impact on his swing, but instead rejoices in his dad throwing him batting practice, like they have done so many times before.
In 2011 in Phoenix, Cano put on a spectacular show. In the final round, he beat then Red Sox
Adrian Gonzalez
by hitting 13 homers, including one that nearly traveled 500 feet. The joy on Cano's face personified how much he loves to hit.
In 2012, it wasn't as thrilling for Cano because the Royals fans were relentless in booing him after he declined to pick
Billy Butler
as a competitor. Cano wilted and put up a bagel, failing to homer even once.
On Monday night, Cano -- with his desire to have a little more spotlight and with free agency on the horizon -- has a chance to make it his show again. To be a star, you have to perform like one -- Cano relishes the chance to take BP under such a spotlight.
UP NOW:
My column on the Yankees' first half. They played as well as they could, but still are closer to last than first. Matt Ehalt on
CC Sabathia
's
ugly end to the first half
.
ON DECK:
All your All-Star and A-Rod news. Kieran Darcy, Mike Mazzeo, Adam Rubin, me and scores of other ESPN folks will have you covered in Flushing. Meanwhile, in Reading, Pa. we will be tracking the steps of
Alex Rodriguez
.
IN THE HOLE:
The Home Run Derby is on ESPN, Watch ESPN, ESPN Radio and ESPN New York. First pitch is 8 p.m.
QUESTION OF THE DAY:
Where would you rank Cano's swing in Yankee history?
July, 14, 2013
7/14/13
5:15
PM ET
By
Mike Mazzeo
| ESPNNewYork.com
NEW YORK -- The U.S. Team defeated the World Team, 4-2, in the Futures Game on Sunday afternoon at Citi Field.

A quick look at how the local prospects performed:

FOR STARTERS: Mets right-handers Noah Syndergaard (U.S.) and Rafael Montero (World) both threw scoreless first innings before exiting.

Syndergaard highlighted his frame by striking out Arismendy Alcantara with a 96 mph fastball. He allowed a two-out single to Xander Bogaerts, but Bogaerts was thrown out trying to steal second.

Montero, whose fastball registered between 93 and 95 mph on the radar gun, countered with a 1-2-3 inning, inducing two fly outs and a ground out.

IN RELIEF: Yankees right-hander Rafael De Paula pitched a scoreless fifth inning, stranding a runner at third base. He struck out arguably the best position prospect in the game, Byron Buxton, with a 94 mph fastball leading off the frame.

AT THE PLATE: Brandon Nimmo entered in left field in the fifth and went 0-for-2 at the plate, lining out to shortstop and grounding out to second base.

July, 14, 2013
7/14/13
11:38
AM ET
By
Mike Mazzeo
| ESPNNewYork.com
NEW YORK -- The MLB Futures Game will take place on Sunday afternoon at Citi Field. You can catch the game live at 2 p.m. on ESPN2 and WatchESPN.com.
Here's what to watch for:
FOR METS FANS:
New York Mets
pitching prospects Noah Syndergaard (U.S.) and Rafael Montero (World) will start for their respective teams. Syndergaard, 20, acquired in the
R.A. Dickey
trade, is 2-0 with a 1.35 ERA in four starts for Double-A Binghamton. Montero, 22, is 1-2 with a 4.36 ERA in seven starts for Triple-A Las Vegas. Overall, Montero is 8-5 with a 3.07 ERA in 18 starts between Double-A and Triple-A. Both right-handers could figure in the Mets' long-term rotation plans -- if, of course, they aren't traded.
FOR YANKS FANS:
The
New York Yankees
' lone representative in the game is 22-year-old pitcher Rafael De Paula (World). The Dominican right-hander is 6-4 overall on the season with a 3.65 ERA in 16 games (15 starts) between Class A Charleston and advanced Class A Tampa.
NIMMO, FOUND:
Brandon Nimmo, the Mets' first-round pick in 2011, earned a spot on the U.S. team based on the fan vote. The 20-year-old outfielder is hitting .261 with one home run and 23 RBIs in 62 games for Class A Savannah.
The lineups:
U.S. Team
Billy Hamilton CF (Reds)
Delino Deshields 2B (Astros)
George Springer RF (Astros)
C.J. Cron 1B (Angels)
Matt Davidson 3B (Diamondbacks)
Joe Pederson LF (Dodgers)
Christian Yelich DH (Marlins)
Addison Russell SS (A's)
Austin Hedges C (Padres)
Noah Syndergaard RHP (Mets)
World Team
Reymond Fuentes LF (Padres)
Arismendy Alcantara 2B (Cubs)
Xander Bogaerts SS (Red Sox)
Miguel Sano 3B (Twins)
Henry Urrutia RF (Orioles)
Jordan Lennerton 1B (Tigers)
Gregory Polanco CF (Pirates)
Maikel Franco DH (Phillies)
A.J. Jimenez C (Blue Jays)
Rafael Montero RHP (Mets)
NBA
NHL
COLLEGE BASKETBALL
MLB
MLS