New York Yankees:

Joe DiMaggio
April, 20, 2012
4/20/12
11:05
AM ET
By
Mark Simon, ESPN Stats & Information
Ivan Nova Matchups to Watch For
Nova is 0-2 with a 6.62 ERA in three appearances (two starts) against the Red Sox.
Though the Red Sox are hitting .315 against Nova, those on the current roster are 7-for-30 against him, including a combined 1-for-13 from Adrian Gonzalez and David Ortiz.
Nova paid the price for mistakes he's made to left-handed hitters. Of the 76 pitches he's thrown lefties this season, 10 have been marked by our pitch evaluation tool with a location of "middle-middle," which is a pitch hitters historically clobber. That's an unusually high rate of what we'd call "meatball" pitches for Nova, nearly double what he did in 2011.
Lefties are 5-for-5 against those pitches this season, with two doubles and a home run, though four of those hits came in Nova's first start against the Orioles.
Though Nova has been hit around a little bit, he's survived because of two keys. He's gotten hitters out in two-strike counts (they're 2-for-27 against him) and with runners in scoring position (the Orioles and Angels were a combined 2-for-18).
Nova will try to win his 15th straight regular-season decision. That would be one shy of
Roger Clemens'
franchise record, set in 2001.
Clay Buchholz Matchups to Watch For
Buchholz is 2-3 with a 5.59 ERA in seven career starts against the Yankees. The two Yankees looking forward to seeing him most are Alex Rodriguez and Robinson Cano, who are a combined 16-for-39 against him.
He does have success against one Yankee- Thursday's hero, Curtis Granderson,
who is 0-for-11 against him with six strikeouts and four walks
. Of their 15 head-to-head matchups, 12 have gone to a two-strike count.
Buchholz seems to still be getting a feel for his pitches upon his return from injury. He's thrown his changeup up in the strike zone at a higher rate than usual in his first two starts. He's also been wild against left-handed hitters, allowing six hits and four walks to the 23 he's faced.
Derek Jeter Watch
Jeter has 296 hits vs Sox, most among active players…with a four-hit weekend, he'd be the fourth player who debuted since WW II ended with 300 hits against the Red Sox—the other 3 are Hall of Famers --
Al Kaline
,
Nellie Fox
,
Brooks Robinson
.
Jeter would be the fourth Yankees player with 300 hits against the Red Sox. The other three are Lou Gehrig (404), Babe Ruth (347) and Joe DiMaggio (323).
The Monster Effect
My Stats & Information colleague,
Zachary Singer
suggested a few months ago that we take a look at the value of the Green Monster to Red Sox hitters.
It is noted in the chart on the right in terms of the impact it has specifically on fly balls. The differences in batting average and slugging percentage are staggering.
For those curious, Cano is the best-performing Yankees player on fly balls to left field at Fenway over the last two seasons. He's 5-for-10 with five doubles.
Endgame
The ninth inning could be particularly intriguing in a close game, given
Mariano Rivera's
history of struggles against the Red Sox, and Boston's bullpen issues in the early part of the season.
For Rivera, one noteworthy matchup could be him against Dustin Pedroia.
Pedroia is 0-for-10 against Rivera.
The only active hitter with a worse 0-for is Alex Rios
(0-for-15).
Current Red Sox closer
Alfredo Aceves
is 24-3 in his career, though one of those losses was against the Yankees. He too has a good history vs Granderson, holding him hitless in seven at-bats.
Aceves throws mostly fastballs, but has a nasty curveball that drops out of the strike zone. Of the 11 he's thrown, nine have been out of the zone. Hitters have taken five swings at the Aceves hook and missed on four of them.
August, 8, 2011
8/08/11
12:05
PM ET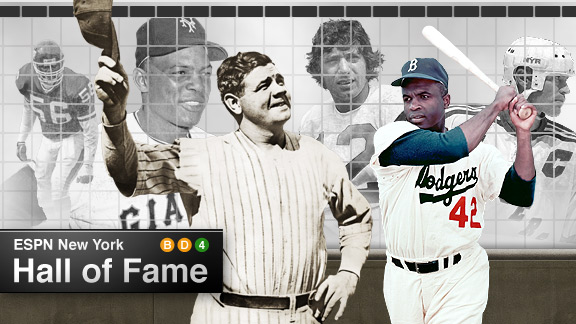 ESPN.com illustration
Vote: Pick the ESPN New York Hall of Fame class »
In honor of ESPN New York's inaugural
Hall of Fame ballot
, let's review our choices for the top Yankees of all time:
1. Babe Ruth
We disagreed on Nos. 2-50, but every ballot had the same No. 1: The Babe. Ruth embodied both Yankees dominance and excess, from his Curse to his curves, outhitting entire teams en route to a Hall of Fame career he began in Boston as a superstar pitcher.
2. Lou Gehrig
The Iron Horse saw his consecutive games streak end as ALS ravaged his body and ultimately took his life. But No. 4 found the strength to call himself "the luckiest man on the face of the earth." He was also the greatest first baseman in baseball history.
3. Joe DiMaggio
While Boomers boast about Mantle, The Commerce Comet, their fathers crow about Joltin' Joe, a three-time MVP who drove in 1,537 runs despite losing three prime years to World War II. The Yankee Clipper didn't just catch fly balls, he snagged Marilyn Monroe, too.
4. Mickey Mantle
In our closest race, The Mick was edged out of the top three by just a few points, but the switch-hitting Hall of Fame center fielder -- and hero of Baby Boomers from the Bronx and beyond -- is a top-fiver with three MVPs, a 1956 Triple Crown and seven rings.
5. Mariano Rivera
To be a top-five Yankee, you must be legendary, the dominant player at your position for a decade or more. Perhaps no one has owned his position like Mr. Automatic, the greatest closer ever. His five rings, 42 saves and a 0.71 ERA in October say it all.
July, 18, 2011
7/18/11
1:56
AM ET
By
Rebecca Glass
| ESPNNewYork.com
Since joining the Yankees,
A.J. Burnett's
numbers have deteriorated in the second half (
2009,
2010
), a trend that the Yankees hope he can reverse this season. Burnett will make his second consecutive start against the Rays on Monday. He and the Yankees will face rookie starter
Alex Cobb
(2-0, 3.41), who has not started a game since June 18th.
Discussion of the Day: What historic accomplishment by a Yankees' player do you think is the most unlikely to be repeated (or which record do you think is the most unbreakable)? Share your answers in the comments.
1)
Andrew Marchand
writes that
Phil Hughes
could be the
boon to their rotation
the Yankees need, without having to make a major trade.
Indeed,
Sunday's start
was easily Hughes'
best start of the season
, a start that if not quite a shut down appearance, was certainly much closer to what the Yankees need to see from Hughes. While Hughes performing as the Yankees expected him to perform at the beginning of the season won't solve the questions about
Freddy Garcia
or
Bartolo Colon
, it will make rotation decisions a bit easier for the Yankees. The Yankees will need to see more from Hughes, but Saturday's outing was, if nothing else, the most encouraging sign they have seen from Hughes all season.
2)
Steve Goldman
argues that parting with
Jesus Montero
is a
no-brainer if it means acquiring
Ubaldo Jimenez
.
When it's a question of a prospect or a proven player, even one who may be having a down year, the decision is almost always for the sure thing. Prospects, even ones as highly touted as Montero, are just that -- and no matter how much experience one has at Triple-A, the minors are not the majors. Jimenez has
been struggling
this season, but he is still just 27 and after the success he has in previous seasons, the Rockies are apparently
not willing to sell low. Whether or not the Yankees should be willing to part with the entire top tier of their farm system is another question, entirely.
3)
Pete Caldera
writes that
Joe DiMaggio's
56 game hitting streak
is still magical, 70 years later
. Sunday was the 70th anniversary of the end of the streak.
DiMaggio's hitting streak is often considered one of the most unbreakable records in baseball; the list of players to have even a 30 game hitting streak is
a short one
, and includes a number of Hall of Famers and potential Hall of Famers. Much of the Yankee identity, of course, is centered around the history of the team, and DiMaggio's streak is one of the most well-known in Yankees' history.
4)
It was not a great day
for the top prospects in the system.
Triple-A Scranton lost to Toledo, 7-6 in 11 innings.
Montero was hitless in five at bats and struck out three times.
Double-A Trenton lost to Reading, 4-3.
Manny Banuelos
pitched five innings, allowing three runs on five hits. He walked five and struck out six, while
sitting 92
. The blister injury he had at the beginning of the season is also apparently
flaring up
.
High-A Tampa beat Jupiter, 14-5.
J.R. Murphy
had four hits in five at bats, all singles.
Low-A Charleston beat West Virginia, 9-5 in 11 innings.
Gary Sanchez
did not play.
Short Season Staten Island lost to Tri-City, 8-2, while the Rookie GCL Yankees had a scheduled off day.
May, 21, 2011
5/21/11
2:00
AM ET
By
Rebecca Glass
| ESPNNewYork.com
A.J. Burnett
has some interesting splits. For example, he has
a better WHIP and ERA in losses
than he does in wins -- and the splits were even more stark before his
meltdown in the sixth inning
against the Rays last Monday. On Saturday, he'll take on the Mets'
Chris Capuano
(3-4, 4.78), as the Yankees will attempt to even the series.
1)
Every affiliate except for Triple-A Scranton won
.
Triple-A Scranton lost to Lehigh Valley, 6-5.
Carlos Silva
allowed five hits and four runs (all earned) in 5.1 innings; he struck out four and
hit 88 mph
on the gun.
Jesus Montero
had one hit in four at bats, a
bases-clearing double
.
Jorge Vazquez
was
hit in the hand
, but remained in the game. Vazquez also made an appearance on
Baseball America's prospect hot sheet
.
Double-A Trenton beat Portland 3-1.
Manager
Tony Franklin
made his
return to Trenton, after having
had chest pains
earlier this month.
Steve Garrison
has begun to
throw in Tampa
, Garrsion has
been on the disabled list with a groin injury.
Dellin Betances
pitched five innings of three hit baseball; he allowed one run while striking out five and walking four.
Manny Banuelos
was included on Baseball America's Prospect Hot Sheet (linked above).
High-A Tampa
beat St. Lucie 5-4
in 12 innings while Low-A Charleston beat Augusta 4-2.
In Charleston,
Slade Heathcott
had three hits in four at bats and stole a base.
Gary Sanchez
had a hit in three at bats and walked once.
Eric Shultz
of
The Yankee Analysts
wrote about how Sanchez
is turning his season around
, certainly a pleasant development even if struggling as an 18-year old in Low-A is not unexpected.
J.R. Murphy
had a double in four at bats and drove in a run.
Ramon Flores
had a hit and RBI in three at bats; he now has a 10-game hitting streak.
Sanchez and Flores also made Baseball America's Prospect Hot Sheet (linked above), rounding out a very impressive representation for the Yankees' system.
2)
Katie Sharp
takes a look at
the statistical oddities
for the Yankees over the past week. The most interesting nugget is perhaps that Wednesday was just the second time in
Mariano Rivera's
career that he was called upon to finish a game where a starter had thrown eight scoreless innings and the Yankees led 1-0.
3)
Steve S.
at
The Yankee Analysts
takes a look at
how some other Yankees careers have ended
.
Babe Ruth
and
Joe DiMaggio
are included, as are more recent Yankees such as
Bernie Williams
.
Many players on the list went on to play on with other teams, even Ruth and Berra, but perhaps the most interesting here is how young many of the Yankees were when they retired -- DiMaggio was done at 36, as was
Mickey Mantle
;
Roger Maris
was only 33 at the end of his career.
4)
Brian Costa
writes about
the relationship between the Mets' Carlos Beltran and Yankees' hitting coach Kevin Long
.
Among Yankees fans, Long may be best known for his work with
Curtis Granderson last August
, and his success with Granderson makes it very easy to believe that his influence has played an important part in Beltran's
successful career
.
May, 3, 2011
5/03/11
2:02
AM ET
By
Rebecca Glass
| ESPNNewYork.com
In the second game of their season, the Yankees mashed
Brad Penny
for
eight runs in less than five innings
. They'll try to repeat their earlier performance on Tuesday, and they'll have
CC Sabathia
on the mound. Sabathia is off to a stellar start,
with an ERA of 2.25 and 36 strikeouts in 40 innings
.
1) In the minors,
Triple-A Scranton and Double-A Trenton won, while High-A Tampa and Low-A Charleston lost
.
In Scranton (3-1 win versus Gwinnett),
Luis Ayala
made a rehab appearance, allowing two hits and no runs while striking out two in an inning of work.
Jesus Montero
had three hits in five at bats, and
Greg Golson
and
Ramiro Pena
left the game with injuries.
Trenton won 5-3 over Portland.
Josh Norris
talked to
Dellin Betances
about
the death of Osama Bin Laden
. Betances was only 13 years old on September 11, and both lived and went to school in Manhattan.
Tampa was shut out by Clearwarter (3-0), but pitcher
Brett Marshall
struck out nine in five innings.
Charleston lost 8-0 to Delmarva.
Slade Heathcott
had a hit in four at bats while
Gary Sanchez
went hitless. Sanchez also allowed his eighth and ninth passed balls of the season. Sanchez is now hitting
.200 on the season
. Sanchez is only 18, so it's far from time to panic, but his stock has cooled off a bit in the early goings of 2011.
2)
Ian O'Connor
writes about advanced ticket seller
Hank Grazioso
, who lost two sons at the World Trade Center, and
his reaction to the news of Bin Laden's death
. The reactions to Bin Laden's death have ranged from jubilant celebration to more sober anxiety about the future, but one hopes that for some, especially those affected directly by September 11, there is some sense of closure.
3)
Bill Madden
discusses
Ivan Nova's
early success in the rotation
. The scouting report on Nova has often been his inability
get through a lineup a third time through the order
, which is more or less the difference between a good long reliever and a starter. Thus, the longer Nova has been able to stay in games, the better his chances of remaining a starter in the majors. For a team with major rotation questions heading into the season, the Yankees have to be happy with the progress Nova -- still just 24 years old--is making.
On the same subject,
Joel Sherman
wrote about
the help Nova has been receiving from teammate Freddy Garcia
and cites this as one of the reasons for Nova's improvement. There are multiple benefits to having veterans on a team; being able to tutor the younger players is certainly one of them.
4)
Bob Klapisch
compares the decline of Derek Jeter to that of Joe DiMaggio
. The not insignificant difference, as Klapisch notes, between the two eras is that DiMaggio was not owed $51 million, and that there's almost no chance of Jeter retiring before his contract is up. The advanced metrics
do not bode well
, and at some point the Yankees will have to address that having Jeter continue to hit leadoff will do more harm than good.
March, 30, 2011
3/30/11
1:41
PM ET
ESPN.com Illustration
ESPNNewYork.com named the 50 Greatest Yankees -- not an easy task, considering the Bombers have 27 World Series titles, 40 American League pennants and enough Hall of Famers to fill their own wing in Cooperstown.
The List

Rank 'Em »
•
Matthews:
My top three? Ruth, Gehrig, Rivera »
•
Here's the method to our madness »
March, 11, 2011
3/11/11
1:43
PM ET
It was 70 years ago that Joe DiMaggio hit in 56 games. Author Kostya Kennedy, from Sports Illustrated, has written a new book called
56: Joe DiMaggio and the Last Magic Number in Sports
. Over e-mail, we asked Kennedy five questions about DiMaggio.
Q:
What is the coolest thing that you learned about Joe DiMaggio?
A:
That he had two real fears when he went out in public. One was that everyone
would pay attention to him. The other was that nobody would.
Q:
Why do you think this was?
A:
He was insecure about his own think-on-your-feet intelligence and was very
conscious of his image, so a lot of attention made him uneasy. A lot of
attention like that can mean a loss of control of your environment. At the same
time Joe liked being on a pedestal; he carried himself almost regally and was
used to people responding.
Q:
What is the best anecdote that most defines what happened during the streak?
A:
There's one thing I got from a guy who was driving across country with his
friends in 1941. They were from New York. Teenagers. They followed the streak as
best they could on the road. Local papers, radio. One early morning deep into
the streak they were in a tiny town in Montana and they went into a little
breakfast shack to get eggs. While they were there this leathery rancher walks
in. He nods at the guy behind the counter and just asks, "Did he get one?" And
the counterman said, "Yes, he got one." No one even had to say his name.
Q:
That is cool. What was the toughest aspect of the streak for DiMaggio?
A:
He internalized things, so just the weight of the streak sitting on him day
after day was tough. He smoked a lot of cigarettes. His stomach started to hurt.
Handling the press was also tough for him. He didn't like having to go on too
long with a reporter. He'd lean on his teammate
Lefty Gomez
to guide him through
interviews.
Q:
What current player most reminds you of DiMaggio and why?
A.
Derek Jeter. He has a certain economy of movement on the field. And he plays hard. He's so even-keeled, for the most part. And he's a little remote. All of those are DiMaggio traits.