New York Yankees:

Matt Harvey
July, 11, 2014
7/11/14
10:00
AM ET
By
Danny Knobler | Special to ESPNNewYork.com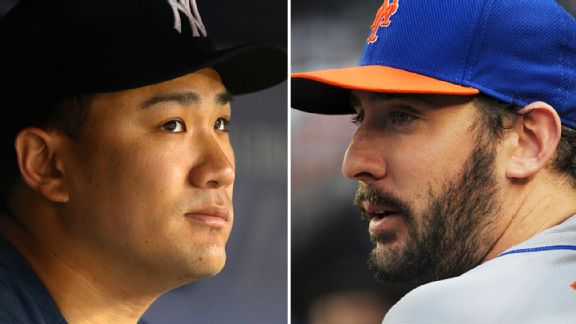 Getty ImagesMatt Harvey has an idea about what Masahiro Tanaka is going through.
NEW YORK --
Masahiro Tanaka
has a partially torn ligament in his elbow.
Matt Harvey
has been there.
The
New York Yankees
said
Thursday that with treatment and exercise, Tanaka may be able to avoid Tommy John surgery
.
Matt Harvey has been there, too.
There's no way for Harvey to know how similar the two elbow tears are, a point he readily acknowledged when asked about Tanaka Thursday night. What Harvey does know is that after trying to throw, he decided to have the surgery.
"For me, it was a mental thing, something that would linger in my mind going forward," Harvey said. "I didn't want to wake up every morning thinking is today the day [the ligament would completely tear]."
It's possible that Harvey's situation was worse than Tanaka's, and that the risk of a complete tear was greater. Mets officials suggested from the start that surgery was the likely route; Yankees officials expressed more hope Thursday that Tanaka can avoid surgery.
What is similar is what goes through the mind of a pitcher who is told there's a tear in his valuable right elbow.
"I would tell him go with what you feel," Harvey said. "That's your body that you want to throw with for a long time. If you want to try to throw with [the tear] and you're 100 percent committed, more power to you."

Harvey found out he was hurt late last August, and he knew from the start that surgery would cost him most or all of the 2014 season. He had the surgery in early October, and while his rehab has gone smoothly, he almost certainly won't pitch for the Mets this year.
The timing is different for Tanaka, who would have plenty of season remaining if the six-week exercise and throwing program works.
Still, the situations are similar enough that Harvey could understand the interest.
"The last thing you want to see is another guy go down, especially in New York across town," Harvey said to ESPNNewYork.com's Andrew Marchand Thursday afternoon. "It is a tough process. It seems that everyone who throws hard is having that done. I remember that second visit and going through all that. It is definitely not a fun time."
Harvey hopes he is through the worst of it. Tanaka may just be at the beginning.
"It's an unfortunate thing," Harvey said. "I wish the best for him."
May, 27, 2013
5/27/13
11:06
PM ET
Matt Harvey
was just like many other fans who attended the Subway Series. Back when he was a kid, he and his family, adorned in Yankees caps, would make the two-hour drive from Mystic, Conn., to invade Shea Stadium.
Including Monday night, Harvey estimates he has attended seven of the 91 regular-season Subway Series games. On Tuesday, it will be No. 8, but Harvey will be the man everyone is coming to see.
[+] Enlarge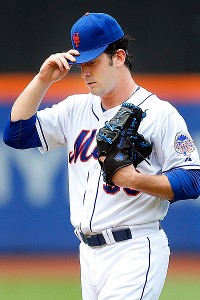 Jim McIsaac/Getty ImagesMatt Harvey will be wearing a Mets hat on this trip to the Subway Series.
"It is sort of a dream come true," the 24-year-old Mets ace said.
Harvey and his family have exchanged their Yankees hats for a lighter shade of blue, but you can tell in his voice that rooting for the championship teams of
Derek Jeter
, Paul O'Neill and a man he sometimes mirrors on the mound,
Roger Clemens
, left a permanent impression.
"I was a big Paul O'Neill fan and obviously Jeter," said Harvey, who is 5-0 with a 1.93 ERA.
Facing
Lyle Overbay
,
Jayson Nix
and
David Adams
is not exactly the experience of going up against
Mark Teixeira
, Jeter and
Alex Rodriguez
, but Harvey said it will be no less special. From the stands as a boy, he imagined being on that Subway Series field.
In the interim, Harvey attended the University of North Carolina, where one of his older teammates was
Adam Warren
, now a Yankee. This season, Warren is pitching well in his own right -- he entered Monday with a 1.14 ERA -- and has watched his ex-teammate become the talk of New York baseball for doing everything from striking out batters to reportedly dating supermodel Anne V.
"It's crazy," Warren said.
They were part of quite a staff at North Carolina. No. 1 starter
Alex White
was the 15th pick by the Indians in the 2009 draft but has struggled at the major league level. Warren ended up going in the fourth round of that same draft. A year later, the Mets grabbed Harvey with the seventh pick.
"When I got drafted, he was real excited for me," Warren said. "He was like, 'That was the team I grew up rooting for.'"
It all began on the major league level for Harvey last July 26 in Arizona. The Yankees had an off day that Thursday night, so manager Joe Girardi, fresh off a weeklong road trip out west, got in front of his big screen to watch Harvey's debut against the Diamondbacks.
Harvey fired zeroes into the sixth, and 11 of his 16 outs were strikeouts. Girardi said he watched Harvey as a fan of the game and New York baseball that night. Right after, he called one of his Mets fan buddies and told him, "You have something to be excited about."
This season, Girardi watched Harvey face the Phillies and looked at it as more of a scouting mission than anything else. That Monday night in April, Harvey outpitched
Roy Halladay
, dominating the Phillies over seven innings, allowing just two runs and striking out nine.
Monday's Game 1 of the Subway Series brought a good-sized crowd to Citi Field, but there were whole sections that were empty. There is not the same buzz for these games that there was when Harvey was in the stands.
But a pitching phenom can change a lot. If any of the four Subway games is going to be a sellout, Tuesday with Harvey against
Hiroki Kuroda
would seem to be the best bet.
Harvey will be in the middle of it all, as he is the newest and perhaps brightest star in this series. He will be on the mound, with Yankees hat replaced.
"I'm a New York Mets fan now," Harvey said.