August, 28, 2014
Aug 28
12:44
AM ET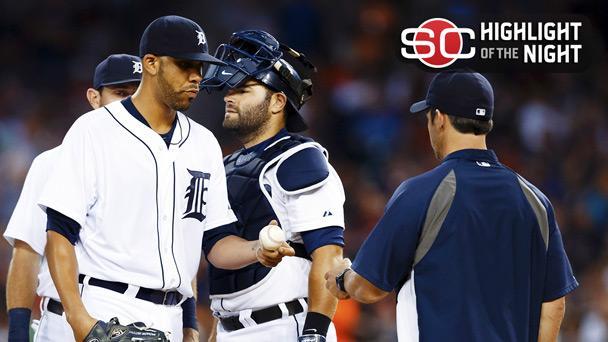 DETROIT -- For most of the 2014 season, the team formerly known as the Bronx Bombers has been anything but. Choose any offensive yardstick you like, and chances are the 2014
New York Yankees
are at or near the bottom of the American League pack. Despite being shored up with an infusion of $283 million invested in three players --
Jacoby Ellsbury
,
Brian McCann
and
Carlos Beltran
-- their lineup would have to improve simply to achieve mediocrity.
In fact, the 2014 Yankees offense pales even in comparison with its 2013 counterpart, which was cobbled together out of castoffs and has-beens trying to take the place of a solid handful of injured stars.
And yet, on any given night, even an offense as unremarkable as the Yankees' can have a remarkable night, and that was Wednesday night at Comerica Park, against one of the most formidable pitchers in the American League.
[+] Enlarge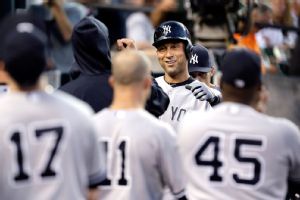 AP Photo/Paul SancyaDerek Jeter's RBI double sparked the Yankees to an eight-run third inning in Wednesday's 8-4 win.
Facing
Detroit Tigers
left-hander
David Price
, winner of the 2012 AL Cy Young Award and expected to be one of the most sought-after commodities on this winter's free-agent market, nine Yankees came to bat in the third inning, and nine Yankees got a hit before Price was able to record a single out. In fact, he never did get one. After a single by
Francisco Cervelli
drove in the sixth run of the inning, manager
Brad Ausmus
came out to rescue Price, and the Yankees added two more runs on sacrifice flies before the inning finally came to an end on a groundout, nearly 45 minutes after it began.
"It's fun, but you don't see that very often," said
Derek Jeter
, playing the role of Captain Obvious for this night. "We had some good at-bats. That was the only inning we scored, but that was a big inning for us."
Biggest of the year, in fact, and the first time an American League team had gotten nine straight hits since -- wait for it! -- 1996, when the 40-year-old Jeter was a rookie. It was also the worst single inning in Price's seven-year career in terms of hits and runs allowed.
Not every one of them was a rope -- McCann's RBI single was a bloop that fell in front of center fielder
Rajai Davis
;
Brett Gardner
's was an infield single that shortstop
Eugenio Suarez
couldn't make a play on, and Cervelli's was a bouncer with eyes that found a sliver between short and third -- but, as Ellsbury pointed out, the Yankees had hit the ball hard plenty of other times in this game without getting a hit.

"It's tough to get that many hits, even if the guys hit the balls on the screws," he said. "We had a couple of line drives that got caught, so it all evens out."
He was probably referring to his own lineout to right off
Blaine Hardy
, who replaced Price, and Jeter's shot to center, although they, too, became the sacrifice flies that produced the Yankees' final two runs of the inning -- and the game. As it turned out, that one inning would be all they had, but it was more than enough to carry them to what may turn out to be a very important 8-4 victory.
Coming on the heels of a 5-2 defeat on Tuesday that snapped a five-game winning streak, the victory stalled off, at least for one day, the fear that once again the Yankees would follow a hot streak with a cold spell, a pattern they have repeated with frustrating regularity all season. It also shaved a crucial game off the
Baltimore Orioles
' lead in the AL East -- now down to six games -- and off the leads of the Tigers and the
Seattle Mariners
in the race for the second AL wild card, now down to two and 2½ games, respectively.
"It was very important," Gardner said. "Every game from here on out, we've got to fight hard to try and stay in until the end."
The win was important, but the inning was, in Gardner's word, "fun."
"We haven't done that too often this year," Gardner said. "I realized there was no outs when I was on second base, but I didn't realize we had already hit around the order a full time. Definitely enjoyed it."
Ellsbury also did not realize the Yankees had batted around without making an out until he was told by hitting coach Kevin Long in the dugout after Cervelli's single.
"It's a great feeling," he said. "It builds confidence, you know? You want to be the next guy up, just keep the line moving. When you can string hits together like that, good things can happen."
Things like that have happened far too rarely for the Yankees this season. In 68 of their 131 games, they have scored three runs or less. They rank second to last in the AL in runs scored (516), 12th out of 15 in on-base percentage (.312), 11th in hits (1,124) and batting average (.250), 10th in slugging percentage (.383) and ninth in home runs (120) and OPS (.695).
For a team that lost four of its five starting pitchers to injury before the All-Star break, it has been the bats that have been the source of their downfall and the reason they are in a desperate fight to sneak into the last seat on the playoff train with 31 games to go.
"We don't think like that," Jeter said. "We just think we have to win a game. We had to win today, and now, regardless of what happened today, we need to win tomorrow. That's the approach you have to have. You can't think about winning streaks and losing streaks; we just have to play well."
And to play well, the Yankees need to hit well. And for a team that can't very well, they have now beaten former Cy Young winners
Max Scherzer
and
Justin Verlander
this month and overcome
James Shields
,
Chris Sale
and Price over the past four days alone. That is part of the Jekyll and Hyde nature of this team: the capability to occasionally beat the outstanding while far too regularly losing to the average.
On Thursday afternoon, the Yankees will face a rookie left-hander,
Kyle Lobstein
, who is making just his second major league start in the series finale.
"It's a guy we haven't seen before, so our guys are going to have to do their best to just prepare for him and just put on good swings," manager Joe Girardi said.
And hope they didn't use all of them up in one remarkable inning on Wednesday night.
August, 27, 2014
Aug 27
10:53
PM ET
DETROIT -- The Yankees are at that point in the season where every win is a candidate for "Biggest Win of the Year." But even if they weren't, this one might still qualify, based largely on one (unusually) terrific inning against one (usually) terrific pitcher.
The Yankees hung eight runs, their highest single-inning total of the season, on
David Price
in the third inning to put this one away early.


And even though that kind of a cushion makes a pitcher's job a lot easier to do, there's no longer any question that
Shane Greene
is a certified find.
The 25-year-old right-hander, making only the 10th start of his big league life, beat the Tigers for the second time in three weeks, and this time he might even have been better than he was when he shut them out over eight innings on Aug. 7 at Yankee Stadium. Greene went seven innings, allowed five hits and two runs, walked one --
Ian Kinsler
, the leadoff hitter -- and struck out eight. He faltered twice in the game, allowing an RBI double to
Miguel Cabrera
in the fourth and a solo HR to
Victor Martinez
in the sixth. Otherwise, he was in command against a very dangerous lineup. Greene is now 4-1 with a 3.09 ERA.
But most importantly, the 8-4 victory shaved a game off the
Baltimore Orioles
' lead in the AL East, to six games, and off the
Seattle Mariners
' lead in the race for the second AL wild card, to 2 1/2. It also closed the gap between the Yankees and Tigers, who sit between them and the Mariners, to two games.
Yankees slash Price:
Betcha never thought you'd hear that one. After failing to capitalize on a laboring Price in the first two innings (see below), the Yankees strung together nine consecutive hits to start the third, including RBI doubles by
Derek Jeter
and
Mark Teixeira
, to take a 6-0 lead before Price could even get an out. The two-plus innings represented by far Price's shortest outing of the season -- he had gone just five on May 8 -- and the third was the worst single inning in terms of hits and runs allowed in his big league career. The Yankees wound up sending 12 men to the plate in the inning, scoring eight runs, and 11 of the at-bats were productive -- two of the runs scored on sacrifice flies. Jeter had two RBIs in the inning, and Teixeira,
Carlos Beltran
,
Brian McCann
,
Brett Gardner
,
Francisco Cervelli
and
Jacoby Ellsbury
had one each.
Blown chances:
The Yankees got two runners on base in each of the first two innings against a struggling Price but came up empty both times. In the first, Ellsbury led off with a single and after Jeter struck out looking,
Martin Prado
walked. But Price buckled down to strike out Teixeira looking and Beltran swinging to end the inning. In the second, the Yankees got singles from McCann and
Chase Headley
to start the inning, but the next two hitters, Gardner and Cervelli, hit made-to-order double-play balls. Gardner, playing for the first time after missing three games with an ankle injury, was fast enough to beat his out, but Cervelli was not, and once again Price wriggled free unscathed.
Leading man:
In the past three games as the Yankees' leadoff hitter, Ellsbury -- who went 2-for-4 with an RBI Wednesday -- is now 8-for-13 (.615) with three home runs and six RBIs and five runs scored.
Signs of wear?:
The Tigers' last two runs were allowed by
Adam Warren
in the eighth and
Dellin Betances
in the ninth. Warren allowed an RBI triple to
Nick Castellanos
, and Betances gave up a run on two hits and a wild pitch before striking out Cabrera to end the game.
Tomorrow:
The series wraps up with a matinee matching
Hiroki Kuroda
(9-8, 3.94) and LHP
Kyle Lobstein
(0-0, 4.76), who is making just his second career start.
August, 27, 2014
Aug 27
10:48
PM ET
Associated Press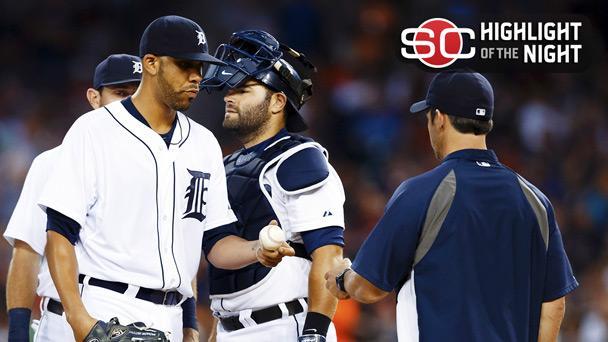 DETROIT -- The New York Yankees chased David Price with nine straight hits in the third inning, beating the Detroit Tigers 8-4 Wednesday night.
The Yankees scored all eight of their runs in the third off Price (12-10), who had pitched a one-hitter in his previous start. Jacoby Ellsbury started the barrage, and New York went all the way through the batting order until the 2012 AL Cy Young Award winner was pulled after the ninth hit of the inning.
Rookie Shane Greene (4-1) allowed two runs and five hits in seven innings, struck out eight and walked one.
The Yankees pulled within 2 1/2 games of Seattle for the second AL wild card, while Detroit remained a half-game behind the Mariners. The Tigers fell 2 1/2 games behind first-place Kansas City in the AL Central.
Victor Martinez homered for Detroit.
August, 27, 2014
Aug 27
7:35
PM ET
Associated Press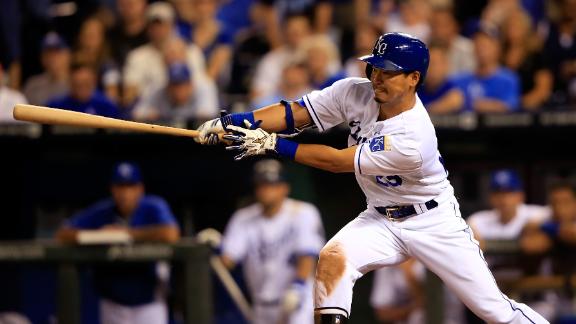 KANSAS CITY, Mo. -- Royals manager Ned Yost pleaded with fans on Wednesday to show up for their remaining home games, one night after Alex Gordon's walk-off homer gave Kansas City a dramatic win over Minnesota that was seen by just 13,847 at Kauffman Stadium.
Yost briefly mentioned the attendance in his postgame remarks, and expanded on his thoughts when he was asked a follow-up question about so many empty seats during a pennant race.
"We've been working hard to try to make our fans happy and make our fans proud of us for a lot of years," Yost said, "and we'd like them to enjoy a night like that."
Some took Yost's comments out of context -- they thought they were a dig at fans who have suffered for 29 years without a playoff appearance. But the skipper said Wednesday that he wasn't being critical of fans, rather he was simply asking them to join in the fun.
The Royals entered Wednesday with a 1½-game lead over Detroit in the AL Central.
"The reason I do this job, there's two reasons: One is I've been to the World Series six times. I know that feeling. I know the excitement. I know what goes along with it," Yost said. "And one of my main things is I want these players to experience that, because it's very, very important. And the opportunities to do it are far and few between.
"And the other thing is I want the fans to experience that," he said. "It's a special time. It's been a long time since our fans have been able to enjoy a playoff run."
The Royals won 86 games last year, their best mark since 1989, but were never really in the division race. They were eliminated from wild-card contention with a week left in the season.
August, 27, 2014
Aug 27
7:33
PM ET
DETROIT --
Masahiro Tanaka
will throw three innings and 45 pitches to a couple of his own teammates on the field at Comerica Park on Thursday morning before the series finale between the Yankees and Tigers.
The hitters have yet to be announced, but it will probably be
Zelous Wheeler
and
Brendan Ryan
, or players of that ilk, for Tanaka's first real air-out session since he went on the disabled list July 9 with a partially torn ulnar collateral ligament, an injury that usually requires Tommy John surgery and a year-long recovery.
But if all goes well, Tanaka will be back pitching for the Yankees in a couple of weeks. And if all goes really well, the date of his return could very well be Sept. 12, when the Yankees play a doubleheader against the Orioles in Baltimore, necessitated by a rainout on Aug. 12.
[+] Enlarge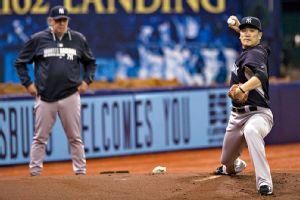 AP Photo/Steve NesiusBarring any setbacks, Masahiro Tanaka is on track to return to the mound before the season ends.
Joe Girardi, of course, refuses to project beyond Thursday's sim game, but the typical Yankees progression for rehabbing pitchers is to gradually increase their workload until they have thrown between 75 and 90 pitches in a game. Reading between the lines of what Girardi said about Tanaka before Wednesday's game against the Tigers, that could require as few as three rehab starts.
"You obviously feel better that it's going to happen, but I still talk about the intensity of a major league game compared to a minor league game or a simulated game," Girardi said. "Those are the hurdles that you have to go through."
Since the minor league season ends on Sept. 1, the Yankees will not have the option of sending Tanaka out on a minor league rehab assignment the way they did with
Michael Pineda
. He is likely to stay with the team -- the Yankees return home for 11 days after Sunday's game in Toronto -- and throw to teammates three or four times in total before the Yankees determine he is ready to go.
And considering need -- the Yankees are still in the playoff hunt -- and the fact that Tanaka's absence was not nearly as long as Pineda's, who was also coming back from a lost season due to shoulder surgery, it is more likely Tanaka will need three sim games, not four. Generally speaking, the Yankees like to increase a rehabbing pitcher's workload by 15 pitches each time out. That means 45 pitches tomorrow, 60 pitches five days later and 75 pitches five days after that.
That would line him up to start one of the games of the doubleheader at Camden on Sept. 12, a possibility Girardi did not address, although he did acknowledge that Tanaka might not need as much buildup time as other pitchers after a layoff.
"The thing with Tanaka was, he had not sat in an extremely long time. He was built up," Girardi said. "And in the month of September, you have more relievers, too, so you can play it a little differently."
This, of course, is assuming that all goes well during the rehab and that Tanaka suffers no setbacks, which Girardi cautioned would end any hope of him pitching at all this year.
"I think you plan it out, and it's either going to work or it's not going to work," Girardi said. "As long as you're having steps in the right direction, it's working. That doesn't mean that it's a guarantee. It's not like rehabbing a hamstring or something like that where you can have a setback, and we've got to set him down. If it doesn't work, it doesn't work. If you have a setback, it probably means surgery."
But Girardi is not thinking in terms of setbacks. He is thinking about finishing up the season with a least three-fifths of the rotation he began the season with.
"We got Michael back," he said, "and we're hoping we get Tanaka back here pretty soon, too."
August, 27, 2014
Aug 27
7:14
PM ET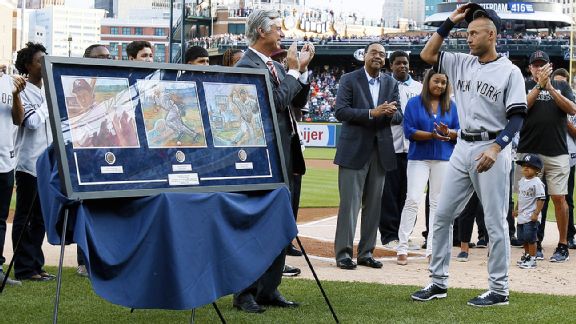 Duane Burleson/Getty ImagesDerek Jeter was honored Wednesday in Detroit, where he received chairs, paintings and a $5K check.
DETROIT -- If you're thinking of giving
Derek Jeter
a retirement gift, scratch a few more items off the list.
In a pregame ceremony at Comerica Park, attended by Jeter's family as well as former Detroit Tiger greats Al Kaline and Willie Horton, and current Tigers and ex-Yankees
Phil Coke
and
Joba Chamberlain
, Jeter was given a pair of chairs from the old Tiger Stadium and a collection of three original paintings depicting him in action. The paintings included one of him in the maroon jersey of Kalamazoo Central H.S., wearing No. 13, plus two of him in a Yankees uniform playing at Tiger Stadium and at Comerica.
Jeter was also given a $5,000 check for his charitable Turn 2 Foundation. Following a brief video tribute, which included footage of him playing as a high schooler, Jeter made his way through the lengthy receiving line, offering hugs to Coke, Chamberlain and his dad, Dr. Charles Jeter, kisses for his mother, Dorothy, and sister, Sharlee, and a high-five for his young nephew Jalen, who tipped his Yankees cap to the crowd when he was introduced.
The gifts supplemented a haul that has so far included a custom-painted Gibson Les Paul electric guitar, a standup paddleboard, golf clubs and a large mosaic No. 2 made up of New York City subway tiles.
There are still four more stops for Jeter to make in his final season, in Toronto, Tampa Bay, Baltimore and Boston, as well as a farewell ceremony at Yankee Stadium on Sept. 7.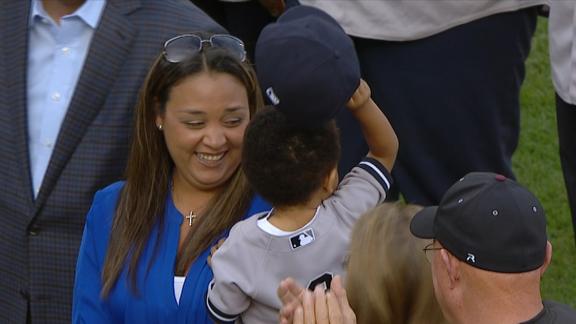 August, 27, 2014
Aug 27
6:18
PM ET
August, 27, 2014
Aug 27
6:06
PM ET
By
Danny Knobler | Special to ESPNNewYork.com
NEW YORK -- On his way to Citi Field on Wednesday afternoon,
Atlanta Braves
manager Fredi Gonzalez had his radio tuned to ESPN New York.
Would you expect anything else?
Anyway, Gonzalez heard the discussion about how much
Martin Prado
has meant to the
New York Yankees
in the short time he's been with the team. And all he could think was, you guys are absolutely right.
"We loved him," said Gonzalez, who managed Prado with the Braves. "I was thinking, that's why he's so valuable. I'm sure [Yankees manager Joe Girardi] loves being able to pencil him into the lineup somewhere every day."
Prado played his first seven years with the Braves, but then he became the player they had to give up to get
Justin Upton
from the
Arizona Diamondbacks
. Prado played multiple positions with the Braves, just as he has so far with the Yankees.
The Diamondbacks believed Prado would benefit from staying in one spot in the field, but Gonzalez disagrees.
"I think it keeps it fun for him [to move around]," Gonzalez said. "I thought the more we moved him around, the better he played."
Prado has already started games at four different spots for the Yankees: left field, right field, third base and second base. He played all those spots for the Braves, but also had games at first base and shortstop.
"He can play first," Gonzalez said. "And when we needed him at short, he played it like he'd been there all his life.
"He's a nice player, man."
August, 27, 2014
Aug 27
3:58
PM ET
The Yankees have signed Mets castoff
Chris Young
to a minor league deal, a baseball official confirmed.
With the minor league season coming to a close, Young likely will be insurance in case the Yankees suffer an injury at the big league level. He could be called up when the rosters expand in September.
Young, an outfielder, was signed by Mets GM Sandy Alderson for $7.25 million this winter but never panned out. Young hit just .205 with eight homers and 28 RBIs for the Mets before he was released earlier this month. The right-handed hitter turns 31 next week.
The Yankees have had injuries in their outfield.
Carlos Beltran
has missed extended time with an elbow injury and only recently returned to the field.
Brett Gardner
has been nursing an ankle problem of late.
Jacoby Ellsbury
is the other starting outfielder.
Ichiro Suzuki
and
Martin Prado
also see time in the outfield.
CBS Sports first reported Young's signing.
August, 27, 2014
Aug 27
12:09
PM ET
NEW YORK --
David Price
turned 29 Tuesday. Wednesday, he pitches for the Tigers against the Yankees. By this time next year, he may be on the verge of free agency.
At that point -- if, of course, he doesn't re-sign with the Tigers -- he most assuredly will be linked to the Bronx, regardless of
his past stances on facial hair
.
But the Yankees could be faced with an old familiar question: Should they pay a lot for a 30-something ace?

It is a topic they will be forced to discuss this offseason when they decide how hard to pursue
Max Scherzer
and/or
Jon Lester
.
The Yankees see potential in their rotation, but there are question marks. The Yankees could book on a guy like
Shane Greene
, who goes up against the Tigers Wednesday night. From the get-go, Greene has shown the stuff to be a major league starter. Still, there is a lot more needed -- mental makeup, consistency -- to do it for the long haul.
Greene could join a rotation next season that includes:
CC Sabathia
, who'll be coming off knee surgery;
Masahiro Tanaka
, with an elbow issue looming;
Michael Pineda
, who has been unable so far to successfully pitch a full year;
Ivan Nova
, who'll be coming back from Tommy John surgery during the season;
David Phelps
, who has an elbow issue;
Adam Warren
, possibly converted from a reliever to a starter;
Brandon McCarthy
, who will suddenly cost a pretty penny; and Manny Banuelos, Luis Severino and
Bryan Mitchell
, who are waiting on the farm.
There is potential there, but adding Scherzer or Lester would make the Yankees better in 2015.
So this offseason -- with Sabathia as the backdrop -- another decision looms. The Yankees are considering a
six-man rotation for the future
. This could make an investment in Lester or Scherzer more feasible, offering some protection against injury, or it could make them bypass the big names completely.
The Yankees could switch gears and choose youth and depth over stars. The Yankees know the Orioles, Brewers and Royals are all winning without true aces.
Sabathia is the perfect example of the good and the bad of the ace deal. Sabathia earned his keep during the first three years of his $161 million deal, leading the Yankees to a World Series win in 2009. Over his initial three seasons, he averaged nearly 20 wins with a 3.18 ERA.
He then threatened to use his opt-out, causing the Yankees to capitulate and add an extra season and $30 million to his deal. Truth be told, if Sabathia had opted out -- something he said he wouldn't do -- he probably could've picked up even more cash.
Even at the time, there was some logic to letting Sabathia walk. He was great, no doubt, but he had just turned 30 and the odometer on his left arm was spinning. To predict that Sabathia would eventually regress was not hard, though it perhaps has occurred more rapidly than expected.
After posting a 15-6, 3.38 ERA campaign in 2012, Sabathia is 17-17 with a 4.87 ERA and no fastball the past two years. He has a knee situation that will likely prevent him from ever being close to an ace again and could even rob him of the rest of his career.
But here is the rub: How could the Yankees have done anything differently in Sabathia's case? They are the Yankees, with expensive seats to sell and a brand that is built on winning and stars. Could they really just let Sabathia walk in the winter of 2011? There would be no guarantees that a new ace would walk through the door.
It is not that the Yankees don't develop pitching -- heck, their bullpen is the best part of their team, led by home-grown
David Robertson
and
Dellin Betances
-- it is just that they haven't created aces.
Phil Hughes
and
Joba Chamberlain
were actually good, just not great, as Yankees. Nova has had his years. Phelps and Warren are serviceable. Greene has potential. Mitchell, Banuelos and Severino do, too.
But these are the Yankees. They have to win now. A month from now, they may have completed their second consecutive non-playoff season. They can't just sit by idly to recalibrate on the mound, can they? We'll have to see it to believe it.
So Price is on the mound Wednesday night against the Yankees. He offers an interesting question about their future. Do they want to break the mold and rely on younger depth instead of their pocketbooks?
Question: What is your opinion? Would you sign Lester or Scherzer or Price or would you go for depth?