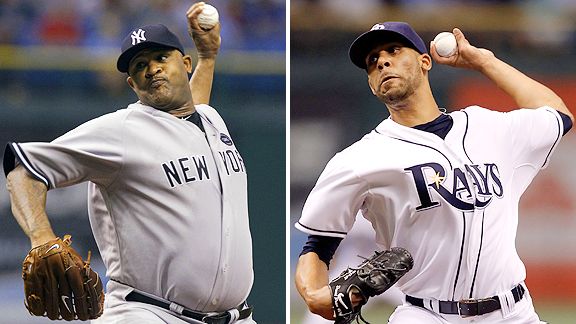 AP Photo/Getty Images
Yankees fans should consider themselves fortunate to get a Cy Young candidate pitching matchup this good in the midst of a pennant race.
Last week, when CC Sabathia and David Price had their epic matchup in Tropicana Field, it brought back a rather pleasant memory from my childhood.
When I was 10 years old, my dad and I went to a Mets-Cardinals game at Shea Stadium on September 11, 1985. Baseball was just beginning to form a major impression on me.
The pitchers that day were the Mets ace, Dwight Gooden, and the Cardinals ace, John Tudor, with first place on the line, at a time when there was only one playoff spot for the two teams. Gooden entered 20-4 on his way to a 24-4 season, finishing with a 1.53 ERA. Tudor was in the midst of a run in which he won 20 of his last 21 decisions.
There are two things I remember vividly from that day. One is of the DiamondVision big screen showing Pete Rose's 4,192nd hit, breaking Ty Cobb's all-time record. A fellow blogger, Greg Prince, reminded me the other day that after the game, Rose told the media something to the effect of: "Now you can get back to covering the Mets and Cardinals," indicative of how big a deal that series was at the time.
The other thing I recall is how ridiculously good the starting pitchers were at such a vital time of the season.
Ace vs Ace
2010 Season
Gooden was untouchable through nine innings, left in to escape a bases-loaded jam in the eighth. Tudor went the distance, and won 1-0 in 10 innings on Cesar Cedeno's home run. I can still see the tail on the pitch that Darryl Strawberry whiffed on (it almost hit him in the neck) to end the game.
We just completed an era in which the long ball dominated, in which games like this were extremely rare, both because of the immense supply of power hitting, and because of the change in the manner in which starting pitchers are used.
That's a shame because, as I learned as a 10-year-old, games like that represented the best of baseball (even though the team I was rooting for lost). In a prolonged duel between two ace starters, every pitch induces nailbiting and every situation is "high-leverage" as the folks like to refer to it these days.
I'll take that kind of game over a 10-9 slugfest any time. My dad, a Giants fan as a kid, had matchups featuring Juan Marichal, Sandy Koufax and Bob Gibson to revel in. I have Gooden-Tudor. This generation has Sabathia-Price, hopefully for a few more years.
In a year filled with great individual single-game pitching performances, I'm glad this kind of game is back, even if I have to concede that the wild card limits the impact of what's at stake for the parties involved.
It turns out I wasn't the only one with a memory of that matchup from 1985. So did one of the folks at Elias, who noted that Sabathia-Price was the first game since Gooden-Tudor between two pitchers who each had at least 17 wins, with both throwing eight scoreless innings.
Yankees fans have other such games to draw upon (regular season, postseason pitchers duels are in another category altogether).
Remember the Sunday Night Baseball Yankees-Red Sox matchup between Mike Mussina and David Cone on September 2, 2001? That's the game where Mike Mussina took a perfect game bid (with 13 strikeouts) to two outs and two strikes in the ninth inning, ended by a Carl Everett hit.
Sometimes forgotten is how well Cone pitched, his own attempt at a shutout, done in by a Lou Merloni error and an Enrique Wilson go-ahead hit in the ninth inning. That was Gooden-Tudor in its own way
That game came up in our statistical memory banks last night, when Roy Oswalt combined with two relievers on a one-hitter to beat the Braves, 1-0 in Philadelphia.
My colleague, Jason McCallum quizzed Elias on this game and found it was the first 1-0 one-hitter by a first place team over a second place team since Mussina and the Yankees over the Red Sox nine years ago.
The last one prior to that- a September 1990 meeting between the Mets and Pirates, one that had me cringing in sharing a reminiscence of Zane Smith and a Barry Bonds walk-off hit doing in the Mets. But I still remember it like it was yesterday, because it was such a great game.
The point here is that the pitcher's duel is special, both in terms of the notes and the memories it generates. We had a dandy of one the last time these two upper-echelon Cy Young candidates got together. Let's hope we get another like that tonight.
Mark Simon is a researcher for Baseball Tonight