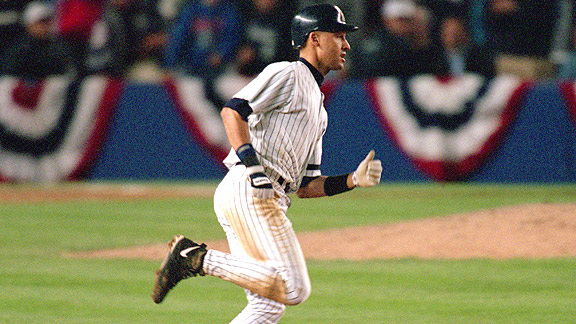 Simon Bruty/Getty Images
Derek Jeter has rounded the bases five times in postseason series openers. This trip tied Game 1 of the 1996 ALCS against the Orioles.
If there's one thing among many Derek Jeter knows how to do best in October, it's to get a postseason series off to a good start.
Game 1 of the ALDS will mark the 29th series that Jeter has played in as a Yankee. In the previous 28 Game 1s, Jeter is hitting .385, with a .480 on-base percentage and a .567 slugging percentage.
Derek Jeter
Career in Game 1s
Jeter is even better in the first game of a postseason. In Division Series openers, he's 21-for-44 (.477) with four home runs, nine walks and 13 runs scored in 13 games. The only one in which Jeter didn't get on base was in Game 1 against the Indians in 2007.
Last year, in the Yankees postseason openers, Jeter was 7-for-11 with a pair of walks, even netting three hits in the Yankees World Series-opening loss to Cliff Lee.
Jeter's most well-known Game 1 performance came in his first postseason, in the opener of the 1996 ALCS against the Orioles, when he hit the Jeffrey Maier-aided game-tying home run in the eighth inning of a Yankees come-from behind win against the Orioles. That was part of a 4-for-5 game that set the tone for future performances from Captain Clutch, a .313 career hitter with 20 postseason home runs.
Among Jeter's other Game 1 significant moments:
1999 ALCS Game 1 -- With the Yankees trailing the Red Sox, 3-2 in the seventh inning, Jeter came through with a game-tying single against Derek Lowe. The Yankees would go on to win the game on a walk-off home run by Bernie Williams.
Best BA in Game 1s
Yankees History (min. 20 PA)
2006 ALDS Game 1 -- Jeter became the sixth player (and second Yankee, along with Hideki Matsui) to get five hits in a postseason game, this one an 8-4 win over the Tigers in which Jeter also scored three runs. Jeter was only the second player to ever go 5-for-5 in a postseason game (Marquis Grissom did it prior and Carl Crawford did it afterwards).
2009 ALDS Game 1 -- Jeter came to bat four times against the Twins and reached on each occasion. His home run off Brian Duensing in the third inning tied the score at 2-2. He'd score twice more later in the game, a 7-2 Yankees win. It marked the fifth time in his career that Jeter hit a game-tying postseason home run. The Yankees won all five games.
Overall, Jeter has reached base via hit, walk, or hit by pitch in 25 of those 28 Game 1s, including 12 out of 13 times to open the Division Series.
And here's our offer of proof of his catalyst ways in these games:
The one postseason opener (ie: LDS) in which Jeter was shut out, was that previously mentioned one, in 2007 against the Indians. The Yankees lost that game, 12-3, and the series, one in which Jeter posted the worst postseason on-base percentage he's had in any round (.176) of his career.
Mark Simon is a researcher for Baseball Tonight. Follow him on Twitter at @msimonespn