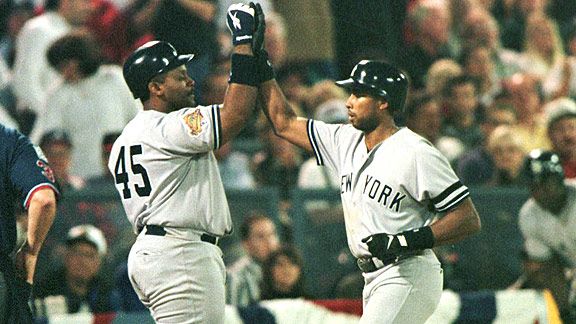 US Presswire
Bernie Williams had a lot of big October moments for the Yankees. Will that make him Hall of Fame worthy?
Former Yankee Bernie Williams is perhaps the best new candidate in next year's Hall of Fame class, and with bumper crops on the horizon in 2013 and 2014, it might be his best chance at recognition.
Williams played for a Yankees team that won four out of five (and very nearly five out of six) World Series championships, had a .297 career batting average, .381 on-base percentage, and .477 slugging percentage.
From 1995 to 2002 (his prime), he had an OPS+ of 142 (meaning his OPS was significantly better than that of his peers).
For any baseball player, these are enviable numbers. For a center fielder, they are especially noteworthy. Williams' stats don't match Ken Griffey Jr.'s, but they were very good regardless.
When you compares Williams' numbers to center fielders in the Hall of Fame (such as Kirby Puckett), his totals (both basic statistics and newer ones, such as Wins Above Replacement) suggest that he was very, very good -- but not necessarily Hall of Fame great.
Yet, unlike fellow future candidates Jorge Posada or Mike Mussina, Williams' case may very well rest on other factors -- such as his success in the postseason. It is, as one New York Times writer recently pointed out, the same methodology that might someday put Jack Morris in the Hall of Fame.
Williams career is defined by coming through in big moments, and yes, he did have plenty of opportunities to do so. But he came through -– a lot.
Postseason Late & Close
Current and Recent Yankees
Since the postseason expanded to three rounds in 1995, Williams' hit eight go-ahead postseason home runs (tied with Babe Ruth for the most in Yankees history). His 31 RBIs in the seventh inning or later are more than Posada's or Derek Jeter's -- and the latter two are both still active players.
RBIs are a measure of opportunity -- batters need to reach base for the opportunity to exist, but a number that high in situations that are often so high leverage is not entirely coincidental.
We bring that up along with one other number that helps point out his value. Baseball-Reference.com defines a "late-and-close" situation as one in the 7th or later with the batting team tied, ahead by one, or the tying run at least on deck.
From 1995 to 2004, Williams hit .329 with a 1.051 OPS in 96 postseason late-and close plate appearances. In 82 at-bats in that time, he had 13 extra-base hits, including a pair of walk-off home runs.
Even factoring in a couple of down years towards the end of his career, Williams had a .314 batting average and 1.005 OPS in postseason late-and-close situations. What more could a team ask for than that?
Whether postseason success should be considered as criteria for Hall of Fame selection merits a separate discussion entirely, but given that these factors have likely helped candidates in the past, they are worth examining when it comes to Williams.
How much Williams' baseball heroics will ultimately affect his case remains to be seen, but they are a measure worth noting in evaluating the total value of his candidacy.
Rebecca Glass recently began working for ESPN Stats & Information.