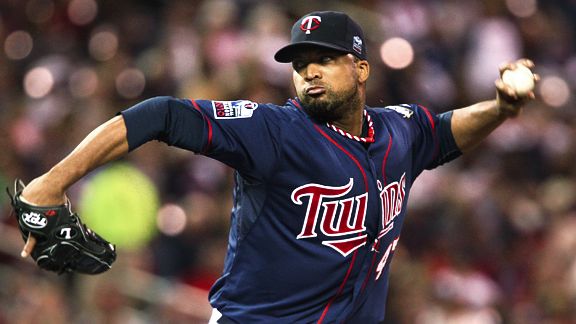 Brace Hemmelgarn/US Presswire
Do you think the Bombers should chase Francisco Liriano? Let us know below.With it probably a question of when instead of if the Yankees are going to make a deal for a starting pitcher, we are going to try to keep a close eye on all possibilities until they make a big deal. So, with the Weather Channel fresh in our head, let's start the Trade Watch 2011.
The Candidate: Francisco Liriano
Where is the news?: Joe Christensen in the Star-Tribune wrote that he has talked to Twins people and he thinks they may trade Liriano. Liriano, who was 14-10 with a 3.62 ERA in his rebirth season last year, becomes a free agent after the 2012 season. The Twins, Christensen said, are unlikely to sign him long-term so the Yankees make sense.
What we think: The Yankees would definitely have interest in Liriano. He is a solid No. 2 in the rotation-type lefty. Sounds like an ideal fit. The problem is his injury history with a penchant for relying on the slider. That is a concern for Minnesota and could be one for the Yankees. He is only 27.
We spoke to a person with knowledge of the Twins' thinking and he didn't believe Minnesota would trade him now. Liriano could be their top starter and so it would make sense to keep him. If the Twins fade or if their other five starters excel, maybe that changes. If it does, the Yankees will be involved.
Would we do it?: He is in not the type of guy you would trade Jesus Montero for, we don't think. He is just a tick below that level -- and that is if you believe he can stay healthy. We would strongly consider giving up Ivan Nova as a front man in such a deal, but not Manny Banuelos or Dellin Betances. Liriano is an upgrade, but he is a tad below giving up the top prospects.
This is the type of guy that we believe that Brian Cashman will have to continue to show discipline on. He is worth obtaining, but the price must be right.
Would you do it?: Would you want to trade for Liriano? What would you give up? Have at it.