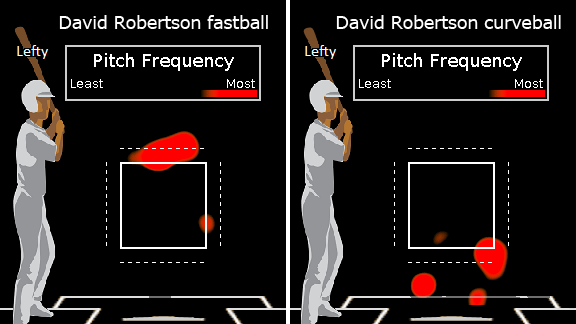 The image on the left shows David Robertson's most frequent strikeout locations with his fastball to a left-handed hitter. The image on right shows the same with his curveball.Yankees reliever David Robertson is in Tuscaloosa, Ala., on Thursday, surveying the damage of the recent tornadoes to his home state.
Robertson recently announced the formation of The David and Erin Robertson Foundation, also known as High Socks for Hope, with the intention of raising money to aid the current situation in the state. He's pledging $100 per strikeout to the relief effort.
With Robertson becoming best known not just for his high-socked look, but for his strikeouts, it struck me as a good time to look into some of his strikeout statistics a little bit more closely, with the help of Baseball-Reference.com and our pitch evaluation tools. So here are a few things you may not have known about Robertson's strikeout penchant:
Best of the Best
Robertson has 200 career strikeouts in 154 1/3 innings pitched. His 11.66 strikeouts per nine innings rank second among active pitchers with at least 100 innings pitched. The only pitcher ahead of him, Cubs reliever Carlos Marmol, is a hair ahead, at 11.67 K per 9.
Highest K-per-9 Yankees in 2011
Robertson is also one of five pitchers in major league history to average at least 10 strikeouts per nine innings in each of his first three seasons. The other four, all of whom had decent careers, are Dick Radatz (a former Red Sox reliever), ex-Angel Troy Percival, Mark Prior and Takashi Saito.
No Trouble with Lefties
Robertson is linked with Marmol in another way. Dating back to 2008, they are the two best pitchers at recording strikeouts against left-handed hitters.
Robertson has struck out nearly one-third of the lefties he's faced in his career, a rate that ranks second-best among right-handers in that time, and fourth-best among all pitchers who have faced at least 300 lefties in that span (behind southpaws Clayton Kershaw and Matt Thornton, and Marmol).
How does he finish a lefty with two strikes? He has two primary weapons.
The heat map above draws from data since 2009 (we imagine 2008 would yield similar results).
The image on the left shows the area in which Robertson most frequently strikes out a lefty with his fastball (23 strikeouts since 2009).
The image on the right shows the area in which Robertson most frequently strikes out a lefty with his curveball (31 strikeouts since 2009).
So if you're facing the Yankees righty, you've got to be ready for pitches thrown in different ways to two vastly different areas.
The tougher the spot, the more likely the whiff
My colleague, Yankeemetrician Katie Sharp, and I have been digging deep recently into how Robertson's Houdini nickname is well-earned. Of the 37 batters he's faced in his career with the bases loaded, he's struck out 17. But this year, he's even more impressive.
David Robertson
2011 Bases-Loaded Strikeouts
This season, he's faced eight batters with the bases loaded and whiffed the last seven. Six of the seven strikeouts have come in situations in which the Yankees led by two runs or fewer.
Robertson's seven bases-loaded strikeouts are only two shy of the most by a Yankees pitcher in the time for which full play-by-play data is publicly available (since 1974). Closer Rich Gossage whiffed nine of the 14 batters he faced with the bases loaded in 1982.
Robertson has thrown 32 fastballs with the bases loaded this season at an average speed of 93 mph. That's ratcheted up slightly (within a small sample) from how hard he throws it in other situations -- his average is about 92 mph in other spots.
Some Guys Still Haven't Figured Him Out
Robertson is getting a pretty decent rep as a guy who is tough to hit against because his fastball and curveball both have some nastiness to them.
Ask Rangers slugger Josh Hamilton, who has fanned four times in five regular season/postseason meetings with Robertson, Rays infielder Reid Brignac, whom Robertson has whiffed four times in four matchups, or just about anyone from the Blue Jays this season. Of the 11 outs he's recorded against Toronto in 2011, eight have come by strikeout.
For more on The David and Erin Robertson Foundation, visit HighSocksForHope.com.