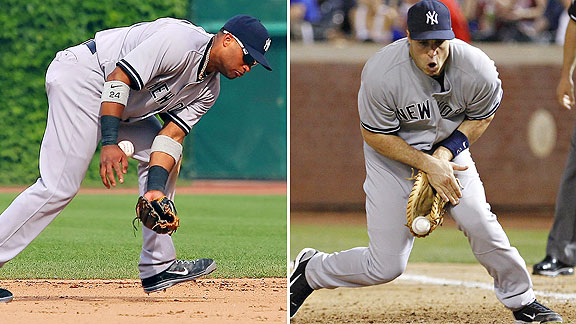 AP Photo/US Presswire
Robinson Cano and Mark Teixeira haven't matched their past standards defensively so far in 2011
Things are going pretty well in Yankeeland at the moment, with nine wins in 12 games since Derek Jeter went down with his calf injury.
Nick Swisher is rolling, Brett Gardner is catching everything in site, and David Robertson is dominating in the eighth-inning role he inherited thanks to Rafael Soriano and Joba Chamberlain going down with injuries.
So we have to dig pretty deep to pick nits, but it's an off-day, so that's what we'll do. There is one troubling trend that could develop into a bigger issue in the near-future.
The right side of the Yankees infield has not been as effective defensively as it has been the last couple of seasons. It's not a huge issue at this point, but it's one that's worth keeping an eye on.
Combined, Mark Teixeira and Robinson Cano have cost the Yankees seven runs this season, based on the defensive metrics calculated by the folks at Baseball Info Solutions, who supplied us the data for last week's feature on Gardner.
Mark Teixeira and Robinson Cano
vs Balls Hit To Right Field Hole
Baseball Info Solutions uses a Plus-Minus rating to calculate fielder effectiveness at turning batted balls into outs.
The number reflects how the player does against balls of this type.
A positive number reflects plays above-average. A negative number tell how much a player is below-average.
Seven runs isn't a huge amount. Both players still rank respectably defensively. But there has been some slippage from last season to the performance in the first half of 2011, particularly for Cano.
Cano was widely praised for significantly improving defensively in 2009 and 2010, and the numbers showed that to be true. After ranking among the worst second basemen in baseball defensively in 2008, Cano ranked seventh in Defensive Runs Saved, which for second basemen combines the ability to turn batted balls into outs and the ability to turn double plays successfully, in each of the last two seasons.
In 2011, Cano has slipped to middle-of-the-pack-- 15th-best at the moment. He's cost the Yankees three runs with his glove.
Where does the difference lie?
The biggest drop-off for Cano is against balls that are hit in the hole between first and second base. That's where Teixeira comes into the mix.
Baseball Info Solutions is able to break down the ability of teams and players to turn batted balls into outs by different areas on the field.
In the past two seasons, Cano was adept at getting to the ball hit between him and Teixeira. He turned six more plays on balls hit to that hole than the average second baseman would have turned on the same batted balls.
This season, Cano rates below-average, and it's a significant drop-off. If he maintains it, it's about a 10-play difference from last year to this year. He currently rates four plays below an average second baseman.
Teixeira is also not getting outs those same batted balls. His plus-minus on balls hit to that hole has also dropped. He went from three plays above average to three plays below.
Lowest Pct of Balls Turned Into Outs
On Balls Hit to RF Hole
Those two figures go hand-in-hand. Any ball that goes between the two of them-- they both get penalized. Last year, they worked well in tandem. This year, not as much.
BIS also provided us with this stat. Last year, the Yankees turned 79 percent of balls hit into the right field hole into outs. That ranked 15th in the major leagues. This year, that has dropped to 75 percent. That ranks 27th among baseball's 30 teams.
What does a four percentage point drop mean in actual numbers? Based on the total number of balls, it's about 20 more hits over a full season.
That can be problematic for an already injury-depleted pitching staff.
As Orel Hershiser pointed out to me last week, each missed opportunity to get an out has a significant cost. The more balls that aren't fielded mean more baserunners, and more pitches for the Yankees already injury-depleted staff.
While Gardner is a pitch saver, Cano and Teixeira are hindering their moundsmen, at least a little bit. Both can make up for it in other ways-- Cano by turning nifty double plays at a good rate, Teixeira by handling bad throws from infielders-- and both have histories of that. But that doesn't completely eliminate this issue.
In fairness, these numbers are not necessarily predictive. They are based on half a season's worth of data and tell you what has happened, not what will happen. Both players could close the gap without too much issue, but they'll face an additional challenge to that soon.
When Jeter comes back, it's possible that he could be a step slower than he was prior to his injury.
To compensate for that, Cano may have to play more up the middle than he has done previously, to make up for any limitations to Jeter's range (the Yankees have improved this season on defending balls up the middle almost as much as they've declined on the balls we've cited). That would widen the hole on the right side of the infield and provide a potentially more-inviting target for opposing hitters.
And if it costs the Yankees at some point this season, don't say we didn't warn you.