Even though it's been five years since he last played in professional baseball, Bernie Williams still hasn't officially retired from baseball -- and who knows if he ever will.
"No, I have not (officially retired)," said Williams, 42, who participated in his first Old-Timers' Day on Sunday afternoon. "But I think that's closer now."
Williams never wanted to hang up his cleats. He thought he could play forever. But age finally caught up to him, and he left the Yankees on bitter terms, upset that he never got a chance to make the team out of training camp in 2007.
But Williams has come to appreciate the finer moments of his career: the ticker tape parade after he won his first World Series with the Yankees in 1996; when he won the batting title in 1998; and the last day at old Yankee Stadium, when he was introduced after Hall of Fame legend Yogi Berra. "That never happens," Williams said.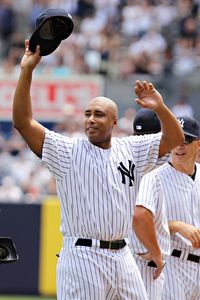 Al Bello/Getty Images
Bernie Williams participated in his first Yankees Old-Timers' Day.
Even now, Williams doesn't feel comfortable about being called an "Old-Timer."
"It's a really big thing for me, I guess," Williams said. "If you take the word 'old,' I think I'd be a little uncomfortable with it. But as a player, when I was playing, I looked forward to these days. To me, it was a reminder of the fact that we're part of a family that has been going on for 100 years, and thinking I was part of something that was bigger than myself, it was always cool to look forward to.
"And now I'm on the other side, being in the same situation, so it's good. It's great."
Williams doesn't regret playing his whole career with the Yankees. In fact, it's something he's proud of.
The Yankees were in the process of negotiations with slugger Albert Belle, and ready to move on from Williams in the offseason after the team won the 1998 World Series. But Williams called George Steinbrenner to let him know he was staying.
The Red Sox and Diamondbacks were great organizations -- they just weren't the Yankees.
The two sides agreed to a seven-year, $87.5 million contract extension, which allowed Williams to finish out his career in pinstripes.
"I'm just really proud of this organization, and when I made the decision in 1998 to stay and have my whole career as a Yankee, it was one of the best decisions that I ever made," Williams said.
So what does Williams miss most about the game?
"The competition," Williams said. "Getting out there when the umpire would say 'Play ball!' to when the final out was made. It was about that moment in time when you were in a mental battle with he opposition, not knowing if you were going to be a hero or throw it away or hit a homer or strike out. ... And to be considered one of the best at what you did, there's not a whole lot of substitute for that."
Williams, who won four World Series championships and made five AL All-Star teams during his 16-year career, was asked if he thought he could still go out there and play the game like he once did.
"Yes. I think I'll feel that way until I'm 80," Williams joked. "It's part of being a baseball player, you always try to trick yourself into thinking that you can. Even if people are saying you can't, you always gotta think that you can. And that sort of mindset never changes.
"Even though realistically I know that I can't, but it's fun to think that you still can."