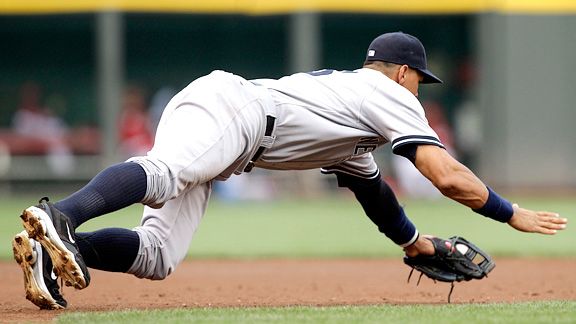 AP Photo/Al Behrman
Alex Rodriguez has made significant improvements defensively in 2011.
Some items left over from Subway Series weekend in Flushing
One of the things that may aid Derek Jeter in his return from injury is the newfound nimbleness that Alex Rodriguez has found at third base this season.
This was not just evident in last weekend's series with the Mets, but in Rodriguez's defensive play overall in 2011.
Rodriguez ranks tied for second among third basemen in Defensive Runs Saved, a metric devised by Baseball Info Solutions (BIS), a company that does baseball statistical analysis in Allentown, Pa. Rodriguez is now tied for the major league lead in Defensive Runs Saved by a third baseman. His seven match the total of recently designated for assignment Blue Jays third baseman, Jayson Nix, and are two better than Pablo Sandoval and Adrian Beltre.
In fact, when ESPN Stats & Information asked BIS for a list of candidates for "Defensive Player of the Month," two Yankees made the five-name list -- Rodriguez and Brett Gardner, whose defensive prowess we noted recently in this space (the others were Red Sox outfielder Jacoby Ellsbury, Rangers outfielder Nelson Cruz, and Rockies shortstop Troy Tulowitzki).
Rodriguez earned his spot on the list partly due to video analysis. BIS tags plays by category, with more than 50 categories of Defensive Misplays & Errors. Rodriguez had no Defensive Misplays in June.
One increased point of emphasis for Rodriguez this season is ground balls down the third base line. In each of the previous three seasons, by BIS' analysis, Rodriguez rated well below average at turning batted balls hit down the line into outs. This season, he rates above average. And remember-- most of those hits he's taking away, such as Ronny Paulino's grounder on Friday night, are would-be doubles.
Rodriguez has also improved at turning balls hit into the shortstop-third base hole into outs, though not as much as at fielding balls down the line.
The man who Rodriguez replaced at third base for the Yankees, ESPN baseball analyst, Aaron Boone, wasn't surprised by Rodriguez's inclusion among the top names.
"Since spring training, I noticed how good he was moving around," said Boone. "Every time I've watched, he's as sound as I've seen him.
"He's become kind of automatic. He's very accurate now, more mechanically sound with his throws His lateral movements are good and his range is a little better until recently, when he was banged up a bit. It just looks like he's more comfortable now. He looks like an experienced third baseman."
---
A blown save by Mariano Rivera when he's one out from closing the door with no one on base-- that's a rarity.
The Elias Sports Bureau shares that Rivera hadn't blown such a save chance since September 18, 2009 in Seattle, when Mike Sweeney hit a two-out pinch-hit double and Ichiro Suzuki followed with a walk-off two-run home run.
In all, Rivera has blown six save chances of that nature.
This also marked the first time Rivera blew a save chance as the result of a two-out, two-strike RBI. The last such occurrence came against the Athletics on April 15, 2007, when light-hitting infielder Marco Scutaro beat him with a two-out, three-run walk-off home run on an 0-2 pitch.