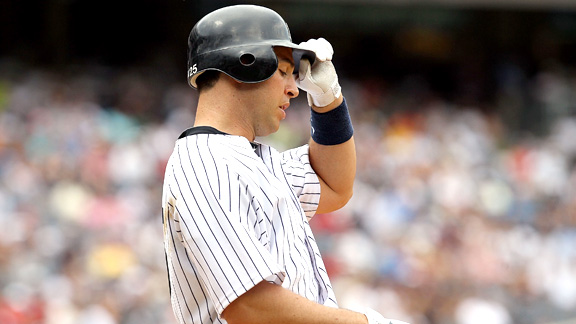 Getty Images/Jim McIsaac
Mark Teixeira has been left chagrined more often than not against Rays right-handed pitchers.
Phil Hughes What2Watch4
Though Hughes has allowed seven home runs in 34 innings against the Rays, most of that has been done by hitters not currently on the Rays roster. The one current Ray to homer against Hughes is Matt Joyce, who has gotten him twice in eight at-bats.
A pair of notable Rays hitters-- Casey Kotchman and Ben Zobrist are each 0-for-7 against Hughes.
The Rays will may load an extra left-handed bat or two against Hughes. Lefties are hitting .370 against him this season, including two hits in Hughes relief effort against the Red Sox last Sunday.
Hughes may be due for some better fortune in one area. In his last three starts, he's allowed 10 ground-ball hits to left-handed hitters, who are now 16-for-26 when hitting a ground ball against him this season. That's not the Hughes of 2010, who held lefties to a .200 opponents batting average on ground balls, according to our pitch performance data.
Jeremy Hellickson What2Watch4
Hellickson beat the Yankees, 3-2, on July 19. The one thing the Yankees were able to do that day against him was run, netting four steals. Hellickson has not allowed a steal in three starts, spanning 19 1/3 innings since then.
Hellickson's changeup is one of the toughest in all of baseball for a left-handed hitter to square up. Lefties are hitting a major-league low .184 when they make contact with a Hellickson changeup.
In that start against the Yankees, Hellickson got nine outs with his changeup, the lone hit against it being a Mark Teixeira double.
Hellickson will be putting a 6-2 record and 2.56 ERA in day games this season against the Yankees 32-8 mark in day games. He'll also be looking to match Ivan Nova for the lead in wins by a rookie with his 11th.
Breakout Game2Watch4
Teixeira is in a funk. He's 4-for-31 in his last eight games, with one extra-base hit and nine strikeouts.
Teixeira has had major issues against Rays right-handed pitchers over the last two seasons, going 10-for-74 (.135 batting average) against them.
The Rays employ a very specific strategy when a right-handed pitcher faces Teixeira. When they throw a fastball, it's located on the outer-third of the plate, or beyond, two-thirds of the time (the average opponent throws it there at a slightly lower percentage).
Teixeira is almost certain to see changeups from Hellickson if he gets behind two strikes. In 2009 and 2010, Teixeira had 11 hits against two-strike changeups from righties, albeit with 99 outs.
This season, he has made 28 outs against changeups from righties. But he's managed just one hit.
Leadoff Spot What2Watch4
Brett Gardner should be back in the leadoff spot, where he's been successful recently. He's 10-for-30 with eight runs scored in the last seven games in which he's hit leadoff.
Defensive Player(or in this case Position)2Watch4
Rays second baseman Sean Rodriguez had a good defensive day on Friday, throwing out a man at the plate after taking a throw from rightfielder Ben Zobrist.
The two have teamed up nicely this season, particularly at second base. Rays second basemen entered the weekend with 16 Defensive Runs Saved, the most for any team's infield position in the majors. Zobrist actually accounts for 12 of those as the team's primary second baseman.