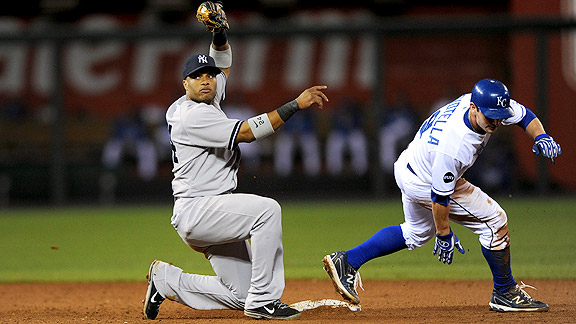 Peter Aiken/U.S. Presswire
Robinson Cano had one of the most outstanding months of the season ... on the defensive side too.Robinson Cano turned in an August that was a near-match offensively for MVP candidateCurtis Granderson's. But on the defensive side, Cano's performance was unrivaled within the sport.
Yankee of the Month?
Cano vs Granderson
It's easy to look at his .345 batting average and 29 RBI in 28 games and say Cano had a good month, one that may even put him on the fringe of the AL MVP discussion. Let's go one extra dimension and explain his defensive success.
Via the measurements of Baseball Info Solutions, which does video tracking of every major league game, Cano had seven Defensive Runs Saved, matching Kelly Johnson for the most by any second baseman in the major leagues.
Defensive Runs Saved factors in a players effectiveness at turning batted balls into outs and converting double plays in double play situations (runner on first base, less than two outs, play involves the player as either relay man or pivot man).
That's a significant jump from a couple of months ago when Cano's defense was not viewed as positively in this space.
Cano also tallied the highest marks in Baseball Info Solutions video review of Good Fielding Plays and Defensive Misplays. Their video tracking team categorizes plays into more than 30 categories of GFPs (good plays-- Web Gem-nominees) and 50 categories of DM&Es (plays that a player failed to make).
Most Good Fielding Plays
August 2011
Examples of a GFP would be reaching into the stands to catch a foul ball, turning a double play pivot while being barreled into by an oncoming baserunner, or coming off the base to save a throwing error.
DM&Es include not just typical errors, but things such as falling down or slipping, cutting off a better-positioned fielder to prevent him from making a play, or throwing away the relay of a potential double play.
Cano was credited with 23 Good Fielding Plays, most of anyone in baseball, and 10 more than the next-most by a second baseman (Ben Zobrist of the Rays and Gordon Beckham of the White Sox). In fact, that was well more than the next-most in any month this season by a second baseman. Second-best was 16 by Cano and Nationals second baseman Danny Espinosa in June.
But that month, Cano had nine Defensive Misplays & Errors. This month, he had just four. It's actually the second straight month that a Yankees player led the majors in GFPs. Mark Teixeira co-led with Blue Jays first baseman Adam Lind, posting 19 in July.
Cano wasn't just clutch at the plate. He was clutch in the field. One of the first of those 23 was key, with the Yankees and CC Sabathia clinging to a 3-2 lead over the White Sox at U.S. Cellular Field on August 1. Cano made a running, twisting catch of Alex Rios' popup down the right field line to start the seventh inning. It was one of three GFPs that Cano was credited with in that game and set the tone for what was to come.
That one turned out to be big play, particularly when Sabathia escaped trouble later that inning, and the Yankees held on for the win. Even White Sox announcer Ken Harrelson was impressed:
"He just makes everything look easy," Harrelson said on that night's broadcast.
Both at the plate and in the field.