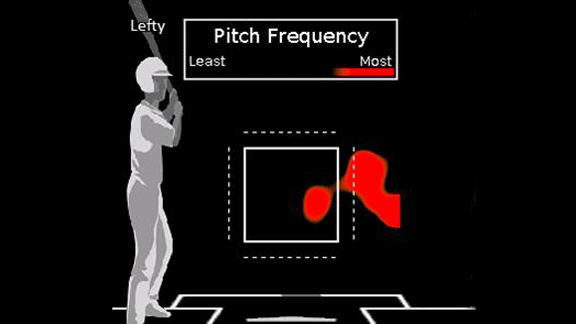 This heat map shows where the Tigers have most frequently pitched Mark Teixeira (1-for-11).
Struggles2Watch4
The Tigers have proven to have very smart approaches against two of the Yankees top power hitters through the first three games of this series.
Mark Teixeira: 1-for-11 in series
• The Tigers have kept their pitches away from Teixeira (35 of 49, 71 percent). The heat map above shows the most frequent pitch locations to him in this series. He's made seven outs on pitches away, striking out four times.
• Teixeira has been a frequent victim of the 2-strike changeup. He's swung at all 5 he's seen, missing 4 and fouling off one.
• Teixeira has seen 49 pitches in this series, but has only seen 9 in hitters counts (1-0, 2-0, 2-1, 3-0, or 3-1). So 18 percent of his pitches seen have come in favorable spots. During the regular season, 27 percent of the pitches he saw were in hitters counts, in which which he hit .361.
• Teixeira is 4-for-27 when putting the ball in play (ie: hitting the ball, not for a HR) over the last 2 postseasons. That's a .148 batting average on balls inplay, roughly half of what the MLB regular-season average would be.
Alex Rodriguez: 0-for-10 in series
• Rodriguez has seen 64 percent fastballs in the first 3 games of this series. During the regular season, he saw 52 percent fastballs.
Inside Games 2 and 3
Yankees vs Tigers
• Rodriguez has seen 53 pitches in this series, 24 being on the inner-third of the plate, or missing inside. He's 0-for-8 in at-bats ending in those pitches.
A.J. Burnett What2Watch4
Burnett has a 7.17 career ERA at Comerica Park, BUT he did pitch well there on May 5 in a 6-3 loss to the Tigers and tonight's starter, Rick Porcello.
Burnett was done in by his defense (including his own error on a pickoff attempt that led to a run). He was charged with five runs, but allowed only three hits and one walk (though he did hit two batters) in seven innings.
Burnett has had success against a few hitters in this Tigers lineup, most notably Miguel Cabrera, who is 3-for-14 against him.
Rick Porcello What2Watch4
Porcello has had a similar season to Burnett in that he struggled for much of the year, but pitched reasonably well enough at season's end to merit what became a necessary start.
In his last seven appearances, Porcello was 3-1 with a 3.50 ERA, which dropped his season ERA to 4.75. But it's worth noting that all seven of those starts came against teams that finished with sub -.500 records.
The double play was Porcello's friend, partly because he put so many men on base. He induced 23 this season, tied for ninth-most in the American League.
Teixeira is 1-for-10 with seven ground outs (including a double play) against Porcello. Seven of the 10 pitches Teixeira saw in his three plate appearances this season were on the outer-third of the plate or further away. Derek Jeter is 0-for-9 against him, with six ground outs. Five of Jeter's outs came on pitches on the inner-third of the plate or further inside.