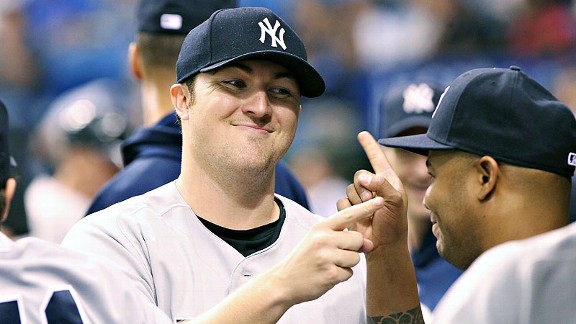 Kim Klement/US Presswire
Will Phil Hughes rediscover his stuff in 2012 -- or will his Yankees career go up in flames?25 Questions, 25 Days: Day Six
Last year, Phil Hughes' troubles started with a whisper. A scout said his velocity was down during spring training. It turned out that was the first and biggest clue in what turned out to be a disappointing season for Hughes.
So let's start this year with a whisper as well.
The Yankees have sent personnel to see Hughes in California this winter and, while they didn't ask Hughes to strip down to check out what type of shape he is in, the reports are that he looks "great."
If this is true, then Hughes should be able to avoid "fat camp" at the beginning of spring training. While the early focus last spring was how Joba Chamberlain looked, Hughes showed up with a few extra lbs. He wasn't totally out of shape, but he wasn't primed to build on his 2010 All-Star season. The Yankees downplay the weight impact on Hughes' season, but how could it not have been a factor?
So what is Phil Hughes? What we know for sure is that he is in a crossroad season as a Yankee. If he is in the rotation, he probably starts the year, at best, as the No. 5 starter. If he is not, he could be as far away as the bullpen or on another team.
Hughes is just 25 years old so, in theory, there is a lot of time to find out what type of pitcher Hughes could become. But with the additions of Michael Pineda and Hiroki Kuroda, the excellent rookie year of Ivan Nova, the 2012 Free Agent Class of Matt Cain and Cole Hamels, the possibility of Felix Hernandez becoming available in a trade and the next prospect wave of Manny Banuelos and Dellin Betances around the corner, this season seems vital for Hughes' future as a Yankee.
In 2010, Hughes went 18-10 with a 4.19 ERA. The All-Star appearance and a rather dominant early two-month stretch overshadowed a poor second half that was boosted by strong run support.
Last year, he never got started at the beginning of the year and then, as my tag team partner Wally Matthews aptly phrased it, was put on the disabled list with a dislocated fastball. Eventually, after many tests, a cortisone shot and a long timeout, Hughes came back, looking and throwing a little better. Not great, but better.
When he returned in the middle of July, he finished the year going 5-3 with a 4.55 ERA. The numbers tell you that he was OK, a No. 5 starter-type on a good team. Your eyes told you that even though he looked better, he was not the dominant pitcher we saw in the first quarter of 2010.
What will probably define Hughes' season, right out of the gate, is how he throws his fastball. Hughes can have a good curve and has talked seemingly forever about adding a change, but if he is going to be really good this season it is going to start with his heat.
If Hughes can't consistently make bats miss with his fastball, then he will probably never be more than a No. 4 starter. While velocity is important, the overall numbers are significant, but negligible. In 2010, his fastball averaged 92.4 mph, while in 2011, it was at 91.2 mph, according to ESPN Stats and Info's Mark Simon.
While 19 percent of batters swung and missed on his fastball in 2010, only 13 percent did so in 2011. The lack of velocity makes him a different pitcher. Lefties just mauled Hughes last year, hitting .312 against him and getting on base a ridiculous 36.8% of the time.
So what is Hughes? What can he be? In my opinion, he is better than last year, but not as good as your wildest dreams. With the right mindset and conditioning, Hughes is a No. 3 on really good Yankee teams. That is a 15-game winner with a high-three, low-four ERA.
What do you think?
Tomorrow: Does Mark Teixeira need to change his approach?