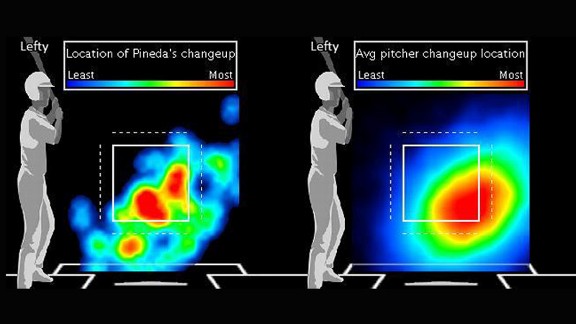 Left: Michael Pineda pitch locations (2011)
Right: Average MLB right-hander pitch locations (2011)
Click here to create your own Pineda heat maps
Let's take a quick statistical-based look at two discussions that came out of Yankees camp on Sunday.
On Michael Pineda's changeup
"He has to develop his changeup. It is a below average pitch for him right now. I don't think there is a No. 1 or 2 starter in the big leagues that you can say is a No. 1 or 2 with two pitches. You can pitch like that for a certain period of time, but to pitch like that for a consistent period of time you need more than one or two pitches."
-- Yankees GM Brian Cashman on Michael Pineda
The Michael Pineda changeup doesn't look like your typical changeup.
Take a look at the visuals above. They put the Pineda changeup next to the average one from a right-handed pitcher to a left-handed hitter.
Michael Pineda
Changeup vs LHB
Pineda's changeup ends up in the strike zone more frequently than a typical pitcher, which may explain why the rate of swings that missed against the pitch (about 1-of-every-6) is lower than the major league average.
Pineda didn't use his changeup often in 2011. Our pitch-performance data has him throwing it about five times a game (almost exclusively to lefties).
Lefties made 25 outs and got 11 hits against the pitch last season. For a typical pitcher, the out-hit ratio is going to be something like 3-to-1. For the elite pitcher, like Pineda's ex-teammate, Felix Hernandez, that pitch is a weapon. Pineda has a bit of refining to do to get it to that point.
On CC Sabathia's weight loss
CC Sabathia's girth-shedding might help him in one other area- with his defense.
Those advanced defensive metrics didn't like Sabathia much last season.
One of them, Plus-Minus, looks at every batted ball and gives credits to fielders who turn them into outs and debits fielders for hits, based on how often players at that position turn balls hit to that spot into outs.
Sabathia was a -8 last season, worst in baseball among pitchers.
Simply put, that means that Sabathia missed a lot of balls that other pitchers were able to make plays on. Another metric, Defensive Runs Saved, which uses plus-minus as a key component, rated Sabathia second-worst in baseball, costing the Yankees five runs with his defense.
Baseball Info Solutions, which developed the Plus-Minus and Runs Saved metrics, also categorizes plays based on video review, tagging them into more than 30 categories of Good Fielding Plays (GFPs) and 50 categories of Defensive Misplays & Errors (DM&E)
Sabathia had seven Defensive Misplays & Errors in 2011, six of which fell into these categories-- ground balls through or off his body (three), failing to cover first base (two) a ball bouncing off his glove and rolling away (one).
Sabathia was fortunate. The Yankees won all of the games in which he was charged with a misplay. But those miscues made for extra work, which could take its toll game-by-game as the season moves along.
Will carrying around less weight help him in this regard? We'll find out.