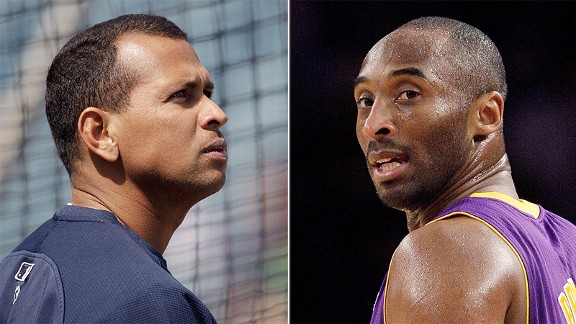 AP Photo
Alex Rodriguez has a way of making waves, even when he doesn't mean to or want to.
When asked about his shoulder and knee procedure, A-Rod revealed that Kobe Bryant nearly retired -- or, at least, thought about it, because of his own knee issues.
Well, that's, according to A-Rod, third baseman/DH/NBA insider.
The topic came up after A-Rod was asked about his offseason trip to Germany.
"Just a simple dinner with Kobe -- Kobe Bryant from the Lakers," A-Rod said, politely clarifying it wasn't another Kobe. "He was really adamant about how great the procedure was for him. He was hurting before. He was almost thinking about retirement, that's how much pain he was in. After he went to Germany and saw [Dr. Peter Wehling], that he felt like a 27-year-old again."
A-Rod, 37 in July, is hoping for the same miracle cure after having the procedure done on his knee and his shoulder. He doesn't know how many games he will play, but he hopes it is more than the 99 he played last season.