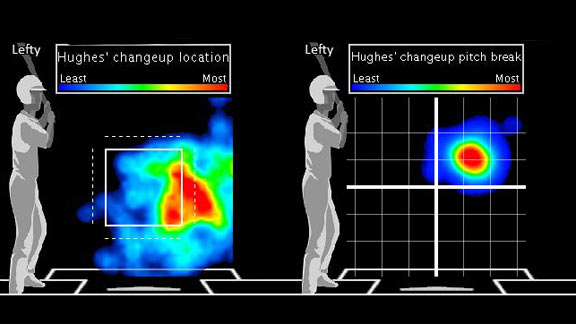 Left: Pitch location for Phil Hughes changeup in 2010-11
Right: A look at the movement on a Hughes changeup, which fades away from a left-handed hitter.
Click here to create your own Hughes heat maps
"If I really think about the one thing that I took a step forward with (Wednesday), it would probably be the changeup."
-- Phil Hughes after his start on Wednesday.
If Phil Hughes is going to change his fortunes in 2012, perhaps the changeup is the pitch with which he does it.
The improvement of Michael Pineda's changeup has been a subject of frequent chatter during spring training, but Hughes has shown to have a decent one too this month.
"His changeup has been something he's been working on for the last couple of years," manager Joe Girardi said during the Yankees-Rays ESPN telecast on Wednesday. "He didn't get to work on it a lot last year, but it has definitely improved."
There is some work to do, based on the sampling of pitches he has thrown the last two seasons. The typical major leaguer throws that pitch for a strike upwards of 60 percent of the time. Hughes has barely topped 50 percent in the approximately 200 he threw in 2010 and 2011 (which amounts to usually about five to 10 per start).
Phil Hughes Changeup
Last 2 Seasons
That's because it hasn't been a tempting pitch. The heat map and pitch break diagram atop this piece shows that the pitch fades away from a left-handed hitter quite a bit.
The pitch did have some value, particularly in 2010 when it netted him 14 outs against left-handers to only three hits allowed. But it wasn't getting a high enough rate of missed swings (23 percent in 2010, 12 percent in 2011) to be regularly useful.
Orel Hershiser, on another ESPN telecast earlier in the week, said the key to pitching is to throw balls that look like strikes. When Hughes has thrown a changeup the last two seasons, it has looked too much like a ball.
The elite changeup pitchers (think Felix Hernandez or James Shields) get hitters to swing at their pitch out of the strike zone about half the time. An average pitcher gets swings a little better than one of every three pitches out of the strike zone.
What is Hughes' "chase rate" on his changeups the last two seasons?
A meager 21 percent. That's about one of every five pitches.
In this competition for a rotation spot, that probably isn't good enough. But the take from the top seems to be that it's headed in the right direction.