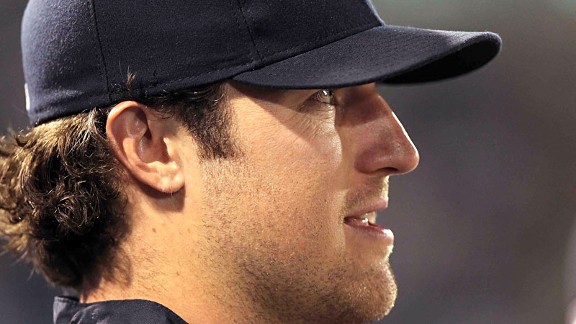 Kim Klement/US Presswire
While his teammates were off on Monday, Phil Hughes was on a mound. Will his stellar spring be enough to win him a spot in the Yankees' starting rotation?The Yankees had their second and final day off of the spring on Monday -- but it was Phil Hughes' turn to pitch, so the young righty went across the street to the Yankees' minor league complex on Himes Avenue to throw in a minor league game.
With Francisco Cervelli behind the plate, and pitching coach Larry Rothschild keeping a close eye behind the cage, Hughes went six innings against a Phillies Single-A squad, giving up two runs on six hits. He threw 91 pitches, 66 for strikes, and had four strikeouts, no walks, and hit a batter.
(Manager Joe Girardi took advantage of the day off to visit his ailing father.)
"The changeup wasn't as good as it was last time," said Hughes. "But I was able to make some in-game adjustments -- with my breaking ball especially, my cutter, and just arm slot stuff. After that, it was pretty good."
"What we're looking for is the power," said Cervelli. "I think the whole game he had the power fastball."
"I thought he did fine," said Rothschild. "Fastball was good, he located some down good. Worked on a couple pitches we wanted to work on -- the curveball, and some changeups to right-handers -- and overall he got a lot of good work in."
Hughes, 25, is trying to win one of the five prized slots in the Yankees' starting rotation come Opening Day. He is also trying to regain the form he had back in 2010, when he won 18 games for the Yankees and appeared to be developing into a top-of-the-line starter.
So far, so good. At this point Hughes appears likely to be one of the five, considering he has a 2.03 ERA in four major league appearances this spring before today -- the lowest ERA of any of the six candidates.
Hughes said Monday that he felt confident coming into camp, knowing that he was in better shape and had started throwing earlier. "I just wanted to come out and pitch well," Hughes said. "And I feel like I've done that for the most part. Obviously nobody's gonna be absolutely perfect. Everyone's trying to get ready, nobody's gonna be in mid-season form. Overall I felt like I did what I wanted to coming to camp."
"He's done everything we've asked him to do, as far as the offseason and coming in and continuing to work," Rothschild said. "He's pretty much improved every time out. And the changeup's come a long way, which is something that we really wanted to see and we worked on. There's some things we still need to get done, but pretty good improvement."
Spring training is winding down -- the Yankees' first regular season game is a week from Friday. Only CC Sabathia and Hiroki Kuroda have guaranteed spots in the rotation. The others -- Michael Pineda, Ivan Nova, Freddy Garcia, and Hughes -- are still trying to prove they belong.
Rothschild admitted on Monday that he still isn't sure who the top five are, and wants to see more. "You'd like to have as much information as you can before you make a decision," Rothschild said. "But the day's gonna come when we have to make a decision, and that's coming quickly. So we'll do the best we can with it, looking at every aspect of the whole thing."
"I've done everything I can do," Hughes said. "Whatever direction they want to go in is their call. I feel like right now that I'm doing everything I can to make that decision as hard as possible, and that's all I really wanted to do."