First Pitch: Freddy the survivor
March, 31, 2012
3/31/12
7:00
AM ET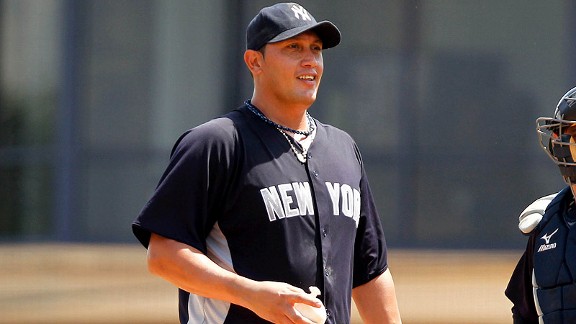 Debby Wong/US Presswire
The Yankees suffered a potential calamity Friday night when
Michael Pineda
left the game with what was later revealed to be tendinitis in his right shoulder.
But for
Freddy Garcia
, it was something else that broke right for him in his brief Yankees career.
Last spring, Freddy was clearly outpitched by
Bartolo Colon
, but the Yankees, fearing Colon's injury history and long period of inactivity, handed the job to the more known commodity of the two, which of course was Garcia.
This year, Garcia had an unusually good spring and on merit should probably have displaced either Pineda or
Ivan Nova
for a rotation spot. But this year, there was a compelling reason why things might not go Freddy's way -- after trading away Jesus Montero to get him the Yankees were no doubt loathe to admit he was not ready for their starting rotation.
But once again, fate smiled upon Freddy and it appears that for the second straight year he will start the season as one of the Yankees five starters. Maybe even No. 4, depending upon where Girardi chooses to slot in Nova.
But there appears to be little doubt that the "rotation controversy'' has been settled, even if not quite the way the Yankees would have liked to be. Unless something miraculous happens, when the season opens in St. Petersburg Friday afternoon Freddy Garcia will be in the Yankees starting rotation.
That, my friends, is the definition of "Survivor.'' No matter how hard they try, the Yankees just cant seem to vote Freddy Garcia off the island.
The Question:
Now, with
Michael Pineda
out for awhile, are you comfortable with the probable starting rotation of
CC Sabathia, Hiroki Kuroda, Phil Hughes, Ivan Nova
, and Freddy Garcia?
Up now:
A slew of stories about Black Friday, the night the Yankees lost not only Pineda but
Cesar Cabral
, who was on the verge of making the team as a second lefty out of the pen. Also, my column on how Yankees camp went from Camp Calm to Camp Calamity in the space of two hours.
On deck:
Clubhouse opens at 8:40, followed by the 75-minute drive to Kissimmee for today's game against the Astros, followed by a 3-1'2 hour drive to Miami for the two-game series with the Floroida Marlins beginning on Sunday.
Adam Warren
will pitch today's game and only a couple of regulars are playing --
Robinson Cano
and
Curtis Granderson
, I believe -- but the whole crew is making the trip to Miami, even Mariano Rivera, for whom wearing gray pants in March is normally a fashion faux pas. I'll be all over it, with the results of
all the medical tests plus whatever other goodies the day brings, so check in early and often.
Question #2:
Freddy Garcia won 12 games for the Yankees last season. How many do you figure him for this season. You know where and how to let us know. as always, thanks for reading.
There are no games scheduled for today.