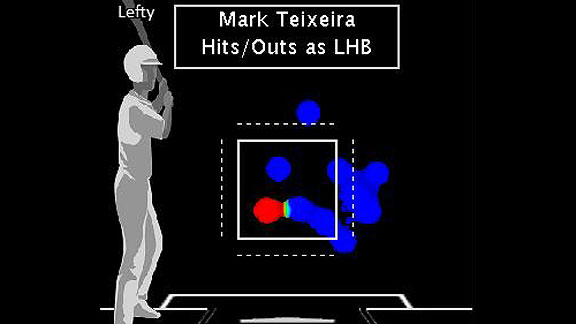 Mark Teixeira is 1-for-10 as a left-handed hitter in 2012 (hits in red, outs in blue)
Click here to create your own Teixeira heat maps
CC Sabathia Matchups to Watch
There are a couple of hitters in the Orioles lineup who give Sabathia trouble. Adam Jones is a .333 career hitter (11-for-33) against him. Nolan Reimold is even better (8-for-20), with a .400 batting average.
Best Win Pct vs Orioles
Active Pitchers
Sabathia does have good numbers against Matt Wieters, holding him to 2-for-18 with eight strikeouts, but remember, he had good numbers against the Rays top threat too, only to watch Carlos Pena snap a 1-for-29 funk against him with a grand slam.
Wieters is hitless in his last eight at-bats against Sabathia.
Sabathia is 16-2 with a 2.74 ERA in his career against the Orioles, 11-2 with the Yankees. He was 2-0 against them last season with a 16-to-1 strikeout-to-walk ratio.
The Yankees have a history of pitchers to put up those sorts of numbers against the Orioles franchise. Back when the team was known as the St. Louis Browns, Yankee star Spud Chandler posted a 16-2 record against them for his career.
Jake Arrieta matchups to watch
Arrieta is one of those pesky pitchers who beat the Yankees in his major-league debut, doing so in 2010. He went 2-0 against them that year, but was 0-1 in three starts against them last season. In 29⅓ innings against the Yankees, spanning five appearances, he's allowed only one home run.
Arrieta pitched seven innings of scoreless, two-hit ball in the Orioles Opening-Day win against the Twins. In that start, Arrieta got nine outs with his breaking pitches (curve and slider), tied for the second-most outs he's gotten with those pitches in any start in his career.
Nick Swisher is 0-for-13 (with a sacrifice fly) in his career against Arrieta, his worst 0-for against any pitcher.
Happy 32nd birthday, Mark Teixeira
Teixeira is due for a big game on his birthday. A check of Baseball-Reference.com shows that he's 4-for-22 in six birthday games and has never had more than one hit.
Teixeira is 1-for-10 as a left-handed hitter this season and the heat map above shows the pitches on which he's made outs.
Pitchers have worked Teixeira on the outer-third of the plate and further away on two-thirds of their pitches this season, preventing him from getting pitches that he can drive.
Jeter Watch
Derek Jeter is closing in on a few round numbers. His next extra-base hit will make him the fifth Yankees player to reach 800 extra-base hits, along with Lou Gehrig (1,190), Babe Ruth (1,189), Mickey Mantle (952), and Joe DiMaggio (881).
Jeter needs three hits for 3,100, two RBI for 1,200, five walks for 1,000, and seven doubles for 500. He may get there sooner rather than later. Jeter is 6-for-10 in his last two games.
Bullpen
The Yankees may have an interesting bullpen scenario, given that both Cory Wade and David Phelps pitched 2⅓ innings yesterday, and both David Robertson and Mariano Rivera have worked in back-to-back games.
Rivera did work on three consecutive days once in the 2011 regular season (April 30, May 1, May 2) and saved each one without allowing a run. Robertson has not done so in either of the last two seasons.