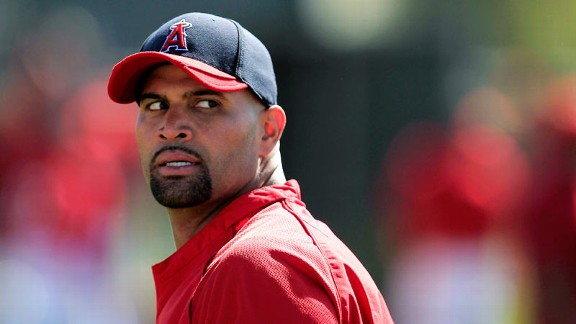 AP Photo/Ross D. Franklin
Just a game?!? No joke. That's what Albert Pujols called Opening Day at Yankee Stadium.
To Albert Pujols, Yankee Stadium may as well be any other ballpark. The mystique associated with a home opener in the Bronx isn't registering with the Angels' new first baseman.
"To tell you the truth, no disrespecting the history of this organization, the Yankees, I take it like every other park. Getting here early, watching my video, getting prepared in the cage, at the end it's just a game," Pujols said before the game. "Nothing changes. Maybe the fans are louder but everything else is the same. The game doesn't change because you play in Yankee Stadium, the rules are the same, you just need to get yourself out there and prepare yourself for the game."
The Angels' new slugger will be playing his first game at the new Yankee Stadium when the two teams tangle today. Pujols, who previously played with St. Louis, played just three games at the old stadium in 2003, but will be making many trips to the new park after signing a 10-year deal with the Halos in the offseason.
"Obviously you know the history and I've been here in this city before and at the old ballpark there were many, many histories and the new ones," Pujols said. "To me, it's nothing different than any other ballpark and no disrespect to the history."
Arguably the best hitter in baseball, Pujols is off to a slow start with his new team, batting just .217 with two RBIs and no home runs. The Angels, one of the preseason favorites to win the World Series, are off to just a 2-4 start as they hit the Bronx for a three-game series.
Pujols, who spent a brief period living in New York and still has a picture from his arrival in the Big Apple as a youngster, admits to trying to do too much at the plate and is hopeful that things are going to turn around soon for him. He stressed several times that he's also focused on helping his team gets wins, not his personal statistics.
"It's just six games guys. We still have 156 games to go and it's a long season, maybe if I were hitting .500 in six games we wouldn't talk about the struggles," Pujols said. "It's six games. I went through this last year, my numbers at the end, probably a lot of people were saying it wasn't my numbers, but at the end we were able to accomplish the World Series and that's what we play for."
While Pujols will be facing the Yankees for just the third time in his career, New York's starter and former Dodgers hurler, Hiroki Kuroda, is a familiar foe for the slugger. Pujols is 3-for-15 against Kuroda with one home run and four strikeouts.
"He's a great pitcher," Pujols said. "I've faced him many, many times in the National League and he's a great competitor out there. He mixes his pitches, he has his off-speed, in and out, he has a real good splitter that has a very good bite to it."