NEW YORK -- Winning Sunday night's game against the Angels was the perfect remedy for the cold that Yankees starting pitcher Ivan Nova has been battling.
Fighting a cold that zapped his power as the game went on, Nova still managed to record the victory in the Yankees' 11-5 win. The right-hander gave up four runs over six innings and improved to 2-0. Nova has won 14 straight decisions dating back to last year.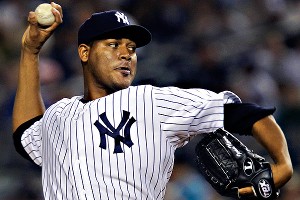 AP Photo/Kathy Willens
Ivan Nova improved to 2-0 on the season.
"I hate losing ... so I'm trying to win every time," Nova said. "We win today and that's good, a good sign for me. I feel good about that."
Nova said he's had the cold for the last few days and couldn't sleep Saturday night. He felt fine as the game started but lost his power in the middle innings, which led to his struggles.
"I like this game so much and like to pitch every time I get the chance," Nova said. "It has to be something really bad so that I can't."
The 25-year-old could not duplicate his success from his previous outing against Baltimore, when he gave up just two runs over seven innings. The Angels had a handful of hard-hit balls, including two home runs. Los Angeles racked up eight hits.
Nova benefited from generous run production from his offense. After he yielded a home run to Mark Trumbo in the second that gave the Angels a 1-0 lead, the Yankees retaliated with eight straight runs. Nova gave up three runs total in the fifth and sixth before departing.
While the Angels were able to put 10 men on base against him, Nova buckled down when there were runners in scoring position. The Angels went 0-for-6 in those spots, with Nova working around a runner on third and one out situation in the first.
"That's the time you have to make the right pitch," Nova said. "Every time you have that you got to make it. I put it in my mind that nobody can score right now. You're locking in and you got to make the right pitch.
"I think when I do that, the game is different. I had that sense last year: Every time there was a guy on base, I got like today and nobody can score right now."
One area Nova wants to improve is how he handles long stretches on the bench. The Yankees had two innings where they scored at least three runs in the first six innings and both Nova and manager Joe Girardi believe that affected the youngster's outing.
"When I sit so long, I always have that problem," Nova said. "I have to start working on that. I got to throw more pitches or do something different."