Kuroda has worst outing of his career
April, 18, 2012
4/18/12
11:14
PM ET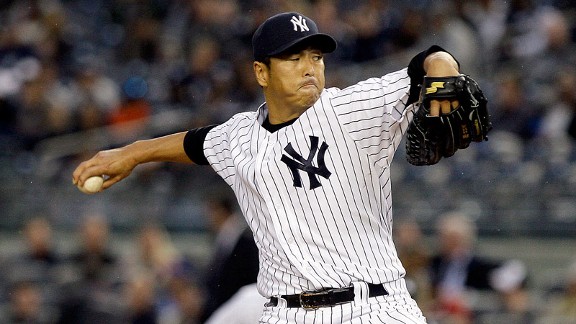 AP Photo/Frank Franklin II
Hiroki Kuroda
has never pitched worse. On Wednesday night, he gave up six runs on 10 hits. He has never done that before as a major leaguer.
Kuroda is now 1-for-3 as a Yankees starter. That's one good start, and two bad ones.
Kuroda's career success makes it too early to fully judge him. But he is 37 years old, so concern about his age, the transition to the American League, and his inability to stop left-handed batters is legitimate.
There are also some other disconcerting numbers -- even if the sample size is small. Against National League opponents in his career, Kuroda is 38-38 with a 3.36 ERA. Against the AL, Kuroda is now 4-10 with a 4.47 ERA in 14 games.
Kuroda is being smacked around by left-handed batters. They are 19-for-44 (.432) against him so far. That is an emerging problem that could have ugly long-term consequences.
The Twins battered Kuroda on Wednesday night from the four-run first inning until they chased him in the fifth.
Justin Morneau
teed up Kuroda for a couple of homers.
"He was up all night,"
Joe Girardi
said.
And the balls were flying out.
Kuroda said he lost his "rhythm." He also lost the game and is now 1-2 with a 5.00 ERA.