It is just one start. But when is it not just one start. When is enough enough?
Ivan Nova came in 3-0 with a chance to tie Roger Clemens for the most consecutive decisions with a victory (15) and left battered, but off the hook for the loss after the Yankees' comeback.
Even if Nova was very hittable, tying a career high with 11 allowed in 5 1/3 innings, you can't make too much of his one start.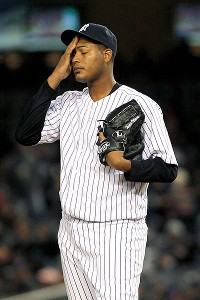 Mike Stobe/Getty Images
Twice, Ivan Nova pitched with a lead. And twice, he gave it back.
He was squeezed a little, but didn't look to blame home plate ump Joe West.
"It was on me," Nova said after allowing six runs (all earned) in the Yankees' 7-6 comeback win.
Nova has been great at taking leads by the throat. The Yankees scored five runs (four earned) off AL MVP Justin Verlander, of all people, and twice handed Nova the lead. He returned the advantage both times.
But this is an overall staff problem, not a Nova issue. After 19 games, the Yankees' starting ERA is 5.92. Now, that is a pretty good sample size, given a full-season starter makes about 30-35 starts.
It is not indicative of the potential of the Yankees' rotation or where the numbers will likely end up. At this point, they can almost only go down, right? But the Yankees have been really, really bad so far.
The Yankees entered Friday 29th in baseball in starting pitching ERA.
On top of that, the deep reserve of starters has been blown to smithereens early on. Michael Pineda is out for the season. At Triple-A, Manny Banuelos is on the DL with a bad back and Dellin Betances can't find the strike zone. The Yankees could eventually turn to long man David Phelps and/or D.J. Mitchell. Mitchell, who looked good in spring training, has pitched well at Triple-A thus far.
Andy Pettitte's return is right around the corner, as is his 40th birthday. Can the Yankees really ask Pettitte to be their savior after taking a year off?
What really has to happen is that Freddy Garcia and Phil Hughes must start pitching better. Hiroki Kuroda has to show he is consistent. Joe Girardi believes it is right around the corner. It does figure to get better, but how much better? And is that enough?