The possibility of a five-run comeback died about 15 feet from the right-field wall.
The Yankees brought the tying run to the plate in the ninth against Detroit on Saturday, but could not complete the wild comeback in the ninth as they fell 7-5 to the Tigers. Pinch hitter Eric Chavez flew out to deep right with a runner on and two outs in the ninth.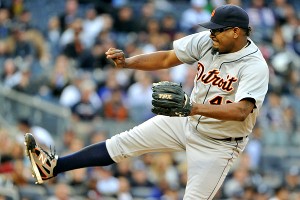 Christopher Pasatieri/Getty Images
The Yankees kept Tigers closer Jose Valverde off balance in the ninth inning.
The Yankees had just three hits entering the ninth inning and trailed 7-2 after Detroit starter Drew Smyly stymied them.
"Overall, great comeback, about 15 feet from tying that game," right fielder Nick Swisher said. "He did a good job for them today but we got to come back tomorrow and win a series."
Trailing 7-2 in the ninth, Swisher led off with a home run, his second of the game, and Curtis Granderson and Raul Ibañez each drove in runs off Detroit closer Jose Valverde to slice the lead to 7-5. While Chavez put a good jolt into the ball, he didn't get enough of it and the Yankees lost for the third time in four games.
It proved to be a classic case of doing too little, too late as the Yankees' offense could get nothing going in the first eight innings. Facing Smyly for the first time, they had just four base runners against him in six-plus innings. After Swisher hit a one-out home run in the first, the Yankees did not record another hit until the seventh inning when Alex Rodriguez singled.
Swisher, who was robbed of a hit in the third, said the rookie mixed his speeds well and used his cutter and his slider effectively. The right fielder recorded his 18th career multi-homer game and homered from both sides of the plate for the 11th time in his career.
"[Smyly] did a good job today. First time we've seen him coming around. Has a little different delivery than a normal pitcher and did a good job, really used his curveball effectively today," Swisher said. "We just got to get ready for him the next time."
Detroit manager Jim Leyland believes his starter capitalized on the Yankees having never seen Smyly before. It was the fourth start of Smyly's career.
"He really pitched like a veteran pitcher, to be honest with you," Leyland said. "Not a lot of guys can do that. Guys pitch a long time and can't do that. He was terrific today and like I said, they hadn't seen him and that helped."