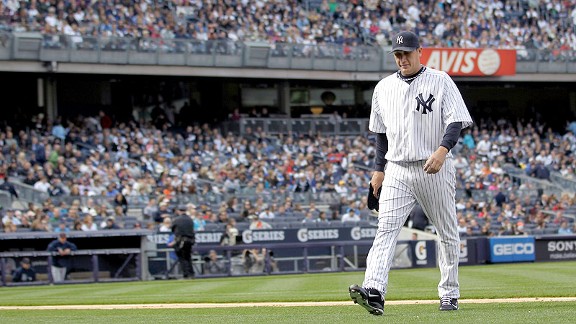 AP Photo/Julio Cortez
There goes Freddy Garcia, leaving in the second inning -- again.I'll sleep on it.
That's how Yankees manager Joe Girardi replied when asked if Freddy Garcia was going to stay in the rotation after the veteran right-hander's latest stinker on Saturday afternoon.
"I can't tell you exactly what we're gonna do," Girardi said after Garcia and his batting practice-like arsenal of pitches were lit up by the Tigers for six earned runs on five hits in 1 2/3 innings in Detroit's 7-5 victory over New York.
"I'm not gonna come to any rash decisions [Saturday night], but obviously we're trying to evaluate what's going on here. It's frustrating for the player and it's frustrating for us, but we all know Freddy's better than what he's shown."
What Garcia has shown is that he may not be an effective big league hurler any longer. In his last two outings, he's gotten just 10 outs while allowing 12 hits and 11 earned runs.
His season ERA stands at 12.51. In 13 2/3 innings (four starts), he has allowed 30 baserunners (25 hits).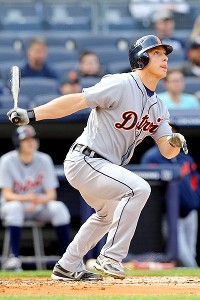 Brad Penner/US Presswire
Andy Dirks' homer was the beginning of the end for Freddy Garcia on Saturday.
"He just doesn't have the crispness [he had in spring training]," Girardi said. "The [velocity] is down on all his pitches. I think that's why it's been a struggle."
Girardi seemed flummoxed over why Garcia isn't pitching like he did in the spring. Is it possible that Garcia may need to go for medical tests? Could it be an injury?
"I didn't get that much into it," Girardi said. "I'll talk to Stevie [Donahue, on Saturday night] and Freddy [Sunday] and we'll see how he feels."
Garcia was asked point-blank whether he believes he'll make his next start, which is slated to be May 3.
He sort of shrugged his shoulders and paused before answering.
"I'd like to. But I don't know what the decision they're going to make. We'll see what happens [Sunday]," he said.
Garcia has allowed nine first-inning runs. On Saturday, three of those came on one swing.
After intentionally walking Prince Fielder to put runners on first and second with two outs, Garcia got ahead of Andy Dirks 0-2. But he left a 79 mph slider in the middle of the plate, and Dirks crushed it into the seats for a three-run home run, staking the Tigers out to an early lead.
Garcia gave up two hard-hit singles, two booming doubles and three more runs in the second before leaving to boos from the disappointed Stadium crowd.
Rookie righty David Phelps threw three scoreless innings in relief, allowing no hits and striking out two.
Could he be a candidate to start in place of Garcia?
"Anytime you have a long man he's a candidate to be a starter," Girardi replied. "Basically your long man is like a sixth starter all the time in your bullpen."
Through 20 games, the Yankees have the same record as the Mets (11-9). Their starters have pitched to a 6.37 ERA -- 29th in the majors.
Phil Hughes has been lousy. Hiroki Kuroda has been inconsistent. Ivan Nova just got shelled by Detroit. Garcia is a mess.
Girardi and GM Brian Cashman have a lot of decisions to make about their rotation.
Andy Pettitte, who will make another tuneup start for Class A Tampa on Monday, likely won't be ready until May 10.
Given that, the Yankees are likely going to have to solve these issues internally.
Will Garcia make another start? Should Phelps take his turn? Let us know in the comments section.