. . . another bad start.
Nine of the 18 runs Hiroki Kuroda has allowed this season have come in the first inning, and on Saturday night he allowed two, one of them unearned after Derek Jeter's error, to set the tone for the Yankees' 5-1 loss to the Royals.
Kuroda wound up allowing just three runs (two earned), but lasted only 4 1/3 innings, and the with bullpen short and the offense struggling, it was too many runs and too few innings.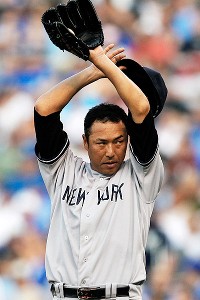 AP Photo/Orlin Wagner
Hiroki Kuroda's record dropped to 2-4 on the season.
"I really didn't have a good bullpen today,'' Kuroda said. "I'm usually able to make adjustments before the game, and I wasn't able to do that tonight.''
Kuroda was victimized by Billy Butler, who doubled in two runs in the first and singled in another in the fifth. But Kuroda's pitch count was way too high (91) and he was fooling no one, with just two strikeouts.
The Yankees' No. 2 starter is now 2-4 but with a respectable 3.75 ERA. More disturbingly, however, is the fact that he is 0-3 on the road, and in his career is now 5-12 with a 4.13 ERA vs. AL teams.
"I just thought he didn't locate his pitches well tonight,'' Joe Girardi said. "I didn't think his slider was quite as sharp.''
And asked if he thought Jeter's error changed the tenor of the game for Kuroda, the manager said, "You never know if it's a different game for a guy if you make the error or don't make the error. The idea is you have to pick up your teammates, because sometimes those physical things are going to happen. You have to be able to make pitches and bounce back."
Which, clearly, Kuroda did not.
It was an especially frustrating outing since Kuroda's last start was a seven-inning gem against the Orioles. As a Yankee, Kuroda has yet to put together back-to-back good starts. "I just have to be consistent,'' he said. "I just have to convince myself that I can do this and be more consistent.''