After the top of the seventh inning concluded on Sunday, CC Sabathia raised his glove in frustration on the mound and yelled, the anger of squandering a two-run lead boiling over.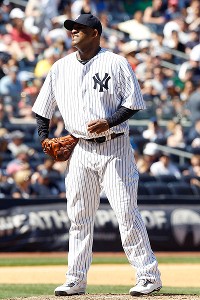 William Perlman/US Presswire
CC Sabathia wasn't happy in the seventh inning, or after the game.At a time when the Yankees' bats have gone quiet, Sabathia left the mound disappointed he couldn't make a pitch and had now put his team behind a run that it never overcame.
"It was definitely frustrating, I felt like I let the team down," Sabathia said. "Knowing these guys are scratching and clawing and this is a great offense, but it's been tough. To be able to have a 2-0 lead in the seventh inning, it's a ballgame we should win."
While Sabathia pitched well over his seven innings, he put all the blame on himself for failing to hold a lead in the Yankees' 5-2 loss to the Reds. Guarding a 2-0 lead with just nine outs to go, Sabathia yielded three runs in the seventh. He fell to 5-2 with a 3.78 ERA on the year.
"I just blew it," Sabathia said. "I didn't make the pitches I needed to."
For the first six innings, Sabathia cruised against the Reds, carrying a no-hitter through four and only allowing three hits.
In the seventh, a pair of misplaced fastballs and what Sabathia described as "overthrowing" led to his undoing. The lefty overthrowing is when he tries to do too much.
Ryan Ludwick led off the frame with a homer to slice the lead to 2-1, and two batters later Ryan Hannigan tied the game by homering on an 0-2 fastball. It marked just the fifth time in his career Sabathia had allowed an 0-2 homer.
With one on and two outs, Sabathia proceeded to walk three batters, losing battles with Drew Stubbs, Joey Votto and Brandon Phillips, the final walk driving in the winning run. The count went to 3-2 against Votto and Phillips before each walked.
"Walking Drew Stubbs really hurt," Sabathia said. "Not making pitches and trying to overthrow and do too much and it's probably the time to back off and collect myself and make a good pitch and get out."
While Sabathia blamed himself, his manager believed the offense was more at fault for Sunday's defeat. The lefty gave up just those three runs and six hits.
"He still only gave up three runs, the bottom line is we didn't score a lot of runs again," Joe Girardi said. "That seems to be what we're struggling with right now, our starting pitching has seemed to be a little better and we're struggling to score runs."
Entering the game, Sabathia had thrived as the Yankees' stopper, going 4-0 when following a loss. For six innings, it looked like he would be that stopper once again.
By the end of the seventh, the team was on its way to its fifth loss in six games.
"It's 2-0 in the seventh inning. That should be good enough to win a ballgame, especially with I felt like I was pitching pretty good up to that point," Sabathia said.