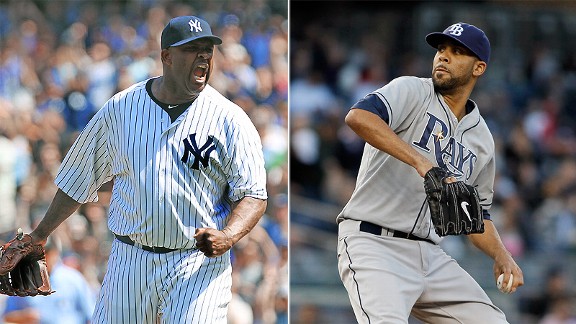 Getty Images
Southpaw stoppers CC Sabathia and David Price will go toe-to-toe tonight in the Bronx. Yankees fans are in for a treat tonight.
For the second time in less than a month, lefty aces CC Sabathia and David Price will square up in a delicious matchup in the Bronx.
Back on May 10, Sabathia outdueled Price, giving up just two unearned runs in eight innings of work in a 5-3 Yankees victory.
(Those two Rays runs were scored via errors by Eduardo Nunez -- remember him? Nunez was lifted from the game after five innings, and that was the last we've seen of him. He was sent down to Triple-A the next day.)
Price wasn't at his best that night, surrendering five runs on 11 hits in seven innings. But he has been very good since, giving up just five runs over his last four outings combined, in 28-1/3 innings.
On the season, the 26-year-old is 7-3, with a sparkling 2.44 ERA.
Sabathia, 31, is 7-2, with a 3.68 ERA. He hasn't been quite as good in his last four outings, giving up 12 runs in 27 innings.
These two pitchers have faced each other six times before. Sabathia had never beaten Price, prior to the last outing.
The Subway Series looms, starting Friday, but this is the best pitching matchup you'll see this week.
UP NOW: My column on Ivan Nova. Andrew Marchand's story on the Yankees' anticipated divorce from StubHub.
ON DECK: Marchand and Wallace Matthews will anchor our coverage of the series finale. Mark Simon will have a What2Watch4 around noon.
QUESTION OF THE DAY: Who would you rather have at the top of your rotation -- Sabathia, or Price?