Round 1: Battle of the Ballparks
June, 18, 2012
6/18/12
1:55
PM ET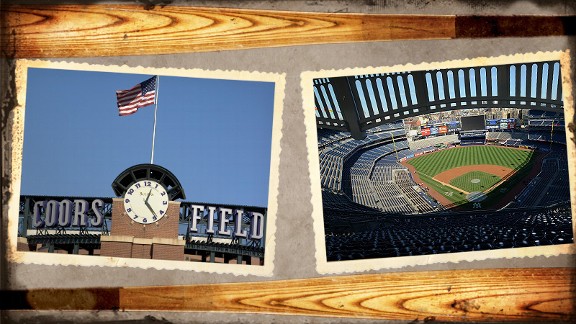 ESPN.com Illustration
What is the best big league ballpark? ESPN.com wants your opinion,
so fill out a bracket
. First-round matchups include Yankee Stadium vs. Coors Field.
ABOUT THIS BLOG
Wallace Matthews

Wallace Matthews has covered NY sports since 1983 as a reporter, columnist, radio host and TV commentator. He joins ESPNNewYork to cover the Yankees, which he's done since the days of Stump Merrill for Newsday, the New York Post, the New York Sun and ESPN New York 98.7 FM.
Andrew Marchand

Andrew Marchand is a senior writer for ESPNNewYork.com. He also regularly contributes to SportsCenter, Baseball Tonight, ESPNews, ESPN New York 98.7 FM and ESPN Radio. He joined ESPN in 2007 after nine years as a sports writer at the New York Post.
BryanHoch Bryan Hoch
A-Rod on 1B: "It was quite interesting after 20 years in the league to see the game from a totally different lens. It was pretty cool."
about 3 hours ago

ESPNNYYankees wallace matthews
Two-run single by Headley makes it 6-0
about 3 hours ago

ESPNNYYankees wallace matthews
Now Refsnyder doubles Drew home with Yanks 4th run. You'd think these two were competing for a job. They're not
about 4 hours ago

BryanHoch Bryan Hoch
Stephen Drew says hi to Twitter, doubles off the right field wall.
about 4 hours ago

ESPNNYYankees wallace matthews
Drew Yankee with a double off the RF wall leading off the sixth
about 4 hours ago

ESPNNYYankees wallace matthews
Eovaldi threw 89 pitches, 60 strikes
about 4 hours ago

ESPNNYYankees wallace matthews
Cashman: "Right now I'm pretty comfortable that the Drew signing was the smart play for us.'' Have at it
about 4 hours ago

ESPNNYYankees wallace matthews
Eovaldi's day is done: 4-2/3, 3H, 0BB, 5Ks, leaves leading 3-0
about 4 hours ago

ESPNNYYankees wallace matthews
Eovaldi thru 4: 3H, 0R, 0BB, 4Ks
about 4 hours ago

ESPNNYYankees wallace matthews
Head of the class: Headley now has a double to go with his HR today
about 4 hours ago

ESPNNYYankees wallace matthews
Eovaldi strands runners at second and third with fly out to end the fourth
about 4 hours ago

ESPNNYYankees wallace matthews
Historic: @GeorgeAKingIII has tweeted twice within 48 seconds. Will never happen again in any of our lifetimes
about 4 hours ago

ESPNNYYankees wallace matthews
Stros have two on for first time in game after two one-out singles off Eovaldi
about 4 hours ago

ESPNNYYankees wallace matthews
A-Rod's sitting in a chair outside the dugout, seems to be fine. Maybe Girardi saw what he needed to see
about 4 hours ago

ESPNNYYankees wallace matthews
A-Rod is out of the game, was supposed to play 5 innings. Will update if anything
about 4 hours ago

ESPNNYYankees wallace matthews
Eovaldi has allowed one hit, a double by Lowrie, thru 3 innings, struck out three
about 4 hours ago

ESPNNYYankees wallace matthews
Refsnyder scores on WP and it's 3-0
about 4 hours ago

ESPNNYYankees wallace matthews
Heathcott single scores A-Rod, 2-0 in the fourth
about 4 hours ago

DPLennon David Lennon
RT @eboland11: After that opposite field single to right, A-Rod now hitting .324 this spring.
about 4 hours ago

ESPNNYYankees wallace matthews
not possible @OrtizKicks A-Rod singles to right as a pair of Yankees fans have an expletive-laced exchange at Osceola County Stadium.
about 4 hours ago
UPCOMING GAMES
| | W-L | HM | AW | STK | L10 |
| --- | --- | --- | --- | --- | --- |
| NYY | 15-12 | 7-7 | 8-5 | W1 | |
| HOU | 10-9 | 5-4 | 5-5 | L1 | |
| | W-L | HM | AW | STK | L10 |
| --- | --- | --- | --- | --- | --- |
| NYY | 15-12 | 7-7 | 8-5 | W1 | |
| MIN | 11-13 | 5-6 | 6-7 | W2 | |
| | W-L | HM | AW | STK | L10 |
| --- | --- | --- | --- | --- | --- |
| TAM | 11-11 | 6-6 | 5-5 | L2 | |
| NYY | 15-12 | 7-7 | 8-5 | W1 | |
BLOG ARCHIVE:
CATEGORIES:
MARCH 2015
APRIL 2015
MAY 2015
Sun
Mon
Tue
Wed
Thu
Fri
Sat

1

TB
1:05 PM ET

2

@DET
1:00 PM ET

3

WSH
1:05 PM ET

4

@WSH
1:05 PM ET

5

6

7

8

9

10

11

12

13

14

15

16

17

18

19

20

21

22

23

24

25

26

27

28

29

30

Sun
Mon
Tue
Wed
Thu
Fri
Sat

1

2

3

4

5

6

7

8

9

10

11

12

13

14

15

16

17

18

19

20

21

22

23

24

25

26

27

28

29

30

31
2015 GRAPEFRUIT LEAGUE LEAGUE STANDINGS