Yankees hand third base to Chipper Jones
June, 20, 2012
6/20/12
1:28
PM ET
By
Mike Mazzeo
| ESPNNewYork.com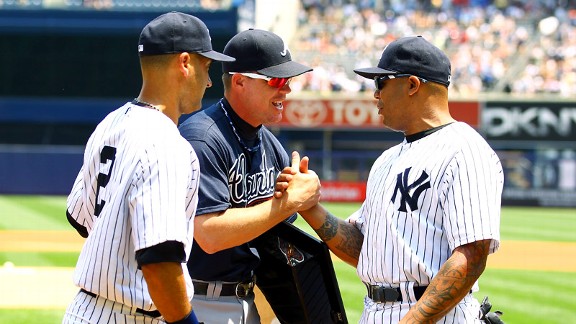 Al Bello/Getty ImagesDerek Jeter and Andruw Jones present third base to Chipper Jones.
In a nice gesture, the Yankees presented
Chipper Jones
with third base before Wednesday's game.
Jones is retiring at the end of the season. So, barring a Yankees-Braves World Series, this will be his last game at Yankee Stadium.
Jones inflicted a ton of damage on the crosstown rival Mets. Perhaps the Yankees were saying thank you.
Derek Jeter
and former Atlanta teammate
Andruw Jones
presented Chipper Jones with the base.
ABOUT THIS BLOG
Wallace Matthews

Wallace Matthews has covered NY sports since 1983 as a reporter, columnist, radio host and TV commentator. He joins ESPNNewYork to cover the Yankees, which he's done since the days of Stump Merrill for Newsday, the New York Post, the New York Sun and ESPN New York 98.7 FM.
Andrew Marchand

Andrew Marchand is a senior writer for ESPNNewYork.com. He also regularly contributes to SportsCenter, Baseball Tonight, ESPNews, ESPN New York 98.7 FM and ESPN Radio. He joined ESPN in 2007 after nine years as a sports writer at the New York Post.
UPCOMING GAMES
| | W-L | HM | AW | STK | L10 |
| --- | --- | --- | --- | --- | --- |
| NYY | 55-51 | 25-26 | 30-25 | W1 | |
| TEX | 42-65 | 20-33 | 22-32 | L1 | |
| | W-L | HM | AW | STK | L10 |
| --- | --- | --- | --- | --- | --- |
| NYY | 55-51 | 25-26 | 30-25 | W1 | |
| BOS | 48-59 | 26-28 | 22-31 | L2 | |
| | W-L | HM | AW | STK | L10 |
| --- | --- | --- | --- | --- | --- |
| NYY | 55-51 | 25-26 | 30-25 | W1 | |
| BOS | 48-59 | 26-28 | 22-31 | L2 | |
Majestic Youth Replica New York Yankees Jacoby Ellsbury #22 Home White Jersey Shop »
BLOG ARCHIVE:
CATEGORIES:
JULY 2014
AUGUST 2014
SEPTEMBER 2014
Sun
Mon
Tue
Wed
Thu
Fri
Sat

1

@BOS
7:10 PM ET

2

@BOS
4:05 PM ET

3

@BOS
8:00 PM ET

4

DET
7:00 PM ET

5

DET
7:05 PM ET

6

DET
7:05 PM ET

7

DET
1:05 PM ET

8

CLE
7:05 PM ET

9

CLE
1:05 PM ET

10

CLE
1:05 PM ET

11

@BAL
7:05 PM ET

12

@BAL
7:05 PM ET

13

@BAL
7:05 PM ET

14

15

@TB
7:10 PM ET

16

@TB
4:10 PM ET

17

@TB
1:40 PM ET

18

19

HOU
7:05 PM ET

20

HOU
7:05 PM ET

21

HOU
1:05 PM ET

22

CHW
7:05 PM ET

23

CHW
1:05 PM ET

24

CHW


25

@KC
7:10 PM ET

26

@DET
7:08 PM ET

27

@DET
7:08 PM ET

28

@DET
1:08 PM ET

29

@TOR
7:07 PM ET

30

@TOR
1:07 PM ET

31

@TOR
1:07 PM ET

Sun
Mon
Tue
Wed
Thu
Fri
Sat

1

2

BOS
7:05 PM ET

3

BOS
7:05 PM ET

4

BOS
7:05 PM ET

5

KC
7:05 PM ET

6

KC
4:05 PM ET

7

KC
1:05 PM ET

8

9

TB
7:05 PM ET

10

TB
7:05 PM ET

11

TB
7:05 PM ET

12

@BAL
7:05 PM ET

13

@BAL
1:05 PM ET

14

@BAL
1:35 PM ET

15

@TB
7:10 PM ET

16

@TB
7:10 PM ET

17

@TB
7:10 PM ET

18

TOR
7:05 PM ET

19

TOR
7:05 PM ET

20

TOR


21

TOR
1:05 PM ET

22

BAL
7:05 PM ET

23

BAL
7:05 PM ET

24

BAL
1:05 PM ET

25

BAL
7:05 PM ET

26

@BOS
7:10 PM ET

27

@BOS


28

@BOS
1:35 PM ET

29

30
2014 AMERICAN LEAGUE EAST STANDINGS