That was the word Andy Pettitte used to describe the worst outing of his comeback, in which he once again lasted at least six innings, but put his team in a 5-0 hole after the first.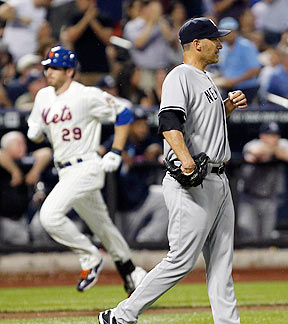 Tim Farrell/The Star-Ledger/US Presswire
Andy Pettitte called his cutter to Ike Davis "a monumental mistake."Pettitte was especially upset that he allowed all five runs to score with two outs, the first two on a single by Justin Turner and the last three on a home run by Ike Davis that bounced out of Nick Swisher's glove and into the right-field seats.
"That was just a monumental mistake to Ike,'' Pettitte said. "I hung a cutter right there, first pitch. You just can't put the team in that kind of a hole, not the way that (Jon) Niese has been throwing the ball.''
Pettitte said he felt "just a tick off'' in the first inning, but he settled down to allow just two more singles the rest of the way. "It looked like he didn't have his slider the first inning,'' Joe Girardi said. "He didn't have great command of his fastball. But Andy's been through that before. He understands that you have to find it and find a way to keep your club in the game, and he did. We had a chance right up until the last inning. So he did a good job after the first.''
After eight starts, Pettitte is now 3-3 with a 3.29 ERA.