Yanks had Francisco on the grill ...
June, 23, 2012
6/23/12
12:28
AM ET
... but spared him from the fire. After all that was said and written over the past day about
Frank Francisco
calling the Yankees "chickens'' and saying he was looking forward to facing them again, the Mets closer got what he asked for in the ninth inning. And so did the Yankees, especially
Russell Martin
, who seemed a little less amused by Francisco's remarks before the game than some of this teammates.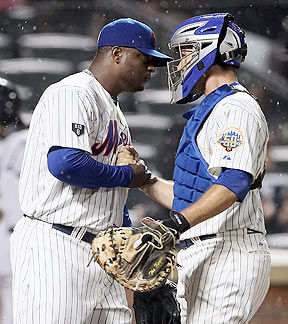 Elsa/Getty ImagesThe Yankees failed to hold Frank Francisco to the flames on Friday night.
And when Martin put a charge into the ball leading off the ninth, a drive that looked like it would sail over the head of Mets center fielder
Andres Torres
, it appeared it would be the Yankees who were clucking after the game. But Torres ran the ball down smoothly and made an over-the-shoulder catch before tumbling headfirst to the warning track.
"I thought I hit it better than that,'' Martin said. "I really thought I was going to beat him there. But he just made a nice play. For some reason, it just didn't want to go."
But the Yankees weren't done there, and after pinch hitter
Raul Ibanez
walked and
Derek Jeter
singled, the Yankees had
Curtis Granderson
and
Mark Teixeira
, with 33 home runs between them, coming to the plate with a chance to put the Yankees ahead.
But Granderson went down looking at a fastball and Tex popped out to shortstop to end the game.
According to
Joe Girardi
the presence of Francisco on the mound offered no extra motivation to his team. "There wasn't really any more being said than on a normal day,'' Girardi said. "You're trying win the game and that's the bottom line. That's what they're doing. Our guys are real professionals.''
Jeter, who came into the clubhouse Friday to find a picture of his head Photoshopped onto a chicken's body on the front page of the New York Post, agreed with his manager. "I'm trying to get hits and do my job, just like I'm sure he's trying to do his,'' Jeter said. "We had an opportunity, but he did his job, and he got out of it.''
It was Francisco's 18th save of the season and his third lifetime save against the Yankees.
There are no games scheduled for today.