Rob Thomson: Blame me
July, 3, 2012
7/03/12
11:26
PM ET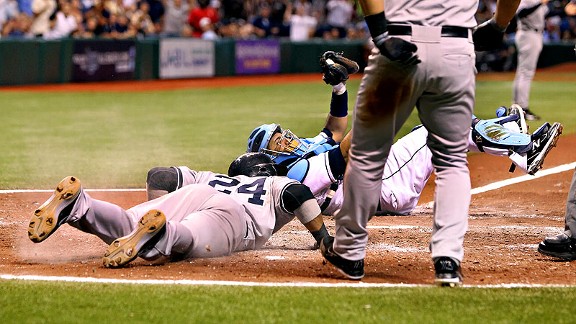 Kim Klement/US PresswireYankees third-base coach Rob Thomson fell on his sword for Robinson Cano getting gunned out at the plate in the sixth inning on Tuesday night.
For the second night in a row, Yankees seemed to be falling all over one another trying to seize blame for yet another loss to the Tampa Bay Rays at the Trop.
Monday night, it was
Mark Teixeira
and
David Robertson
competing for the self-flagellation award; Tuesday night it was a three-way competition between
Russell Martin, Robinson Cano
and third-base coach
Rob Thomson
.
Thomson whupped himself with the ugly stick for his decision to send Cano home on
Raul Ibanez's
sixth-inning double, a decision that saw Cano get cut down at home plate on a perfect relay from right fielder
Ben Zobrist
to second baseman
Sean Rodriguez
to catcher
Jose Molina
, who had to slide quickly across home plate to tag Cano just before he slipped his hand over the plate.
"No excuse, just a poor decision in that situation,'' Thomson said. "There's nothing really more to be said. I just got a little bit too aggressive. That seemed to take the wind out of our sails at the time. That's it. Poor decision, all the way around."
Two innings earlier, Thomson had aggressively waved home Ibanez on
Eric Chavez's
single, but Thomson brushed off any praise for that one. "It was a completely different situation,'' he said. "There's two out and it's earlier in the game.''
And when told that the replay indicated Cano might have been safe, Thomson waved that off, too. "Even if he was safe, it was the wrong decision,'' he said. "I probably made my decision a little bit too early and I stuck with it. And the ball was a little bit closer to the plate than I thought and he was out."
There are no games scheduled for today.