Russell Martin: Right now, I stink, eh?
July, 4, 2012
7/04/12
12:07
AM ET
This may not have been the worst game of
Russell Martin's
professional baseball career, but if there have been any worse than this one, they happened before he joined the New York Yankees.
Martin's nightmare at the Trop looked like this: Two errors, five stolen bases allowed, two Tampa Bay Rays runs his direct responsibility and two others that were the immediate after-effect of one of his misplays.
And oh yeah, he went 0-4, including striking out for the last out of the game, and is now 0-for-his-past-23. He hasn't had a hit since June 20 and his batting average is down to .182, or 33 points below his listed weight.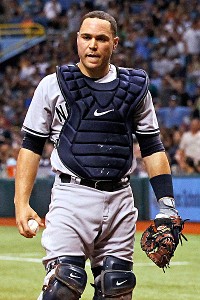 AP Photo/Mike CarlsonRussell Martin wasn't too pleased with his performance on Tuesday.
Which is why, when Martin emerged from the shower after the Yankees' 7-4 loss to the Rays on Tuesday night, he sat facing his locker for a long moment and took a slow, deep breath before facing the assembled media.
"Today was just a bad day overall," he said. "Offensively, I've been pretty bad all year. But defensively, it's normally there to salvage. Not today. I felt like this is pretty much my loss. If I make that play in the third inning, it's a different ball game. Then I gave them a run on that first-and-third play. I'm giving my best effort, but today wasn't good enough."
Martin's first error was a tough one, charged to him when the ball popped out of his glove on impact with
Elliott Johnson
sliding into home in the third inning after what looked like a very good one-hop throw from left fielder
Dewayne Wise
. What would have been the third out became the Rays' first run of the game, and they quickly added two more on
Jeff Keppinger's
two-run single.
"It's a play that, if it's in the glove, I need to make that play," Martin said. "I just put the tag on his foot and it knocked the ball out of the glove. There's no excuse. I just tried to put the tag down and it got knocked out."
Asked if he thought an error was the fair call there, Martin said, "I really don't care. Either way, the run scored and it sucks."
Martin's second error came on a double-steal in the seventh, when, on orders from the dugout, he threw down to second as
B.J. Upton
broke from first, and when his throw skipped under
Robbie Cano's
glove,
Desmond Jennings
scored from third for the Rays' sixth run of the game and was credited with a steal of home.
"I just tried to throw a strike to second base and I short-hopped Robbie," Martin said. "He saw the runner take off for home and he tried to pick it; it just got by him. That's another mistake for me."
Martin attributed his continued struggles at the plate to being "too aggressive and not waiting for my pitch. Right now I'm swinging at a lot of bad pitches."
Asked to pinpoint a reason for his nightmare of a season so far, Martin said this: "It's just me being bad right now. That's all it is. No other explanation for it."
There are no games scheduled for today.