Notes: Lester is more vs. Yankees
August, 18, 2012
8/18/12
9:36
PM ET
By
Ian Begley
| ESPNNewYork.com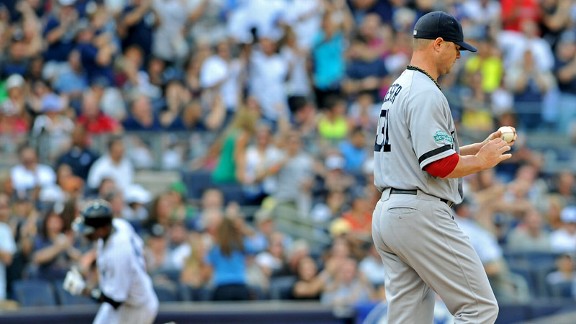 Jason Szenes/Getty ImagesJon Lester's only real mistake Saturday was a fat fastball to Curtis Granderson.
Jon Lester
has had a tough time in 2012. The lefty is 7-10 with 5.03 ERA for the Red Sox this season.
But he made those numbers look a bit misleading on Saturday.
Lester allowed just one run on five hits over seven innings in a 4-1 win over the Yankees.
He struck out four and walked just two.
Several Yankees said Lester had strong command of his pitches on Saturday.
"In the past (against Lester) we were able to get a couple walks here and there and get some guys in scoring position,"
Nick Swisher
said. "But you weren't getting on tonight unless you got a base hit. ... Tonight we got the best Jon Lester we've seen in a while."
Lester's lone mistake came in the fourth inning, when he left a 94 mph fastball over the plate and
Curtis Granderson
crushed it over the center-field fence.
Granderson, who finished 2-for-3, said Lester's cut fastball was strong.
"His stuff looks the same (this season as it always has)," Granderson said. "It's just a matter of if he's able to get it around the plate."
Lester also picked up a win the last time he was in the Bronx, giving up four runs over six innings in Boston's 8-6 win on July 28.
"He's been great here," Swisher said.
Given his recent success against New York,
Joe Girardi
admitted to being a bit surprised by Lester's ugly numbers in 2012.
"It is somewhat surprising but it's such a fine line (that separates success in the major leagues), it really is," Girardi said. "A couple inches here and a couple inches there, and if you don't make those pitches, you'll give up some runs pretty quickly."
SWISHER PLAYING WITH NO REGRETS:
Swisher's hot home stand continued. On Friday, he went 2-for-3 with two homers. On Saturday afternoon, Swisher went 3-for-4. On the home stand, Swisher is 10-for-24 with four homers and 11 RBIs. He is in the final year of a three-year contract and could be playing his last season in New York.
Swisher says he is approaching the rest of the season by playing with no regrets.
"That's the last thing I want to have. Regardless of what my situation is next year, I want to enjoy this time I have now and soak it up and we'll see what happens," Swisher said. ...
Robinson Cano
finished 0-for-4 on Saturday and is hitless in his past 11 at-bats. Girardi said he is not concerned because he's seen Cano hit some balls hard recently. ... Boston SS
Pedro Ciriaco
went 4-for-4 and is batting .517 (15-29) against the Yankees this season. "I feel like any part of the plate where we throw the ball, he's getting the bat out and getting hits," Yanks starter
David Phelps
said. "He bunts and it's the perfect bunt. It's just one of those things."
There are no games scheduled for today.