First Pitch: CC's second season
August, 24, 2012
8/24/12
6:00
AM ET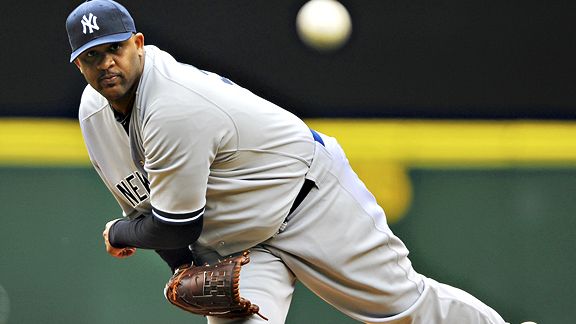 Steven Bisig/US PresswireCC Sabathia must be an ace tonight in Cleveland -- and for the rest of the season.
Although the Yankees haven't made it official yet, it is likely that
CC Sabathia
, the pitcher they signed for seven years and $161 million before the 2009 season, then added another year and at least $30 million to last year, will be back tonight.
Whether he can lead them out of the morass they have recently wandered into remains to be seen.
If ever the Yankees needed an ace-like performance out of Sabathia, it is tonight against the Indians, if only to reassure themselves that things are not as bleak as they appeared for three days in Chicago.
In those three games, the Yankees were let down in one of them by their bullpen, in another by
Ivan Nova
and in the third by their bats.
Meanwhile, the
Tampa Bay Rays
, growing healthier and more confident by the day, keep chipping away at a lead that not long ago was a rock-solid 10 games but now has been whittled down to a puny three.
The three-game weekend series with the lowly Indians, which begins tonight in Cleveland, is certainly not make-or-break for the season. That begins Monday night in the Bronx, with a game against the Blue Jays that starts a run of 26 consecutive games against their AL East rivals.
All this one means tonight is that CC is ready to do what he hadn't done much of before going down with a sore elbow -- namely, pitch like the ace the Yankees expected him to be. (Despite his excellent record, there have been few dominant performances, and ironically enough, his best of the year, a complete game victory over the Mariners on Aug. 3, may have directly led to his injury.)
That mantle had fallen to
Hiroki Kuroda
, in practice if not in label, but Kuroda cannot do it alone.
The Yankees need Sabathia to be the kind of lock-down ace he was in 2009, and 2010, and even last year until the rains came and washed away what looked like a promising Game 1 start against the Tigers in the ALDS.
If you consider the sweep in Chicago to be the end of the first phase of this 2012 season -- and that is not a bad thing to do -- and these final 38 regular season games as a new season unto itself, then it is up to Sabathia to start it off right.
No more of this "keeping us in the game" business, or "giving us innings," or pitching just well enough to lose.
The Yankees need a stud, an ace, a guy to send a message not only to their opponents, but to themselves, that we have not already seen the best of this team for 2012.
Question of the Day:
How much faith do you have in Sabathia's ability to pitch the Yankees deep into the playoffs, and maybe even into the World Series?
Up now:
My column examining the Yankees' chance at making history this season.
The wrong kind of history
. Plus, blog items on the wild final night of the Chicago trip, A-Rod's latest poll-topper and
Derek Jeter
's bonus check.
Coming later:
A W2W4 examining tonight's matchup: Sabathia (12-3, 3.56) vs. RHP
Corey Kluber
(0-2, 6.27). We're back on Eastern time tonight, so the clubhouse opens at 3:35, with the first pitch scheduled for 7:05 p.m. I'll have the lineup as soon as it is posted along with assorted goodies from the pregame clubhouse, so check in often. And as always, thanks for reading.
There are no games scheduled for today.