Yanks put costumes on the rookies
September, 23, 2012
9/23/12
7:46
PM ET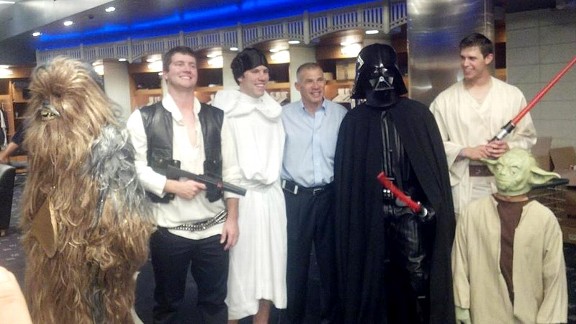 Mike Mazzeo
The Yankees are known as "The Evil Empire."
So it was only fitting that they hazed their rookies by making them wear Star Wars costumes leaving for a road trip after Sunday's 5-4 loss to the A's.
The roster (from left):
Mark Littlefield (training staff): Chewbacca
Adam Warren
: Han Solo
David Phelps
: Princess Leia
Joe Girardi
Melky Mesa
: Darth Vader
Cody Eppley
: Luke Skywalker
Kenji Nimura (Hiroki Kuroda's translator): Yoda
ESPN New York Writer
Covers the Brooklyn Nets for ESPNNewYork.com
ABOUT THIS BLOG
Wallace Matthews

Wallace Matthews has covered NY sports since 1983 as a reporter, columnist, radio host and TV commentator. He joins ESPNNewYork to cover the Yankees, which he's done since the days of Stump Merrill for Newsday, the New York Post, the New York Sun and ESPN New York 98.7 FM.
Andrew Marchand

Andrew Marchand is a senior writer for ESPNNewYork.com. He also regularly contributes to SportsCenter, Baseball Tonight, ESPNews, ESPN New York 98.7 FM and ESPN Radio. He joined ESPN in 2007 after nine years as a sports writer at the New York Post.
UPCOMING GAMES
| | W-L | HM | AW | STK | L10 |
| --- | --- | --- | --- | --- | --- |
| NYY | 0-0 | 0-0 | 0-0 | W0 | |
| PHI | 0-0 | 0-0 | 0-0 | W0 | |
| | W-L | HM | AW | STK | L10 |
| --- | --- | --- | --- | --- | --- |
| PHI | 0-0 | 0-0 | 0-0 | W0 | |
| NYY | 0-0 | 0-0 | 0-0 | W0 | |
| | W-L | HM | AW | STK | L10 |
| --- | --- | --- | --- | --- | --- |
| NYY | 0-0 | 0-0 | 0-0 | W0 | |
| PIT | 0-0 | 0-0 | 0-0 | W0 | |
BLOG ARCHIVE:
CATEGORIES:
FEBRUARY 2015
MARCH 2015
APRIL 2015
| Sun | Mon | Tue | Wed | Thu | Fri | Sat |
| --- | --- | --- | --- | --- | --- | --- |
| 1 | 2 | 3 | 4 | 5 | 6 | 7 |
| 8 | 9 | 10 | 11 | 12 | 13 | 14 |
| 15 | 16 | 17 | 18 | 19 | 20 | 21 |
| 22 | 23 | 24 | 25 | 26 | 27 | 28 |
| | | | | | | |

Sun
Mon
Tue
Wed
Thu
Fri
Sat

1

2

3

@PHI
1:05 PM ET

4

PHI
1:05 PM ET

5

@PIT
1:05 PM ET

6

PIT
7:05 PM ET

7

@HOU
1:05 PM ET

8

WSH
1:05 PM ET

9

TB
1:05 PM ET

10

@BAL
1:05 PM ET

11

BOS
1:05 PM ET

12

ATL
7:05 PM ET

13

@BOS
7:05 PM ET

14

DET
1:05 PM ET

15

PHI
1:05 PM ET

16

17

TOR
7:05 PM ET

18

@ATL
6:05 PM ET

19

PHI
7:00 PM ET

20

@DET
1:05 PM ET

21

HOU
1:05 PM ET

22

@NYM
1:10 PM ET

23

@WSH
1:05 PM ET

24

DET
7:05 PM ET

25

NYM
1:05 PM ET

26

@TB
1:05 PM ET

27

@PHI
1:05 PM ET

28

BAL
1:05 PM ET

29

@HOU
1:05 PM ET

30

31

@MIN
1:05 PM ET

Sun
Mon
Tue
Wed
Thu
Fri
Sat

1

TB
1:05 PM ET

2

@DET
1:00 PM ET

3

WSH
1:05 PM ET

4

@WSH
1:05 PM ET

5

6

7

8

9

10

11

12

13

14

15

16

17

18

19

20

21

22

23

24

25

26

27

28

29

30
2015 GRAPEFRUIT LEAGUE STANDINGS