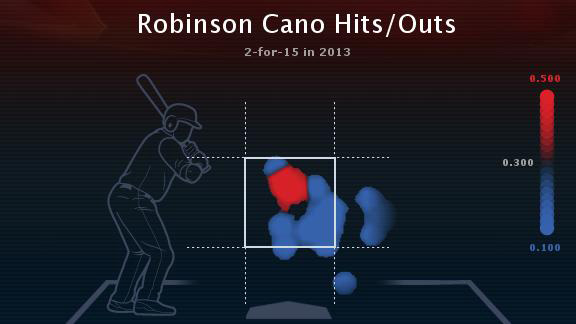 Robinson Cano continues to be pitched away with great regularity.Robinson Cano is 2-for-15 to start the season, mirroring the struggles he had in the 2012 postseason.
Cano did get one hit in four turns in Friday's loss, but also notable was how he made outs.
Cano's three outs (two ground outs and a strikeout) all came on pitches out of the strike zone, away.
Cano is going to have to start driving that pitch to get pitchers to stop throwing it. He's seen 59 pitches this season and 43 have either been on the outer-third of the plate, or out of the strike zone, away.
That rate (73 percent) is even higher than the rate at which Cano was pitched in last year's playoffs (66 percent), in which he was 3-for-40, with 28 of the outs coming on pitches to that area.
Cano's season trends against those pitches has been good over the last four seasons (he's averaged 91 hits against them, including postseason in that span), save for one thing: His rate of swings that missed went from 14.5 percent from 2009 to 2011 to 22 percent last season.
Whatever has caused that, opponents seem to be aware of it heading into this season. Cano has made 10 outs without getting a hit, and missed on 22 percent of his swings against pitches to that area.
What's the practical difference?
In a typical season, Cano sees about 1,300 pitches to the outer-third or off the plate away. The difference between his miss rate from 2009 to 2011 compared to since the start of last season amounts to 93 missed swings. That could cause trouble for Cano until either the numbers even out, or he solves whatever issue is facing him.